Visual call flow configuration
If you're worried that MightyCall may be too technically complex for you, worry not! We've engineered every aspect of our system to be simple enough for any entrepreneur to use.
The easiest way we do that? Call flow configuration charts. They're clear, simple to customize, and require no set up. The flowcharts are there for you to adjust whenever you like.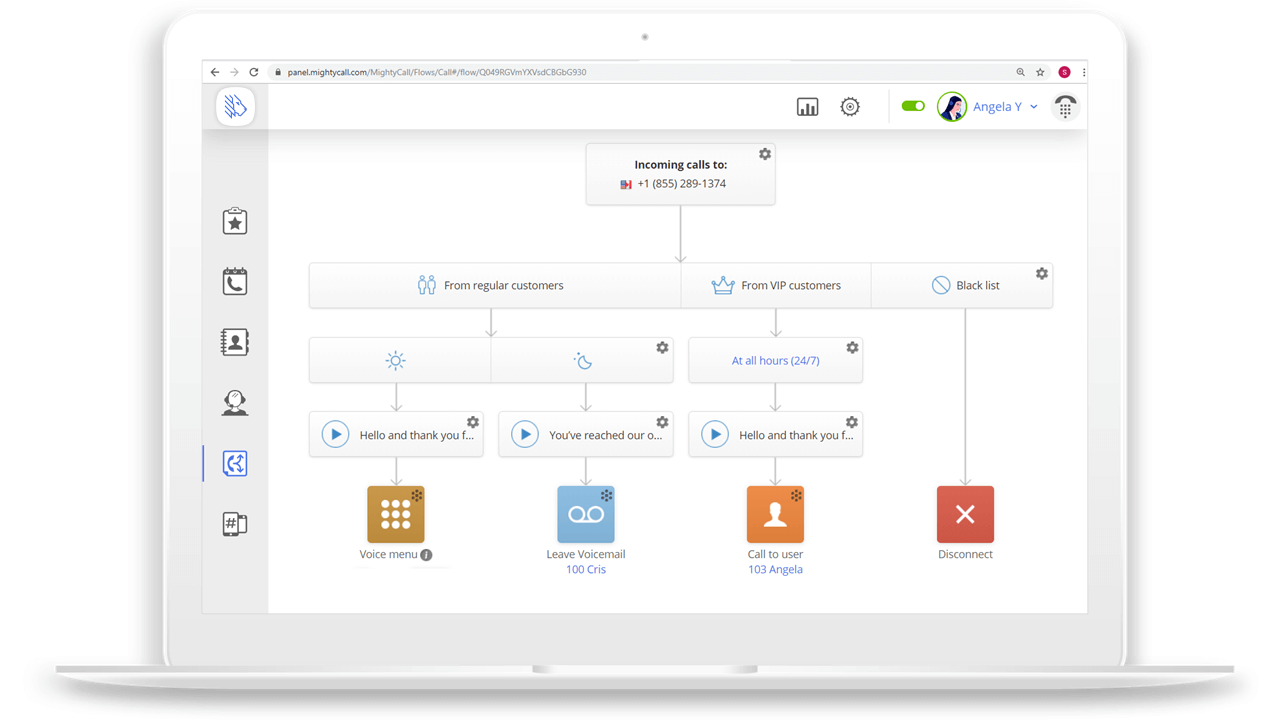 Why do I need Call flow configuration?
If you're using MightyCall strictly to separate your business and personal numbers, then you don't need to worry about call flows—MightyCall automatically sets up call forwarding to your MightyCall virtual phone number.
However, if you are like most MightyCall users, call flow configuration will help you stay on top of your call forwarding and call routing rules to make the most of every call. Setup takes a couple of minutes, so you have nothing to lose and everything to gain by using it.
How do I use call flow configuration?
The main thing about setting up call flows is to input your employees' information and form any groups necessary (sales, service, foreign team, etc.).
Each employee is assigned an extension and they identify all the phones they'll use to accept calls: landlines, cell phones, and softphones. The user also specifies how these phones should ring — in parallel or in sequence, as well as personal rules of call handling if the employee is busy or does not answer.
The system is quite secure for managers as well—users are divided into ordinary users and administrators, and only the administrators can change the call processing rules.
If you have multiple business phone numbers you can even utilize different call flow rules for each.
We can tell you how simple the visual flowcharts make setting up your system, but it's something that's better experienced firsthand.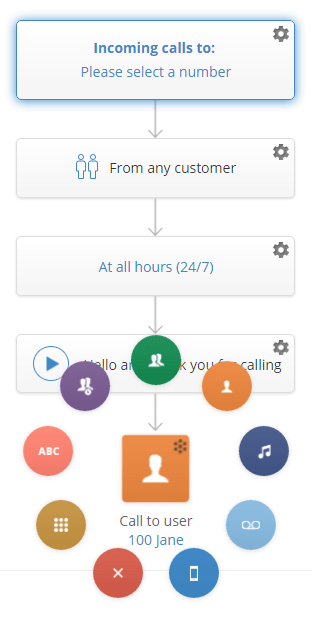 4 out of 5 stars

4.2 out of 5 stars

4.7 out of 5 stars

4.2 out of 5 stars
Get a virtual phone number for your business now!
No contract.
No hardware needed