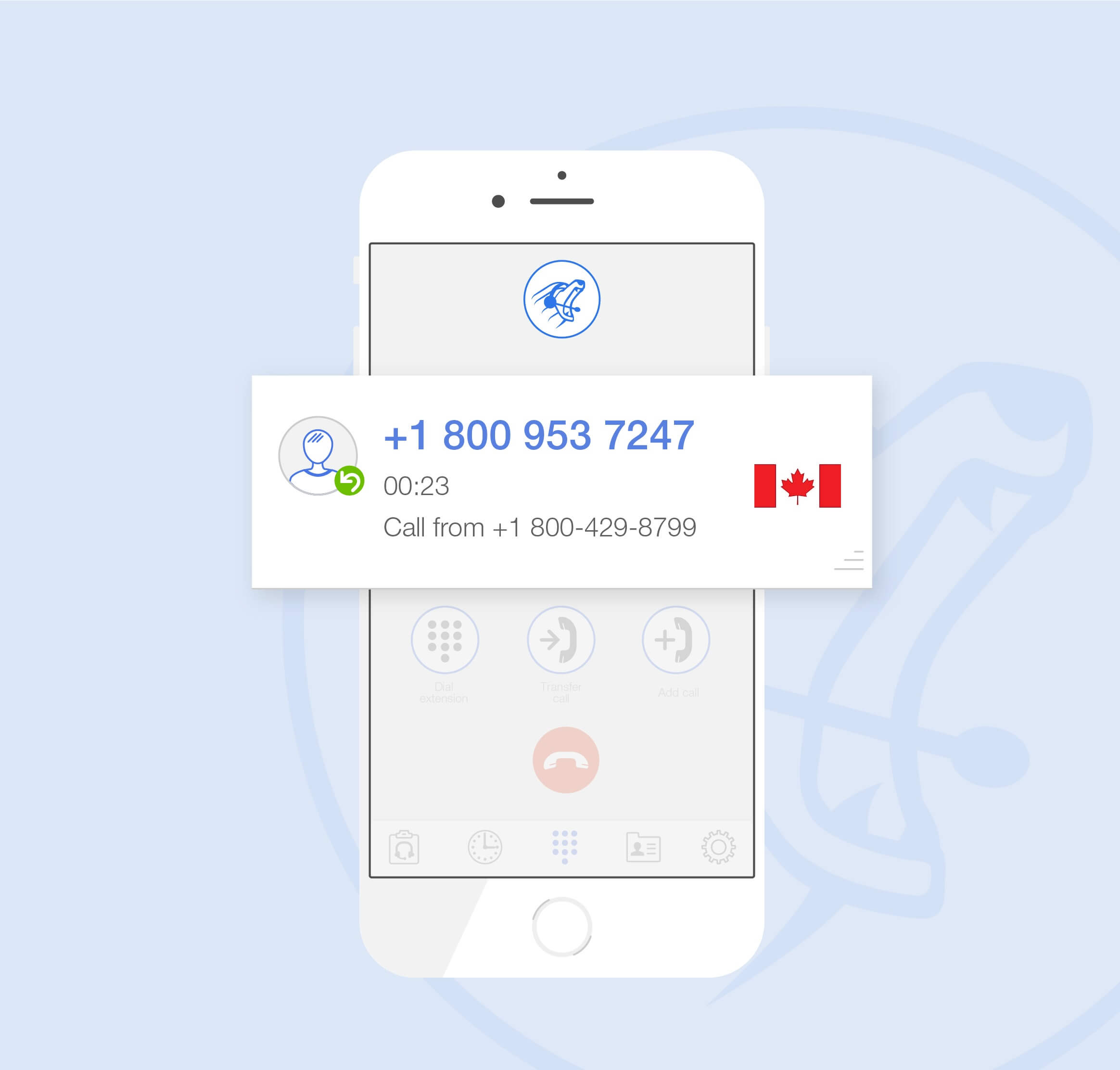 How to Get a Toll Free Number in Canada
---
"Call toll free at 1-800-XXX-XXXX.  Call today!"
Every Canadian has heard some variant of this line, be it through television advertisements, radio, or even reading it in a newspaper or a magazine. But what does it mean? Why do businesses use them? Are they easy to buy, and could having a toll free number  potentially help your business?
Here we'll be discussing all those points. Let's talk toll free!
What exactly does a toll free number do?
Basically, a toll free number is a number that, when called, obliges the receiver to pay for the phone call- not the caller.
This is especially useful for businesses, as it allows clients (or potential clients) to call without fearing having to pay for time spent on hold or talking to an employee.
For your own benefit, toll-free numbers act exclusively as business numbers, which means:
you get to keep your personal number private, and
when a call comes in to your toll-free number, you know it's for business.
What does a toll free number look like? Do they all start with 800?
The toll free numbers that we'll be discussing here are overseen by the North American Numbering Plan (NANP for short!). The NANP is a group of countries in North America, including Canada, that share certain general telephone numbers – including toll free numbers!
This means that – with some limited exceptions, which we'll discuss below – toll free numbers in the United States are the same as toll free numbers in Canada.
However, it's important to note that if you call a toll free number located in another country but you're calling from Canada, you may still incur international calling fees.
Toll free numbers, aside from 800, can also be 833, 844, 855, 866, 877, and 888. Many more numbers are planned for the future to keep up with demand and to ensure a variety of numbers are available.
Are there any unique to Canada?
Some Canadian providers allow for 310-numbers to be used in what is called a "shared-cost service", where the call is free for callers from landlines but sometimes not free from cell phones. However, these are a minority of numbers and, for businesses trying to entice customers to call, may not be your best bet.
Will a toll free number in Canada change my business?
As we mentioned, toll free numbers in Canada work the exact same way as toll free numbers in the U.S., so getting one is more about targeting demographics than any grand change. If your business is on either side of the northern border, having a Canadian toll free number as well as an American toll free number (and that's possible, since every MightyCall plan provides multiple business phone numbers) can actually be a great way to funnel calls from each country to maximize your business – you can even make and monitor different ad campaigns for Canada and the U.S.!
So how do toll free numbers actually work?
Generally, a toll free number is connected with a specific number, be it personal or corporate. When the toll free number is dialed, the caller is redirected – again, free of charge – to the number it has been programmed to.
Sometimes a telephone provider – like MightyCall – allow for a "vanity" number. You've definitely seen vanity numbers before- numbers like 1-888-345-CATS or 1-888-22-PIZZA.  They stick in people's heads and their uniqueness makes them easy to remember. They are customizable and are frequently a centerpiece of advertisement campaigns.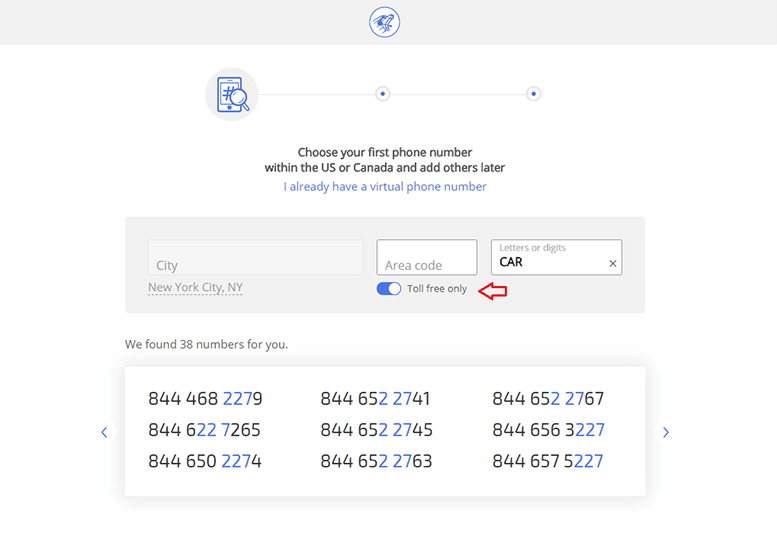 How can your business use a toll free number?
Tens of million toll free numbers are currently being used – and for good reason!  Some of the benefits include:
Trust:
When a customer sees 1-800-XXX-XXХX, they almost always associate it with a company, with an official business. By its nature it cannot be mixed up for a personal number, giving your business a reputable contact number.
Teamwork:
On top of customers, toll free numbers can even help your own employees keep in contact when calling over long-distances. After all- they won't be paying for it!
Texting:
Often toll free numbers also have a text option, which is useful for customers who prefer texting over calling.
National vs. Local:
While local numbers certainly have their benefits, a toll free number is the same nationwide, possibly allowing your business to seem bigger than it actually is.
How do I pick a toll free number provider?
This is an understandable concern. As we said above, there are millions of toll free numbers and, because of the nature of the NANP, there are tons of providers located all over. Below are a couple things you might want to keep a lookout for when trying to find a provider:
If you have a small business you may want to look into a virtual provider. They often have extra tools and open pathways to other possibilities that other kinds of providers may not.
Look for providers who allow simultaneous conversations to be going on at the same time. This will reduce client wait times, which means it'll be less likely that they'll end up hanging up on you.
Having a vanity number option, for the reasons discussed above, is always a good idea. It'll help your number stick out beyond the mass of "800-1234"-type numbers.
Make sure that your provider has portability for toll free numbers. If down the road you decide to move to someone else, you don't want to lose your toll free number. Having portability as an option means you can take your number with you.
Prices are tricky. Like goldilocks, you want it to be just right. Too high and you're probably getting ripped off, as the multitude of providers should mean you get a good rate. Too low and you'll probably get poor service (which means your clients will get poor service too!).
Make Your Number Count
As you can see toll free numbers are incredibly useful. If you've decided to get one, make sure to remember to make it count. Find a provider who can really get you a bang for your buck.

With MightyCall, that bang for your buck comes in the form of multiple business numbers, unlimited texting and great features like:
Overall, not only do toll free numbers make things easier on you, but they also make things easier on customers. And that's what it's all about, isn't it?
Pick the right plan for your business
Get a 50% discount on MightyCall for your first 3 months.
If you already have a virtual phone number, we can port it in for free so you can keep using it.
All plans include
Unlimited Extensions

Unlimited Text Messaging

Customizable Call Routing

Auto-Attendant

Webphone

Conference Calls

Call Queues

Voicemail to Email

Custom Greetings

Performance Reports

Facebook & Twitter Integration

Web Widgets
30 day money back guarantee

No long term contracts

You can change your plan anytime