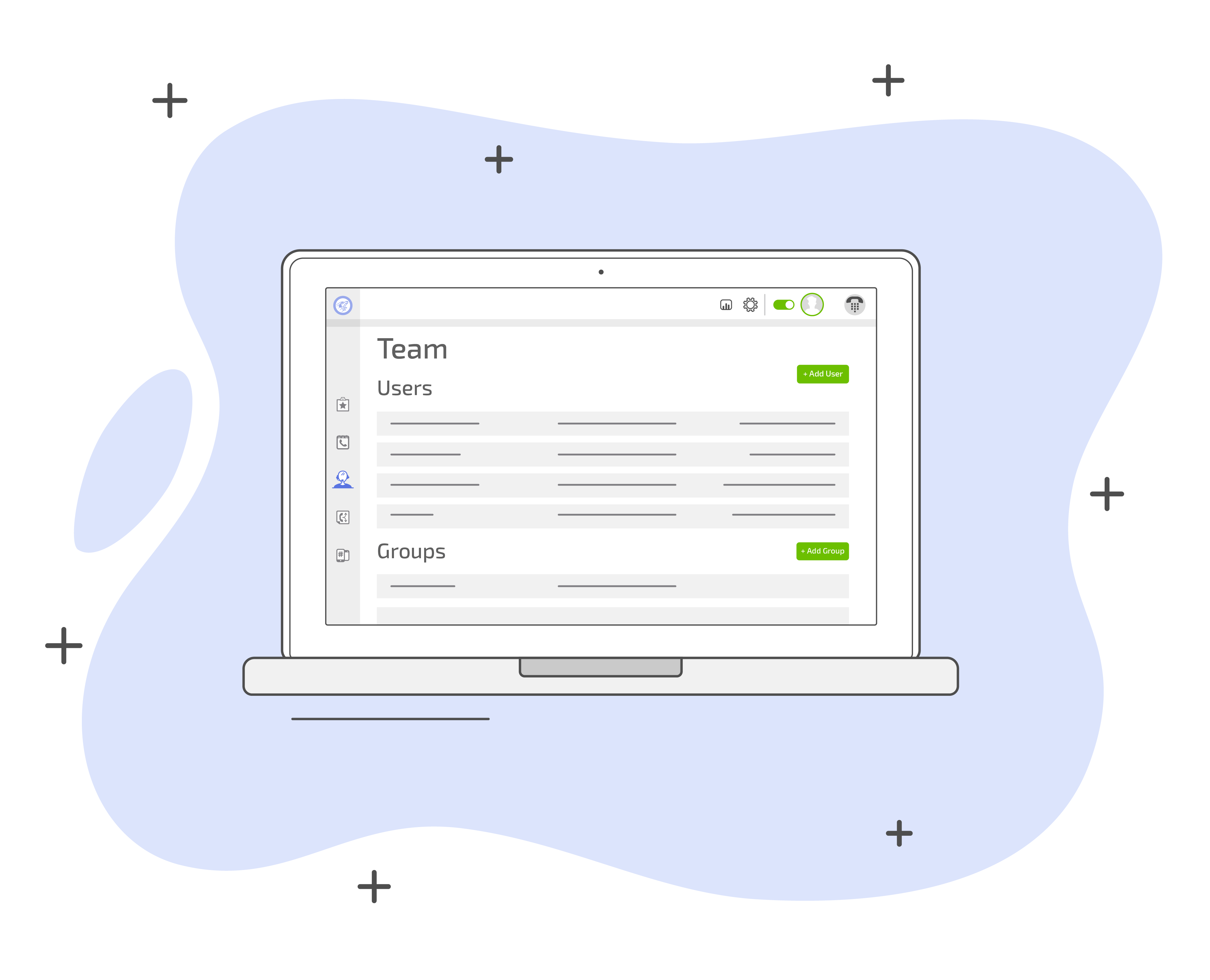 Phone extensions
---
The following is an in-depth technical article about virtual phone extensions; here is a quicker read on the topic.
As an entrepreneur looking to effectively run their business, getting a virtual phone system is one of the best decisions to make. There are a lot of carefully thought-upon and well-designed features that come with your phone system to help your business. One of those features is phone extensions or extension numbers.
The bigger your company grows, the more employees or departments within the business; you will need to connect them all, with the connection nodes all linking to and from you. With proper organization, you become central command.
Phone extensions help you conveniently link every point of your company together effectively. Customers and various callers can be directly connected to different sections of your organization, according to their need.
What is a phone extension?
An extension is a short internal number assigned to an employee, a project team, or a department of your main business number. It is called an extension because it takes its source from your main business number and it can extend to as many sub-divisions or employees in your company as possible.
If a client or any caller wishes to call your company looking for a specific employee, or needs the services of a particular division of your company, they can be automatically routed to the right destination by knowing which extension to follow.
Phone extensions allow companies to be able to connect callers to different sections and employees within the company. There are a lot of routes and shortcuts specifically designed for extensions to take to save time for you and your callers.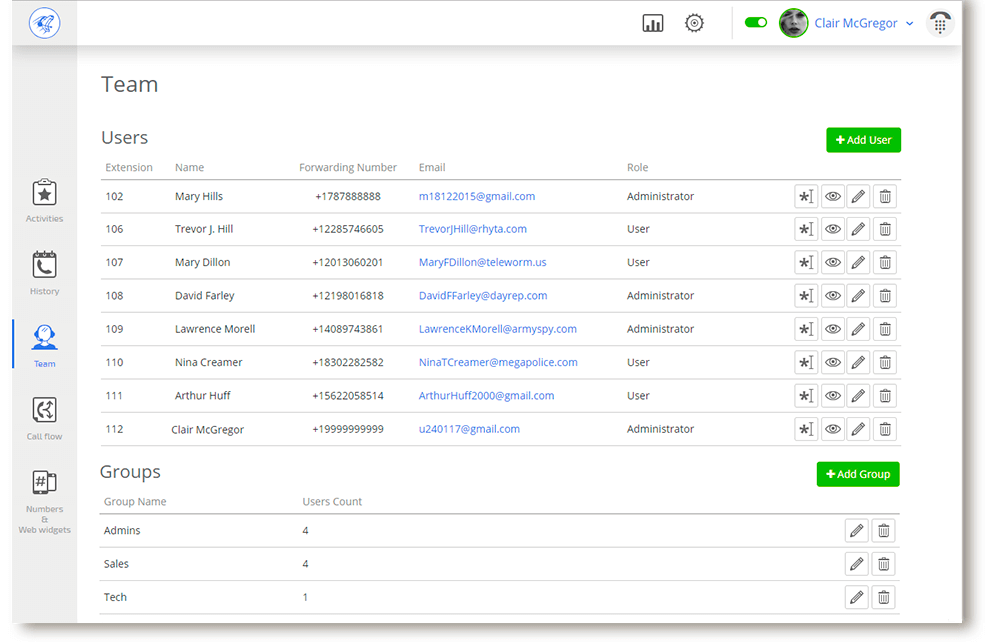 How Do Phone Extensions Work?
Extensions are basically numbers which stretch from your business number. Generally, extensions tend to be four-digit numbers. In MightyCall, extensions can be made up of different numbers of digits, so if you want someone to have extension 2 or 11 or 942, that's possible.
How these extensions work is very simple.
Let's say Arthur and Belinda are employees within your company and you assign them extension numbers 130 and 123, respectively. Whenever Arthur needs to call Belinda, he simply dials 123, which is her extension number, and the call is put through.
If Arthur and Belinda happen to be in different departments of the company and you've assigned different extensions to these departments, the extensions of these departments are put into consideration. Say Arthur is from the Sales department with an extension of 12 and Belinda is from the Finance department with an extension of 14. Arthur would have to dial something akin to 14-123 to reach Belinda.
If it's an entirely external call from another company or customer, your main business phone number is added. Say your business number is the hilariously direct 123-4567, and you want your customers to be able to access your Sales department directly from certain campaigns or ads, you can list the extension with the number, posting 123-4567-12 as the number to call. Of course, if someone dials 123-4567-14-123 it means an external caller is trying to reach Belinda from Finance.
The good thing about having a virtual phone system is that these extensions are not limited by geographical locations. This is in the sense that you can have different branches of your company in different locations and there is no need for an employee to have to add another physical extension to call other employees within the company.
Since your company will operate from a single phone system, an employee – John, calling Mary, whose extension is 140, would only have to dial 140 to reach her, even if they are not physically in the same area. You can also have several phone numbers in a single phone system.
It is possible to make a call to a certain employee or department within a company without knowing their extension. Let's say someone wants to contact the Finance department of your company, and they only know the company's main business number; that is where the auto attendant will play a significant role.
The auto attendant or voice receptionist will help route the call to the particular individual or department needed. Incoming callers can also skip the auto attendant to go directly to exactly where they need to call if they know the phone number and extension.
It is advisable to have specific extensions for your company's divisions to make marketing campaigns more effective and your call flow more digestible.
Is a Virtual Phone Number and an Extension the Same?
Basically, yes. The major difference between them lies in the context in which both are used. One thing to note is that both a virtual phone number and an extension are numbers, and being part of a virtual phone system, they are both virtual.
'Virtual', in terms of VoIP, suggests that calls are forwarded to another device, one connected to your business phone number (so you won't have to carry around multiple phones all the time). This phone number connects to the Internet Protocol (IP) address of the connected device, whether a phone, tablet, or computer. The phone number is said to be dedicated to this device.
When you dial a number from VoIP, the connection is carried over the internet to locate the IP address of the phone or device connected to the number dialed.
You are charged by your VoIP provider according to the agreed-upon rates. Your virtual phone number is the number you choose from your VoIP system to be shown to those you call from the system as opposed to your personal mobile phone number.
The same also goes for extensions. Phone extensions like virtual phone numbers also forward to another device, their voicemail box, or just to their number. In the case of extensions, however, they are not dedicated to one device, but rather the virtual phone system itself.
When callers call to a virtual phone number, the call can only be forwarded to the device you associate with this virtual phone number in the system, but when a caller dials your company phone number and uses any of your company's extensions, the call can be forwarded from the office to your phone or any other device.
So extensions and virtual numbers basically do the same thing: forward calls. In business, extensions can forward anywhere, including different devices at call centers, or "dead end" extensions, like voicemail boxes and messages, since those are not dedicated to one device. In non-business settings, virtual phone numbers can save friends and family members money by having them only pay local charges to reach phones far away.
How Easy Is It to Add Extensions?
Pretty easy, especially on MightyCall. Unlike in most virtual phone systems, you can conveniently scale your MightyCall phone system up and down. And just like many other MightyCall features, extensions are limitless! This means you can have multiple extensions, adding as many as possible as your business grows.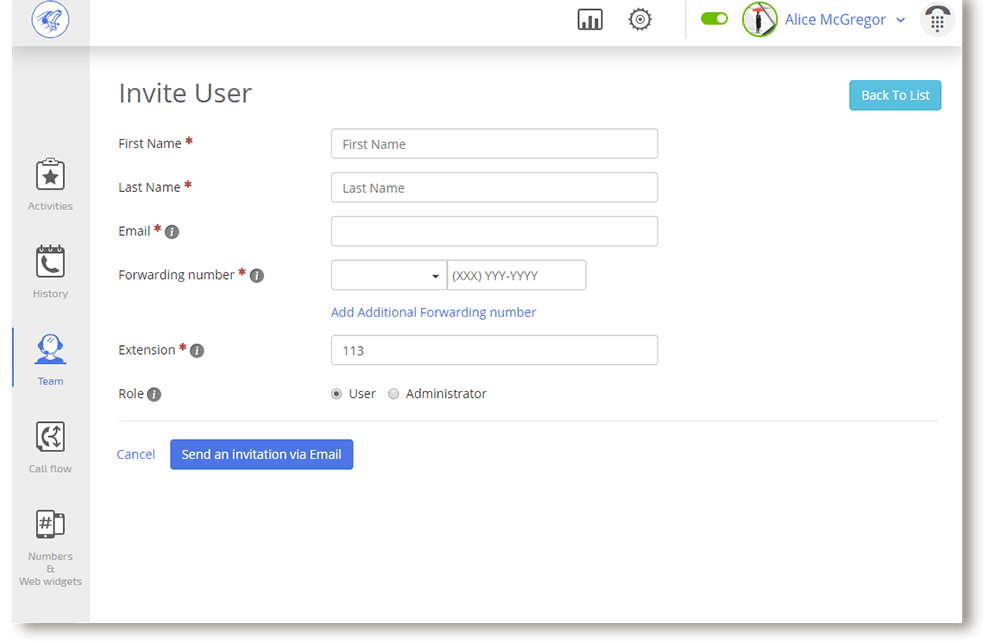 Managing business expansion is not one of the things you will have to worry about when getting your virtual phone system. MightyCall has already taken this into consideration, so you can sit back, relax and rest assured that communication within your business will always be within your control no matter how quickly your business expands.
It is just as easy to delete an extension as it is to add one, if business goes south. All you have to do is go to manage users section, select the user whose extension you would like to remove from your directory and click delete.
You will be shown a confirmation message asking you if you are sure you want to remove this extension from your business number. Only after your confirmation is the extension removed.
How Are Calls Routed to Extensions?
Routing calls to different extensions available within your company is a simple task. MightyCall makes it easier by providing a quick call directory. When a customer calls your company, they will be given this directory where they can choose where they want their calls to go.
For example: a customer calls, the directory is provided, if they enter an extension, say '4' to communicate with the sales manager, the MightyCall phone system will forward this call to every device connected to that manager, including their computer (web phones), land or mobile lines, and their mobile app (if it is installed).
All these connected devices will then ring either simultaneously or one after the other until the call is answered.
When a caller wishes to contact a team or a department, MightyCall distributes this call among the employees there to find the most available person to answer the call.
MightyCall makes use of four calling algorithms for you to decide how you want calls to be distributed within different teams in your company. These algorithms are:
Simultaneous
Round-robin (circular)
Sequential (by qualification)


Simultaneous: All team members receive calls at the same time, irrespective of their present task.
Sequential: Here the call goes from one member of the team to another in sequence, based on certain criteria that you have defined. For example, you may want every call going into each department of your company to be directed to the manager of each department first. Only in the case where they are busy can the call be channeled to other members based on your discretion.
Round-robin: The call goes in a circular path from one member to another until it is answered. If all members are busy during the first cycle, the call repeats the cycle.
Extensions can be changed at any point in time. If it happens that you need to change an extension assigned to a particular employee or to an entire department within your company, this is easily possible. All you have to do is go to the manage user widget, go to extensions, click on edit and you can change the extension to a more convenient one for you.
What Are the Benefits of Having Extensions?
Extensions are important for businesses with many employees or sub-divisions or businesses that are oriented towards growth and expansion. Having extensions helps manage many users within the business phone system. Some of the business values of extensions include:
Improved customer experience and customer service: your customers gain the ability to call a particular employee or group directly by dialing the extension.
Better internal communications between team members: you can call or transfer a call to a co-worker by tapping a short internal number. It is important for team collaboration, especially with remote and mobile teammates.
More convenient and cheaper communications with remote offices: you can create remote sales, service, or engineer teams with common extensions for better customer service.
Extensions help improve business productivity: with extensions, a considerably large amount of time is saved during transactions, since customers are able to directly contact their department of choice within the company. Your employees save time routing calls themselves too. Time efficiency yields productivity.

Finally, extensions help you manage calls in an easier, more convenient, and error-free way.
Pick the right plan for your business
Get a 50% discount on MightyCall for your first month.
If you already have a virtual phone number, we can port it in for free so you can keep using it.
All plans include
Unlimited Extensions

Unlimited Text Messaging

Customizable Call Routing

Auto-Attendant

Webphone

Conference Calls

Call Queues

Voicemail to Email

Custom Greetings

Performance Reports

Facebook & Twitter Integration

Web Widgets
30 day money back guarantee

No long term contracts

You can change your plan anytime