Interactive Voice Response (IVR)
---
The following is an in-depth technical article about IVR; here is a quicker read on the topic.
VoIP is a cutting-edge industry, but some of the original features still provide some of the greatest value to customers.
Interactive Voice Response (IVR) is a feature that has been making the phone experience more satisfactory for everyone for decades.
What is Interactive Voice Response?
IVR is an automated system that interacts with callers, collects information and routes calls to the appropriate recipient. As its name implies, IVR responds to and interacts with your callers.
The phone system receives input, and proceeds to processes it and provide suitable responses, mostly in the form of pre-recorded voice messages. Other forms of responses could include email, callback, or fax.
Even if the term IVR is new to you, you've probably heard it in use before: "Press 0 for transaction", "Press * for all menu", etc. Even though many callers may not be enthusiastic upon an IVR greeting, most entrepreneurs don't understand how significant this tool can be for their company.  IVR is a simple and effective system that can increase efficiency and reduce cost within your company.
An organization may decide to run its IVR system in-house by acquiring all the necessary software and hardware, which includes various software applications, telephony equipment, a database, and support infrastructure. Another way is to go through an IVR hosting provider. The latter is recommended if effectiveness and efficiency are of the utmost importance to your company.
Why Should You Choose an IVR Hosting Provider Rather Than Running In-house IVR?
The answer is quite simple. This is because IVR hosting providers solely specialize in providing IVR services, and they are always more equipped in solving issues related to the operation of the IVR system.
Your company, on the other hand, has its own field, and running your day-to-day business operations together while maintaining your IVR system might be cumbersome. Your employees are also not likely to be specialists in this field, thus making handling technical issues more difficult.
If you want to avoid these technical headaches, having a virtual phone system would be a good place to start. However, if you will be running an in-house IVR, it is paramount to understand how the system works.
How Does The IVR System Work?
An IVR system provides responses for appropriate situations and signals with a prerecorded voice to grant access to the relevant information. To understand IVR's operation, it has four major components: software applications, telephony equipment, a database, and a support infrastructure.
To begin with, the company's telephone line is connected to a computer. The computer has to have IVR software installed on it. Special hardware called the telephony card, or board, is also required. When a customer makes a phone call to your company, the prerecorded voice will respond with greetings and ask them to select an option from the menu.
IVR uses dual-tone-multi-frequency (DTMF) signals as a line of communication between a phone and a computer. The telephony card is what the computer uses to understand these signals.
A call's sequence of movement within the IVR is the following: a customer calls you, the call goes into the IVR system, the system gives the caller an automated menu and then, if necessary, the call is routed to a human.
The software part of the IVR is based on the Voice Extensible Markup Language (VoiceXML). The VoiceXML on its own consists of different components. These include the TCIP/IP network, a telephone network, a web server, a VoiceXML telephony server, and a database. They all function together uniquely to provide great customer service.
The TCIP/IP network is the internet network whose function is to provide internet and intranet connectivity.
The telephone server functions as the interface between the computer or phone and the internet network provided by TCIP.
The web server is simply the base of the IVR system software.
IVR accesses real-time data and information from the database.
As you can see, the various components of an IVR system mean it's something that requires time and patience. If your company has a phone system, then life is just easier. You don't need to go through the stress of learning the technicality involved with the system. You can configure your IVR directly from your Voip settings. There is already a predefined menu for you and it is easy to edit. You can learn how to enable your IVR in seconds.
Looking at how IVR and auto attendants work, you may be wondering if they are the same. After all, callers seem to hear voice responses on both, right?
IVR and Auto Attendant, are they the same?
The answer is no. An auto attendant only routes calls. On the other hand, an IVR system receives the calls, processes the information and then responds.
The responses from IVR is not always call routing. They can be in form of prerecorded voice response, callback, automated email, fax tone, and so on. The caller can perform some operations without needing an agent's help.
An auto attendant simply routes your call. It does this based on your selection after you've punched in your recipient's extension number or dialed by name. An IVR system goes beyond this. IVR interacts with you and gets to know why you're calling. If it happens that you have to be routed to a human agent, they already know what you need. In a nutshell, this difference is one of the systems' intelligence.
Knowing about IVR and its basic functions, here are its other useful applications.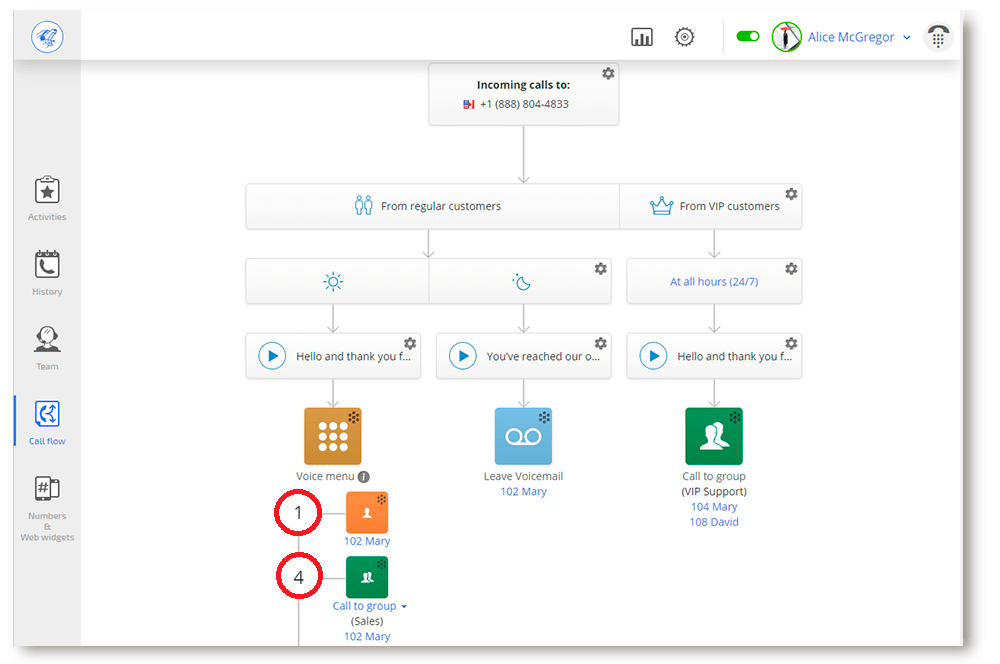 What Are the Uses of Interactive Voice Response?
The most common use of IVR is to automate outbound calls, inbound calls, and to route calls.
Other uses of the IVR include:
Configuring call forwarding,
Bank and stock account balances and transfers,
Call routing for office,
Selective information lookup,
Surveys and polls, and
Simple order entry transactions.
What Are the Advantages of IVR?
IVR technology can be beneficial for both small and large businesses in the following ways:
It helps provide 24/7 service.
IVR can perfectly operate without any interruption, thereby it's always available to callers. This will not be the case without IVR since naturally, no human agent can operate 24/7.
Saves time and money.
IVR can function intelligently and understand a caller's need, so it can be used to replace humans to attend to common issues that do not require critical thinking skills.
Effectiveness and efficiency.
IVR ensures greater effectiveness and efficiency, since repeatedly answering or attending to the same frequently asked questions can become monotonous to workers. The IVR system, on the other hand, doesn't get tired or bored and can provide the same quality of service to all callers.
Better customer satisfaction.
IVR answers customers immediately when they call, eliminating wait time. Customers don't like being made to wait, do they?
Good first impression.
IVR comes off as professional. They get an idea of the stability of your company and your customer support.
More profits.
More business deals and transactions take place over the telephone these days. Having a sophisticated call system with IVR ensures that your company handles calls in the best way possible. Better call handling=more profit.
Error free.
Using IVR instead of relying on a receptionist ensures that all processes are less error-prone. Human errors are totally avoided and whenever there is a need to route customer calls to another destination, the accuracy is guaranteed.
You should understand however that how well your IVR functions largely depends on you. To ensure that you enjoy all the benefits IVR has to offer, you should make sure that your IVR is regularly updated.


How Can I Improve My IVR?
The following are some tips and practices to improve your IVR:
Always research your audience.
The most important thing to ensuring that your IVR functions in the most accurate way possible is to know your audience. Research them and understand the kinds of service they need or questions they need answered. Provide up-to-date answers and solutions to these questions in your IVR and watch your customers smile with satisfaction whenever they call your company.
Natural language selection and speech recognition.
You should ensure that your audience has the option to be attended to in the language of their choice. This is especially important if your organization serves diverse customers. Speech recognition should provide a touch-tone interaction between your customers and the IVR, ensuring the automation of many transactions.
Be simple.
Simplicity is an essential key. Don't have too many options on your menu, and keep your language simple. Don't try to automate complex transactions, instead routing these calls to an agent.
Keep your greetings up to date.
This may not seem compulsory or even necessary, but the way your audience is welcomed when they call goes a long way. You might want to consider adding special greetings during holidays to provide a livelier atmosphere for transactions.
There are several virtual phone system and IVR providers out there, but if you want value, features, and call quality, go for MightyCall.
Why MightyCall?
MightyCall offers IVR integrated into its auto-attendant, and like all of its features, it is simple yet powerful.
MightyCall's IVR works 24/7, and combined with after-hours call routing, your business will never suffer, no matter when customers call.
Our IVR has benefits that competitors' IVR don't, including custom greetings, a dial-by-name directory for convenience, and 4 different call distribution methods compared to the standard 2 methods (sequential or simultaneous).
Pick the right plan for your business
Get a 50% discount on MightyCall for your first month.
If you already have a virtual phone number, we can port it in for free so you can keep using it.
All plans include
Unlimited Extensions

Unlimited Text Messaging

Customizable Call Routing

Auto-Attendant

Webphone

Conference Calls

Call Queues

Voicemail to Email

Custom Greetings

Performance Reports

Facebook & Twitter Integration

Web Widgets
30 day money back guarantee

No long term contracts

You can change your plan anytime