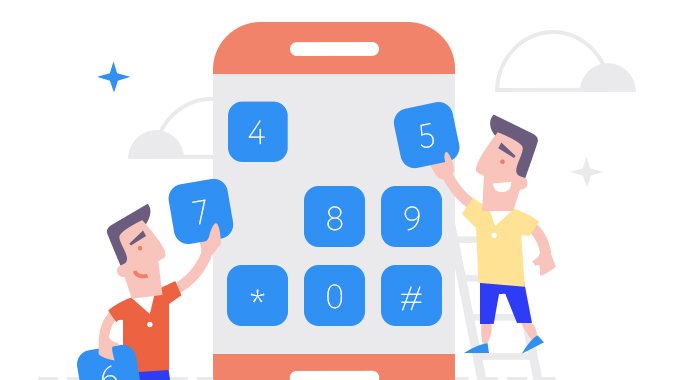 How To Create a Voice Menu Your Customers Will Love
---
Updated: 2017.02.14
This article covers:
What an interactive voice response is and how it works;
What benefits IVR provides to business;
How to create a professional voice menu;
MightyCall's virtual phone number ― an option to consider
5 steps to a perfect voice menu
When a person dials a company's business number, the first thing he/she usually hears is a voice menu of a "for Sales, press 1" kind. However, have you ever noticed that some of these menus make you feel uncomfortable? After a couple of calls you feel an inexplicable surge of irritation, while your desire to dial this number again vanishes. At least, until you have no other choice. Large corporations can even benefit from this effect, thus encouraging self-service and relieving their call center loads. Unfortunately, this is not an option for a small business owner, who values each and every client because of the tremendously competitive environment. How do you utilize an auto attendant with 100% efficiency? How do you make an appealing voice menu? This article provides the answers.
Interactive voice response: behind the scenes
A voice menu is one of the features of an IVR (auto attendant), which is an important element of any more or less sophisticated call processing system. In technical terms, is allows customers to interact with call-processing system software by sending DTMF signals when pressing keypad buttons on their phones. The phone system decodes the signals and feeds them to the program, which controls routing. According to specified rules and the button pressed, the call is then forwarded to the desired location (a particular phone, group of phones, voicemail, etc.)
Now it is possible to dispense with costly on-premises equipment and opt for a virtual phone number with associated call-processing features. Interactive voice response has become an indispensable part of a typical communication model for business. Why? Because it offers numerous advantages, such as:
Error-free call routing. Robots do not make mistakes: if a caller is sure of his destination and presses an appropriate button, the system will ensure his call reaches the right person. Being tossed from one desk to another is frustrating, so achieving instant routing contributes to a better user experience. Customers direct their calls themselves, so it becomes possible to processed more incoming calls in comparison to a live receptionist. Oh, and by the way, a hired phone receptionist is no longer needed at all.
Improved efficiency. An appropriately configured voice menu will lead a customer to the best available expert of the company. It means, that the vast majority of questions will be answered, requests fulfilled and issues resolved at the first call. Thus, customer support employees waste less time on doing "not their" job and seeking help of more qualified personnel. And when every cog of the machine does exactly what was intended, the overall efficiency rises.
Self-service encouragement. Customers differ: not all of them are happy to talk to a live operator when the task is fit for a robot. You can tune your automated attendant to receive call-back requests, redirect callers to voicemail and provide essential information about your company even after hours. A virtual receptionist makes self-service more accessible, preventing unnecessary communication and saving staff time. Thus, your company is able to provide better services within less time. There result is improved customer satisfaction and loyalty, which is crucial in terms of profits.
Improved call-processing capability. With the help of an IVR you will be able to process extensive numbers of inbound calls without hiring more staff. Modern virtual phone numbers combine IVRs with advanced call routing systems, capable of processing multiple telephone lines with forwarding to any device. Setting different forwarding models helps to maximize accessibility, while such options as music/messages on hold improve caller retention when they are waiting in a queue.
Caller differentiation. Besides creating blacklists for unwanted callers, a cloud PBX can optimize your call processing by prioritizing certain customers. It is possible to create a list of VIP clients, so they will override the queue and get services immediately. You may also incorporate several virtual phone numbers into the system and prioritize one of them. Let your company never lose a valuable client due to inaccurate redirection and long response times!
Improved company image. In fact, self-service menus and automated routing are standard for professional communication. An average customer may feel quite puzzled when, after dialing your business number, he/she hears beeps. It's hard to say whether it's worse to hear a pending or a busy line, but either is far from optimal. A voice menu will not only shorten response times, it will make your small business appear bigger that you are. It's no secret that for customers, "big" sometimes equals "trustworthy".
A guide to making an appealing voice menu
Once we've found out that a virtual phone number with incorporated voice menu is immensely useful, let's proceed to making this menu appealing and efficient. First of all, you will need to gather basic information about your company and clients.
Make a list of departments. Every company seeks to narrow a field of tasks performed by particular employees to let them perfect their skills. These individuals are grouped into department to facilitate cooperation. Even if there are, say, five people in your company, their range of duties should be clearly defined. A typical business model includes such departments as human resources, marketing, sales, production, shipping and customer care. Every company offers different products and services to customers either locally or globally, so the list of teams varies. Once you have the list, it is possible to to identify the vital departments that would receive higher numbers of inbound telephone calls (e.g. sales and customer support).
Assign each department a number by popularity. A voice menu prompts the customer to access a desirable department by pressing a number on a stationary or mobile phone keypad. It's only logical that you assign these numbers in such a way that saves a caller's time. To do that, evaluate the (potential) number of inbound calls per department and give number 1 to the most popular.
It's only logical that the team in the most demand appears first on the menu. For instance, if your company is involved in software development, it will likely be technical support; if you own a general merchandise store, the first place goes to sales. Such an arrangement will greatly enhance user experience. As a bonus, your staff won't have to interact with callers annoyed by waiting until the needed department is voiced by the menu. By the way, assigning 1 to a live receptionist (if you have one) is generally considered to be a sign of respect to those who are in a hurry or simply dislike robots.
Note: Set up fewer menu items. Keep in mind that all human beings have limited patience. Most likely, customers will not listen a 10-item menu to the end and choose to hang up or contact a live operator (if the list starts with this option). The best configuration for the perfect interactive voice response system is having a maximum of 5 items. Don't list departments a customer doesn't need, like an internal IT technician or accountant. It will save customers' time and help them memorize an item they use often.
Configure the system. The next step is to bind the keypad presses to corresponding extension numbers, so that the software interprets tone signals correctly and acts accordingly. Virtual phone systems are generally easy-to-configure: typically, a centralized administration panel offers this function in wizard or flow-chart format. If you have difficulties during this step, contact your call-processing software provider to clarify your doubts. It is always better to spend some time on doing everything correctly than to return to this issue again and again.
Note: Ensure an appropriate pause. In case of cellphones, a caller has to pull the phone away from his/her ear to press a button; the pause between items should be enough to do it. However, more advanced systems allow choosing a desired option within the whole duration of the menu. Just keep in mind that a customer needs time to process the information he/she hears and make a decision ― not everyone is aware of which department they need beforehand.
Record the company greeting and voice menu. Of course, the system has to playback something, and it should be adequate. You have two options here: use standard (downloaded) speech samples or record on your own. The first variant is ideal for people who prefer unsophisticated out-of-the-box solutions. The advantages are professional sound quality and instant availability in exchange for personalization. The second option will suit owners of non-standard department arrangement and those who want to differ from competitors.
Various companies offer high-quality sound recording by professional voice actors. They will ensure that sound properties are close to ideal and the speech is free of regional accents or pronunciation mistakes. Surely, it is the best, but costly way. The DIY variant is also possible either by means of rental equipment in a studio or at home/office. However simple it may seem, the recording process is quite painstaking and the resulting product requires additional software processing (reduce noise, tune pitch, etc.). An interesting fact: according to scientists, a male voice is easier to distinguish, because it is lower than female.
Note: Descriptions should precede numbers. Attention and memory span is extremely limited because ― at least for some people ― calling a company is a stress. That is why the first thing a caller hears should be a department description and only then the number to press. Instead of "Press 1 to talk with a sales representative" opt for "To speak to a sales representative, press 1."
Test extensively. After you configure the system and activate it, it's time to check it out. Never make any permanent changes to your communications model without proper testing. If, by chance, your company has remote employees all over the country, ask them to dial your virtual phone number. It would be good to test how the system works across different channels ― different mobile carriers, landline phones, VoIP (if supported). Does everything work properly? Then you're ready to receive customer calls.
Note: Don't forget to test all the items from the menu to ensure that call forwarding works as intended. Also pay attention to sound quality: the recorded speech should be understandable and, ideally, pleasant.
MightyCall is at your service
The size of your company doesn't matter. The field of your business doesn't matter. Even your budget doesn't matter. What matters is that you wish to have a top-notch, yet affordable, call processing solution. Look no further than Mighty Call, a virtual phone number provider with a host of advanced features. With additional equipment needed, subscribe now and get superhuman communicational abilities:
To forward calls to any device
To use a local, toll free or vanity virtual phone number
To customize your voice menu and IVR at your whim
To ring multiple phones at the same time
To monitor all your communications
To mask your number and screen inbound calls
To access all communications channels through an exclusive mobile app
To assign tasks on the go
…. And many other powers described at our Features page. Don't hesitate to become a true master of efficient interaction with MightyCall.