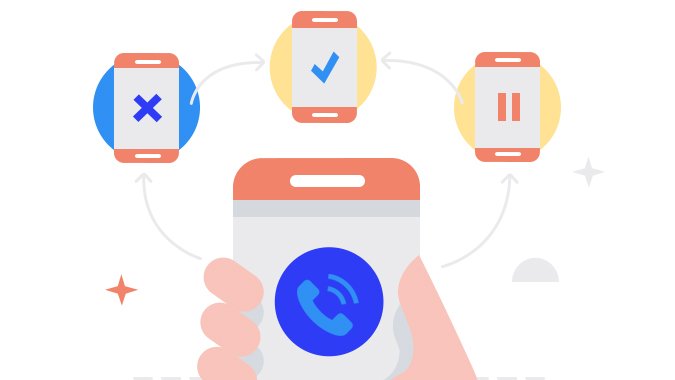 Three Ways Call Routing for Small Business Can Make You Sound Like a Big Business
---
Updated: 2017.02.14
In this article we cover:
Why customers prefer larger companies;
How a virtual phone number can help a small business;
How good call processing improves your company's image;
9 phone system features that make a company seem larger.
Virtual phone systems: don't let larger sharks swallow your business
Against the background of fierce competition in almost every field of business, small and medium companies are fighting against large corporations for customers. This war is far from fair: given similar prices, an average client will likely opt for a larger company because of its alleged reliability and repute. Such things as personal approach and hand-picked/produced merchandize don't matter as much as shrewd marketing moves.
Why does bigger seem better?
Historically, individual entrepreneurs and small business owners had no other way to manage telephone calls except for hiring a secretary or a phone receptionist. Of course, the quality of interaction strongly depended on the person's skills and it wasn't efficient in terms of costs. The human factor impacted availability: a secretary could be on a sick-leave; was absent from work during lunch time and after hours. Thus, for 24/7 availability phone operators had to work in shifts. Even worse, if a company had multiple landlines connected. In a word, business communication was super expensive!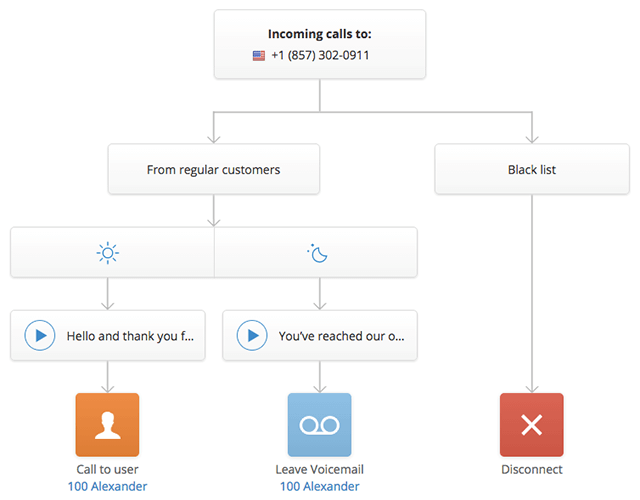 With the advent of new and better technology, larger companies started to use on-site PBX systems to allow call routing with only a limited need for live operators. Naturally, such systems were (and still are) expensive, required professional deployment and maintenance. Thus, many SOHO businesses opt for using their personal phones for client interaction. Although feasible on the first glance, such practice is marred by numerous disadvantages:
Inability to handle more than a couple of simultaneous incoming calls;
Compromised privacy and safety due to giving public access to personal contact data;
Limited use of voicemail, call screening, answering machines etc.
Spending too much time on the phone;
Dependence on a single carrier and device;
Inefficient teamwork handling and so on.
And that is where the myth about "sophisticated telephony-> a large company -> better services" stems from. In the mind of a prospective customer, the size of your business is strongly associated with success. Hence, smaller companies are considered unsuccessful due to allegedly inferior quality of provided services. Luckily, an average client has very limited means to determine whether you handle business single-handedly or have a hired staff of dozens. If you provide services online, the customer can only access your website or an online store, while communication is limited to phone calls.
That's where an advanced virtual phone system comes into play. Is there a way to get all the professional interaction capability for affordable price? Sure! Such a system will not only reduce your communicational overheads and improve efficiency; it will make your caller believe that your company is larger than it actually is. What you need is a virtual phone number with advanced communication options. As a bonus, callers will hardly find out that you pay a mere $20 a month for all those customer-friendly features. Let them think you work hard to ensure their convenience.
9 call-processing options to make a small business look bigger
The golden rule of successful business interaction is offer what your callers expect to hear. Obviously, to do that you will require an advanced virtual phone system such as MightyCall. In this case, virtual means hosted or cloud-based. After subscribing to a virtual phone number and selecting options you need, the maintenance of the communicational infrastructure becomes a provider's task. The best thing here is that you don't need purchase or deploy any hardware: the provider uses its own assets to provide services as per agreement. All you need to do is configure the system (yourself or with the help of tech support) and start using it.
The most basic feature of a cloud call-processing solution is a virtual phone number. You can either port an existing number from a third-party service, or get a new one. This step already allows for company image improvement. Apart from a basic local number (selected from a list of available combinations), you can subscribe to a vanity and/or toll-free number. The former one is essentially a combination of digits which is either easy to remember or can be dialed via replacing part of the number with letters (phonewords). If you opt for something like 1-800-FLOWERS, customers will instantly guess your field of expertise.
Another way to distinguish your company is a toll-free virtual phone number (800, 0800 or 1-800). This feature ― widely used by large call centers ― allows you to pay for incoming calls instead of your customers. Needless to say, it is considered a sign of care for clients and boosts your company repute. The number of incoming calls rises greatly, and so rise the sales, compensating for increased communication overheads.
Besides a virtual phone number, subscribers also get many other advanced features. One of the most prominent in terms of impact on the company image is an automated attendant. Simply speaking, it is a piece of software, which allows call routing via a customizable voice menu. A typical menu prompts callers to press buttons of their phone keypad (or give a voice command) to get through to a particular department/person. An auto attendant (aka interactive voice response or IVR) is the first thing a caller usually hears: "Thank you for calling to ABC Inc." A professionally-recorded greeting (you can easily do it yourself) is like a business card for potential customers. Do it crisply and business-like, or make a creative move ― the choice is yours. A VIP list feature allow to play different greeting to different callers according to their numbers; forwarding rules can also be set separately.
Even if your staff consists of several employees working remotely from their homes all over the country, it is possible to cover them with a single umbrella of a virtual business number. With bring-your-own-device capability, it makes teamwork a breeze. But not only that: configure the voice menu as to announce something like "to call our sales department, press 3", you will create a believable illusion of a large company with strictly organized business processes: dozens of well-dressed clerks diligently working at their desks from nine to five. Callers will never know that "the sales department" is your old buddy Jeff, lying on a coach in his favorite Pink Floyd T-shirt, while "the marketing department" is a high school student Mary, who lives in a dorm.
And while the aforementioned Mary and Jeff are reaching for their cellphones (yes, mobiles are supported), a caller will hear professionally sounding music on hold or a recorded message. Surveys show that playing something pleasant/interesting instead of standard beeps makes people hold the line 1.5-3 times longer without hanging up.
Interactive Voice Response menus also give you an opportunity to enhance your after-hours business activity. Most small business owners simply ban after-hours calls from reaching their phones or forward them directly to voicemail. As a result, anyone calling at night will end up unanswered and frustrated. Virtual phone number providers offer a more efficient alternative. You can configure your voice menu to go into a different mode after hours or during lunch break.
In case a customer only wishes to clarify your schedule or availability of certain services, it's fairly easy to let them browse a self-service voice menu for the information they need. Just record appropriate messages for this occasion and ask callers to press a specific button for business hours, delivery details, payment options or anything else you want.


After-hours routing can also be altered depending on a caller's number, so that VIP customers can reach you regardless of time or day of the week. In case you cannot answer immediately, ask them to leave a voicemail or a call-back request to minimize customer loss. Note that many virtual phone solutions providers offer voicemail transcription ― a text of a voicemail will arrive at your email or a mobile application, so you can react in a timely manner.
MightyCall is specifically known for its multichannel capabilities. An exclusive mobile application or a web-based dashboard lets you manage call-back requests, business messages and voicemail – but that's not all. You can assign incoming calls/messages to your team members real-time, view detailed communication statistics, place to-do notifications and much more. Seamless integration with popular social media networks will grant you timely access to business-related social messages, saving effort on monitoring associated pages via numerous apps or a browser.
Your business website isn't neglected either. MightyCall's complementary Contact Us and Click-to-Call widgets will turn the site into a powerful communication tool. Contact Us page shows essential contact data in a convenient format (a virtual phone number, e-mail, social media profiles, a map, etc.), while Click-to-Call does as its name suggests. A website visitor will be able to make a VoIP call through this widget, leave you a message or a call-back request. The more accessible you are to potential clients, the more professional you look in their eyes. And what can better show your care for customers than a timely response?
MightyCall's virtual telephony solutions: we help you grow
All in all, MightyCall cloud call-processing system offers a perfect opportunity for a small business owner to improve his business interaction, save on infrastructure expenses and appear bigger that you actually are. While you care for your clientele, we will care for your communication needs, so you can concentrate on doing business. Our list of available features is really impressive, but there are also things we don't have:
No costly on-premises equipment;
No bugged features, which are impossible to configure yourself;
No long-term contracts, in case you don't want any;
No hidden costs and paid options you don't actually need;
And what we are happy to offer includes, but isn't limited to:
Years of experience with small/medium businesses;
A wide range of customizable advanced options;
Nearly best rates in the industry;
Excellent customer support and knowledge base
30-day money back guarantee;
Flawless sound quality and uptime;
Enhanced multichannel capabilities and compatibility with any devices of your own…
Make your company more professional, efficient and profitable with MightyCall's virtual phone number solutions.