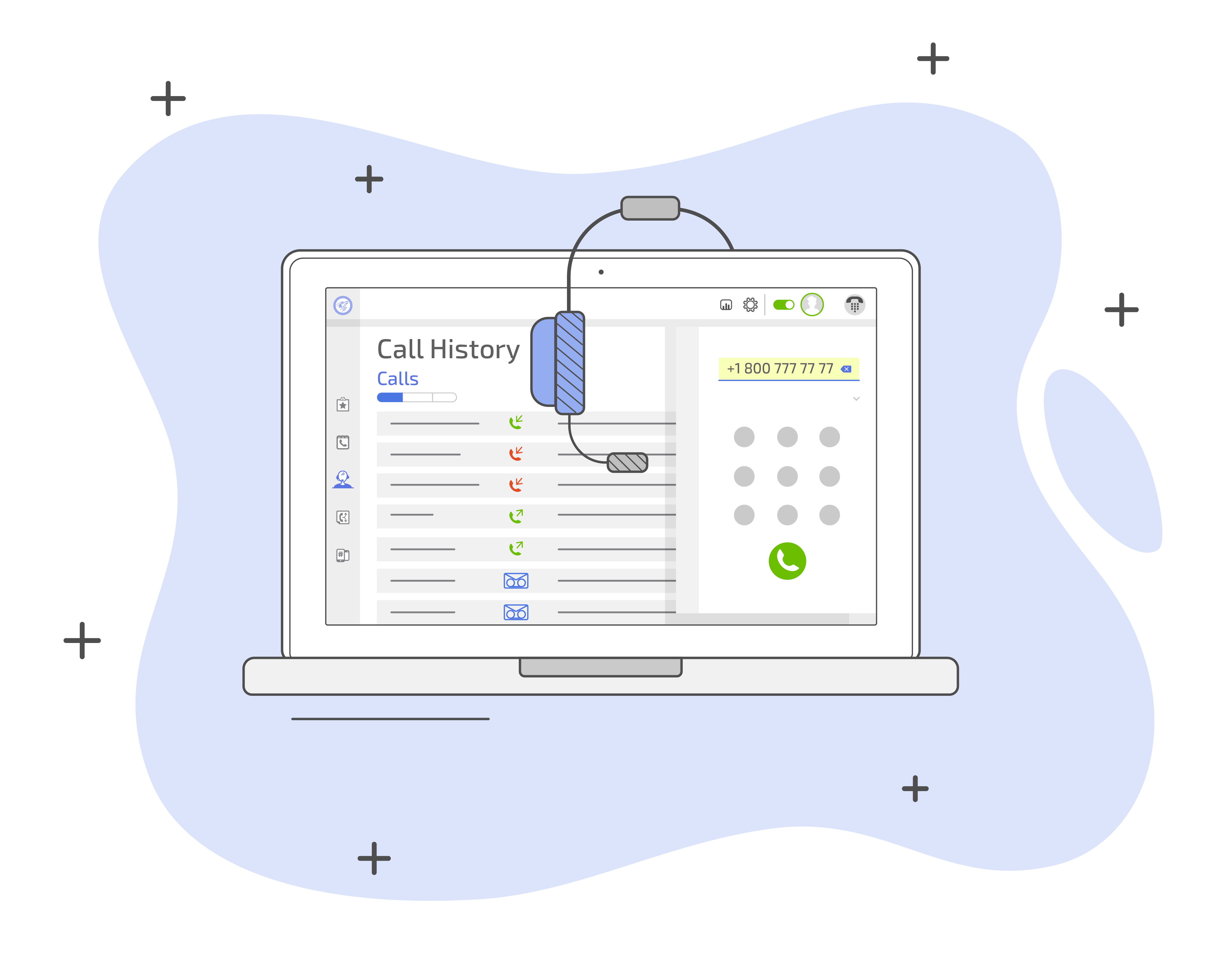 WebPhone
---
The following is an in-depth technical article about the WebPhone; here is a quicker read on the topic.
In a company or office setting, computers are probably on desk. In businesses, most administrative operations are done on computers. Computers are simply more professional and convenient for business work than cell phones or tablets.
Having to deal with communications and answering multiple business calls on the phone while working on the computer can be a tricky task. To help with this, MightyCall designed the WebPhone.
With the WebPhone, you can communicate using your business phone number with your staff, clients or customers straight from your computer. There is no phone necessary. This helps you and your employees be more concentrated as you only have to focus on one device.
The Webphone is one of the MightyCall web features. MightyCall gives you a variety of choices on how you want to call.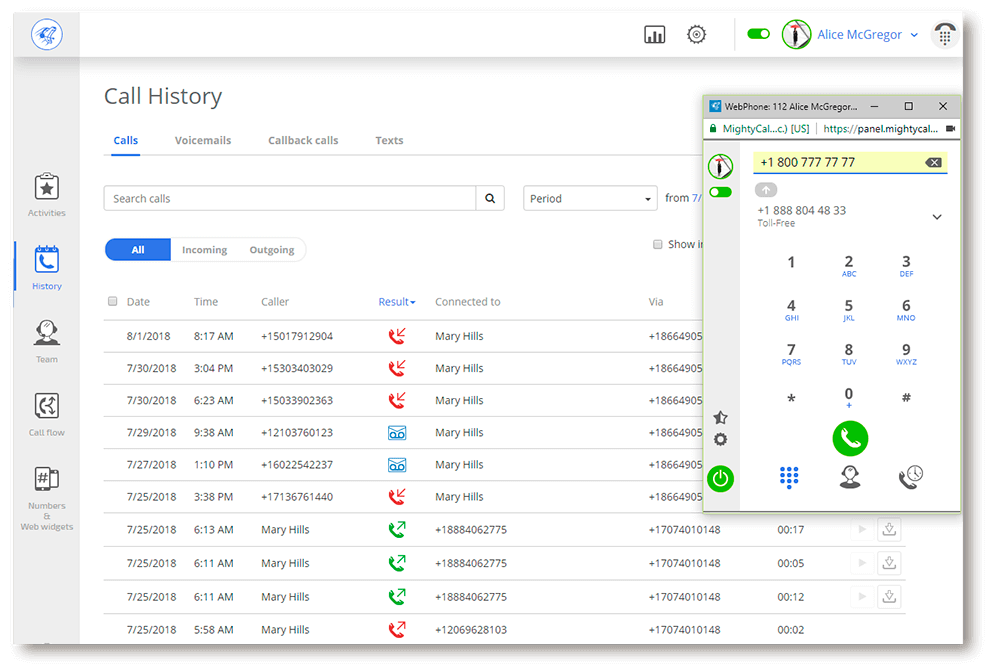 What is a WebPhone?
A WebPhone is a kind of software that allows you to receive and make calls from your business phone number via your computer. A WebPhone has all the basic functions of your cell phone for communication purposes. Just like with your cell phone, you can use the speakerphone function or a headset.
The WebPhone is basically your phone on your computer. It makes use of Web Real Time Communications (WebRTC). That makes it possible for calls and other forms of communications such as text messages to be initiated and delivered instantaneously, as long as there is a working internet connection.
How Does the MightyCall WebPhone Work?
WebPhone is one of the many useful web features on the MightyCall phone system. It enables real-time communication from your computer or browser.
The MightyCall WebPhone is simply designed and is very easy to understand. The interface designed is like that of the cell phone, to make you have the feel of communicating with your cell phone, only that it is from your computer.
All you need to use the WebPhone is a computer and internet access. On your MightyCall account page, simply turn on your WebPhone (it's inactive as a default setting) and you're ready to go. From there, you can make any outgoing call that you want, and incoming calls have instant notifications so you can leave the WebPhone up in the background and never miss anything.
The Webphone can also run as an extension of your browser. This allows for communications to still be able to be done even while your browser is closed. It can work with various computers and operating systems ranging from Windows, Mac, Linux, and so on.
The MightyCall WebPhone can act as a communication hub, allowing you to:
Make and receive calls on your computer,
Forward calls to another person,
Initiate conference calls, and
Communicate with your employees.
You can call the Public Switched Telephone Network (PSTN) with the WebPhone to get even better call clarity. The WebPhone also provides some basic features that are available on phones such as conference calling and callback requests.
The WebPhone does not depend on your MightyCall plan, as it is available with every plan. It is the cheapest way to use MightyCall. When making and receiving calls through it, you aren't using your service provider minutes – only your MightyCall minutes.
This makes it perfect for small offices. If you're the boss, you can command everything straight from your desk. Any missed calls and voice messages automatically get added to the integrated task list so you can easily respond to them as soon as possible with the click of a button.
If your company has a particularly heavy call flow, using the WebPhone is an excellent way to delegate and make sure your team covers everything.
The most recent enhancement to the WebPhone consists of being able to decide whether you wish to enable or disable the LAPDF (Local Area Presence Dialing Feature), which allows you to be able to make calls to local numbers from your phone system. Other enhancements include being able to leave a voicemail or receive recorded voicemails.
Since the WebPhone is an integrated part of your phone system, it is available for everybody in your office to use. Not only you but all your employees have access to their own WebPhone. This helps to organize both internal and external communications.
In situations where you have multiple extensions within your company, making use of the WebPhone rather than the mobile app might be a better way of handling communications, since it will be easier to delegate tasks.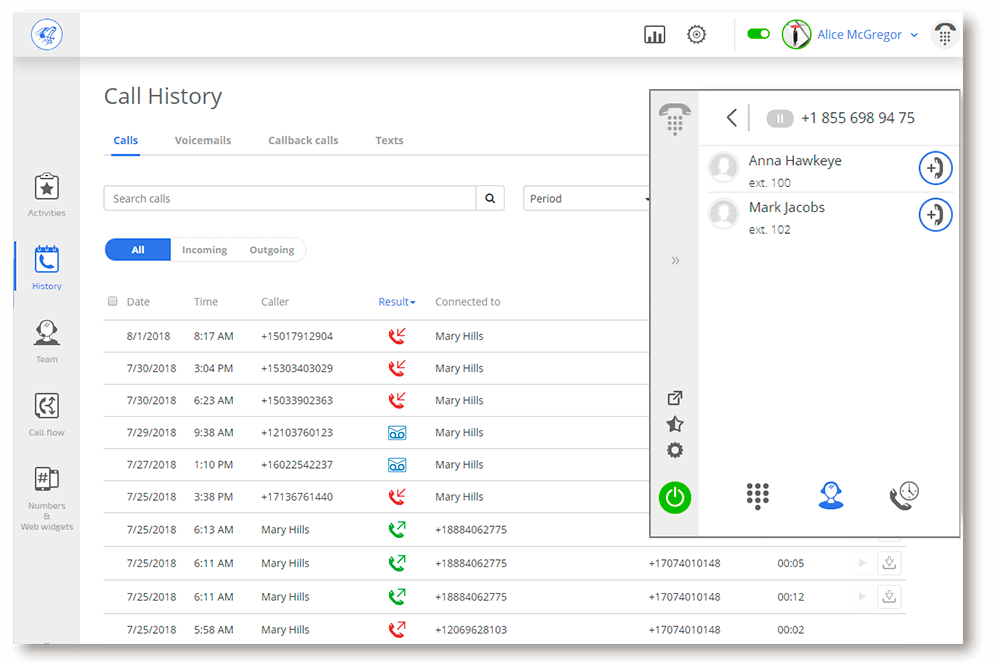 There is also a built-in contact directory with all the users in the WebPhone, saving you the work of inputting or memorizing numbers. Of course, directories also run on your MightyCall mobile app, but in offices, it's easier to access the directory on the bigger screen.
The WebPhone packs the power of a computer with the same feature functionality, letting you transfer calls, form teleconferences, alternate conversations, put callers on hold to consult with employees, and more with ease.
One of the interesting things about the MightyCall WebPhone is its ability to function together with other phone system communication features for a better service. The WebPhone for instance can function together with the SoftPhone.
The SoftPhone is also a web feature of your phone system. It makes making and receiving calls easy. It is an application program that supports Voice over Internet Protocol (VoIP) telephone calls from various computing devices. In simpler language, it's a way to use your computer to make and receive phone calls.
The WebPhone together with the SoftPhone helps to facilitate an unmatched efficiency from the internet call system. The SoftPhone itself stands for software telephone, so instead of your physical cellphone, you can basically perform all your operations on the computer through your WebPhone.
Do I Need Technical Knowledge to Use the MightyCall WebPhone?
Absolutely not. Apart from being able to operate a basic computer system, you do not need anything else. You only need to log in to your MightyCall account, and right there you can simply turn on your WebPhone with the click of a button and treat it like it's any other phone. To repeat, the WebPhone is inactive as a default setting, so you will need to turn it on.
Turning on the WebPhone would make the web panel available to you. From the web panel you can perform any phone operation you wish to perform–making calls, sending texts, recording calls, etc. You can also set custom messages and music on hold for your callers on your WebPhone.
 Some Additional Features included in the WebPhone
Included in the WebPhone are some features that make business transactions and communications a much better experience. These features include:
Better system of network condition detection. This is to determine the state of the network at any particular time in order to enhance call quality.
Great speed of hold and on-hold operations.
Improved audio and visual feedback system. This is important to hear and see numbers that are being pushed or dictated during calls.
Notifications about inbound and outbound calls.
Call transfer and call routing.
These and other features make the WebPhone an effective communication tool.
What Are the Advantages of the WebPhone?
The WebPhone has numerous advantages and can be of great business value. By making use of the WebPhone in your office or business, here are some of the benefits you stand to enjoy:
Improved customer service.
Having a communication system that will not only make carrying out phone transactions convenient greatly helps to improve the customer service experience.
Increased online sales.
The WebPhone is stated to increase online sales among our customers by as much as 30%. Since the WebPhone deals with communication over the internet, you have the ability to turn undecided visitors into customers.
It helps minimize cost.
The WebPhone is the cheapest way to use your virtual phone system. When making and receiving calls through it, you aren't using your service provider minutes – only your MightyCall minutes. This helps to minimize how much you spend on communication while at the same using an effective communication tool. So it's like you are getting the best price for your money.
Ensures security.
The WebPhone, like any other feature in the MightyCall phone system, is completely secure. With the WebPhone you can carry out business transactions over the internet, sending and receiving vital information without the fear of it being intercepted or facing any of the common fraud problems faced on the internet.
Facilitates better internal communication.
Since you can have a WebPhone on every computer within your company, reaching any employee has never been easier. Employees can also conveniently contact one another through the WebPhone as there is no cost for intra-office connection and communication.
Mobility is easily possible.
The WebPhone is a feature that operates from your browser. That means you can access your WebPhone from anywhere, given there is an internet connection.
So no matter where you are, you can stay in touch with activities going on within your company, and you or any of your employee can contribute to their quota even if not physically available.
Pick the right plan for your business
Get a 50% discount on MightyCall for your first month.
If you already have a virtual phone number, we can port it in for free so you can keep using it.
All plans include
Unlimited Extensions

Unlimited Text Messaging

Customizable Call Routing

Auto-Attendant

Webphone

Conference Calls

Call Queues

Voicemail to Email

Custom Greetings

Performance Reports

Facebook & Twitter Integration

Web Widgets
30 day money back guarantee

No long term contracts

You can change your plan anytime