Voicemail & Transcription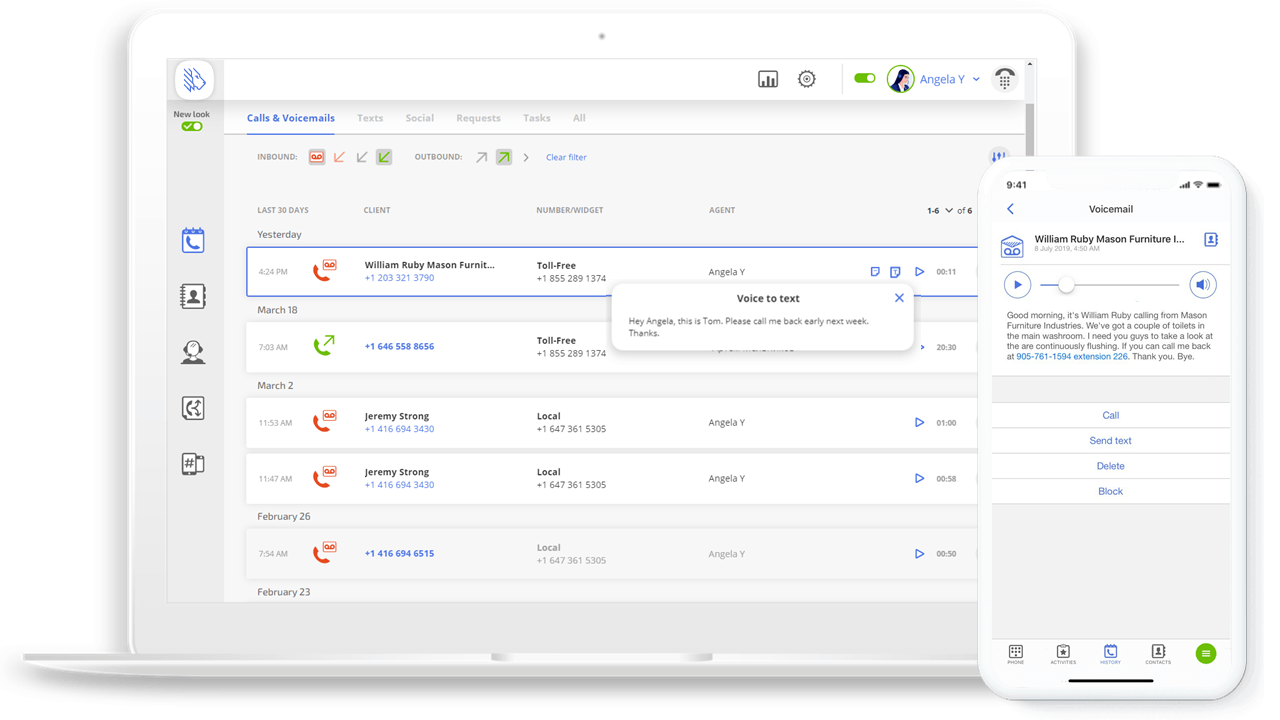 Listen to voicemails, get notifications, and have voicemail transcripts sent straight to your email.
Why do I need voicemail nowadays?
Voicemail has become less relevant as time has passed, but that's largely in the personal regard; voicemails for business are still quite useful, and a good way to handle unanswered calls. Simply having and regularly checking your voicemails will improve your customer service.
How does MightyCall's voicemail work?
Our voicemail works the same way most do, and is built-into the service.
If you and your staff can't (or don't want to) answer an incoming call, the auto-attendant will route them to voicemail. This is especially useful for your business hour/non-business hour split; calls during non-business hours will go straight to voicemail after informing the caller about your work schedule.
Two things happen to voicemails: they are automatically converted to audio files for storage, and they are added to your activity queue for you or an employee to appropriately handle. This way no voicemail is ever left unanswered.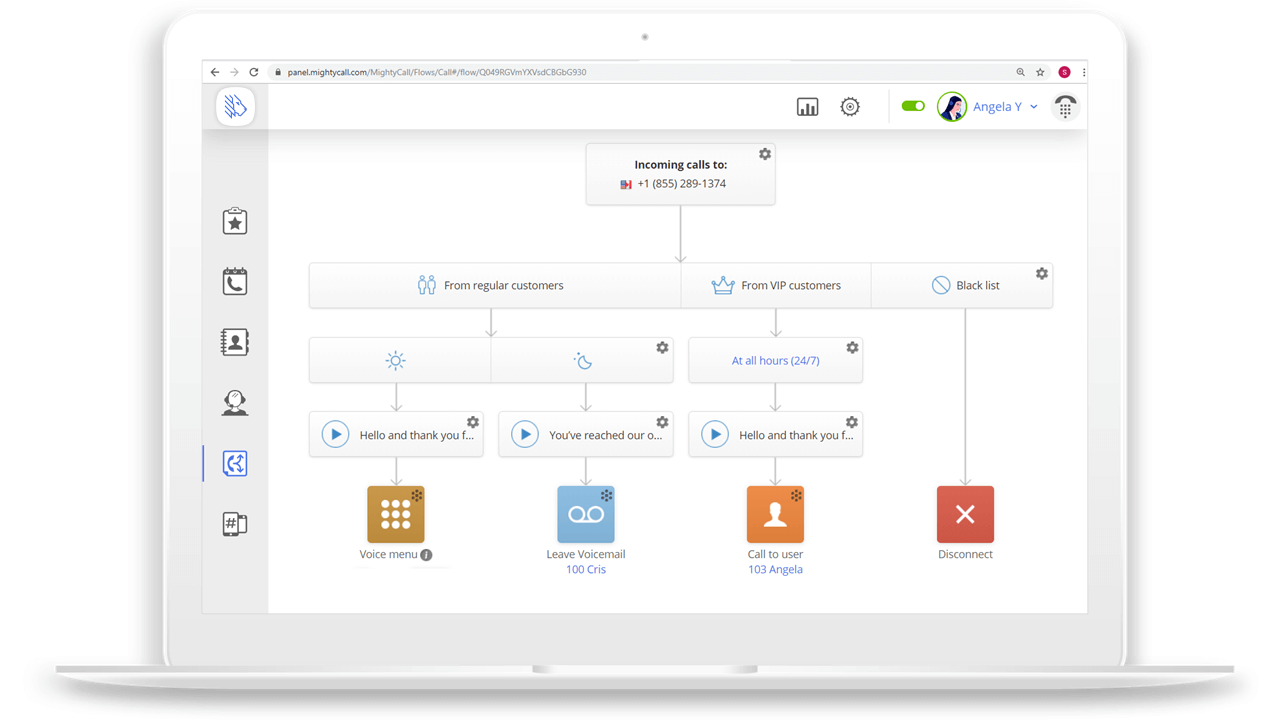 What is Voicemail-to-text transcription?
MightyCall's virtual phone system has voicemail-to-text transcription.
When a customer leaves a voicemail, MightyCall automatically transcribes the audio to text. When you receive an e-mail notification about the voicemail, it includes the transcribed text.
This is great for increasing your productivity. You can take a quick look at the text and decide if the voicemail is urgent or not. In addition, you can search voicemail transcripts right in your email.
How to store and retrieve voicemails
Every member of your team can have a dedicated voicemail box.
Every voicemail goes into the MightyCall cloud and is accessible through your MightyCall account and the MightyCall mobile app.
As soon as a customer leaves a voicemail, you'll receive an email notification about it with the transcribed message and a link to download the audio file.
How to get Voicemail transcriptions via Email
Good news for you, this feature is automatic! Voicemail-to-text is only available on our Standard and Ultimate plans, but if you have one of those plans, everything is set up the minute you subscribe to MightyCall. For each individual voicemail you receive, you'll get an email notification with the text and basic information of that voicemail.
If you wish to deactivate this feature, you can do so by clicking the deactivation note at the bottom of those emails or by turning off the feature via the settings page on your profile.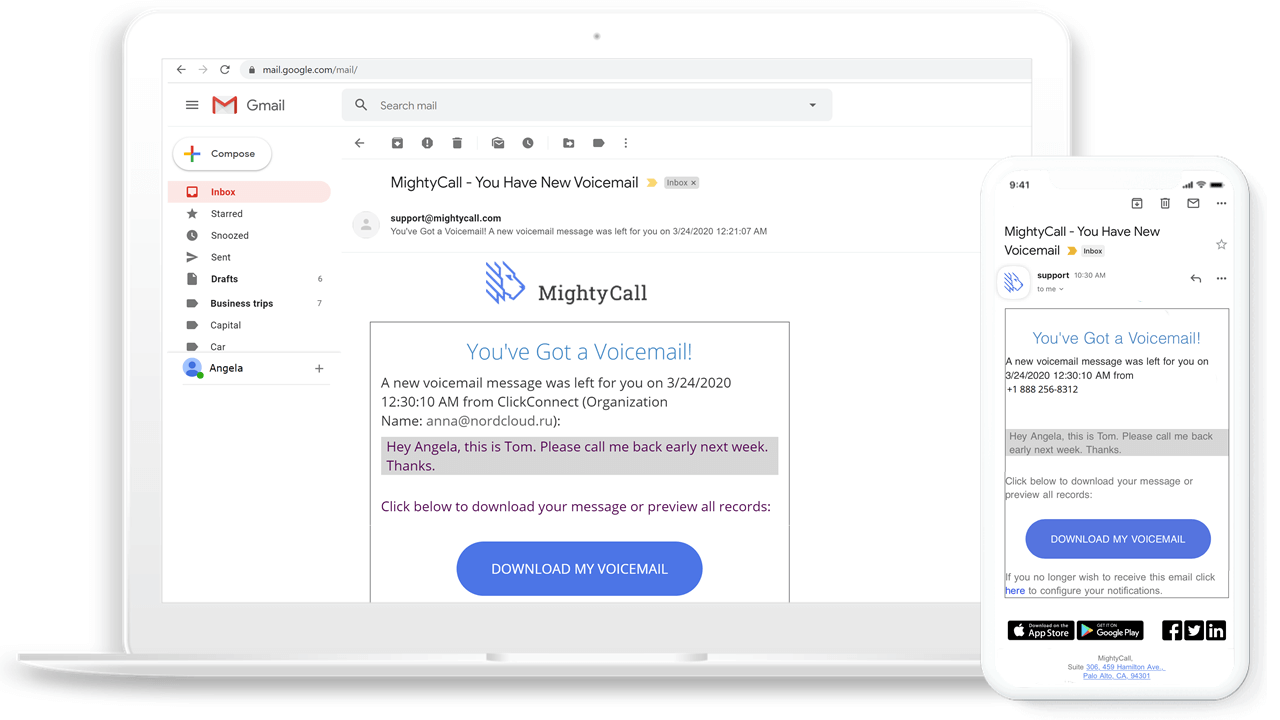 What customers say about MightyCall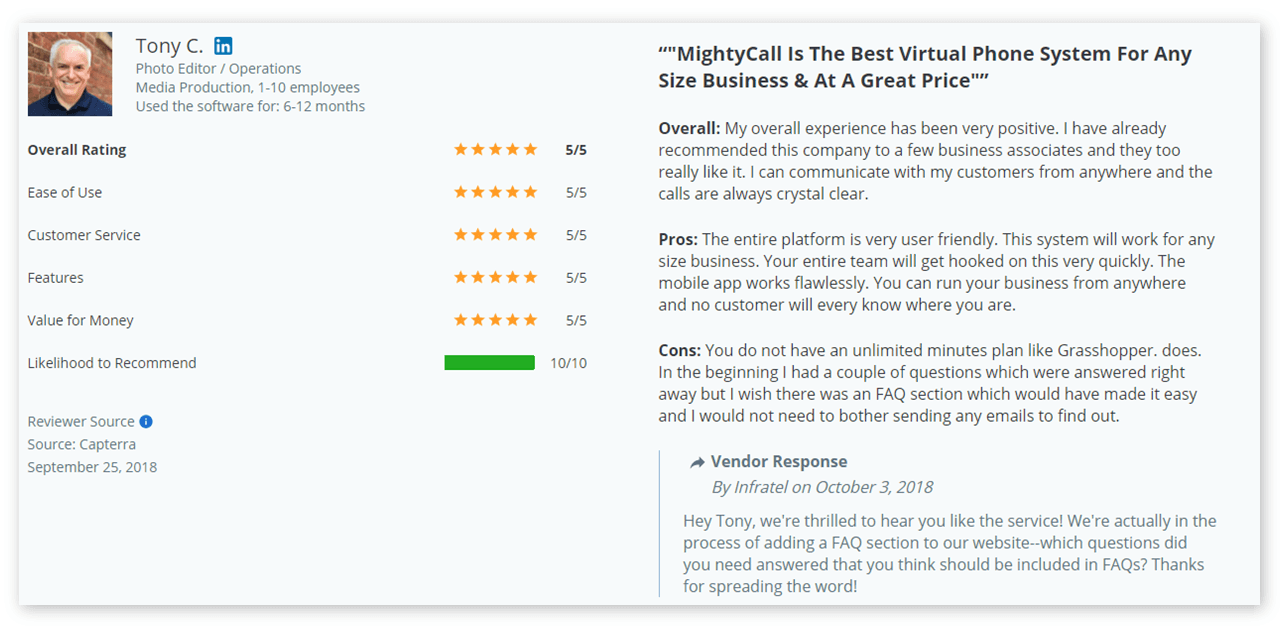 Source: Capterra

4 out of 5 stars

4.2 out of 5 stars

4.7 out of 5 stars

4.2 out of 5 stars
Get a virtual phone number for your business now!
No contract.
No hardware needed