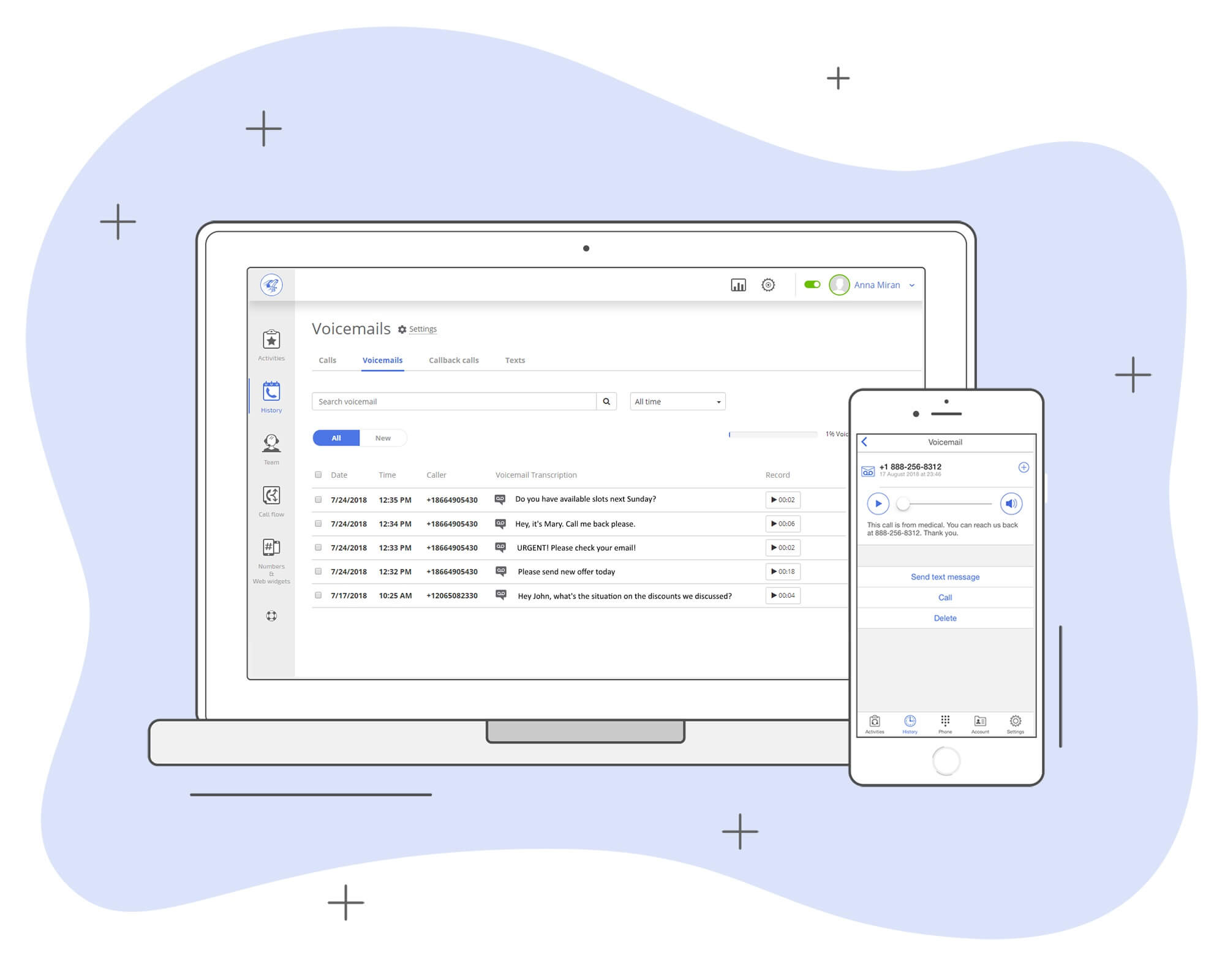 To keep things concise: visual voicemail saves you time
---
Every single advantage technology can give your business is a blessing. That's why you should know as much as you can about every feature or service that can help your business. MightyCall, like most virtual phone systems, has numerous features to improve inefficient parts of a business operation. One of those features is visual voicemail.
What is Visual Voicemail?
Visual voicemail is a section or feature in a phone or phone system that stores voicemails in an advanced and visual interface. Instead of simply seeing that a caller left a voicemail message, all of the call's information will be displayed, oftentimes including a transcript of the message (voice-to-text transcription is available on MightyCall's Standard & Ultimate plans).
A brief history
It feels like it's been around forever, but visual voicemail wasn't implemented into mainstream technology until the release of the first iphone in the summer of 2007. The iphone's visual voicemail was revolutionary and spurred competitors to promote the feature as well.
Later in 2007 YouMail became the first third-party system to offer visual voicemail for cell phones, and through advances in their cloud technology they've held their share of the market since. Nowadays YouMail offers the popular Straight Talk Visual Voicemail app for both IOS and Android.
How Visual Voicemail Can Help You
To keep things concise: visual voicemail saves you time.
The organization of your inbox alone is worthwhile (and a necessity for phone technology in 2018), but when combined with audio transcripts you'll no longer be bothered by having to listen to voicemails to see if they're important. Taking 20 seconds to glance at the text instead of 2 minutes to hear the message through to the end is a small victory, but one that gets bigger and bigger with every voicemail you get.
If your business has a high call volume, then presumably you have a lot of voicemails to respond to as well, so do yourself a favour and handle things in a timely manner.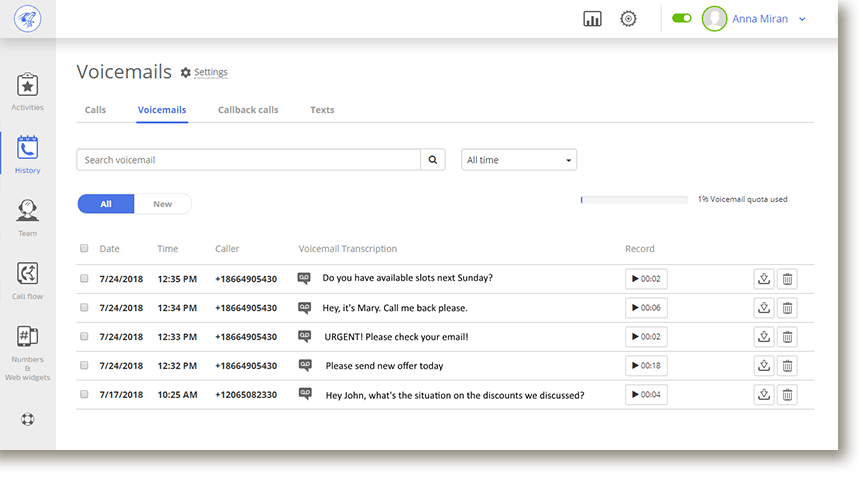 Visual Voicemail in MightyCall
With MightyCall, you have access to visual voicemail through either your desktop or on the mobile app. Every time you get a voicemail, you even have the option for it to be automatically emailed to you, with both the audio and transcript included.
You can find visual voicemail by clicking 'History' on the dashboard on the left side of the screen, and then clicking the 'Voicemails' tab.
Visual voicemail is a passive feature—meaning it doesn't require any set-up or upkeep. If you want to keep your voicemail records tidy, feel free to delete any unnecessary ones. Otherwise, there is a search function to help save time when looking for a specific call.