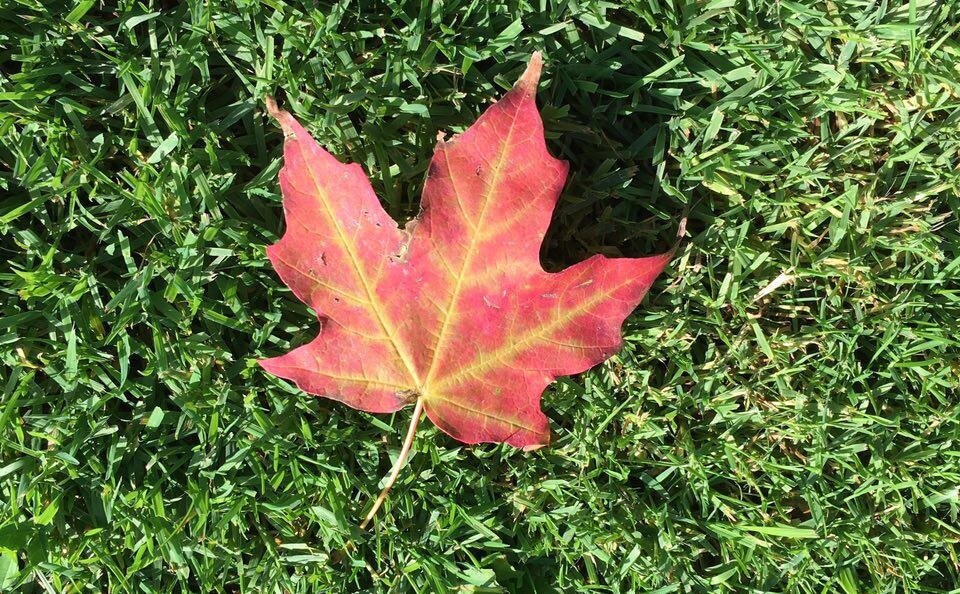 Toll-free Number in Canada
---
This is an in-depth technical article on Canadian toll-free numbers; if you'd like the shorter version, go here
If you are a business owner and you live or have businesses not just in Canada, but also in the US, Mexico or Caribbean countries, then you might want to pull up a chair read this article.
A lot of entrepreneurs in Canada know about Canada's toll-free numbers and acknowledge them as a powerful weapon to have in one's business arsenal for both marketing and attracting new customers.
However if you are not familiar with Canadian toll-free numbers or toll-free numbers in general, this is the article for you. A toll-free number is a business phone number that allows a caller to make a call without being charged. For toll-free calls, the charges are billed to the number being called, i.e. the business.
Toll-free numbers encourage your customers or potential customers to call your business from anywhere without worrying about charges.
What is a Canadian toll-free number?
A Canadian toll-free number is a toll-free number registered to Canada, which allows callers to call businesses there for free. The interesting thing about Canada's toll-free numbers is that they are not limited to Canada alone.
If you have a business in the US or the Caribbean, callers can also call your business for free with the Canadian toll-free number. It gives your business a presence in many countries, especially if you are looking to gain ground and expand your business to different regions.
Canada's toll-free numbers begin with 800, 833, 844, 855, 866, 877 or 888.
These digits are referred to as toll-free dial codes. These toll-free dial codes are overseen by the North American Numbering Plan (NANP). The NANP is a group of countries in North America, including Canada. These countries share certain general phone numbers, including toll-free numbers.
The different toll-free dial codes arise as a result of the increase in the number of toll-free number users year after year. The 800 code for instance operated for over thirty years, after which all of its 7.8 million possible digits had been taken by customers. The newer toll-free dial codes are also being used up at an increasing rate, due to the broader use of the numbers, propagated by the rise of VoIP.
If a caller is calling from a foreign region, say outside the US or Canada, the '1' prefix is included in the dial. So a caller calling from somewhere like the UK would dial something like 1-800-xxx-xxxx. The digits "xxx-xxxx" is naturally your exclusive business phone number. Canada's toll-free numbers are sometimes called the Canada 800 number.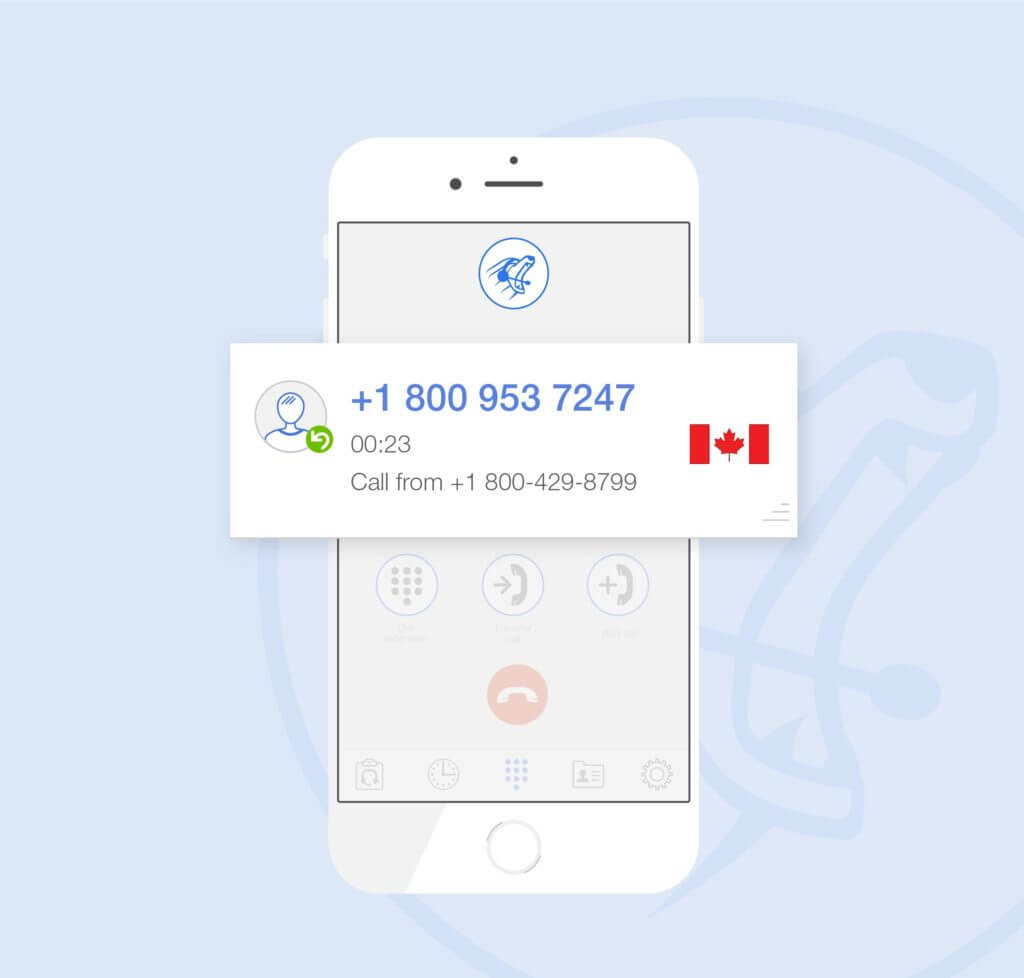 Why get a Canadian toll-free number?
The main purpose of a Canadian toll-free number is to provide customers, business associates, and clients a convenient means of communication over the phone at zero cost. This means that your customers can call you from anywhere in the world for free through your Canadian toll-free number.
This will only encourage those who would like to call your business to do so. After all, they are not paying for the call. And of course, with an increase in the number of calls from your customers, clients, or potential customers, it is only natural that business sales and your bottom line will increase.
Canadian toll-free numbers also include many different business features such as:
These are of course some of the basic features of any virtual phone system. The interesting thing is that with one of Canada's toll-free numbers, you get to enjoy all these features without paying any extra charges.
How Do Canadian Toll-free Numbers Work?
To understand how Canada's toll-free numbers work, you need to first understand toll-free numbers generally and how they work. When a caller dials a toll-free number, the call is first routed to a local telephone company.
The local telephone company asks the SMS/800 database where to route the call. The SMS/800 database is the structure that houses all the available 800, 833, 844, 855, 866, 877 and 888 phone numbers for Canada and the United States. The database maintains, keeps and updates the information of the owners of each toll-free number and their service providers (each phone company, whether a behemoth like Verizon or a virtual provider like MightyCall, buys a pool of toll-free numbers to offer their customers).
Once the local telephone company receives the routing information, it routes the call to the appropriate long distance telephone company. The long distance telephone company receives and routes it to the destination—the local company. The local telephone company then routes the call to the end user and the end user receives the call.
This forms the basis of how Canadian toll-free numbers work. When your customers and clients call you on your Canadian toll-free number, the call passes through your VoIP provider (your MightyCall virtual phone system).
MightyCall then does a data dip of the toll-free dial codes database to find out which local phone company the call is coming from. After that MightyCall sends the information to that telephone company.

After the information has been received, the call is then routed to a long distance telephone company. Then the call is finally routed to your VoIP carrier or any device where you registered to receive calls, like your WebPhone, for example.
It is this last long distance routing process that enables callers to be able to call you from any corner of the world. All these processes may seem long to you, but actually, everything happens in under three seconds.
How can your business use a Canadian toll-free number?
Tens of millions of toll-free numbers are currently being used – and for good reason!  Some of the benefits include:
When a customer sees 1-800-xxx-xxxx, they almost always associate it with a company and an official business. By its nature it cannot be mistaken for a personal number, giving your business a reputable contact number.
On top of customers, toll-free numbers can even help your own employees keep in contact when calling over long-distances. After all – they won't be paying for it!
Toll-free numbers often also have a text message option, which is useful for customers who prefer texting over calling.
While local numbers certainly have their benefits, a toll-free number is the same nationwide, allowing your business to cater to a bigger national market.
How do I pick the right Canadian toll-free number provider?
There are millions of toll-free numbers and, because of the nature of the NANP, there are tons of providers too. Below are a couple things you might want to look out for when trying to find a provider:
If you have a small business you may want to look into a virtual phone system provider. They often have extra tools and open pathways to other possibilities that other kinds of providers may not.
Look for providers who allow simultaneous conversations to be going on at the same time. This will reduce client wait times, which means it will be less likely that your callers will hang up.
Exploring a vanity number option, for the reasons discussed above, is always a good idea. It will help your number stick out beyond the mass of "800-1234"-type numbers.
Make sure that your provider has the option to port your existing number. If down the road you decide to move somewhere else, you don't want to lose your toll-free number. Having portability as an option means you can take your number with you anywhere.
Prices are important. Consider the price while looking for a provider. Too high and you're probably getting ripped off, as there are multitude of providers out there. Too low and you will probably get poor service (which means your clients will get poor service too!).
MightyCall fits all the criteria you might want to consider for conveniently calling a provider the best choice for getting one of Canada's toll-free numbers.
How Do I get a Canadian toll-free number with MightyCall?
Getting a Canadian toll-free number is easy. MightyCall makes it pretty affordable to get too. All you have to do is sign up for MightyCall. After that you will be able to select which plan you want for your business.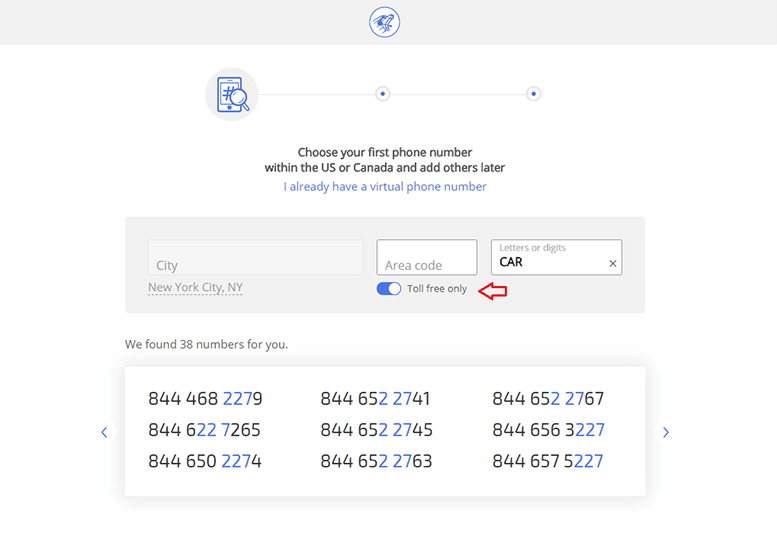 You can pick your business phone numbers and how many you want depending on the plan you have chosen. Then you can immediately set up your Canadian toll-free number! You can also contact support directly if you want assistance.
How Much Does a Canadian Toll-free Number Cost?
Signing up for MightyCall gets you at least two toll-free numbers. That is for the Basic plan, which costs about $19 a month. For the Standard plan, you get 5 toll-free numbers for $49 a month, and for the Ultimate plan, you get a whopping 10 toll-free numbers!  In addition to this, there are a lot more features that come with the Ultimate plan.
What Are the Benefits of a Canadian Toll-free Number?
More entrepreneurs are getting Canadian toll-free numbers because of their business benefits, which include:
It has toll-free coverage in Canada, the US, and the Caribbean. That means your business does not have to be stuck to just Canada. Your customers can reach you from anywhere for free through your Canada toll-free number, even if your business is in the United States.
It is easy to set up. You don't need any special hardware to set up your Canadian toll-free number. You can set it up with any phone system.
With MightyCall, you can get and enjoy toll-free numbers at a very cheap and affordable price. This helps minimize your business cost.
Canadian toll-free numbers support a variety of VoIP features such as call conferencing, call recording, call forwarding, etc.
Customer satisfaction. Canadian toll-free numbers allow your customers to call without any charges to them. This alone already puts a smile on your customers' face.
Pick the right plan for your business
Get a 50% discount on MightyCall for your first month.
If you already have a virtual phone number, we can port it in for free so you can keep using it.
All plans include
Unlimited Extensions

Unlimited Text Messaging

Customizable Call Routing

Auto-Attendant

Webphone

Conference Calls

Call Queues

Voicemail to Email

Custom Greetings

Performance Reports

Facebook & Twitter Integration

Web Widgets
30 day money back guarantee

No long term contracts

You can change your plan anytime