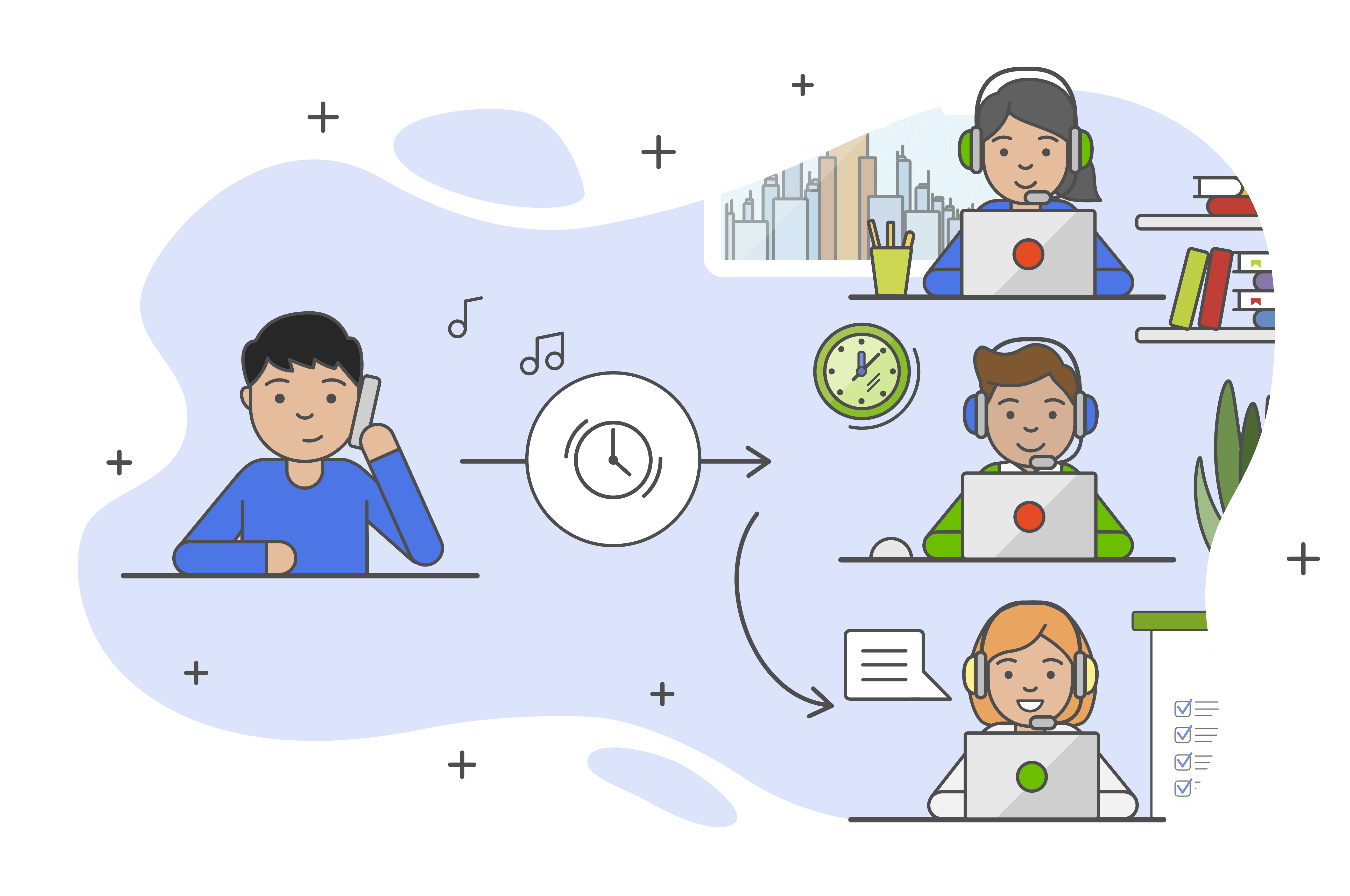 Queue calls
---
This is an in-depth technical article on call queues; if you'd like the shorter version, go here
What is a Call Queue?
Literally, queue calls are 'calls held in queues'. You may not quite understand what exactly that means, but you've been in a call queue before. Queue calls are a vital part of any business or organization.
Queue calls are those calls that go into a line or 'on hold' when every person that can answer a call is busy. The calls go into the line and wait until the appropriate personnel is able to pick up. In the case of many incoming calls, they are systematically ordered according to certain criteria, thus the word queue.
Sometimes your company can't always answer every call. It would be physically impossible. In these situations, the calls go into a queue, and the callers wait for their calls to be picked up, instead of constantly receiving 'busy' notifications.  This is one of the features of a phone system that you'll need, as it greatly improves customer service.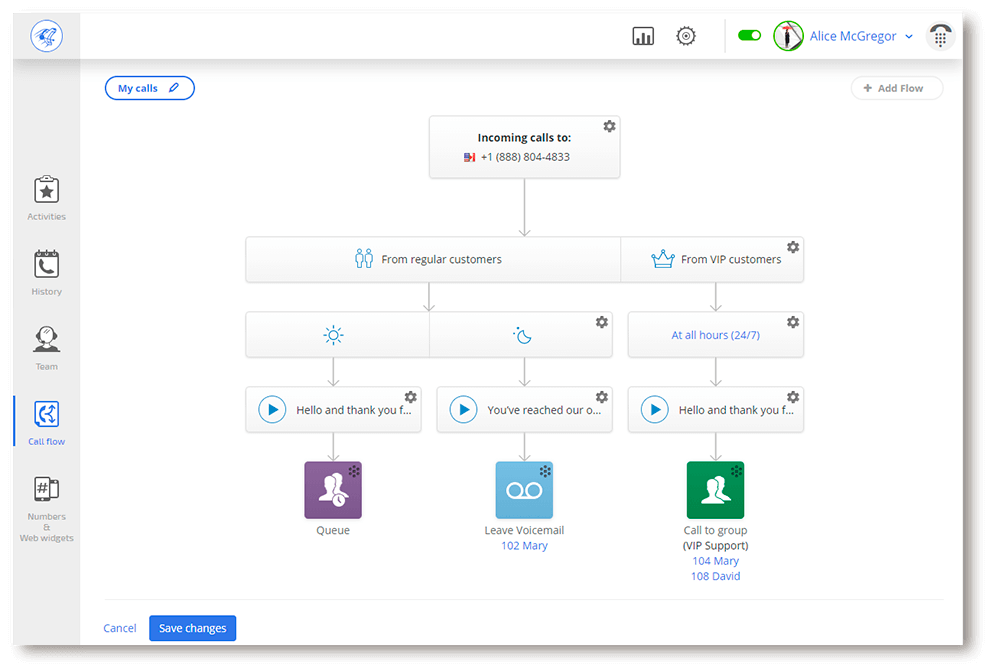 How Do Call Queues Work?
Queue calls, or call queues, work in a very simple fashion. When you enable call queues in your phone system, the system automatically checks all the possible destinations for different incoming calls. If a destination corresponding to a call is available, the call is channeled to that point. Call routing is employed in channeling calls.
If it happens that the system finds no available end for a call, the call is received by the system instead of being rejected and making the caller receive the notorious and frustrating 'sorry, busy' notification. In a queue calls system, the normal distribution approach is the first in, first out approach.
Calls are distributed to specific agents by the Automatic Call Distributor (ACD). The ACD holds calls in queues until an endpoint is available, or more simply, when an agent becomes free to answer the call.
Some agents have their phones connected to the call queue. This is useful as it allows more staff to login or connect their phones to the queue in situations when there is a high call load. This means they can support other agents to ensure better service for the customers.
Calls can also be divided into groups. This is done by your virtual phone system. They are divided on the basis of various parameters, some of which include:
The business number your caller dialed (helpful if your business has several registered business numbers in your system). Transactions in a particular business line may need urgent attention.
The call option your caller selected through the auto attendant.
The group the caller belongs to, be it regular, blacklist or VIP.
The time of the call. Business hours or after-hours.
Sometimes even the frequency of the caller's attempts. A caller whose number constantly shows up might be interpreted by the system as a special caller, and the system mighty give preference to that number.
See a video on call queue's mode of operation.
It is important to stress that call queues, if not properly managed, could end up doing more harm than good. If for instance you fail to constantly monitor calls, wait time could end up increasing, leading to customer frustration.
How to Effectively Manage Queue Calls?
Here are some effective methods to manage and get the best out of your call queue feature.
Make sure your technology is up-to-date.
Outdated call center software could seriously affect the customer service experience. Advanced and up-to-date software helps to reduce call time by displaying customers' information comprehensively before human agents answer the call. Fortunately, if you choose the right phone system provider for your business, you won't have to worry about this. MightyCall, for example, regularly updates all of our features and tech.
Avoid understaffing.
Long call queues could be a result of understaffing. Obviously, if there are not enough people to attend to calls, customers will have to wait longer in queues, which will drive them away. Make sure that you are using the right amount of agents.
This is one of the most important call queue tools. It allows customers to temporarily leave the line without losing their position in the queue. Immediately after an agent is made available, they will call the customer back. Instead of having to wait in queue, especially in cases where the queue is long, customers can now get back to their day knowing that an agent will call them back.
Set up an effective IVR system.
Another way to effectively manage call queues for efficiency is to establish an effective IVR (Interactive Voice Response) system that allows customers to be able to carry out some operations themselves. The Interactive Voice Response system can be programmed in such a way that basic operations like bill payments and simple inquiries can be automatically resolved without having to make customers wait in a queue.
Be up-to-date.
Make sure you always understand your customers' needs. Know when more calls come in and the most common issues that need resolving. There are peak seasons in businesses; know yours and consider temporarily upping your staff during this period to optimize call wait times.
Choose good on-hold music.
This might seem like the least important of all but your choice of music on-hold for your queue goes a long way in determining how good your customer service experience is going to be. You don't want to bore your callers to death with your choice of music while they wait. Your on-hold music should be the kind that is appealing to a wide range of people and could lighten up the atmosphere, making your callers less conscious of the fact that they are waiting in a queue.
Advantages of Call Queues
There are a lot of ways you stand to benefit from using queues, some of which are:
Improving the customer service experience and increasing customer satisfaction.
Everybody knows how frustrating and annoying it is to call and being told 'busy, busy'. Most customers are put off by this as they could consider it as an interpretation that their calls are not being valued.
Fortunately, with call queues, you can get rid of this in your business. With call queues, you receive calls, let customers know their calls matter and make them understand that they are being placed in a queue because there are a lot of calls coming in.  Good holding music can further lighten everything up, preparing a lively atmosphere for transactions.
Providing different service levels for different customers.
Of course, all your customers do not hold the same value to your business. Some customers are more loyal than others. It is only fair to reciprocate their loyalty through some preferential service.
This can be achieved using a call queue. The system can help to divide callers into groups based on certain criteria known only to your company. Each group can then have its queue. This helps to make sure that more valuable customers, like VIPs, can connect to an agent quickly.
Don't make too many groups though, as creating groups in queues is more suited for situations when there are heavy call volumes. Ordinarily, the order of approach in the queue call system is the typical first in, first out (FIFO).
Reducing abandon rate.
A call is said to be abandoned when a customer calls to a center to communicate with an agent, but leaves before any conversation occurs.
Call abandonment not only leads to customer dissatisfaction but also causes higher repeat calls. Repeat calls are notorious for slowing down call center systems by continuously straining busy queues.
This can be avoided with virtual call queuing, especially when the callback feature is enabled. With the callback in your queue call system, customers can leave the queue and get on with their day, and still remain in the queue. And they would be called back when their turn reaches. Callback, as shown by studies, reduces call abandonment by around 32%.
Cost optimization.
With an intelligent call queue system, you can effectively optimize costs. The system can help track data history and predict customer queues.
This gives you a better understanding of your customers and allows you to plan in advance and get more out of your employees.
For instance, if the data shows that customer queue calls do not start building up before 1 pm, then you can employ your staff in other aspects of the business until this time.
Staff satisfaction.
With a good queue call system in place, not only your customers, but also your staff, will be satisfied. It helps them serve customers under better conditions, making them less likely to have to deal with angry customers. Studies show that a happy staff produces better productivity, while unsatisfied ones are less productive.
Call queues are an important weapon in the arsenal of your virtual phone system that you cannot afford not to utilize. It increases productivity by improving your customer service experience.
Pick the right plan for your business
Get a 50% discount on MightyCall for your first month.
If you already have a virtual phone number, we can port it in for free so you can keep using it.
All plans include
Unlimited Extensions

Unlimited Text Messaging

Customizable Call Routing

Auto-Attendant

Webphone

Conference Calls

Call Queues

Voicemail to Email

Custom Greetings

Performance Reports

Facebook & Twitter Integration

Web Widgets
30 day money back guarantee

No long term contracts

You can change your plan anytime