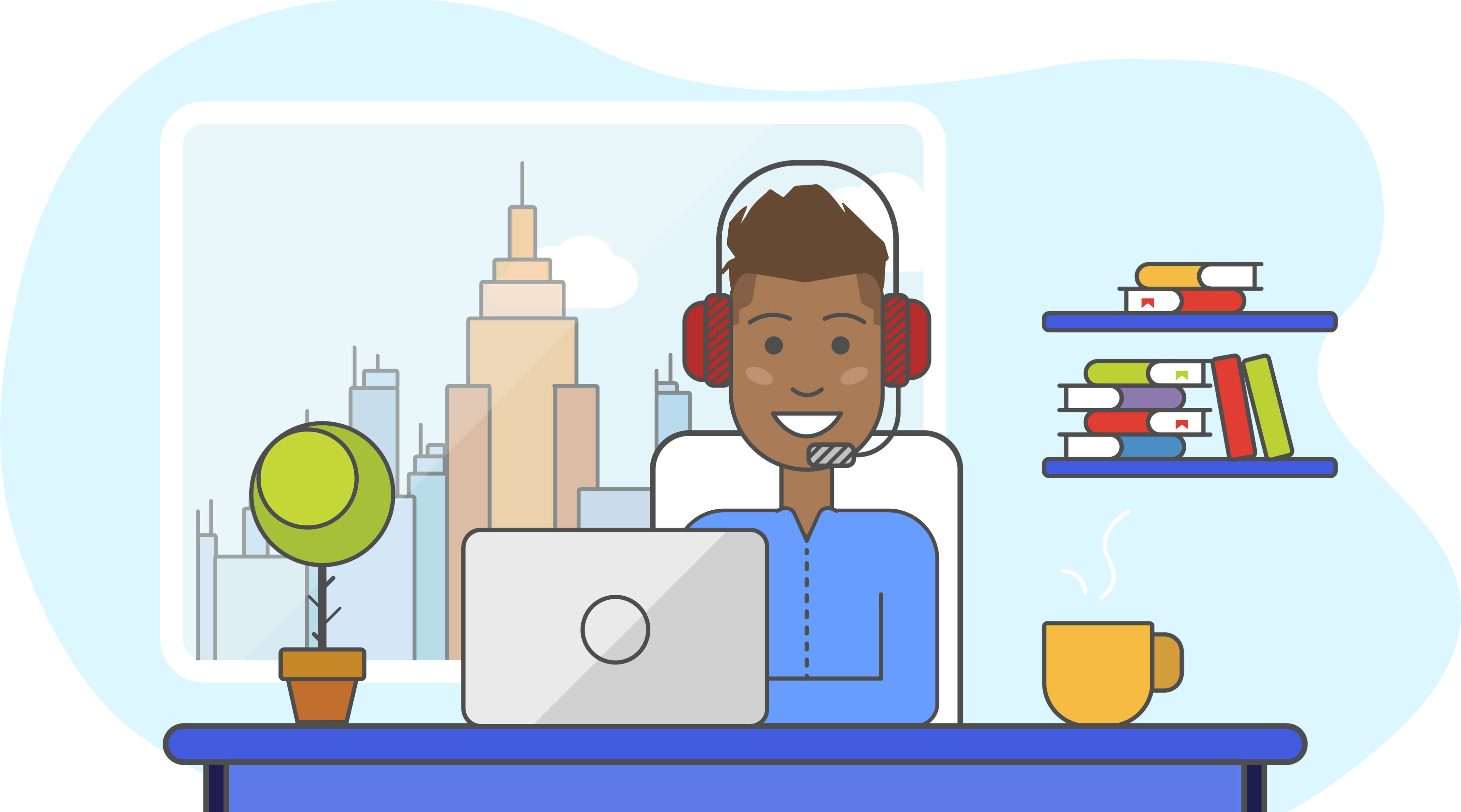 Employees Want to Work from Home; Here's How a Virtual Phone System Can Make That Happen
---
The article covers:
How employees and employers benefit from remote collaboration;
What challenges are posed by telecommuting;
How a virtual phone system helps people work from home;
How MightyCall's virtual phone number boosts teamwork productivity.
Employees want to work from home? Use a mutually beneficial virtual phone system!
Remote employment (telecommuting) is a quickly growing trend within the modern business environment. It is considered a "win-win" strategy for company owners and employees alike:
the companies benefit from reduced overheads and increased productivity, while workers enjoy a comfortable stress-free environment, flexibility, and comparative freedom.
However, admittedly not all employers agree with these sentiments. In 2013 Yahoo! notoriously banned remote collaboration within the company and Reddit followed suit by closing its two branch offices (the employees got 2 months to relocate to the San Francisco Bay Area, where the company's HQ is situated). Best Buy and HP have also decided to return to a traditional centralized working environment with regular hours. Obviously, the named companies are deeply involved with internet-technology and innovative communication services. Yet, the top-level management deemed the decision to limit remote work justified.
So, what are the pros and cons of telecommuting? What can a company do to negate the drawbacks? This article provides an insight into these issues.
Flexible means profitable
Working from home is a sought-after opportunity and widely regarded as a perk. According to 2016 data of Global Workforce Analytics, about 25% of U.S. employees do a certain portion of their work remotely. The involvement can vary from sending a couple a couple of emails before going to bed to brokering a deal via a corporate virtual phone number over dinner, but they do it every day. The number of regular telecommuters has doubled since 2005. While 85% of millennials are willing to telecommute all the time, 25% of employees are even willing to accept a lower salary if a company allows them to work from home.
Employees love telecommuting:
It's comfortable and convenient.
Working from home means that employees can arrange their workspaces to their liking: comfortable furniture, toned lighting, utilizing their own computing devices under preferable operating systems, background music (or silence!). Apart from physical comfort, there are also benefits linked to work schedule flexibility:
you can work whenever you like for as long as you like on condition that the job is being done.
Thus, recent polls show that 82% of telecommuting professionals feel that their stress level diminished when they switched to working from home. What is more, 80% of them reported improved morale, 70% ― increased productivity. Remote workers comment that they acquired a better work/leisure balance and can lead healthier lifestyles (get more sleep, eat healthier food, do more physical exercises).
It's much cheaper.
Figures supplied by a 2015 Citi research imply that an average American worker spends $10 a day for commuting. In terms of a regular Monday-to-Friday schedule it results in roughly $2,600 a year per person. The costs are even larger for big city dwellers: a New Yorker pays roughly $14 to get to and from work, while in LA this figure reaches $16.
Naturally, full-time telecommuting completely eliminates transportation overheads.
It's also possible to cut expenses associated with a dress-code, namely clothes and dry cleaning. Saving $10 for lunch and coffee also adds up over time.
It saves time.
A remote worker can plan his day efficiently: there are fewer distractions and it's possible to work during the most productive hours (it's early morning for some people, for others it's late in the night).
An average trip to work takes 20-30 minutes (up to 1.5 hours in urban areas with mediocre infrastructure): instead of wasting time in jams, workers can spend it productively.
…And employers agree because of:
Increased productivity.
Telecommuters are 20% more willing to work more than 40 hours a week and they are 20% more productive when working on a creative project. Flexible hours give people an opportunity to spend less time on solving personal issues: 69% of telecommuters miss fewer days from work than their in-office colleagues.
Drastically lower expenditures.
Stanford University economists claim that business owners save roughly $2,000 per employee per year if they encourage the work-from-home policy. This sum is mainly composed of workspace and operating expenditures (electricity, equipment, office rent, expendables, etc.) and may be a real game-changer for small/medium businesses with limited resources. What is more, the study reveals a 50% less turnover ― remote employees generally feel happier with their work and more valued by their superiors. Consequently, they are less likely to quit.
Hire exactly whom you want.
Encouraging remote work gives access to a much larger pool of qualified workforce. It may be hard to convince a talented professional to move to another city, and doing so often requires a substantial increase in salary and help with housing.
However, if the job can be accomplished from a remote location, nothing will keep a chosen individual from joining your company.
Provide multilingual services across different time zones.
If your company works with geographically diverse clientele, it may be good to have an extensive network of remote agents across different locations. Internet technology and virtual phone numbers make it possible to unite a multicultural crew under a single brand, making it possible to deliver services globally: in native languages and/or all over the clock. An agent in a specific region of the world will be fully aware of the local specifics, cultural differences and demands ― a priceless benefit in terms of marketing and customer service.
The dark side of telework and how to brighten it up
Well, if everything is so fine, then why are so many companies reluctant to hire remote employees? Managing a remote team is quite a delicate issue. It often requires skills and administration patterns unfamiliar to those who excel in arranging in-office work. Certain general strategies of staff management are useless when it comes to telecommuters; many habitual tools of administration and supervising can't be applied. This model of cooperation requires a different approach that incorporates sophisticated communication solutions. Let's touch upon the most significant challenges of remote work and see how an advanced virtual phone system may help.
Inadequate communication.
Despite all technological novelties in the field, 33% of respondents of a 2014 survey called poor communication the greatest challenge in remote work. Obviously, nothing can outmatch the efficiency of face-to-face interaction: subtle implications conveyed by gestures, facial expressions and the tone of one's voice sometimes supply information as important as words themselves. Text messaging ― IM, SMS, emails ―are notorious for ambiguity stemming from not-so-perfect wording. Asymmetrical communication channels make it unreasonably hard to ask for clarifications promptly.
Thus, a remote employee often interprets instructions as he seems fit; sometimes it leads to misunderstandings.
How to counter this: A virtual phone system, such as MightyCall, is intended to seal this communication gap. A team manager can set multiple extensions for a virtual phone number and assign them to individual users or groups. Thus, anyone within the company can quickly reach a specific team member. The BYOD-compatible call-processing system will route calls to any desired device (landline, mobile, IP-telephony) or ring all of them simultaneously to minimize the number of missed calls.
Another useful feature is conference calling, indispensable when an issue requires collective discussion. It's also a comfortable way to hold meetings, dispense information/instructions to multiple employees and keep everyone posted.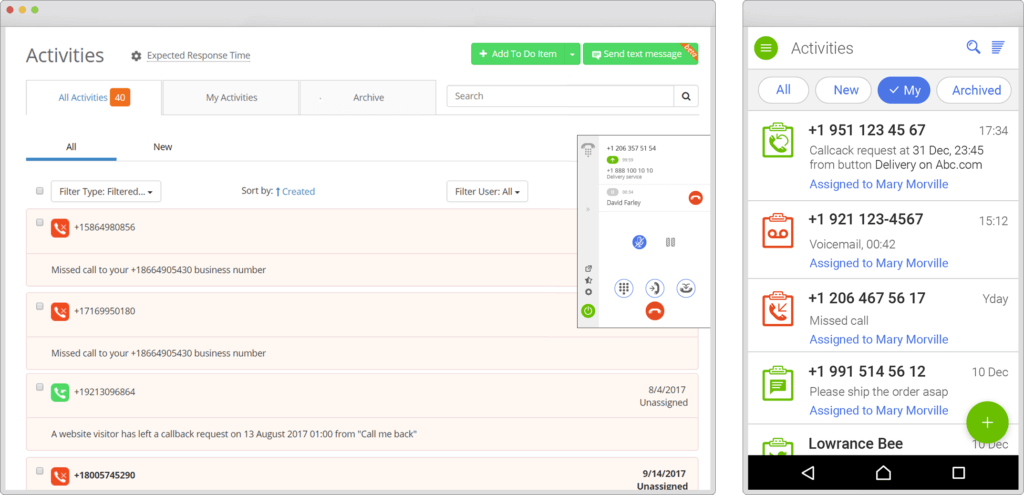 Technical inaptitude.
Lack of expertise with technology is surprisingly often cited as an important challenge. While sophisticated teamwork software does exist, some people can't take the full advantage of it. Some employees are too preoccupied with day-to-day tasks to find a moment to study a manual or watch an educational video. Others use complexity of communication systems as a convenient pretext for evading interaction with their managers. And, in contrast to in-office work, you can't just come and speak to them in person.
How to counter this: MightyCall has designed its virtual phone system to be extremely easy to use. Once the system is fully configured (it doesn't take long), a user can receive calls via a device he usually uses. Making calls and sending SMS from a virtual phone number has never been easier: either a web interface or a mobile application (iOS and Android compatible) can be used. What's more, the system lets subscribers view and answer messages from connected social media profiles, email services and website widgets; there's no need to flip through various applications, as all interaction channels are accessible from one place.
Discipline issues.
While flexible hours and lack of strict supervision makes smart life-work integration possible, a feasible balance is hard to establish. It takes a powerful will to adhere to a chosen schedule when there are so many distractions like pets, kids and soft pillows.
As a result, many telecommuters prefer a rather disorganized model of working for a couple of hours, then having a respite, going for a walk and returning to work later.
True enough, for some people it really entails a productivity boost, but others find themselves lagging behind schedule. And when a project deadline darkens their horizon, work-life balance crumbles: working for 15 hours a day with short breaks for meals and sleep doesn't contribute either to an employee's health nor to the quality of the work he does.
How to counter this: Of course, a virtual phone system can't magically turn a person into a self-motivated hard-working individual with iron will. However, MightyCall provides a way to tell everyone (including yourself) that you are currently "at work".
Presence statuses will inform all the system users that a certain team member is ready to discuss business issues here and now or, on the contrary, is busy/unavailable.
Call routing rules can be set to depend on the presence status (e.g. if a user's status is "Do not disturb", an incoming call can be redirected to another team member). To the managers it is crucial to know who is available at the moment, while a visible indication helps promote self-discipline and creates a business-like mood.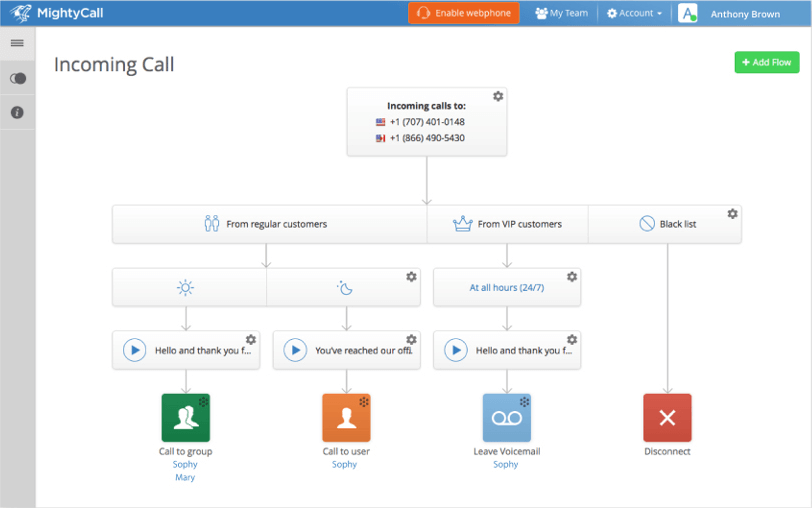 Telecommuting: to be or not to be
According to the Wall Street Journal, "Jobs with lots of autonomy and that require little input from co-workers seem to be the optimal conditions, researchers say, for a productive telecommuting arrangement." It's hard to argue with this statement, and a far-sighted business owner will grant a benefit of regular telecommuting only to self-motivated, responsible and productive individuals. Delegating suitable remote jobs to the right people is a productive approach, mutually beneficial for both the employer and the employee.
And if your business widely utilizes telecommuting, consider subscribing to a virtual phone number powered by call-management software. MightyCall lets employees access a company's virtual phone number from any device according to personalized rules. Providing a consistent business communication environment for remote workers is the key to productive cooperation.
Let's enumerate on a few advantages from what MightyCall has to offer for remote teamwork:
Intelligent forwarding with bring-your-own-device compatibility makes it possible to manage your business calls from anywhere. It's hard to miss a call when all of your devices are ringing at the same time.
Superb communication management.
The activity queue is a handy feature which lets you process incoming requests from multiple channels using just your smartphone. What's more, you can assign tasks (call-back requests, missed calls, emails) to particular employees and watch their progress.
Instantaneous deployment.
MightyCall requires no additional hardware to operate. Pick your virtual phone number, follow an intuitive configuration flow-chart and start using this fully-fledged call-processing system to your advantage.
All basic features are subject to customization: record your own greetings and voice menus, design intricate routing patterns, compose blacklists and whitelists, activate/deactivate additional features as you see fit. MightyCall is highly scalable: connect as many users as you need, assign any number of extensions, switch between rating plans effortlessly ― no long-term contract required.
Keep an eye on your communication activities with MightyCall's dashboard, which registers everything happening within the virtual phone system: answered/missed calls, inbound/outbound calls, voicemail activity and internal interaction ― all statistics are at your fingertips. Call recording is also available and extremely useful when it comes to customer support training.
It's your choice alone whether to encourage telecommuting or ban it from your organization. However, MightyCall virtual phone system remains a valuable communicational asset regardless of your business layout.