Call Recording Eight Key Questions Answered
---
Call Recording: A Handy Guide to the What, Why and How
Tired of having to maddeningly scribble notes during important calls, just to misplace them later? Would you like to make sure that you never miss another word from your clients again?
Try call recording! Whether you're looking for an easy way to remember exactly what your clients say, review customer service calls to help your employees better their salesmanship, or organize your business, call recording can help!
So what exactly is call recording?
Call recording gives you the ability to save all of your calls and access them whenever you need them. It is a convenient way to organize your business and make life simpler for you, your employees, and your clients.
What are the benefits?
Call recording has numerous benefits for you, your employees, and your clients.
The most obvious benefit is the simple concept that all of your calls can be automatically saved and accessible for future use. This allows you to avoid gratuitous note-taking during calls, meaning you can focus more on the needs of your clients and be more present in the conversation.
Having all of your calls recorded also gives you clear and incontrovertible evidence in case a client claims that they requested a service other than what you provided.
Call recording also allows you to help your employees to maximize their potential. For example, recording all calls to and from your business allows you to more closely study the work of your salespeople. If you are finding that some of your employees seem to be selling at a slower rate than others, you can listen to their calls and find out where they can improve.
You can also use recorded calls to test out different sales scripts. Having your calls recorded will allow you clearly analyze the different reactions customers have to different scripts.
Hold on- this is all legal, right?
Phenomenal question! There is no federal law on call recording. Instead, there is a patchwork of 50 different state laws-, which makes understandably confusing at times. However, as long as you follow state laws, it is generally completely legal.
Most states have what is called "one party" laws, which means that one party, or conversant, in the call must be aware that the call is being recorded. Since the person recording can also be a participant in the conversation, this fulfills the letter of the law.
However, some states are "two party" states, which means that all members of the conversation must be made aware that they are being recorded. The folks at Lifehacker put together a great list of two-party states (along with some other useful facts):
California
Connecticut
Delaware
Florida
Maryland
Massachusetts
Michigan
Montana
Nevada
New Hampshire
Pennsylvania
Vermont
Washington state
Some states, such as Vermont and Delaware, have specific laws depending on types of calls.
Due to the patchwork of state laws, it is important to note whether you are calling someone in another state. If you call someone in another state that has tougher laws regarding call recording, you will probably have to follow the laws of their state instead of yours.
If you would like to have peace of mind, we recommend you try MightyCall's call recording services. Everyone who calls you while you have call recording activated is automatically warned that their call may be recorded. By proceeding with the call, the caller is providing their consent to be recorded. This saves you from the possibility of future litigation and ensures that you are following all state laws, regardless of where you or your clients are calling from.
To be clear, for outgoing calls you will have to verbally alert your conversant to the fact they are being recorded.
Is this possible on iPhones?
Yes! While the iPhone itself does not come with the ability to record calls, there are multiple apps that allow you to do so.
One, Google Voice, is free to download and use. However, it is only capable of recording incoming calls- outgoing calls are a no-go.
Some others, like NoNotes and IntCall, are relatively inexpensive and straightforward. However, the former charges for each minute after the first 20 (per month), and the latter only functions when the phone is connected to wifi.
All of these apps, however, allow you to use only one number (with Google Voice you don't even use your own number- Google gives you a new one specifically to use with Voice).
Another option is MightyCall call recording technology.
How do I start?
First, subscribe to one of our three MightyCall affordable call packages. While each successive plan includes more and more features, all three packages include:
An auto-receptionist
Unlimited Extensions
Unlimited Text Messaging
Activity and call queues
Unlimited Extensions
Conference calls
Performance Reports
At least 2 Toll Free or Local Numbers
Facebook & Twitter Integration
Web Widgets
Voicemail to Email
Both the Standard (only $49.99 a month) and Ultimate (only $99.99 a month) plans include call recording. Both plans also include Voice to Text, which converts all your voicemails into readable text that can be emailed or sent via SMS.
The Ultimate package includes API, which allows MightyCall platform features to be utilized within third-party applications. It also includes access to our softphone software, which allows you to make calls from your computer independent of web browsers.
So I picked a plan with call recording. Now what?
Welcome aboard! Firstly, go online into your Web Panel. You'll need to do this on the computer.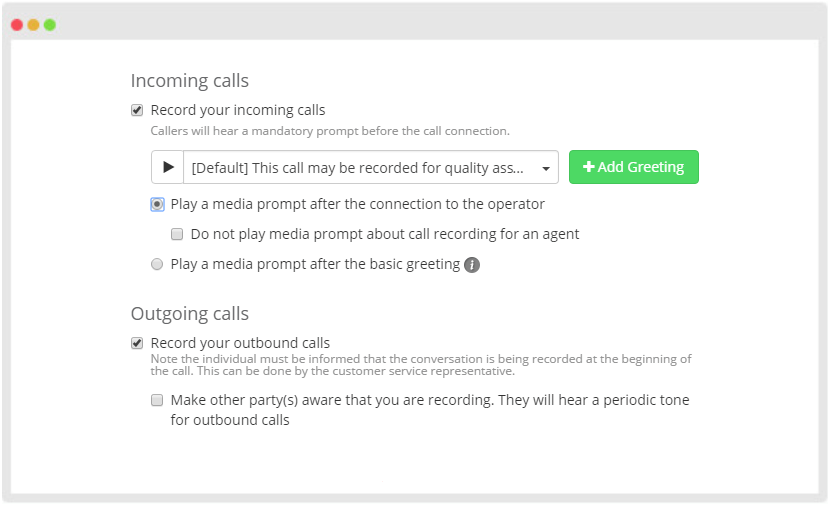 Make sure to select "Record your incoming calls." You can also select a Greeting for your potential callers- or even make your own!
Here you also have the opportunity to decide to record your Outgoing calls as well.
If you need any assistance, our dedicated Technical Support staff will be happy to help.
So I've filled in my settings in the Web Panel. Am I ready?
Yes! Once you've filled in your settings, you're ready to call!
Depending on your subscription package, you can call over the computer using our softphone technology, a wired phone, or your cellphone!
With your cellphone, you can make calls over our MightyCall mobile app, available for both Apple and Android phones. Just go to the app, pick a number, and start calling!
So how exactly can I listen to my calls?
The MightyCall virtual phone system contains a complete record of your calls.
Everything- including time, duration, and even who made the call- is recorded and easily accessible from our online database. You can even listen via our app!
Revolutionize Your Business
So now that you know all about call recording- what are you waiting for?
Activate the entrepreneur inside. Make life more convenient for you and your customers with the MightyCall virtual phone system– today!
Pick the right plan for your business
Get a 50% discount on MightyCall for your first month.
If you already have a virtual phone number, we can port it in for free so you can keep using it.
All plans include
Unlimited Extensions

Unlimited Text Messaging

Customizable Call Routing

Auto-Attendant

Webphone

Conference Calls

Call Queues

Voicemail to Email

Custom Greetings

Performance Reports

Facebook & Twitter Integration

Web Widgets
30 day money back guarantee

No long term contracts

You can change your plan anytime