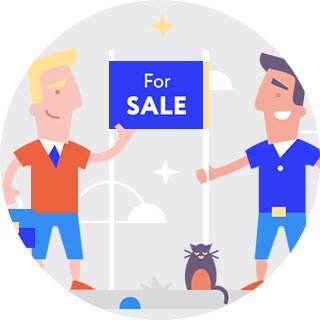 How to Launch a Real Estate Agency
---
A real estate agency without a business plan is a surreal estate agency. A business plan is not just where the rubber meets the road, it's an action plan, a set of goals and a message to financiers that you mean business. When starting a real estate brokerage, there are many things to consider: licensing, legal advice, office or no office, to name but a few. In our latest article we examine the basics of establishing a real estate business, including the use of a virtual phone service like MightyCall to help you get off the ground and stay on top of those deals!
The real estate industry involves many diverse parties. And real estate agencies atr the lynchpins. This particular business connects parties, and predicts and solves legal and financial issues. The business is full of competition, tension and complicated cases, and attracts those who are ready to accept challenges of market entry and take a chance.
Where to start?
Business plan
A real estate business is dependent on successful deals. Its launch requires many aspects to be outlined. A business plan is a tool with which to gather all intentions, considerations and contexts in one place for objective analysis. More than that, most banks require a clear and sufficient business plan to make a decision about loans.
Questions that need answers at the very beginning are:
How do you see your business in several years?
What is your specialization and purpose?
Bplans knows everything about proficient business planning and has good examples of business plans for various industries, including real estate brokerage.
Financing
While planning, the new entrepreneur may already have an idea about funding. The business won't reward him/her at the very beginning. Tom Pleimling (Tom Pleimling Realty in Alexandria, VA) names a period of 3 months for bootstrapping. During this time, you need money to cover operating costs such as marketing, salaries, dues, rent and office inventory.
Two main money sources are on offer: those that require ownership sharing, others that provide for debts and obligations. Recently we considered in detail each funding source in our article How to Fund your Small Business.
Legal matters
In addition, all legal issues need to be handled. Broker-licensing conditions differ depending on your state's rules. To obtain the license a person needs to pass state and national exams. Prices for the full licensing process vary from state to state. Another point to consider is agency registration.
Now, when the business background is defined, time to start real-world implementation.
Infrastructure
Office
To have an office or not to have an office? That is the question for almost all fresh real estate entrepreneurs.
Generally, in the age of high-tech, most deals and negotiations can be executed remotely via mobile devices and the internet. Working alone or having a small team during the first step of a new agency, the business can be efficiently managed without an office.
But as the company grows, gaining recognition in the marketplace, it requires a bricks-and-mortar venue where you can finalize deals, a professional-looking environment. A good location is one with many passersby. However, t's not necessary to search for an affordable place downtown. For one thing, residential areas could be far more advantageous.
First impressions last longer. Make sure the entrance is well-presented; the company sign is vivid and apparent, and the parking lot is free for the agency's visitors.
Website
Besides general information and contacts details, a real estate agency site lists the services provided; displays offers for rent, purchase and sale; shows pictures and descriptions of properties. A good-looking site is an effective site. The most inspiring web designs for property brokerage are gathered in the Agent Image article 30 Beautiful Real Estate Websites. Each has its own strength and aim.
A business owner can buy a hosting or apply to site-builders. The second option is cheaper and somewhat more convenient. Today, its market is broad. Offered templates are suitable for any purpose and industries. Look at our Site Builder Review of the most popular sources and consider all pros and cons.
Don't forget about ad placement and search-engine optimization tools and services to rise the site's visibility on the internet.
Communication solutions
How does a real estate agency work? It may cover all market segments or certain specializations. For example, only commercial property or secondary housing. But all streams involve a million interactions. Communications between a client and a broker, office agents and proprietors, legal institutes and associates must be exceptional. It is the foundation of real estate business success.
As with any serious company, a real estate agency needs a business number with extensions for each employee. Call forwarding, working/non-working hours calls, conference calls, activity queue — all these features make work process smooth-running. In the article Why MightyCall is the Best Phone System for Real Estate, the full list of VoIP functionalities is studied. All of them are essential and useful for the property agency.
The real estate business requires active cooperation. The slightest fail in the connection may cost a deal. It is better to outsource your communication solution to experts.
Marketing
The real estate market is saturated, but good agencies are always in demand. The greatest challenge of a new broker is to stand out among his/her peers.
When an agency is new, advertisement location is important. Begin with promos near the office and sale items. So the proximity attracts clients and invites them to come in. Distribute prospectuses and folders to nearby offices and residences. Multiple banners deliver information about a new company to a broad range of people.
Ideally, all sources of media can be used as ad platforms. Selected magazines and newspapers, radio and TV, social networks — each medium has its audience and advantages.
An advertisement needs to be regularly updated and refreshed. An efficient promotion is often adjusted to social events and seasonal holidays.
Don't stint on marketing specialist services. Only professional-quality, audacious slogans and promo designs can catch attention of an experienced buyer.
Why focus only on customers? Collaborating with rivals can be beneficial for all parties. Michael Thorne and Davis Fauquier, RE/MAX — Real Estate Maximums, successfully launched the show "Mobile Agent TV." These "webisodes" include interviews with market leaders and experts. Now it's a popular knowledge-sharing resource for thos associated with real estate. While Thorne and Fauquier gained prominence as thought leaders in the brokerage area.
Matt Beall, the founder of Hawaii Life agencies, expanded his "office area" hosting real estate conference called "Worthshop" at various spectacular locations. Many industry leaders join it every year to discuss leading issues and innovations. Last year the workshop took place on Maui, in Wailea.
Client work
Client work competency turns into art when we talk about the real estate business. There is no unified approach. To some extent, it's about psychology and a client's emotions. Mostly a customer cannot be clear about his/her requirements. The agent should ask proper eliciting questions. For example, what is crucial for a prospect client: proximity to a workplace or perhaps kids' facilities? Would he/she like to have a quiet location or to be among the action?
The customer wants to feel comfortable with his/her agent. He/she needs to be sure that the chosen agency is right, and his/her demands are heard and understood. Client loyalty forms a customer base. This is a viable way towards business development and extension. Regular Client Relationship Training for the team will be rewarded with profitable deals and grateful customers.
One of the market celebs, Marguerite Giguere, "The Skydiving Agent," got around due to her willingness to provide top-level services including deals' risk management. A devoted professional, she demonstrates personal interest in clients' need satisfaction.
Launching a real estate agency is a small step on a challenging path. By having enough patience and following the abovementioned tips, you can develop a new sought-after brokerage.