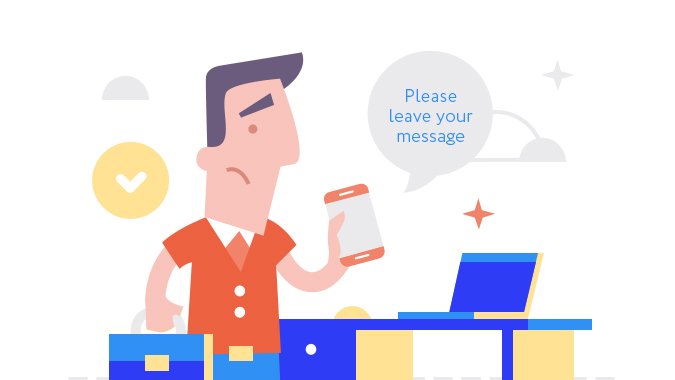 3 Reasons Your Business Does Not Need An Answering Service
---
An answering service: great for first-person contact and "never losing that call," but it's not…well, the "answer." It's unlikely the operator knows much about your business, and is almost certainly working for others. They also fail to engage your customer and there's certainly no personal recognition — the relationships you strive to build.
If you're looking for an answering service to handle your business's incoming calls, you're thinking about it all wrong. An answering service can only answer a phone not provide answers. When a customer calls your business and gets an answering agent, they only have a few options. The agent can transfer the caller to an employee, transfer the caller to a voice mailbox, or write-down the caller's issue and email it to your team. All three of these options are time-wasters for everyone and cause your team more problems in the long-run.
At nearly $1/per minute for each call that is handled, plus account support fees, and fees for each extra feature of the service, it's like you're paying for service to clutter your inbound lead system.
An answering service provides no real value. Reaching specific employees and voicemail transfers can be automated by a simple call menu, a tool that MightyCall can provide.
Answering service agents handle incoming calls for multiple businesses, which means they are not be able to help your customers with specific concerns.
Answering services fail when it comes to:
Knowing the business details
This includes knowing little details like: your systems, location questions, or a details about your products/ services. Customer questions are much better suited for an employee, who knows the ins-and-outs of your business.
Engaging your customer
People like to do business with people. Studies have shown that having strong customer relationships drive more sales, a type of relationship that an answering agent can't build.
Knowing your customers
Each customer has a relationship with your company, and being personal with your them increases brand loyalty and revenue. Knowing your customers means that you have the ability to recommend products, give specific discounts, and personalize responses which all translate into more sales.
A better solution to paying for an answering service would be to use a virtual phone system like MightyCall to streamline your incoming calls with your current employees. With MightyCall, you are able to:
Create a customer call menu
Greet your customers when they call.
Customer to connect with the right person, every time.
Take calls from anywhere
Forward incoming calls to any phone.
Ring multiple devices at once.
Set rules to ring different phones during different hours of the day.
Never miss a customer request.
Unlimited users and extensions
Never worry about growing your team — adding users is free.
Don't worry about managing business phones, you can turn any personal cell phone into a business phone.
Extra features are free
Manage your call settings from the MightyCall app
Add a contact us widget or click-to-call to your website
Easily view activity from one dashboard
Connect your Facebook and Twitter accounts to easily view all messages and mentions in one, easy, overview.
Create to-do lists, track customer requests, track team tasks directly within the mobile app.
Use your current business number