Available/ DND statuses
MightyCall takes all the tiny details into account, so we let each member using your phone system set their availability status. The options are:
Available (ready)
DND (Do Not Disturb)
Busy
No answer
You can set your status with the click of a button and the system will recognize your choice and respond accordingly.
How does MightyCall do this?
If you have set the DND status, the calling client hears a customized special greeting. If you are the only extension set in your call forwarding rules, the client is forwarded to your voicemail. If you're in a chain, then setting your status to DND will result in you being skipped over when calls come in—so they will go straight to other available extensions.
MightyCall's phone system operates the same way in case of no answer and busy statuses, except that in the 'busy' case you can also choose the option to put calls on hold.
Of course, you can set your call handling rules for the different statuses in your MightyCall account.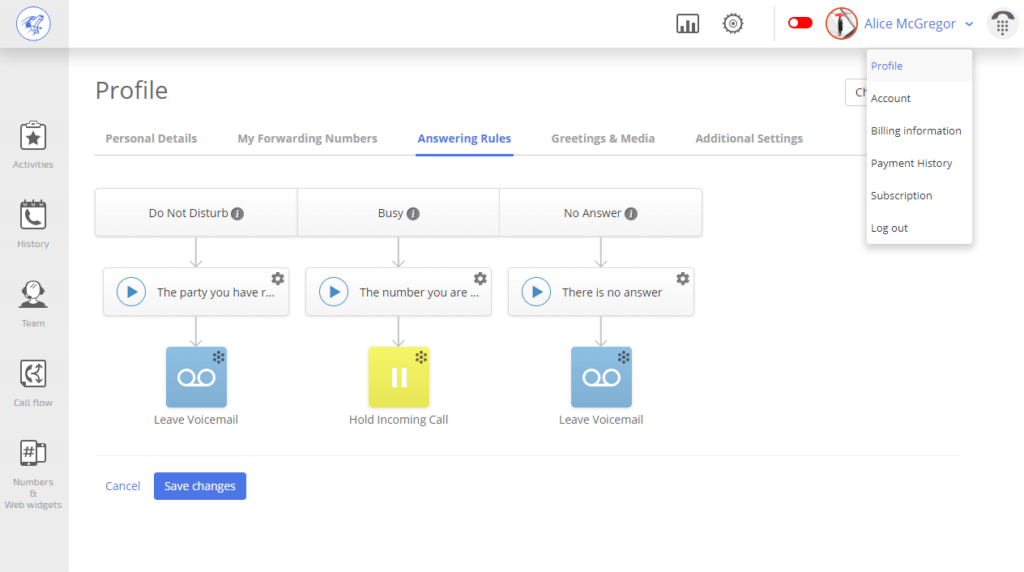 How does this tiny feature help?
Instead of callers potentially having to wait around for someone specific, this is a smart way of adjusting call forwarding to specific situations.
If you're wrapped up in a call, on vacation, or just need to focus on getting work done, the Available/DND Status can save you and your customers the headache of hearing the phone ring ad nauseam.
Calling Features
Customer Care
Team & Progress
Web Features