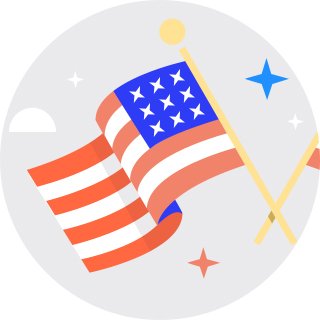 Marketing Tips for Memorial Day
---
The last Sunday of May is Memorial Day. The day when all US people honor those who sacrificed their lives for the country.
Gradually, the holiday also turned into the celebration of early summer. So for businesses, this is another opportunity to draw clients' attention. But due to the solemnity of the occasion, an appropriate marketing strategy is essential for successful promotions and benefits.
Marketing in time

To make promotions work, business owners should be prudent. It won't just work at the last moment. So emails about the upcoming event, catalogs with products, flyers and postcards need to go viral a few weeks before the holiday. An engaging campaign or product premieres should be confined to commemorating Memorial Day and celebrating the summer.

For example, entering "memorial day" in the search field on Amazon, a number of items with attractive discounts appear. These can be gifts, decorations, something to commemorate, or just summer season accessories.

Giveaways

Memorial Day is a reverent Holiday. Military personnel and veterans are given presents and honors. These can be free drinks or meals, or some souvenirs. Depending on the product and service, the idea can be brilliantly realized. It wouldn't be inappropriate to add promotions to the gifts. For example, include a discount card for the next purchase or ask the customers to post a photo with the gift or check-in on social media.

Social media

Using #memorialday hashtag on Twitter, Facebook and Instagram might seem like a good idea. It's a low-cost way to spread promos, invitations, and updates of approaching events. However, one must be very careful using it. People may be looking for information about the actual holiday, and some promos could appear inappropriate or offensive.

Decorations

On Memorial Day, naturally the decoration theme is defined by the patriotic colors of red, white and blue. But the approach can be creative. Besides flags and balloons, a business might change its logo for the holiday to match the theme. Military decorations and design for emails and brochures might be seen as overstepping the mark. Company staff should also wear appropriate attire.

Festive mood

Some business owners invite live bands to play music on Memorial Day — an excellent idea. It could be about either military theme or just pleasant and light like jazz and soul. As it's almost summer, the band may locate outside. Music attracts people to come to listen and puts them in a cheerful mood.

Outdoor activities

One of the traditions of the holiday is outdoor activities. It's a time for picnics and barbecues. And this is an exclusive occasion to spread business promos. Businesses support a celebration, and the logo is everywhere, from team uniform to napkins. Companies cooperate for food-truck festivals, which are very popular. The festival can include contests. Darts, peashooters, and balloon-blowing games are only a few ideas. A product sample or loyalty card are subtle advertising prizes.

Entertainment for kids

Most parents want to keep their small children away from the sad side of the holiday. They choose places with activities provided for kids. Children-friendly, safe zones are highly sought after. Kids are entertained by sports and craft games, watch short performances, and play with each other under the care of a facilitator while parents pay tribute to fallen loved ones.

Get customers' feedback

Request for opinions and comments is a sign of professionalism. It shows the importance of a client's attitude. In fact, products and services stay in the client's view. Small surveys help to identify room for improvement and make the business more client-oriented. Emails or social media posts with a short questionnaire require little effort for both businesspersons and clients. And it has a commercial impact.
Memorial Day weekend is saturated with summer's beginning. Outdoor fun is the mainstay of the holiday. It happens to be pricey, so cooperating with other companies for the holiday weekend is a win-win strategy. This shouldn't be underestimated while contemplating your marketing program.