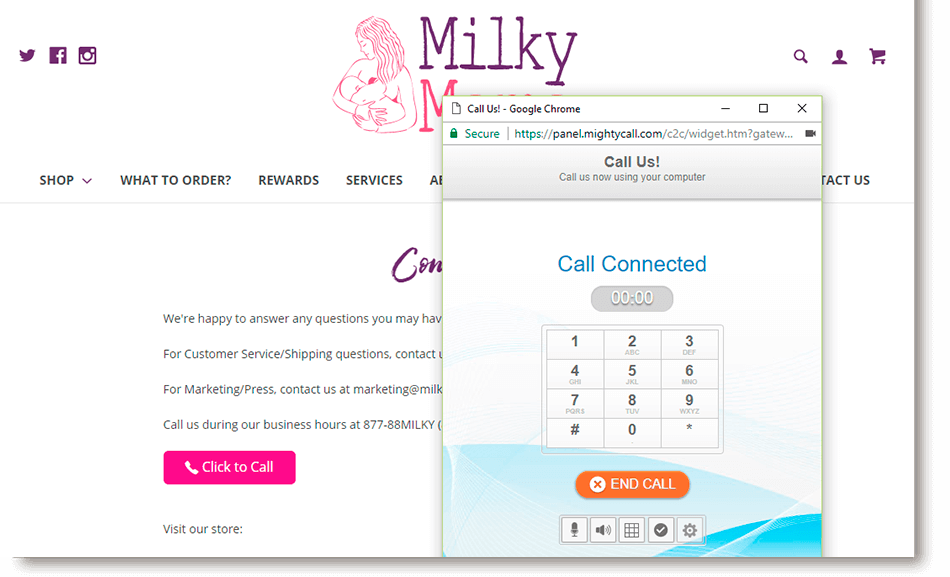 Top 10 Reasons to Place a Click-to-Call Widget on Your Website
---
Reason no. 1: Click-to-call makes it super easy for customers to contact you
Consumers do a lot of research online before they make a purchase or commit to a new service. But with so many other websites and competitors to consider, how can your small business increase the chances of engaging with visitors to your site before they click away?
A click-to-call widget can do the trick. Simply put, it's an interactive button on a web page that, when clicked, initiates a call from the user's computer to a specific phone number or extension, or enables the website visitor to enter in a phone number in order to receive a call back.
Click-to-call widgets can be added to web pages, emails, online banner ads, text ads such as Google AdWords, online directory listings — just about anywhere. These widgets can be particularly helpful on e-commerce and product support pages.
Here are the top 10 reasons to consider adding a click-to-call widget to your small business website.
1. Click-to-call makes it easy for prospects and customers to reach you.
Instead of dialing a number, landing in a phone tree, pressing more buttons, and hoping to reach a live operator, click-to-call greatly simplifies the calling process for consumers. All the caller needs is a Web browser and a microphone on their device. It's that simple.
2. Click-to-call can increase revenues.
Because click-to-call makes it so easy for consumers to reach you, using the technology can increase your online revenues by as much as 45 percent (according to Jupiter Research). On average, companies that use click-to-call widgets have experienced as much as a 100 percent increase in conversions (from prospects to customers), compared to conversions from people dialing a toll-free phone number (Jupiter Research).
3. Click-to-call can provide a more satisfying customer experience.
Jupiter Research has also discovered that most consumers would rather talk by phone when they have questions about billing and delivery, product support or service, or general order inquiries, versus other communications channels such as text chat or email.
Forrester Research says that 45 percent of consumers prefer to speak to a customer service agent by phone instead of through some other communications channel. By adding a click-to-call button to your site, you eliminate typical hurdles callers might experience in trying to reach the appropriate person, thus providing a more satisfying customer experience.
4. Click-to-call increases the chances that website visitors will contact you.
Jupiter Research also found that 88 percent of consumers who have used click-to-call before are more likely to contact a company with click-to-call buttons as opposed to companies that don't use them.
5. The widgets are easy to add.
A click-to-call widget is a small snippet of HTML code, which can be easily added to any page on your website, whether it's a WordPress site or was built using other content management systems or website builders.
6. Widgets are highly customizable.
You can easily design your click-to-call widgets to fit the look and feel of your website and brand. You can even add click-to-call widgets that are not displayed during hours when your business is closed, eliminating the potential for prospects or customers to end up in voicemail.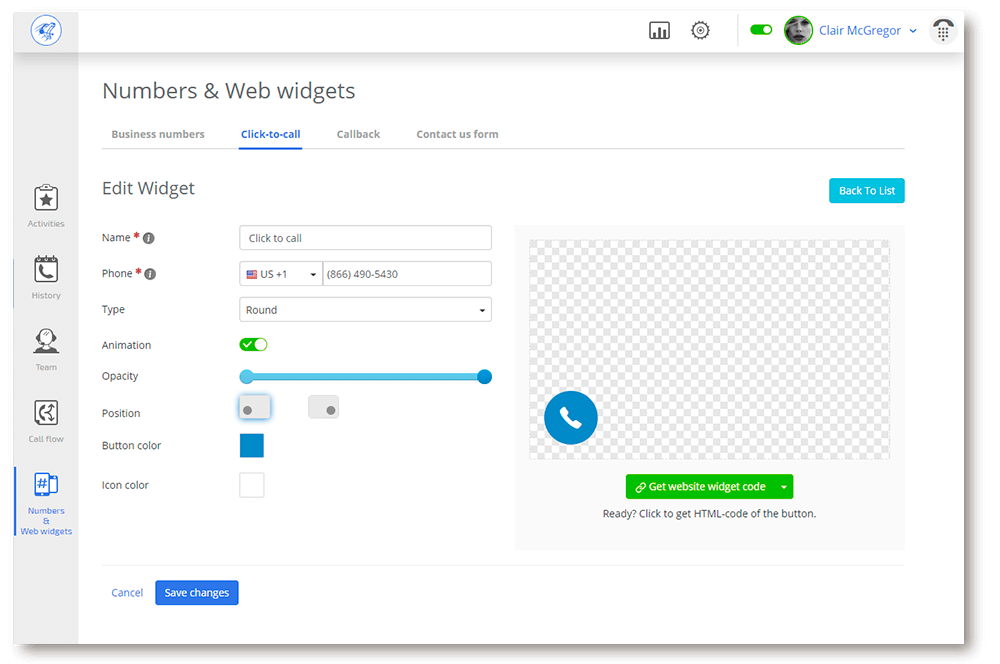 7. Click-to-call can boost your marketing efforts.
You can place different click-to-call widgets, each tied to a different phone number or extension, on various website pages or in Google AdWords ads. Is the wording in one Google AdWords ad prompting more calls than a separate but similar Google AdWords ad? Do visitors to your website call you from one e-commerce page more than another? All of this can inform your marketing and advertising efforts.
8. Prospects and customers can call you directly from your listing in Google search results.
In early 2015, Google began experimenting with giving search engine users the ability to contact a local business by clicking a phone number and initiating a Google Hangout, right from the search engine results page.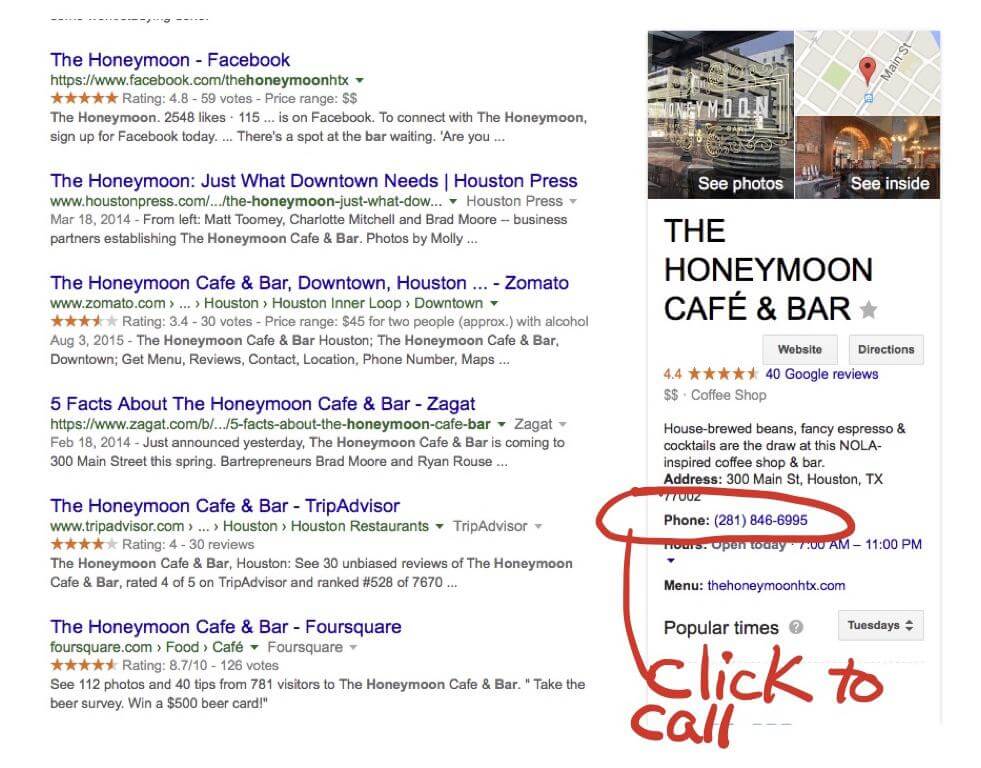 9. Your business looks more sophisticated.
Having a click-to-call widget on your site makes your business look savvier, as well as more responsive to customer contact.
10. Click-to-call is less expensive than paying for toll-free phone calls.
Because a click-to-call voice call is placed over the internet, there are no tolls to pay. So instead of having a toll-free phone number, for which you pay for the calls you receive, callers can contact you using a regular local-area-code phone number. This saves your small business money.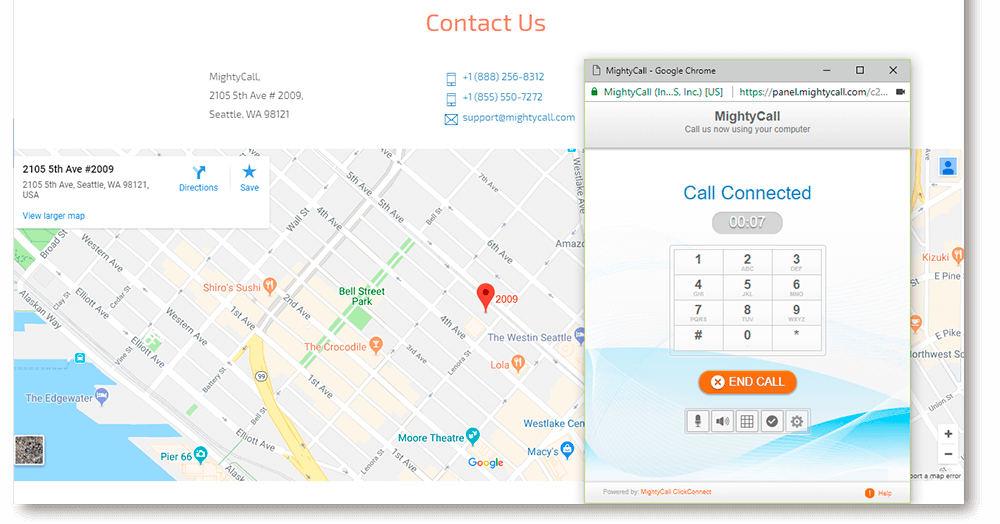 Call us and try Click-to-call: https://www.mightycall.com/about/
That's Not All on Click-to-Call
Ultimately, click-to-call technology helps reduce website abandonment, increases online conversion rates and delivers higher customer satisfaction. It gives small businesses yet another tool for easily reaching prospects as well as existing customers.
Click-to-call is a feature in the MightyCall virtual phone system.