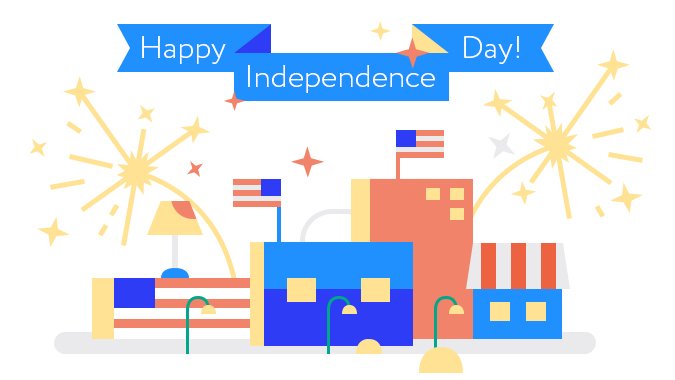 Marketing Ideas for July 4
---
Check out our tips for summer holiday sales success!
The Fourth of July is around the corner, so we're parading a bunch of promotional ideas to help you make the most out of our nation's birthday. Bunting, balloons and branding — you should be trumpeting your business and product offerings until you're red, white and blue in the face!
Summer starts off strong with a string of holidays. Memorial Day is followed by Father's Day, and then comes Independence Day.
This is of course a good time for small businesses, but with more holidays comes more sales- and more competition. Entrepreneurs need to invent more and more in promotional activities in order to grab clients' attention. Repeating the same marketing activities again and again is not the way to go.
Most advertising activities are typical for any holiday: timely reminders to clients about your selection and offers, clients' social media contests, tangible promo gifts, hosting events, etc. Don't balk at these tried-and-true ideas, but keep some of these additional tips in mind to help vary your summer marketing campaign.
Decorative giveaways
It's more likely than not that you won't sell all of your holiday decorations after the festivities. A few days before the holiday, try making a decorative giveaway promo. Flags, bunting and garlands of patriotic colors will cost you not much more than a pittance. Add some small swag with your logo (pens, cups, greeting cards) and your clients will start swarming!
By the way, this is an efficient way for an online business and those who sell your services to remind about your company and advertise yourself. The louder and brighter your campaign, the more customers will come. Buzzy marketing spreads fast among neighbors.
Join the parade
The Independence Day parade is usually the main part of any July 4th in towns and cities across America. It reminds parade watchers of the history and real meaning of the day. Ask to the city's authorities to find out if it's possible to participate in the event or become a sponsor.
In many cities, the parade's entry fee is low or free. It is an excellent opportunity to stand out. Create a wheeled float that will present your business and honor the holiday. The logo should fit the theme of the day. And participating in a social-patriotic ceremony engenders goodwill towards your business.
Talk to customers
Why not be sociable today? Grab a camera, get amongst the crowd. Prepare some fun questions and choose prospective clients for a short interview. Everyone wants their moment of glory. Pick questions that both point out your businesses positives but yet also seem, well, fun!
Be ready to hand out business cards with your website, where you'll later post a highlights video of the holiday celebration. The "stars" are sure to visit your internet page.
Kite contest
The holiday street party continues all day long! Go to your friends/fellow business owners with an idea for a kite festival. Holidays are often a chance to collaborate with rivals for win-win results. Applying to marketing designers for the kites' appearance is also a worthwhile investment. It should be conspicuous, appealing and deliver the essence of your business. USA Promo Items or Promotional Product Inc. are just two of companies that are ready to implement your promo ideas on kites (as well as on hundreds of other items.) Company logos and mottos will sail in the sky, attracting walkers to the fest location. Be ready to sell small kites with your business' logo for a token fee to all interested.
Fair and fireworks
The spectacular finale of the Fourth of July is always fireworks. In many cases, before watching fireworks viewers will spend the evening at a nearby fair. Families and friends come together to enjoy the festival. Book your place as a fair participant- or even host! Get your staff to wear themed costumes, hats and makeup to attract kids' attention. If you are children-oriented, you're in the box seat.
It's a good idea to know how to charm parents and convince them to buy knick-knacks and snacks. So prepare a kids' zone and pitch balloons, candy and snacks for the smaller guests. Check out favorite confectionery vendors like Dunkin' Donuts and Baskin Robbins; they usually have holiday offers in their menus. But don't forget the adults: treat them with small classics like barbecues, burgers and frankfurters. They'll stay longer and remember your atmosphere and products.
No matter what product or service you offer, you won't lose by selling or giving away some small fireworks on the Fourth of July (though make sure you know your state laws regarding firework sales!).
Partial summer sale
It may sound sad, but the first month of summer is almost gone. It's time to get rid of some of your summer-only items. Put on sale products that most likely won't be in fashion anytime soon. At least you'll get some return instead of nothing.
By the way, the word "Sale" is sort of like magic. Spread information that a holiday discount is being offered, and watch client traffic increase.
Now that you're inspired to launch a Fourth of July marketing campaign- get to it!