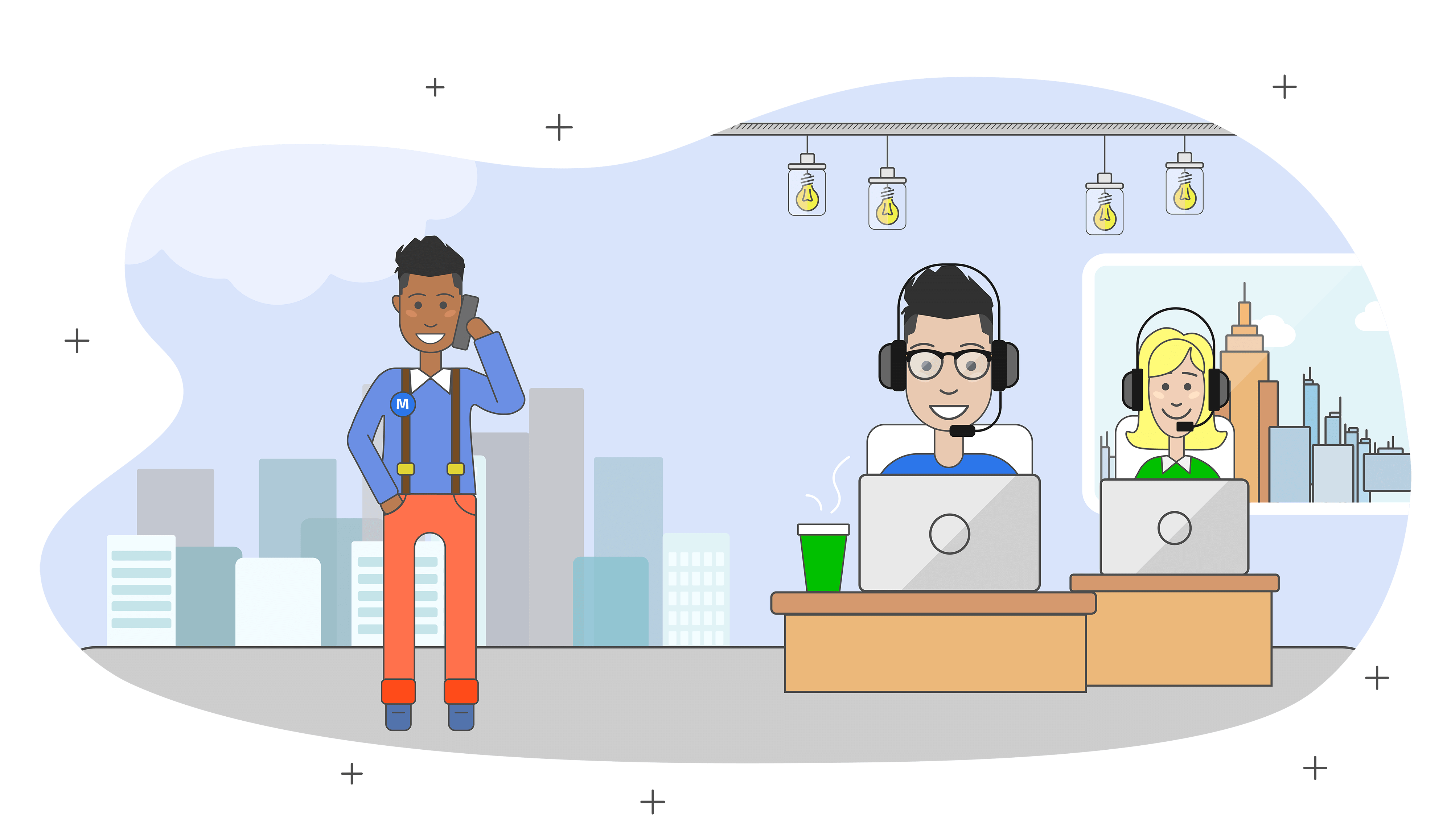 Conference Calls
---
The following is an in-depth technical article about conference calls; here is a quicker read on the topic.
With virtual phone systems, you can conduct business meetings and speak to employees or business associates at the same time, no matter where you (or they) are. The conference call feature has become a must-have for any business, big or small.
Conference calls help entrepreneurs save time and resources. In the real world, it is not always possible to have members of the same team in the same place at the same time. For example, you may have employees working for you remotely. A conference call helps you in handling this situation perfectly.  It is, however, important to understand how conference calls work.
How Does a Conference Call Work?
Conference calls are easy to initiate and set up. All you need is a phone and a phone system service.
Conference calling on MightyCall is even easier. There is the WebPhone feature where you can start a conference call and add others with a simple mouse click.
In general, a conference code or PIN is made available. Whoever you make this code available to will be able to join the conference call. The PIN or code and a dial-in number, through which callers can become a participant of a conference call are referred to as the 'conference call access information'.
You need to give your participants the PIN or code beforehand. At the allocated time, participants dial in and provide the PIN to join the call. The conference call immediately starts when two or more participants join.
However, with MightyCall's WebPhone, you don't need to worry about PINs or codes and other stuff. You have the option to launch a conference call and invite participants of your choice with just a mouse click.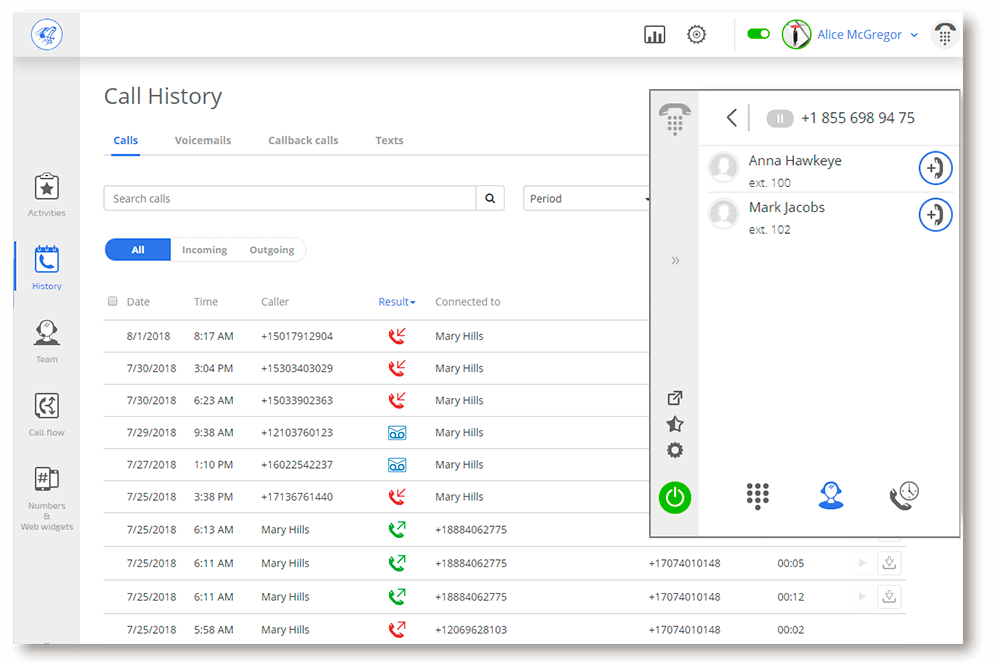 There are "consultative" and "add" buttons. As those names imply, the "consultative" button allows you to make a consultative transfer to someone of your choice, even another participant on the call. The "add" button allows you to include more participants in your conference call.
On cell phones, you can start a conference call using the * or # buttons. In the case where a caller has dialed a wrong number or they need to talk with you and another person, you can directly transfer them. You simply click the "transfer" button during the conversation.
You can then choose who you want to transfer the call to. You can select someone from your directory, someone from your call history, or dial any phone number.
Conference calls may be set up so the person you call is allowed to participate in the call or only allowed to listen and not participate. This is sometimes referred to as auto-tele conference (ATC).
Whichever way a conference call is going to be set up, it is paramount to make sure that it is conducted in a professional and organized manner. This ensures productivity and efficiency.
How Do I Conduct a Successful Conference Call?
Below are some ways you can conduct a successful conference call:
Prepare and organize.
This is the most important thing to take into consideration before any conference call. Prepare topics for discussion in advance and create an agenda of the call for all participants. That way you won't be wasting unnecessary time on irrelevant topics.
Be punctual.
Just as in any conventional business meetings, punctuality is essential for conference calls. Dial a few minutes earlier than the time of the meeting. Waiting till the last minute is not advisable, since there may be technical issues that could require attention, or you may even have the wrong passcode or dial-in number. By being punctual, you can notice these issues and handle them ahead of time.
Encourage participation.
It is important to get feedback from your participants during a conference call. Ask your participants questions and let them know you value their opinions. Even inquire about the quality of the connection from time to time during the call.
Be conscious of your location.
Your location is very important during a conference call. You don't want to be in a noisy place or with a lot of people, as you could easily get distracted and miss important information.
Keep notes.
It is important to stay focused during a conference call. Keeping notes is an effective way to achieve this. Keeping notes not only helps you remain focused during a conference call but also helps you to get or set aside the main topics and issues of discussion of a phone meeting.
Properly set up your devices.
You should set up your devices—microphone and speakers—to be aware of your surroundings. You don't want your microphone picking up every external sound. You also don't want it too far from you that your voice would not be properly heard or too close to pick up every little sound you make.
Stick to your agenda.
Your phone meeting should be brief and purposeful. Discuss with your participants the main topics you have intended and don't waste time discussing irrelevant topics. Also always try to keep things within your scheduled timeframe. Your participants are likely to lose attentiveness if you extend the call beyond time.
Don't keep backtracking for new participants.
Make your participants understand that if they call in late, they will have to catch up after the call. Constantly reviewing already discussed topics might make the rest of the participants lose attentiveness. Instead, encourage punctuality. However, if it's with your customers, you might want to make an exception for their tardiness.
Record the conference call.
Not every call service allows you to record conference call sessions. However, if you are with MightyCall, then it is one of the features you get to enjoy.
Recording conference calls could be a valuable tool for many reasons. Foremost, it gives the participants the opportunity to go back and review the meeting and the topics discussed. Second, in a situation where an individual isn't available for the call, he can easily listen to the recording and get the same information as those who were present.
How Can You Record Conference Calls with MightyCall?
MightyCall's conference call recording helps you not to miss any part of a conference call since you can go back and listen again. You can record conference calls by enabling the call recording feature.
If this feature has been enabled, calls will not automatically be recorded. You will receive a notification asking if you want the conference call recorded or not. Not everybody, of course, wants to record their conference calls, due to privacy or other reasons.
After enabling recording, you will have the option to save the recorded calls. They can be kept for as long as you want them. With MightyCall, there is no limit.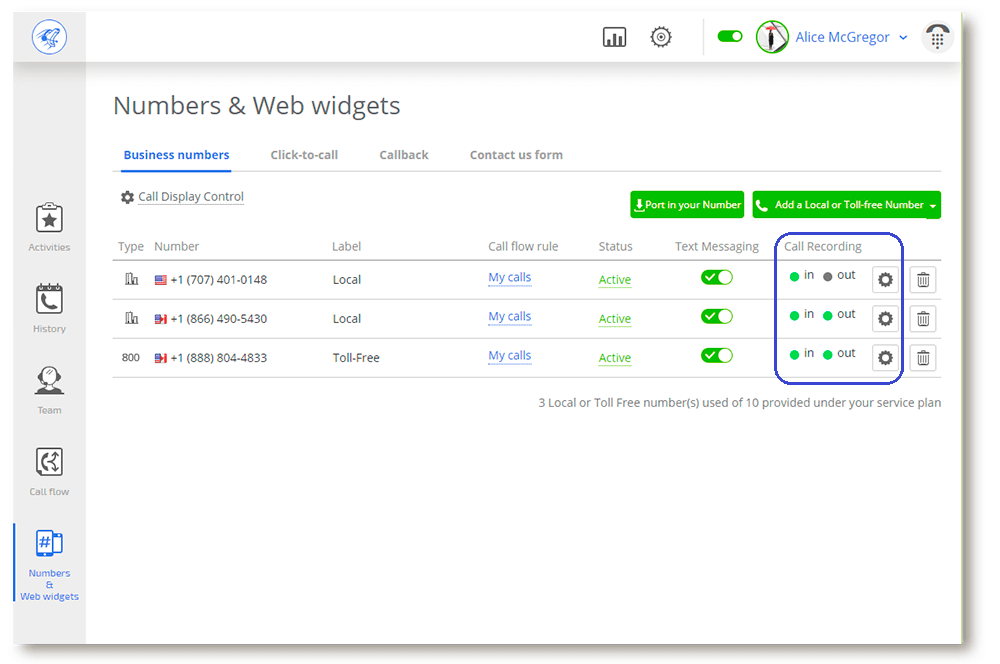 To listen to your recorded calls, all you have to do is go to your call history section and look for your saved file. You can rename your recorded calls as you like, so as to be able to find them easily at a later time, and also for the orderliness of files. Learn more about call recording.
Advantages of a conference call
Conference calling has numerous advantages, which include:
It saves time.
This is the most obvious advantage of the conference call. Conference calls save you the time you would have wasted in trying to bring together your different remote employees or customers to hold an important meeting. You can just conduct this meeting on phone through conference calling and invest that time in other useful activities.
Enhance business expansion.
Since conference calls already make it no longer compulsory to be in the same location to be able to conduct business meetings and decide on important issues concerning a business and its development, businesses can easily expand over different locations.
Easy communication method.
This is true as nothing special is required to make conference calls. With your phone and your phone system, you are ready to hold professional business meetings with your clients from all around the world.
Cost-effectiveness.
This mostly depends on your phone system provider. MightyCall, for instance, offers conference calling at a flat rate without any hidden fees. You can hold calls for a considerably long period without any fear of cost or rates. Of course, corporate traveling cost would be much more expensive if you were actually planning to hold the meeting in real life.
Increases business profit.
This is true as conference calling helps saves time. You don't need to spend more time on the road since you can conveniently conduct your meetings through conference calling from wherever you are. This allows more time to be invested in other useful business activities that would bring more profit.
Urgent situations are easily handled.
With conference calling, you can handle business emergencies quite easily. One of your clients may happen to be in urgent need of, let's say your technician. This can be easily taken care of during a conference call, as you can link them up during your phone meeting. This consequently improves customer experience.
All in all, conference calls are a tool you simply must use in your business's everyday operations.
Pick the right plan for your business
Get a 50% discount on MightyCall for your first month.
If you already have a virtual phone number, we can port it in for free so you can keep using it.
All plans include
Unlimited Extensions

Unlimited Text Messaging

Customizable Call Routing

Auto-Attendant

Webphone

Conference Calls

Call Queues

Voicemail to Email

Custom Greetings

Performance Reports

Facebook & Twitter Integration

Web Widgets
30 day money back guarantee

No long term contracts

You can change your plan anytime