Best Grasshopper Alternatives 2020
In this article we cover best Grasshopper alternatives in 2020:
Grasshopper's evolution as a company has focused more on extending plan options to customers than upgrading the service itself. The company has raised prices multiple times over the past few years, currently resting at the monthly offerings of $26 for the Solo plan, $44 for the Partner plan, and $80 for the Small Business plan if you sign an inescapable annual contract.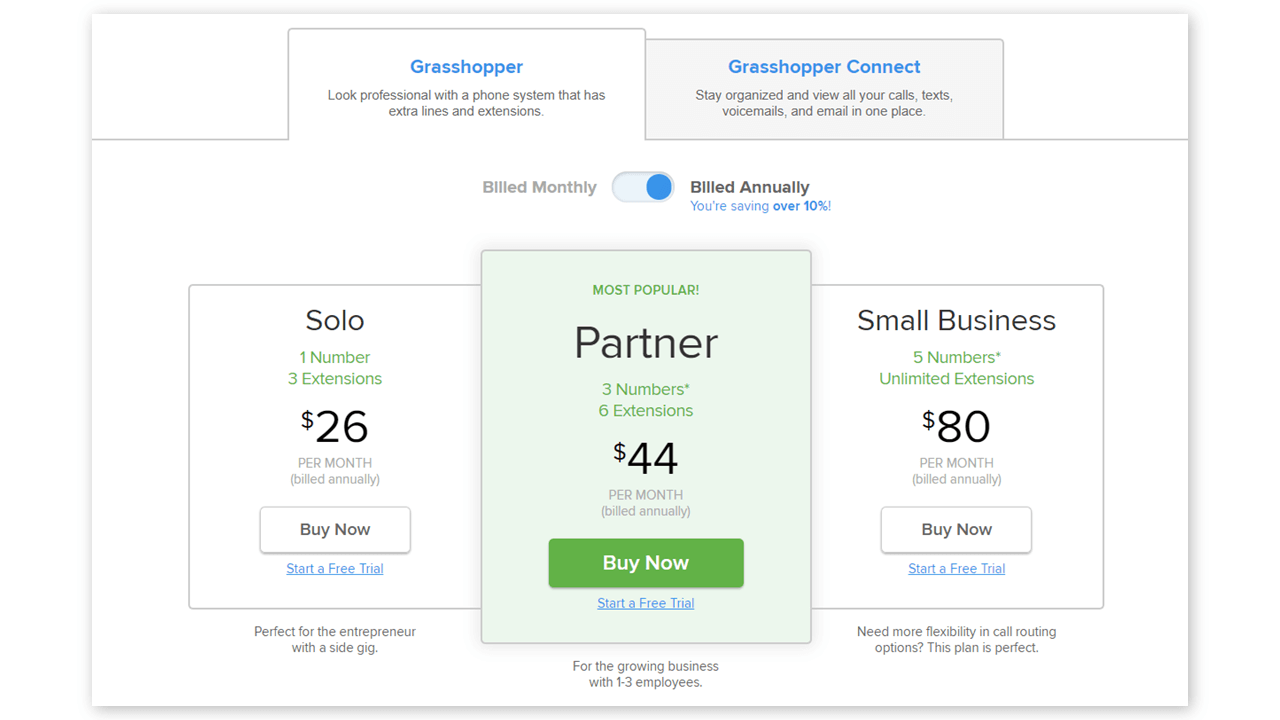 The biggest change in recent months was the introduction of a secondary service, Grasshopper Connect, billed at $35 a month on an annual contract. This new service primarily aims to synchronize a person's entire communications—email, texts and phone number—in a greater facsimile of what many VoIP providers already offer as a central point in their systems.
Regardless, Grasshopper is still an industry standard, one of the most popular and best performing business phone system options out there. It's easy since there's no hardware, it's not too expensive, call quality is good since most calls are made through the same network as your normal cell phone calls, and the company has been around a while, so they're a known brand.
By no means is Grasshopper the only game in town though; here are some good alternatives to Grasshopper in 2020 and beyond:
MIGHTYCALL
Pros
Designed for small business:
While some of the other providers listed here are more in the realm of medium-sized business, MightyCall aims at the smaller businesses out there, hence the lower price tag and general simplicity within the system, in addition to the lightning fast registration.
Features:
MightyCall is a feature-rich service, having dozens of features included on all their plans (with more powerful reserved for higher priced plans).
All 15 features Grasshopper lists on their pricing page are included in MightyCall's plans, plus other great features like call recording, call queues, spam protection, and the Business Contact Book to give the system mini-CRM capabilities.
That puts it on par with the $35 Grasshopper Connect plan that can only serve 1 person, except MightyCall's serves an entire company for less money.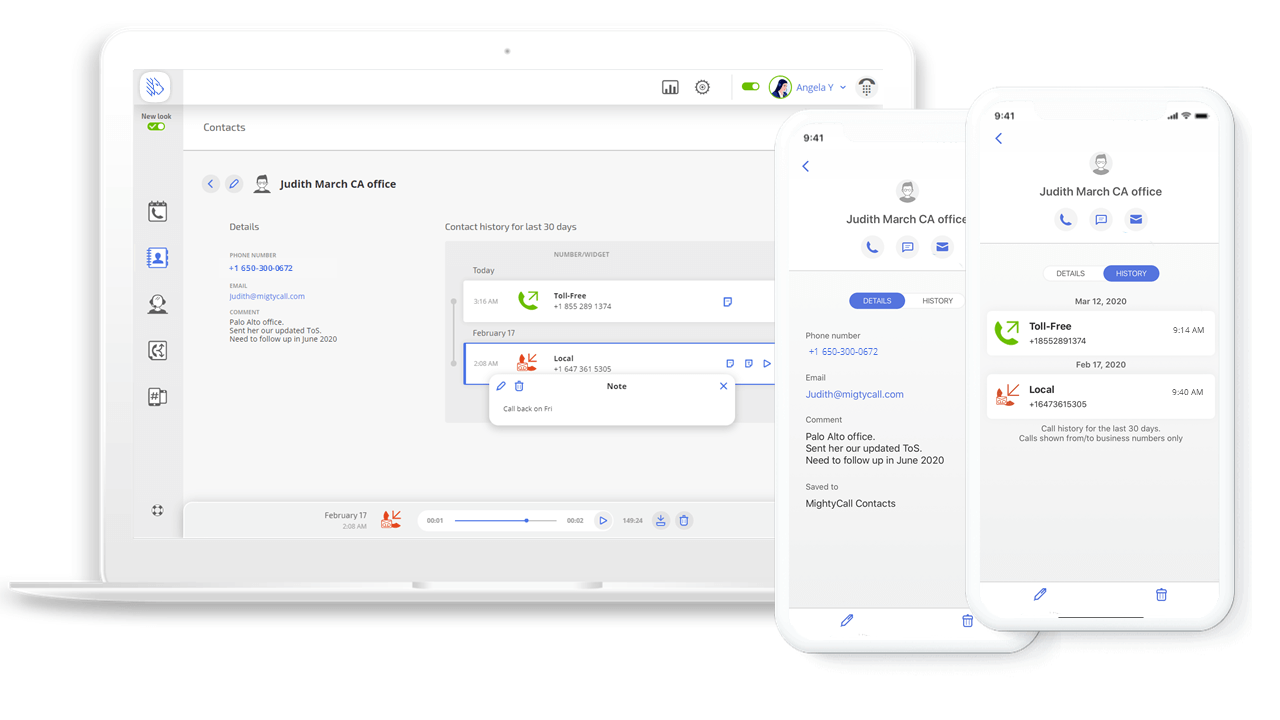 Call quality flexibility:
Similar to Grasshopper, which MightyCall has long been compared to in terms of system setup, you can use either VoIP (your Wi-Fi connection) or the PTSN (standard landline connections) to make and receive calls. Smaller providers often lack the PTSN option, while bigger companies like RingCentral push you to use their own hardware, limiting the on-the-go power VoIP offers.
The price:
MightyCall's two most popular plans are $29.99 and $49.99 a month and don't force you into a long-term contract. That means it's cheaper, more scalable and more flexible.
Cons
Customer Service:
MightyCall does not have a true 24/7 live chat on their website, leaving customers to call or email much of the time. Live chats have surged in regards to customer service in the past few years, meaning any company that doesn't have a dedicated channel for it is behind the curve.
NEXTIVA
Pros
Truly unlimited calls and texts:
Nextiva has extraordinarily high caps on their unlimited calling policy, which no one will run up against. In addition to getting both a toll-free and local number, the core of the system is quite nice.
Live chat feature/customer service:
Nextiva's live chat feature is routinely said to be one of the most convenient in the industry. That means businesses using it are better equipped to deal with customer's problems; likewise, Nextiva uses it too, meaning getting an issue worked out is far simpler than with other companies.
CRM features:
Nextiva, one of the bigger companies out there, has both sales and service CRM features on all their plans.
Cons
Payment:
Nextiva uses long-term contracts with lower monthly price points to squeeze customers into bad decisions, and also employs a per user price plan that could make things too expensive for a small business running 1-10 employees.
Feature inequality:
Nextiva's tiered plans only offer high-powered features like call recording and customer surveys after calls/live chat sessions on the most expensive option ($30 per user).
JIVE
Pros
The hot new ticket:
Jive has been raising incredible amounts of money over the past few years, pouring tens of millions of dollars into tech and research. For its early history it was a rather nondescript option, but now the company is alive and a major talking point of the industry.
Features:
This is the main selling point Jive offers: over 80 features, all available to any users. At this point, any feature that has ever been associated with VoIP is in their system, giving it immense power, especially for businesses with more than 10 employees.
Call quality:
Much of that early investment money went into shoring up the company's core tech, and in response, call quality has consistently received terrific reviews from customers and critics alike.
Cons
The Price:
Jive also works on a per user billing method, costing $30 per user if your company has 1-4, and $19 per user if you have 5+ staff.
Considering Nextiva's most expensive option is $30 per user, Jive is undoubtedly and unabashedly one of the more expensive VoIP options—maybe not the best thing for small business and those looking into Grasshopper.
8X8
Pros
International calling:
This is 8X8's bread and butter, the share of the market they've spent decades cornering. Thanks to that effort, no other company comes close to matching 8X8's international reach (with offerings in dozens of countries) and low international calling rates.
Price flexibility:
To better represent the stateside marketplace, 8X8 recently launched their X series of virtual business offerings, which scale upwards in price along with numbers and features included.
Integrations:
8X8 has also expanded integrations recently, implementing a brand new integration framework to improve on a previous weak point within the company. Thanks to this, bigger companies can now access an unlimited number of simultaneous connections. For smaller businesses, nearly two dozen messaging and communication apps like Skype, Slack, and Google Meetings are all able to be integrated now.
Cons
Per user pricing:
Again, this method of pricing has gained popularity in the last half decade, but pound for pound it ends up costing customers more. The cheapest offering is $25 per user per month, and the next available option is up to $45 per user per month. Those costs add up if you don't need international calling.
Customer service:
There is no true live chat and it is quite difficult to get in touch with a real person. Once you're through registration and setup, contact with 8X8 vanishes.
Lack of team-focused features:
8X8 does have a lot of features, but it lacks those that enable cooperation and inter-team communication, especially on the $25 per month plan.
AIRCALL
Pros
Various CRM integrations:
Aircall aims to help small business keep better track of their workflow, which is why they focus on a boatload of CRM integrations. Many VoIP providers make it difficult to combine with other CRM services, but Aircall streamlines that process with many options so small businesses can work within a single system (even if the business is paying for multiple services).
Good range of international numbers and coverage:
While not in the realm of 8X8, Aircall offers numbers from over 3 dozen countries and has better than average international calling rates.
Good feature set:
Aircall has a nice range of features both necessary and powerful, giving Grasshopper a run for its money even if it isn't the most feature-rich service out there.
Cons
The app:
Professional and customer reviews alike note the app does not consistently work and offers spotty call quality.
The price:
Even though Aircall has constraints that make it less optimal for bigger business, there is a minimum 3 user limit, and each user is either $30 or $50 a month, depending on which feature set you select. For smaller companies, a minimum of $90 a month for a service that isn't upper echelon is a lot to ask. (Also of note: you need a company email to sign up for the service).
Final word
All in all, just because Grasshopper is popular doesn't mean you should go there first, as there are plenty of other options on the market. None are perfect—neither is Grasshopper—but some will likely be a better match for you depending on where your business is at in its life cycle. We encourage you to do in-depth research on as many providers as you deem necessary before making a choice, but as always, we truly feel MightyCall is the best choice for the majority of small businesses.
Source: Capterra

4 out of 5 stars

4.2 out of 5 stars


4.5 out of 5 stars

4.2 out of 5 stars