MIGHTY30
eVoice Alternative: MightyCall
MightyCall isn't as direct eVoice alternative as some of the other companies providing virtual phone numbers, but once you begin looking into the two, it becomes clear MightyCall is the superior system. First off, some basic points:
eVoice only provides businesses with a virtual number, while MightyCall provides the virtual phone number along with the virtual phone system, allowing for so much more flexibility;
MightyCall has mini-CRM functionality;
MightyCall has unlimited users & extension included in every plan for free;
MightyCall has more features, by far, and at a lower overall price.
Looking at the chart, you can see there's a big difference, and it most certainly isn't fluff. Let's quickly breakdown the capabilities MightyCall gives you that eVoice has no answer for.
Capabilities Comparison: eVoice vs MightyCall
| | | |
| --- | --- | --- |
| | | eVoice |
| Price per month | $ 29.99 flat | $ 29.99 / team |
| Minutes Included | 1 000 | 1 000 |
| Users | Unlimited for free | 5 |
| Local or Toll-free numbers | 2 | 15 |
| Texting | 1 000 | Pay-as-you-go |
| Vanity search | Yes, for free | $30 |
| Business hours | Yes | Yes |
| Call forwarding | Yes | Yes |
| Call Queue | Yes | Yes |
| Call screening | Yes | Yes |
| Business contacts | Yes | No |
| Mini-CRM functionality | Yes | No |
| Caller ID & CNAME | Yes | No |
| Conference calling | Yes | Yes |
| Video conferencing | No | Pay-as-you-go |
| Click-to-Call Widget | Yes | Yes |
| Contact Us Widget | Yes | No |
| Call Back Widget | Yes | No |
| Social Media tracking | Yes | No |
| Transcribed voicemails | No | Yes |
| Webphone for In/Out Calls | Yes | No |
| International numbers | $10 extra | $ 29,95 extra |
| International Calls | Yes, pay-as-you-go | Yes, pay-as-you-go |
| | Basic plan | eVoice 29.99 plan |
Why MightyCall is the best eVoice alternative?
MightyCall has 3 general monthly pricing plans: 1,000 talk minutes for $29.99, unlimited talk minutes for $49.99 and $99.99.
eVoice has 4 general monthly pricing plans: 300 talk minutes for $12.99, 1,000 talk minutes for $29.99, 2,000 talk minutes for $49.99, and 4,000 talk minutes for $79.99.
The $12.99 plan offers 6 numbers, but what difference does it make when you can only talk on the phone for an average of 10 minutes per day before getting hit with extra charges?
The $29.99 plan is much closer to MightyCall's Basic plan for $29.99.
They offer the same amount of minutes, but with MightyCall you get some fundamental features like texting, unlimited extensions, and our unique Journal for free.
No matter what eVoice plan you have, nearly every additional feature is an additional monthly charge; if you want text messages, that'll cost you extra. So basically, you wind up paying twice as much for what you could get with MightyCall.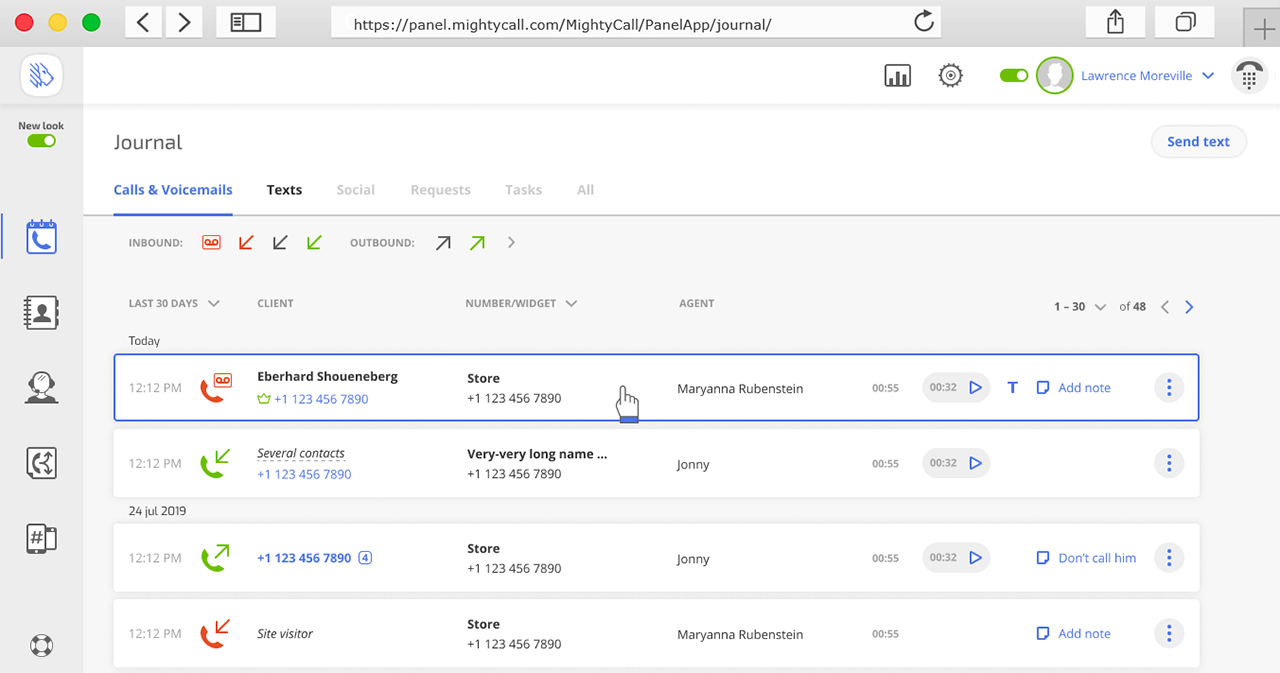 View your texts in the thread
Listen to your recorded calls
Listen to & read your voicemails
Change your status to accept or decline calls
Click on the number to start calling
The larger plans, at $49.99 and $79.99, are where features costing extra really burn you. MightyCall has more features than eVoice to begin with—thanks to our cloud IP technology—but once you get MightyCall's Standard or Ultimate plan, you'll be getting unlimited calling and all of our advanced features like call recording and voice-to-text transcriptions for free. If you want those features, or again, even text messages (!), with eVoice, your monthly bill is going to end up significantly higher than $50 or $80. Those prices just aren't very transparent.
Also, just 2,000 talk minutes for $50 and 4,000 talk minutes for $80?
MightyCall's $29.99 Basic plan offers unlimited users and CRM functionality!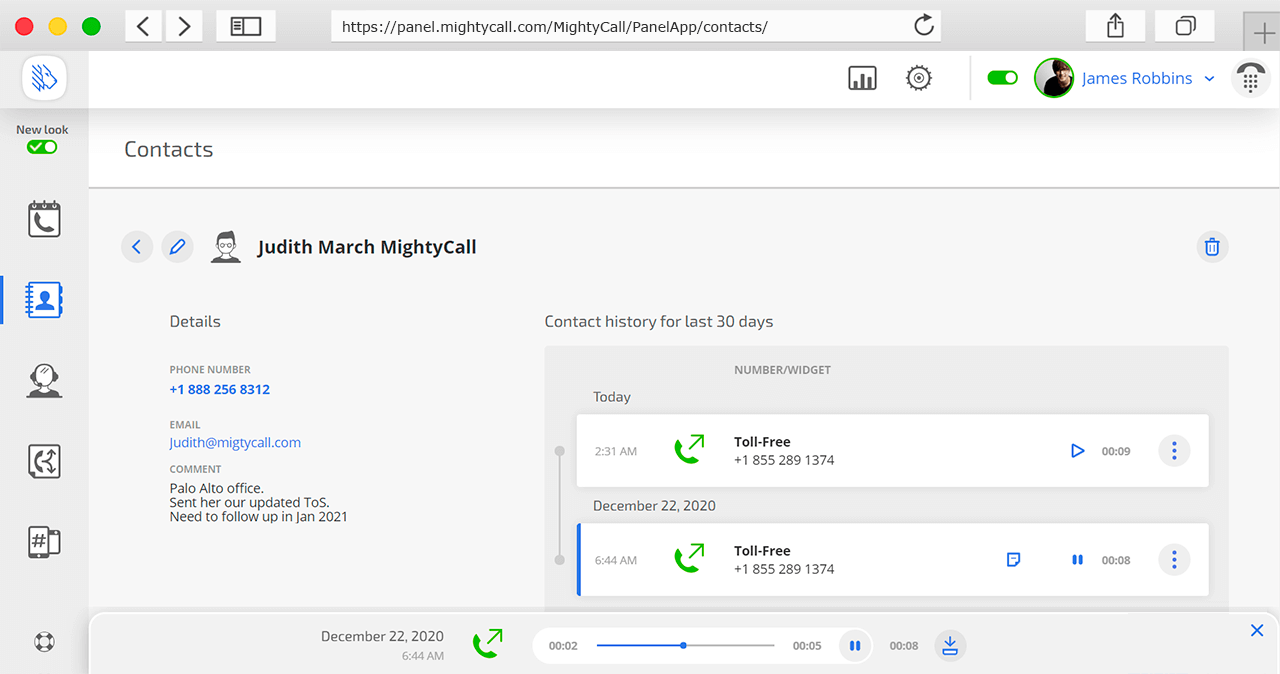 See your communication history with each business contact
Add a name, email, and up to 20 phone numbers
Listen to & read voicemails
Listen to call recordings
Add and read call comments
eVoice's talk minute totals are barely covering the essentials for a successful small business, so even if their additional surcharges for talk minutes are low (3.9 cents a minute), you shouldn't have to budget that extra cost in just because you had a busier month than usual.
eVoice just isn't fully sufficient for small businesses. MightyCall keeps upgrading, now hosting mini-CRM capabilities with our Contact Book PLUS feature, which lets you better organize customer communications through careful note taking and contact lists. MightyCall will continue to upgrade and tweak this feature too, proving we're committed to giving customers the best service possible. eVoice has long felt stagnant and hasn't realized a revolutionary feature in ages.
So, to recap:
The features eVoice does have, like voice-to-text, call recording, text messaging, and web conferencing are all extra charges no matter what plan you have.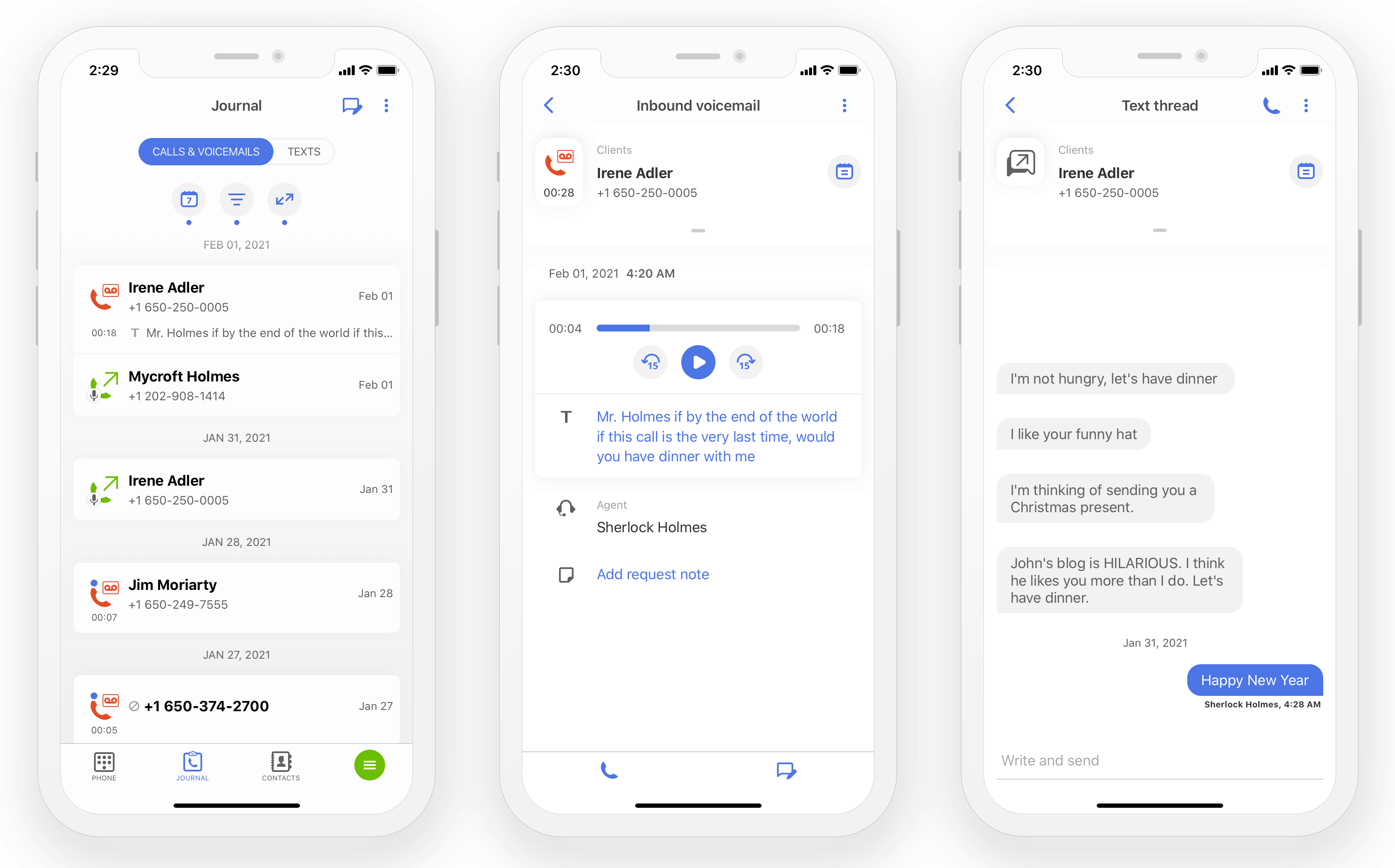 All your calls, voicemails, texts in one place
Filter activities by date, type and user
All your voicemails at a glance
Add comments to remember important details and share them with the team
All your texts in one place. Reply and call straight from this section
Click and call/ text straight from the Journal
Unfortunately, eVoice's start-up services hammer your wallet too;
porting your number into the system is $40 (free with MightyCall),
a vanity number is $30 (free with MightyCall),
and an international number is $30 ($10 with MightyCall).
There is simply no universe where MightyCall isn't better bang for your buck.
What clients say about MightyCall

4 out of 5 stars

4.2 out of 5 stars


4.5 out of 5 stars

4.2 out of 5 stars