MIGHTY30
MightyCall Mobile
Google Play
App Store
eVoice Alternative: MightyCall
eVoice started out as a streamlined VoIP provider, mainly focused on virtual phone numbers, but recently has expanded its offerings to function more as a virtual business phone system. That's an improvement over what they previously had, but there are still holes in their service.
For one, eVoice lacks some of the newest VoIP features, such as availability status and a webphone (which saves you money when you make calls by not using your cell phone data). Classic features such as call recording and conference calls do not come with eVoice's standard plans, instead being offered as monthly extras.
Here's how MightyCall's and eVoice's packages compare:
Capabilities Comparison: eVoice vs MightyCall
| | | |
| --- | --- | --- |
| | | eVoice |
| Price per month | $ 49.99 per team | $ 14 per user |
| Trial | Yes | No |
| Minutes Included | Unlimited | Unlimited |
| Users | Unlimited for free | 1 |
| Local or Toll-free numbers | 5 | 3 local only |
| Texting | Yes | $9.95 per user |
| Vanity search | Yes, for free | $30 |
| Business hours | Yes | Yes |
| Call forwarding | Yes | Yes |
| Call Queue | Yes | Yes |
| Call screening | Yes | Yes |
| Business contacts | Yes | No |
| Mini-CRM functionality | Yes | No |
| Caller ID & CNAME | Yes | No |
| Conference calling | Yes | Yes |
| Video conferencing | No | Pay-as-you-go |
| Website Widget | Yes | Yes |
| Transcribed voicemails | Yes | up to 40/mo |
| Webphone for In/Out Calls | Yes | No |
| | Standard plan | |
Looking at the chart, you can see there's a big difference—eVoice even charges extra for texting and toll-free numbers. Let's quickly break down the capabilities MightyCall gives you that eVoice has no answer for.
Why MightyCall is the best eVoice alternative?
1) Features
While you do get unlimited talk minutes and 3 phone numbers from eVoice, the basic feature set is lacking. This pricing plan is aimed at a lowest common denominator, assuming happy customers who need more will simply pay for add-ons.
Having fundamental things like texting, toll-free numbers, and vanity numbers cost extra makes the price look lower than it truly is. The same for common features like call recording and conference calls, which any mid-tiered VoIP plan will offer.
eVoice still has fewer features than most competitors as well, even with this recent service overhaul. They offer no business contact book, no spam call deterrents, no deskphone or softphone support, and no integration capacity. That means eVoice will not smoothly act in cohesion with other software services your company may be using, or even offer any CRM functions itself.
You will more or less be limited to using eVoice through the mobile app, defeating the purpose of using it in an office or as part of a team. If that is the case, and a solopreneur uses eVoice, there may not be a problem, but multiple people using it together would likely find other alternatives, such as MightyCall, to perform better overall.
MightyCall keeps upgrading, now hosting mini-CRM capabilities with our Contact Book Plus feature, which lets you better organize customer communications through careful note taking and contact lists. eVoice's latest upgrade is an improvement, but the service still doesn't outdo MightyCall where small business is concerned.
MightyCall's desktop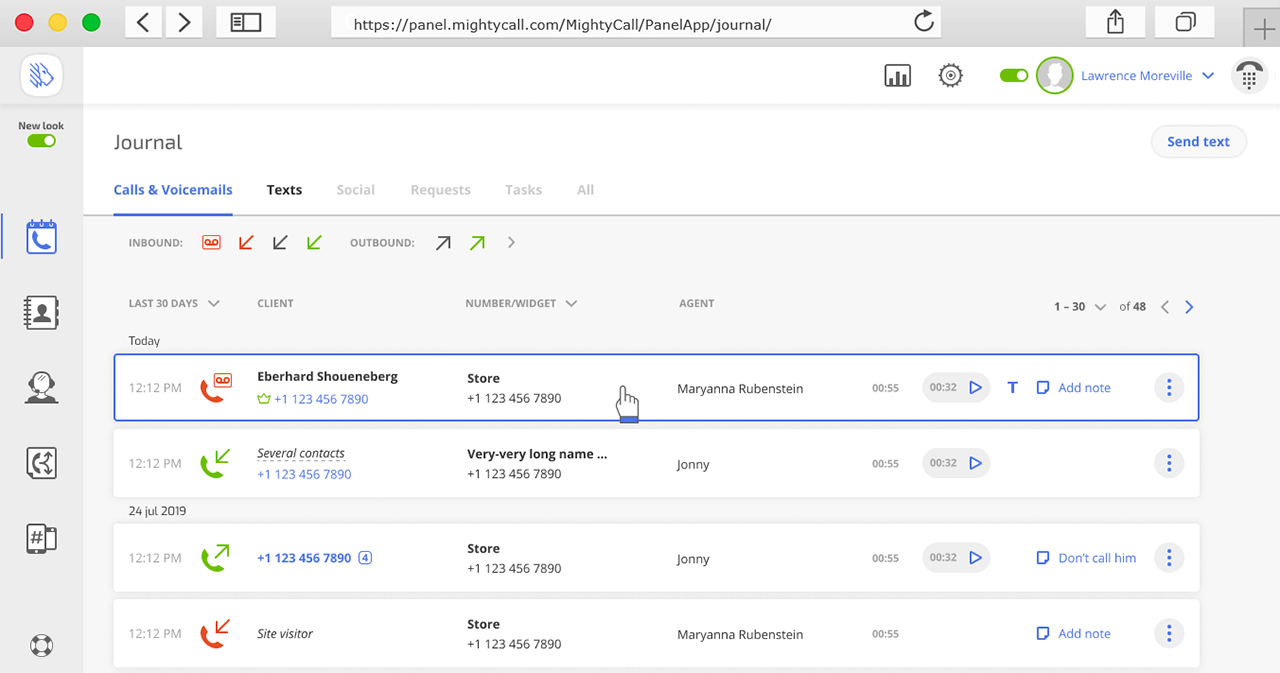 View your texts in the thread
Listen to your recorded calls
Listen to & read your voicemails
Change your status to accept or decline calls
Click on the number to start calling
MightyCall's mobile app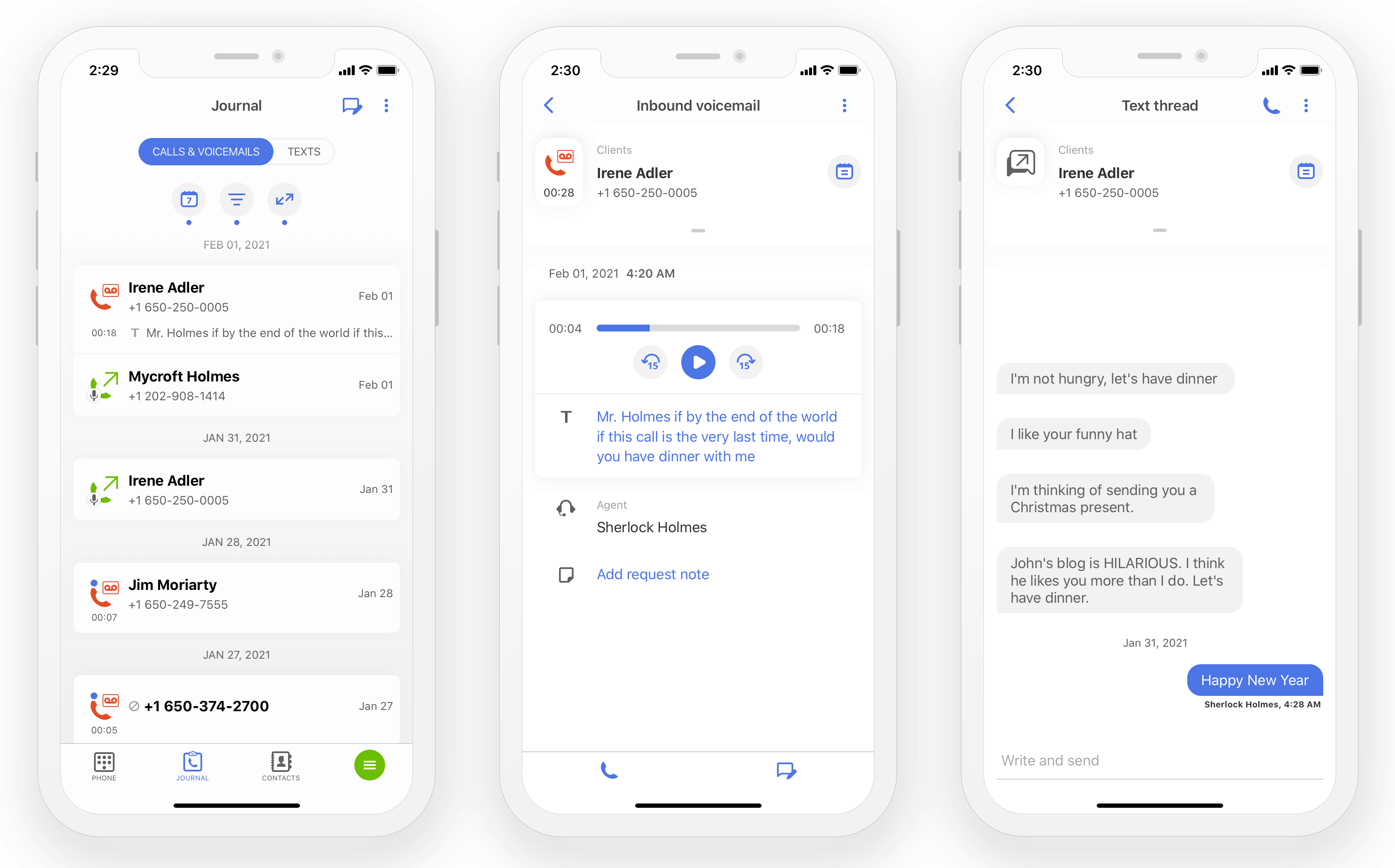 All your calls, voicemails, texts in one place
Filter activities by date, type and user
All your voicemails at a glance
Add comments to remember important details and share them with the team
All your texts in one place. Reply and call straight from this section
Click and call/ text straight from the Journal
2) Prices
MightyCall has 3 general monthly pricing plans: 1,000 talk minutes for $29.99 and unlimited talk minutes with differing feature sets for $49.99 and $99.99.
eVoice's new pricing does away with its tiered plans and introduces a more trendy VoIP structure: pricing per user. At just $14 per person, that might seem reasonable, but as we mentioned before, many important features are not included in that price.
Having 3 users on your eVoice account would leave you with a $42 monthly bill before much needed add-ons like call recording and texting; using both would take you to $62 a month (texting is $9.95 per person and call recording is also $9.95). For MightyCall's Standard plan, you'd pay $50 a month for unlimited users and minutes and an established and larger feature set, plus CRM capabilities and calling flexibility across various devices.
What clients say about MightyCall

4 out of 5 stars

4.2 out of 5 stars


4.5 out of 5 stars

4.2 out of 5 stars