Line2 or MightyCall?
Plus a special offer on MightyCall below
Line2 is a good, handy virtual phone number for freelancers and entrepreneurs running solo or duo operations. Beyond working for minute companies however, the system doesn't compare to fully-integrated virtual phone systems like MightyCall.
Line2 has its niche and it does its best with it, but it's outmatched when dealing with most small businesses.
Line2 alternative:

MightyCall

vs

Line2 Review
| | | |
| --- | --- | --- |
| | | Line2 |
| Price per month | $ 49.99 flat | $ 19.95 per user |
| Minutes Included | Unlimited | 5 000 |
| Long-term contract | No | Yes |
| Users | Unlimited for free | $ 19.95/user |
| Local or Toll-free numbers | 5 | 1 |
| Contact book | Yes | Yes |
| Mini-CRM functionality | Yes | No |
| Vanity search | Yes, for free | $45 |
| Texting | Yes | Yes |
| Call forwarding | Yes | Yes |
| Call recording | Yes, for free | No |
| Voicemail | Yes, for free | Yes |
| Voice-to-text transcription | Yes, for free | No |
| Conference calling | Yes, for free | $ 19.95/line |
| Music on hold | Yes | No |
| Business hours | Yes | Yes |
| Click-to-call widget | Yes | No |
| Social Media tracking | Yes | No |
| International numbers | $10 extra | No |
| | *Standard plan | **Elite plan |
What Line2 Offers
The system's size limitations are noticeable even when you pay attention to their pricing plans. Despite the split between their plans—Standard, Pro, and Elite—most of the few features the company has aren't available on the Standard plan, so if you want a number for business reasons, your options are limited.
Pro is either $12.45 a month if you pay annually, or $14.95 for monthly payments, while Elite is $16.63 annually or $19.95 monthly. You'll notice this is a long-term contract, something that not only MightyCall, but most of the VOIP industry, has backed away from recently. Line2 offers both a free 7-day trial and a 30-day money-back guarantee (a guarantee we offer as well), but 7 days isn't enough to truly understand any system's capabilities, and if anything goes wrong after the first month you could be out of money and stuck with a system you don't like.
All of these plans only provide customers with 1 phone number, and if you want more each number will cost you an additional $9.95. Likewise, toll-free numbers carry a surcharge of $9.95 as well, which limits you to only local numbers if you want to pay the advertised prices.
Line2 changed up their plans in Spring 2018, and even though the prices—at $10, $15, and $20 a month—seem good, there is now a shroud of secrecy to the exact contents of each plan. Sure, they have a list of features, but what does "virtually unlimited calling" mean? 5 000 minutes for any plan, actually.
There are no mentions of user extensions or system scalability either—everything you would need to know to make an informed decision is gated behind variations of ways to get you talking to their sales team.
Regardless, even with the additions of a few base features, Line2 still lacks most advanced features virtual telephony has to offer, and integral things like call flows and call queues are only included in their $20 plan. If the choice is between their $20 plan and MightyCall's $20 plan, which has better functionality and more features, you shouldn't have to think long.
Line2 Lacks
No matter what Line2 says about its Elite plan, their services are better fit for solo freelancers and entrepreneurs, which means it doesn't do the best job of handling a large call flow. Line2 is what it is, and there aren't enough features or the appropriate built-in capabilities to make things very customizable. Sure, you have custom greetings and after hours call handling, but here are the vital elements that Line2 lacks:
Vanity and toll-free numbers aren't free
Unlimited extensions
4 different Call Distribution methods
Business contact book
CRM functionality
Web Widgets
International numbers and hosting

Verdict. Why MightyCall is the best Line2 alternative
Without the key features above, Line2 is best at helping to manage your individual business affairs—not your business team's affairs. The system clearly suits freelancers and individuals better than small business owners, no matter what name they stick on the plan.
If you happen to be a freelancer or solo entrepreneur, then investigating the differences between MightyCall and Line2 is worth your time, but if your business is 2 or more people, the functionality and flexibility of MightyCall's system will help you so much more than Line2.
Line2 is only one in a sea of virtual phone systems, but MightyCall has a vast and unique array of features that add up to more than the sum of its parts to give entrepreneurs and business owners a single communication and management platform.
If you're looking to make the switch to MightyCall and you wish to keep your number, we'll port your current virtual number in for free.
What customers say about MightyCall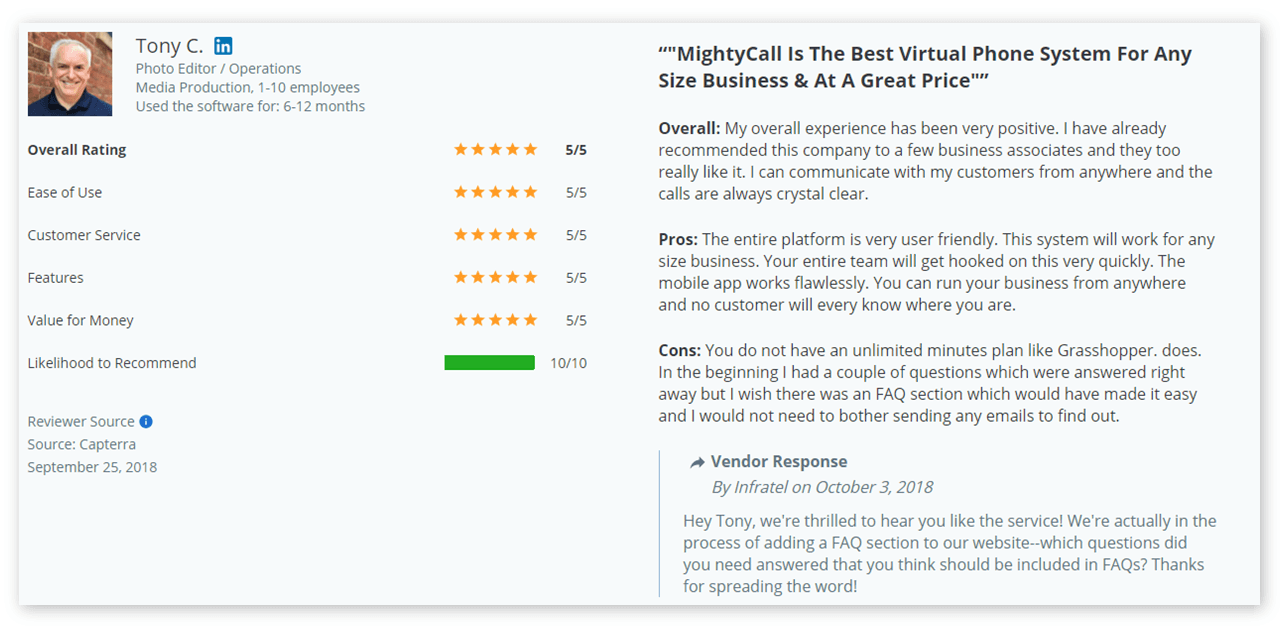 4 out of 5 stars

4.2 out of 5 stars


4.5 out of 5 stars

4.2 out of 5 stars