Call Forwarding App, Alerts, Missed calls, Task tracking
What is MightyCall mobile App
Designed for small businesses, MightyCall Mobile helps small business owners monitor and manage inbound requests from customers on the go. Make and receive calls, get alerted to new requests, instantly respond from your phone or re-assign the request to another member of your team. It's like having your very own call center in your pocket!
With the MightyCall Mobile App you can:
Make and receive calls using your business phone number!
Look through your call history and listen to voicemails and call recordings
Receive alerts for new customer requests and quickly assign requests to yourself or another member of your team with just a swipe
Update your address book with customer contact information
Track your talk minutes and top up your MightyCall account
How to download the app
MightyCall Mobile app is free and available for iOS and Android platforms.
How to make and receive a call
MightyCall Mobile allows you to make outgoing calls on your mobile with your very own business number. This function allows you to both up your professional image by a notch and maintain your privacy. Keep your personal mobile number, well, personal!
There are two ways to make an outgoing call:
Via a Dialer.
By clicking the Call button (for Missed calls or Voicemails).
You can select one of 3 methods for these outgoing calls:
IP Telephony (the default, preferred method) – uses MightyCall talk minutes. Your customer will see your business number as the Caller ID during the outgoing call.
Mixed method – uses both MightyCall & cell provider minutes. Your customer will also see your business number as the Caller ID during the outgoing call.
Via your cell phone – uses cell provider minutes. Your customer will see your cell phone number. This method can be used if your internet connection is poor.
How to choose a business number for outbound calling via mobile app
If you have two or more business phone numbers, you can select the desired number for outbound calling at the Phone tab. Choose a business number for outbound calling from the list.
Outgoing call pricing
Prepaid minutes from your account will be deducted each time you make an outgoing call.
Calls exceeding your monthly allotment of Talk Minutes will be billed to your Bank Account. The price of each call differs between countries. Check the rates page on the MightyCall website for more information.
Activity and History
Activities queue
Monitor the different components to your business with the Activities Queue in your MightyCall Mobile App.
Swipe for iOS (or long tap for Android) to quickly access, process and handle ongoing activities.
Tap the Activity to see detailed information about it. You can also sort all activities by date or by priority.
You can assign an activity to yourself or re-assign to another team member.
There are different actions depends on the activity type. Swipe left and tap More to get more options for each activity.
Detailed information
Find out more by clicking on Detailed Information which gives you the following:
You can comment on any Activity. This comment will be shown to all users.
The History section records all information about the Activity status, including when it was created, processed or reassigned.
Activity type and contact information: For example, the phone number or customer's name. You can also save contact information by clicking on the icon.
Messages: For example, voice mail and Twitter mentions.
Links to assign the activity.
Main actions: (depends on the activity type; for example, call or complete). You can reopen any activity listed in the Archived list if needed.
How to listen to voicemails and call records
All calls with call records are marked by a special icon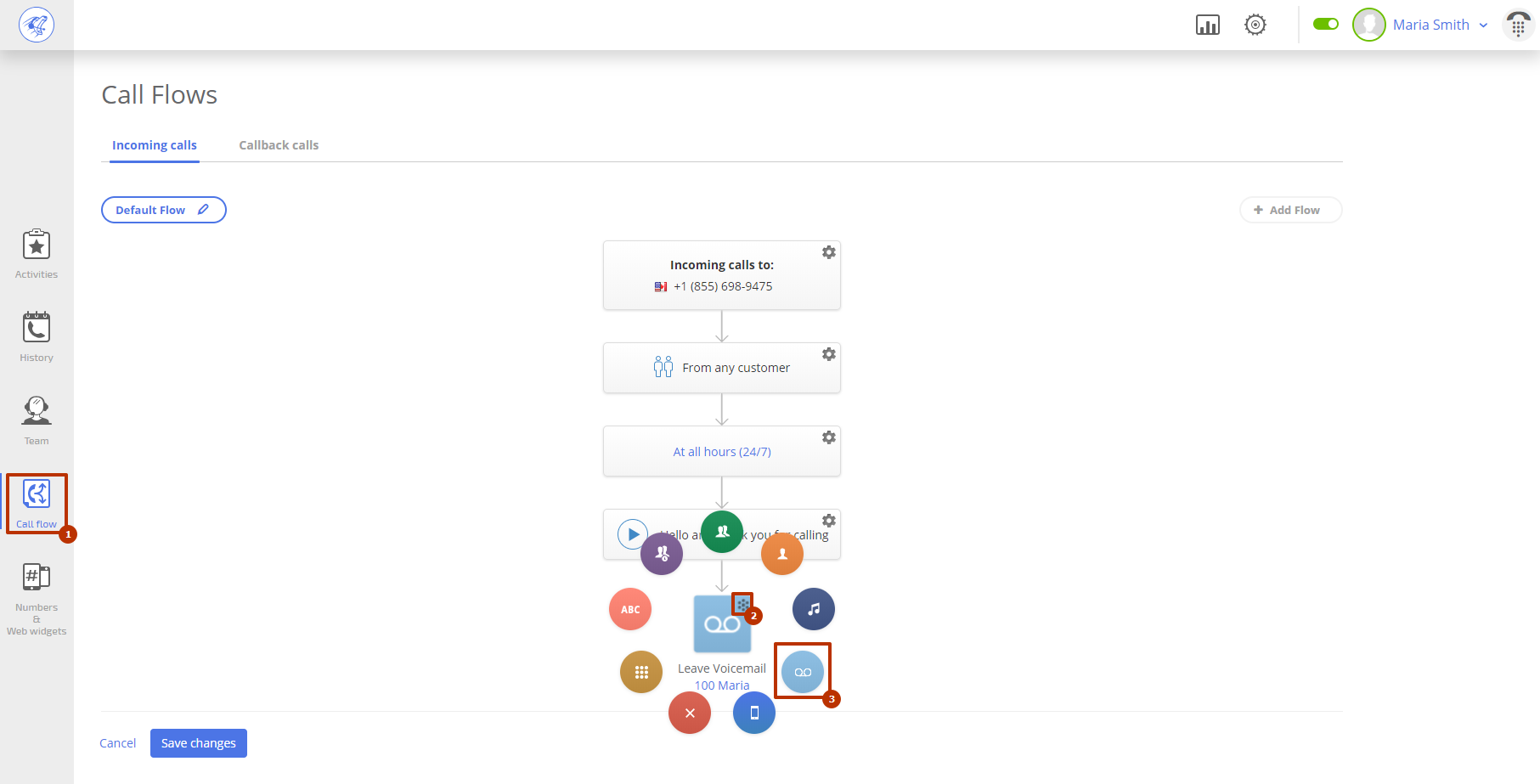 Go to the History section and tap on the call in the list.
Go to History – Voicemails to view and listen your voicemails.
How to track other team members activities
You can see a list of all your team members at the Dashboard section. Tap to a name to see a person's assigned activities.
Personal Settings
Using the MightyCall mobile app you can change your personal settings: your first and last name, personal phone for call forwarding (your cell phone number).
How to change present status
Change your Present Status to Available or Do Not Disturb from your MightyCall Mobile App. Tap on the green icon in the top left corner and then tap on the Available – Do Not Disturb slide to change your Present Status. All incoming calls will be handled according to your Answering rules.
How to set up your own ringtone
Go to Settings and select the default MightyCall ringtone or your own ringtone.
How to set up your push-notifications
Go to Settings – Application Settings – Notifications and enable or disable the desired push-notifications.
How to view account information and refill your bank account
Go to the Account section to see information about your talk minutes and bank account balance. You can also refill your balance (MightyCall Bank Account for international calling and calls over the talk minutes limit) via the app.
MightyCall Mobile App Hints
These are some tips you need to be aware of when you first starting using the mobile app:
Make sure you're logged in under the right user (not your sales@ ext. trying to call from your Info@, for example).
Make sure your cell phone number is associated with your user.
To manage your account settings, login to your account online.
For iOS you need to dial (xxx) xxx xxxx or +1 (xxx) xxx xxxx, not 1 (xxx) xxx xxxx.
For Android, if you have "dial settings" on (see settings page) (xxx) xxx xxxx.