History of calls
MightyCall's virtual phone system contains a complete history of all your communications, both completed and attempted. The data is presented in a convenient format and contains:
Calls
Text messages
Voicemails
Call recordings
Using filters, you can group information to analyze different factors or even download your call history for record keeping.
In addition to your call history, we offer a convenient Performance dashboard. This tool provides advanced reports to analyze your company's customer service and efficiency
What information does the call history contain?
The Call history contains complete information about every form of communication:
The date and time of a call or text message;
The phone number of the calling client;
The result of the call (connection, missed, dropped, voicemail);
The employee who received the call;
The business number that was dialed;
Call duration;
Call direction, incoming/outgoing;
Call recording;
Voicemail with transcription to text;
Text messages
What is the business value of this?
Using MightyCall's call history, you can:
Evaluate the efficiency of employees and the company as a whole;
See how to reduce the number of missed calls;
Improve the quality of your customer service;
Handle incomplete calls using a list of missed calls, text messages, and voicemails;
Replay call recordings;
Evaluate the efficiency of advertising campaigns;
Download .csv files to create your own reports.
With all this data you can make the best plans of action.
For example, after reviewing the list of missed calls, you can call back the clients or listen to their voice messages. Thus you will cut the negative effect of the missed calls.
To reduce the number of missed calls, you can analyze the report about the reasons for missed calls (no one picked up the call, the call duration is less than 4 seconds, voicemail left). Which of your team members have missed calls and at what time? What is the ratio of received and missed calls, and the average time it takes to answer?
To evaluate the efficiency of advertising campaigns, you can allocate a number for each campaign and filter the call history to see the performance of these numbers.
How can you filter the data?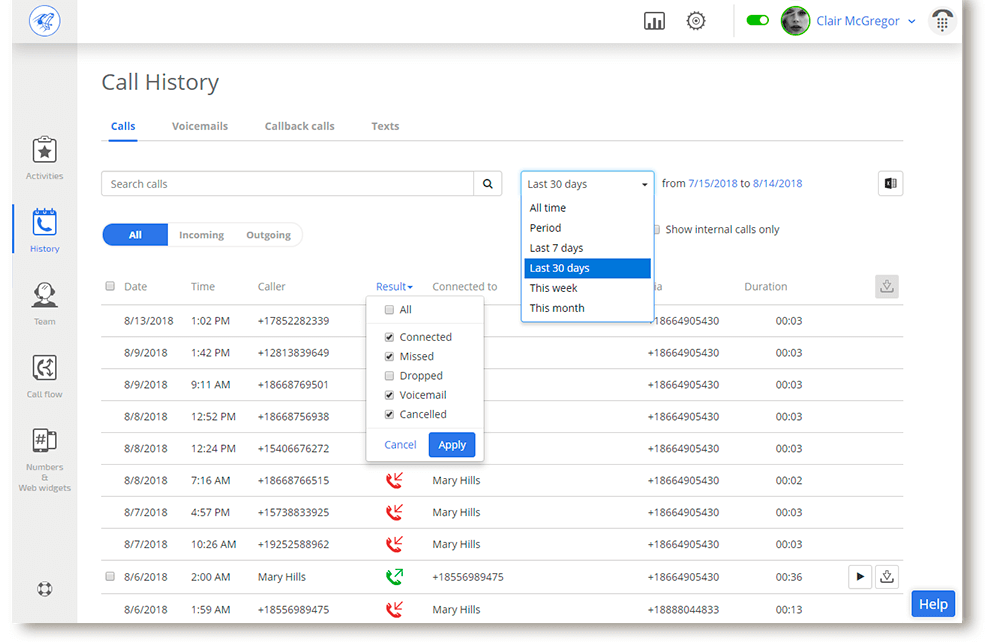 Just follow the options on the user interface and check whichever things you want included in the stats shown. Using filters, you can analyze data in different ways. For example, you can select:
Calls for a certain period of time;

Incoming, outgoing or internal calls;

Calls with a specific result (connect, missed, drop, voicemail left);

Voicemail messages;

Text messages.

4 out of 5 stars

4.2 out of 5 stars

4.7 out of 5 stars

4.2 out of 5 stars
Get a virtual phone number for your business now!
No contract.
No hardware needed