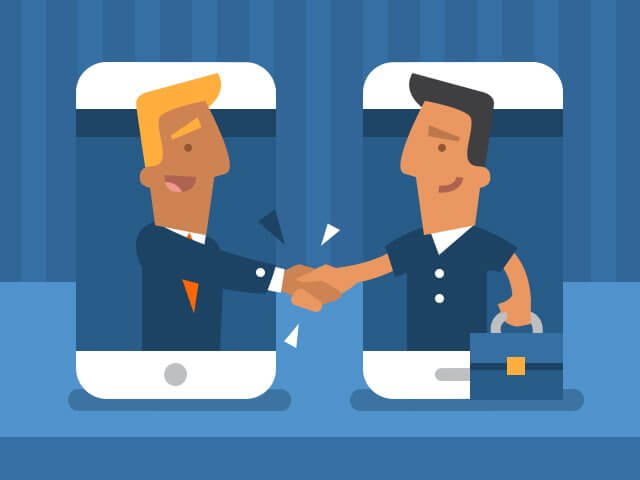 Why It's a Good Idea to Have a Virtual Receptionist
---
Updated: 2017.02.14
In this article we cover:
Why missed calls are bad for business;
How an automated attendant can help with caller retention;
How an automated attendant can cut overheads and improve revenues;
Why MightyCall virtual phone number system is a robust communications option.
Why is an automated good for business?
An automated attendant (automated receptionist) is one of the most popular features of a business call-processing system. This service is mainly aimed at greeting callers, forwarding calls to desired locations and providing information by means of a voice menu. In short, it's a core element of any communications management layout. Ever since such systems became widely available and affordable, business owners have been paying close attention to them. Nowadays an auto-attendant as a part of a phone system has become a de facto standard. Have you already deployed it? No? First, consider the consequences of not using it.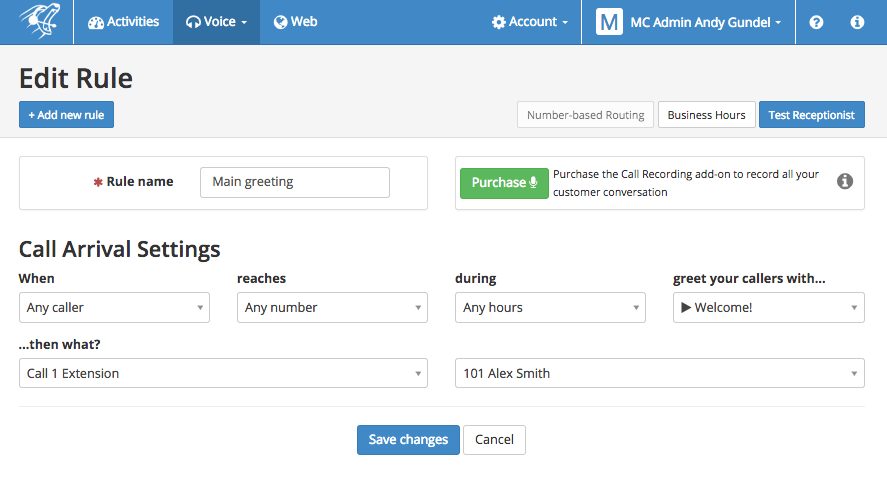 [ctablock2 title="Try MightyCall's Contact Page!" text="Make your website work even harder with our "Contact Us" widget. It allows you to create your own contact form for your site. Your clients will be able to send a call back request, emails and call you directly from the website." image="/wp-content/uploads/2015/12/main1-1-300×300.png" wlink="https://secure.mightycall.com/" wtext="Try now!" olink="" otext="" show="new"]
Missed calls: aftermath
Much has been said about the necessity of being in touch with your customers 24/7. However, a more short-sighted person might think,"Well, several missed calls a day are not that important. Why should I waste money on communications when I can intensify my marketing campaign?" Actually, you'll just waste money on inefficient marketing efforts, because nothing is harder than rectifying a ruined reputation. In the mind of a typical customer, a missed call means that your company is disorganized, poorly managed and doesn't care about its customers. Therefore, this person will not only cease to use your services, they'll warn their friends off doing so. By the way, according to recent surveys, 40% of respondents switched to a competitor after experiencing poor customer service, while 44% named good customer service among the likely reasons to choose a particular company. And regardless of how good your phone support staff is, little can be done if a communication setup is insufficient.
To prove the point further, the following three steps will help you estimate the amount from your marketing budget lost due to missed calls:
Calculate the average cost per call: divide the sum of money spent on marketing during a certain period by the number of inbound calls for the same period.
Calculate the number of missed calls: multiply the number of inbound calls by the percentage of missed calls.
Multiplying the number of missed calls from the previous equation by the average cost per call from the first step will give you the amount money wasted on your marketing efforts.
What's worse, the losses don't end there. Apart from marketing rendered inefficient by poor call processing, your company also experiences direct loss of potential sales. There is an equation to determine this sum:
Take the previously-calculated number of missed calls and multiply it by the sale conversion rate (you do have sales analytics, right?) and you will get your potential lost revenue in dollars. Thousands of dollars, actually.
To illustrate this, let's take a believable real world example:
Let's say your company spends $20,000 on marketing and receives 1,000 inbound calls a month. That means each call costs you twenty dollars (20,000/1,000 calls = $20 per call). If you miss 15 percent of your calls, you're throwing away $3,000 each and every month (15% of 1,000 calls = 150 calls missed; 150 calls x $20 = $3,000). Now if 10 percent of your inbound calls convert into a sale of $5,000 you can then multiply 15 of those 150 missed calls by $5,000 and you're essentially losing $75,000 in missed sales every month!
Whatever numbers your company is working with, that loss doesn't look acceptable. The figures look enormous, but it takes so little to minimize the losses and improve revenues. Let's see how a virtual phone number system with an automated attendant can help to amend the situation. What advantages will an AA give you?
Positive impact on your business image
As an owner of a small business, you are hardly willing to pay for trappings of a larger enterprise. What poses troubles is that such attributes of professionalism and success are highly valued by the target audience. In certain cases, potential clients perceive a professional setup as a guarantee of quality. While an attractive website is the face of your company on the internet, a masterfully-recorded greeting and sophisticated voice menu impacts your initial callers, helping to convert them into customers.
Increased accessibility
For a small business, every single call is precious: if the initial call is missed, the vast majority of potential clients will give you only a one more chance before taking their business elsewhere: 20% of people make only a single call before proceeding to other options. A small company implies limited staff capability. Therefore, a typical SMB team member wears many hats and it's not always possible for them to pick up a ringing telephone. Hiring a dedicated full- or even part-time receptionist seems inefficient in terms of costs, so many calls end up without a response. While it is possible to forward calls from your virtual phone number to personal devices, only a few people might agree to that when business hours are over. Thus, late callers are usually ignored.
An automated attendant integrated into a virtual phone system can become a truly affordable solution to the problem. If nobody is able to answer at present time, music and messages on hold options will increase acceptable waiting times, because callers will not feel ignored. As for after-hours calls, you can configure the attendant's voice menu to prompt callers to leave a call-back request via voicemail. What's more, a correctly-configured self-service voice menu allows a late caller to get essential information regardless of phone operator availability. You can set up an automated attendant to provide information about business hours, special offers, service availability, office location and anything else you wish to relay.
Enhanced user experience
An automated attendant allows your team to process incoming calls in the most efficient and convenient manner. As virtual phone number services generally provide multiple inbound/outbound lines, your system should be able to distribute all the calls accordingly. It can be done both automatically (depending on customizable routing rules) and by the caller picking an item from the voice menu. The menu provided by the auto receptionist typically sounds like "press 1 to reach Department X, press 2 to reach Department Y, etc." and is fully configurable. It will allow callers to reach a desired expert ― tech support specialist, sales manager, delivery team ― directly. For customers it results in increased speed of getting through to a person they need, while your team doesn't lose time on forwarding the flow manually or answering stray calls.
Reduced communication expenses
Besides optimizing response time and minimizing the number of missed calls, you can also save money on infrastructure. Modern cloud call-processing systems can work literally anywhere (on landlines, mobile phones, softphones etc.). It means that once you get the power to redirect inbound calls from your virtual phone number to any device, you are free to use whatever infrastructure option you find the cheapest or most reliable.
Don't want to equip your team members with landline telephones? No problem, just forward the calls to their computers (headsets cost peanuts nowadays). Your bandwidth is too low to allow high-quality voice exchange? Then route calls to cellphones ― it will be especially handy if your staff is always on the run (like sales agents, couriers or other staff working out of the office most of the time). Bring-your-own-device integration will also come handy if you need to provide connectivity to remote employees ― let them also be a part of the team.
Music on hold and call queue
These two options are dedicated to caller retention. And it is important. A large-scale Google poll proves that one out of three US callers expect to get an immediate answer, 27% find it acceptable to wait for a minute, while another 30% will wait for up to five minutes but no more. Further, music on hold allows to reduce the perceived waiting time by a third. Promotional and informational messages played on hold are even more effective ― the waiting time is perceived to be up to two-thirds what it really is. With a virtual receptionist you can to upload your own music themes and recorded messages. The next step is to configure when a certain message will be played.
A call queue allows these customers to hold the line while all your staff is busy. It's not a dumb line, but a flexible call-processing instrument. The place in the queue can be changed to allow more prospective/important clients to get connected faster. The choice is fully configurable and depends on the item chosen on the voice menu of the automated attendant, a dialed number (if you have several numbers within one system) and a caller's number (can be included into a VIP list).
Mighty Call: a virtual phone number to rely on
MightyCall cloud PBX includes all the abovementioned features: automated attendant, automatic call distribution, versatile integration (landline, mobile, VoIP…) and many more useful functions with affordable rates. Our system is very flexible ― you can switch on/off functions as you go, and there's no need to pay for what you don't use. Should you need extensive website integration, MightyCall is ready to provide a seamlessly working Click-to-Call WordPress widget, which allows your visitors to dial the virtual phone number and send messages, emails or call-back requests directly from your website. Also there is a Contact Us widget ― an attractive, on-site business card with a map, a gallery and all your contacts listed.
MightyCall makes living in the multichannel world easier with its advanced Activity Queue feature. It shows all the communication queries from your business number, email, website widgets and connected social media profiles. The information is aggregated at our mobile application (supports Iphone and Android) and a web-based dashboard for you to sort out the activities and assign them to particular team members, if needed. You can even transfer an incoming call on-the-fly.
Also important is that the dashboard provides detailed statistical data on all your communication channels. With this service you will be aware of any bottlenecks of your communication model to fix them promptly. And teamwork is enhanced with unlimited extensions, conference calls, several numbers in one system integration and presence statuses. Call recording may be activated to catch telephone conversations for later use (for training purposes or as a proof), while voicemail transcription allows to conveniently skip through it without actually hearing the messages.
Virtual phone systems are praised for low-to-none overheads. Ours is no exception ― you don't need any additional equipment, you don't need to think about maintenance and you can start calling literally within three minutes after subscribing. With no equipment needed and a 30-days money-back guarantee, MightyCall offers a perfect opportunity to try out a sophisticated call-processing system. In terms of reliability, we guarantee uptime and high quality sound. Refugees from other business number providers will find shelter with us ― porting and existing number is not only possible, it's free.
And if you can't decide on a package or find configuring our product confusing ― MightyCall has an extensive knowledge base with all the instructions you can possible need. In case it fails to help, or if some problem occurs, our Tier 3 customer support team is always at your service.
Still waiting? Choose your rate plan and improve your communication model now ― increased revenues will follow!