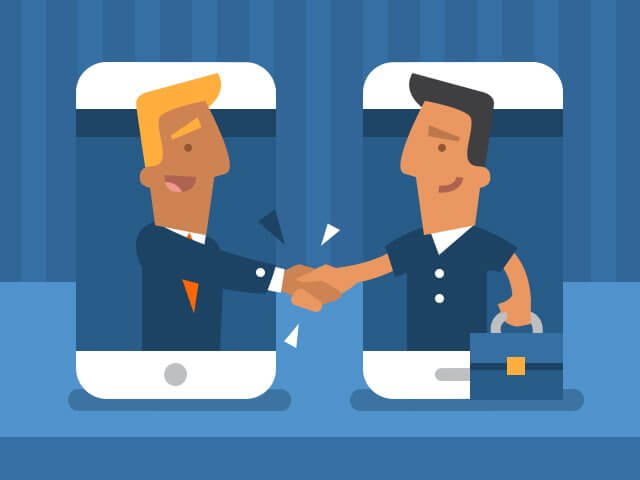 What is a Virtual Phone Number?
---
Updated:
2017.06.13
In this article we cover:
― what a virtual phone number is;
― four aspects which a cloud phone system can improve;
― who will benefit from implementing a virtual phone service.
Why my business needs a virtual phone number?
In contrast to conventional phone numbers which are strictly bound to landlines or sim-cards, a virtual phone number exists independently. The main purpose of such a number is to provide a single gateway for multiple inbound lines. The calls are then forwarded to any landline, mobile or VoIP devices in a pre-set pattern determined by a subscriber. As internet phone services become increasingly affordable, more and more people are consider purchasing a virtual phone number. But who needs such services in the first place?
When a business owner ask "Do I need a virtual number?" the only correct answer here is an unconditional "yes" regardless of the business industry and specifics. A rationale behind this answer is founded on accessibility, convenience, safety and cost-efficiency ― aspects, which internet phone solutions are designed to improve.
Accessible means trustworthy
Any small/medium business owner works hard to earn a positive reputation among the target audience. While marketing surely does the greatest part of the job, it is useless when a customer faces problems even before actually he manages to contact your company. Thus, making your business accessible becomes a top priority.
When calling a small business company, a typical customer faces the following problems:
busy lines
long response times
unanswered calls
directing to voicemail without apparent reasons
Such things don't only make your business seem untrustworthy, they contribute to the number of clients lost to competitors, because when a customer feels ignored, he naturally wished to place his business elsewhere. A virtual phone number, though, helps to deal with these problems.
First and foremost, it is possible to connect multiple incoming lines to a single number, thus lessening the chance that a caller hears busy line signals — if you are currently busy, the call will be transferred to another connected device and one of your employees will speak to a customer. This practice can be further improved by introducing a virtual call processing system with features specifically designed for caller retention: call queue, voice menu and music on hold.
Call queue allows multiple callers to hold the line until one of the company employees has a chance to answer ― an indispensable option for any more-or-less popular customer service line. It won't hurt to playback music or messages to people while they wait. Hearing something other than monotonous beeps distorts time perception: perceived period seems shorter than reality. What's more, by playing information about special offers, discounts or new merchandise, it's possible to increase conversion rate significantly.
Call-processing productivity can be increased by deploying a voice menu, which allows a caller to choose whether he likes to talk to a specific department of your company or listen to an informational message. The most frequent reason for calling is to ask a question regarding such trivial things as business hours, availability of a certain service/good, address and driving instructions and so on. If you analyze the bulk of incoming requests and put a list of most frequently asked questions on a voice menu, it may relieve your customer support employees from repeatedly answering the same questions, thus increasing their performance. Just remember that a "to contact a live operator, press button X" message should be in the beginning of the list.
As for voicemail, people are reluctant to use it because of the assumption that they will be ignored. Thus, if a person is directed to voicemail, he/she will likely hang up instead of leaving a message. Still, if you don't have this option, you will get exactly zero messages and no calls to return. Therefore, it sounds like a good idea to record a voicemail greeting which guarantees a call-back within, say, 2 hours ― it can stimulate call-back requests via this channel. Naturally, monitoring and listening to incoming voice messages is a tedious task. To ease the routine, certain virtual phone number provides offer voice-to-text transcription of incoming voice messages, which are then sent to your e-mail or ― even better ― accessible through mobile applications.
Convenience translates to productivity
Virtual phone numbers are simply convenient. From a business owner's perspective, they allow to reach any team member via an extension and to spread contact data with ease. An associated call forwarding system will prevent users from juggling with different phones ― all lines are accessible from any connected phone.
Cloud phone services of which MightyCall is a good example, provide improved convenience by supporting mobile applications and website widgets. With a feature-rich system like this, you can manage business communication lines across different channels directly from your Android or iPhone device: answer calls, check voicemail, monitor social network activities, coordinate teamwork, delegate communication tasks and so on. What's more, a page with detailed statistic makes analyzing and controlling your communications environment a breeze.
At the same time, your clients won't need to remember/record any additional contacts (departments, branches, employees) ― a single virtual number serves as a reliable gateway for their calls. You can maximize brand recognition by opting for a vanity number (phoneword) or enable a toll-free number to make the life of your distant customers easier.
Don't let business impact privacy
A virtual phone number lets you easily separate private life from business affairs. Many entrepreneurs make a mistake of using their personal contact data for professional purposes. As a result, they end up being "at work" 24/7, which entails rapid burnout. On the other hand, answering a business call "at all costs" can potentially lead to mistakes in provided information, non-optimal phrasing, incorrect tone, etc. The situation (especially, if you are constantly on the move or work from home) may also be not appropriate for speaking on the phone: loud noises, background music… Trying to have a conversation with a client in such conditions will surely project a bad impression.
However, when your mobile phone is associated with a virtual business number by a reliable provider it is you who sets the time of a conversation: a subscriber can establish forwarding rules based on his business hours. For example, if you work from nine to five, calls made within this interval are forwarded to your mobile phone, while a 5am call will be directed to a voicemail or to an employee who is currently on duty. And a good thing here is that even if nobody answers, customers can still get essential information through a voice menu if you have recorded one. You can also create a whitelist of VIP numbers and set different rules for them (e.g., override any restrictions and ring your phone any time).
Another big minus of personal numbers is their vulnerability to all kinds of malicious actions, including frauds and automated marketing calls. With a dedicated virtual business line, you don't have to make your private contact data publicly accessible.
Keeping overheads in check
Despite all the advantages it offers, a virtual phone system is still a very affordable solution. This is mainly because no equipment is needed ― the service is provided on SaaS (Software as a Service) basis, so all the maintenance issues are a provider's point of concern. After signing in with the system, picking (or porting) a virtual number and choosing a rating plan, all a user has to do is configure the core parameters such as forwarding rules and start receiving calls.
The flexibility of virtual solutions is universally recognized. While in the beginning it is possible to activate only some basic functions of the system just to test it out, later, when your business grows, nothing will be easier than scaling up: adding new lines, users, phones and services. You don't have to pay for the features you don't need ― activate and deactivate them as you go (MightyCall doesn't insist on long-term contracts) to find the best possible setup for your company.
So, who needs a virtual phone number?
The abovementioned points allow to conclude that a virtual phone number paired with a sophisticated cloud call-processing system will become a valuable asset for small/medium business owners, who want to:
deliver optimal customer support and create a professional impression on their customers;
assume full control over a company's business communication sphere and increase the productivity of interactions;
achieve better call-management performance with limited staff and equipment;
keep their psychological health intact by shielding their private life from business matters;
increase teamwork productivity through flawless customer-employee accessibility and efficient interactions among employees (including telecommuters);
get a reliable system capable of growing together with their company without imposing excessive costs.
MightyCall is ready to connect you to one of the most feature-rich and reliable virtual phone solutions on the market. Years of mutually-beneficial cooperation with company owners has given us a better understanding of what a perfect business communication model looks like. And while you keep taking care of your clients, we are always glad to lend a hand with telephony.