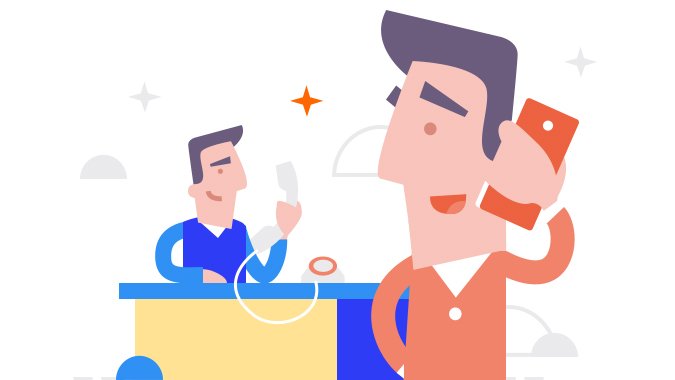 Tips for Taking Your Customer Service from Inbound to Outbound
---
Is your customer service completely inbound? If so, you're missing a big opportunity to grow your business through outbound customer care. And chances are, your competitors are already ahead of you in the game. Here's what you need to know.
What's the difference between inbound and outbound customer service?
Inbound customer service is the traditional form in which a caller dials your customer service phone number to ask questions, resolve issues, make a payment, register a product, or place an order. These calls are considered inbound because they flow in to the company.
With outbound care, you reach out to customers to thank them for their business, offer special deals based on previous purchases, find out if they have questions about your product or service, and more. Calls flow out from the company to the customer.
Here's another way of looking at it: Inbound customer service is reactive and outbound customer service is proactive.
How technology is changing customer service
Outbound customer care isn't new, but the practice has picked up momentum in recent years, fueled by technology. In particular, virtual phone systems that connect to social media, email, and SMS messaging allow companies to engage with customers in ways not possible before, bringing all the various channels together in one place for effective proactive communications.
For example, some virtual phone systems enable customer care agents to monitor voice, social media, email, and SMS communications in a single dashboard. This makes it easy to contact a customer who has praised (or criticized) the company on social media; proactively contact customers via text message about special promotions; and more.
It's important to note that these and other technologies are quickly changing the nature of customer service. In recent years, marketing has become more like sales. Sales has become more like customer service. And customer service is more about branding, in which your company builds and protects its brand reputation.
The bottom line: If you still regard customer service as something only your call center agents do, and only on an inbound basis, it's time to rethink your strategy.
Outbound customer service: A few benefits
Outbound customer care has several potential benefits for your small business:
Increased customer loyalty. When done properly, outbound service shows customers you care, want to help, and are there as a resource for them. It humanizes the business-to-consumer relationship. The net effect: Customers will likely feel more loyal to your company, so they're less liable to switch to a competitor and more likely to buy from you again.
Increased sales. Proactively contacting your best customers with exclusive offers and promotions can result in additional sales — without the need to spend money on marketing and advertising. This can be particularly effective during slow sales periods.
Increased employee productivity. With outbound customer service, call center team members can take advantage of slow periods to proactively contact customers instead of simply waiting for them to call.
How to do outbound customer care
Think about how to provide value to customers. You don't want to proactively contact customers via phone, email, or other channel unless you have something to offer that they'll value. Otherwise, your efforts may alienate customers instead of engaging them. So think about what customers would appreciate — whether it's an exclusive offer, a thank-you gift, or a quick check-in after they've made a purchase to see if they have questions.
Closely monitor Facebook and Twitter. Are customers talking about you on social media? If so, try to respond as quickly as possible. If it's a positive statement, thank them and retweet their tweet or share their Facebook comment. If it's a negative statement, contact them immediately to find out what went wrong and how you can make it right. Either way, you're bound to make customers feel important and valued.
Monitor call histories and recordings. You could use your virtual phone system to review call histories and recordings, to see how frequently service agents are contacting customers proactively, as well as listen to how those calls were conducted. Do your team members provide useful information to customers? Or are they annoying customers by calling them too often, uninvited?
Alert customers as soon as possible to potential problems. Have you ever received a call from your credit card company, alerting you that your card may have been used by someone else? If so, you know how helpful proactive alerts about potential problems can be. Train your customer service agents to watch for issues and to promptly contact affected customers as quickly as possible.
How MightyCall can help
The MightyCall virtual phone system offers a variety of features to help small businesses offer outbound (as well as inbound) customer service.
For example, MightyCall's Activities dashboard aggregates multiple activities such as missed calls, call back requests (from your website), email requests for information, Facebook and Twitter mentions, and SMS messages. You can create tasks based on the activities and assign them to various team members so they can proactively communicate with customers efficiently.
MightyCall also offers the ability to review call history logs; easily record phone conversations and share the recordings with team members; and more.
For more information, check out the following articles:
"How Proactive Customer Service Turns Idle Time Into Revenue"