MightyCall vs eVoice Review: Where Does Your Value for Money Lie?
---
Virtual phone businesses have boomed across the industry in the last half decade. The rise of entrepreneurs in turn increased the rise of these services. With so many service providers around, it can be difficult for customers to choose the appropriate service. MightyCall and eVoice are a few of the virtual business phone services which aim at delivering virtual phone numbers to businesses for their calling and re-routing needs.
eVoice provides its clients with toll-free or local numbers, call routing facility, voicemail and call conferencing services. All these features are delivered to the client after purchasing a specific package from eVoice's official website, and the company offers 4 different packages. The services offered are not much different from anything else on the market, so in this MightyCall vs eVoice review let's compare whether it holds up in the pricing bracket to truly provide customers value.
Plans & Pricing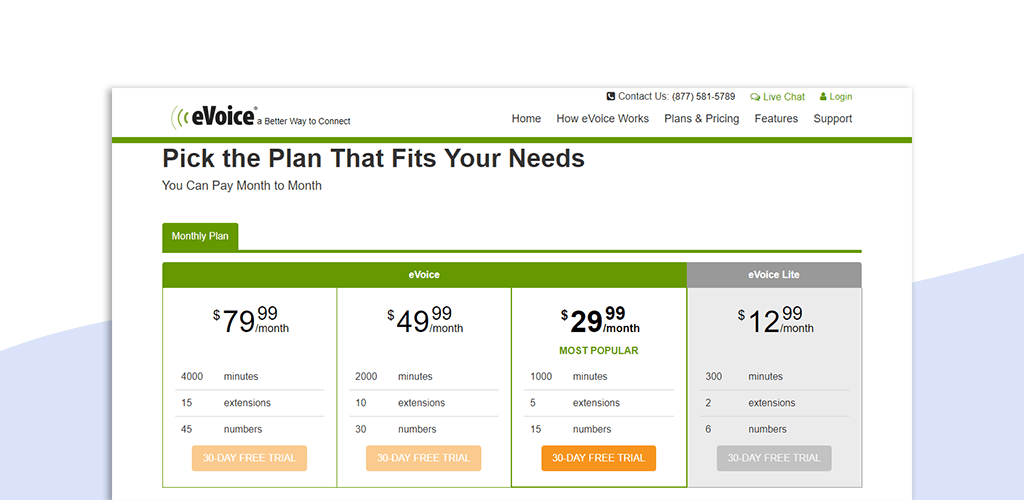 The first basic plan that the company offers is eVoiceLite, priced at $12.99/month. The plan consists of 300 minutes/month, 6 virtual numbers to use and two extensions. The plan can be considered cheap, but while 300 minutes might sound like a lot on the paper, it's really just 10 minutes per day. Would you really want to pay for a plan to talk 10 minutes a day, and have to pay more for additional minutes?
The next plan is one of their three standard plans, priced at $29.99/month. It features 1000 minutes/month, 5 extensions and 15 numbers. This offers better functionality to the user with 1000 minutes, which is about a standard offer. Though, if we directly compare this to competitors such as MightyCall, we see that MightyCall offers similar minutes at the reduced price of $19.99/month. Over time, that $10 difference adds up. Moreover, MightyCall comes with a plethora of unlimited features, such as unlimited texting and unlimited extensions.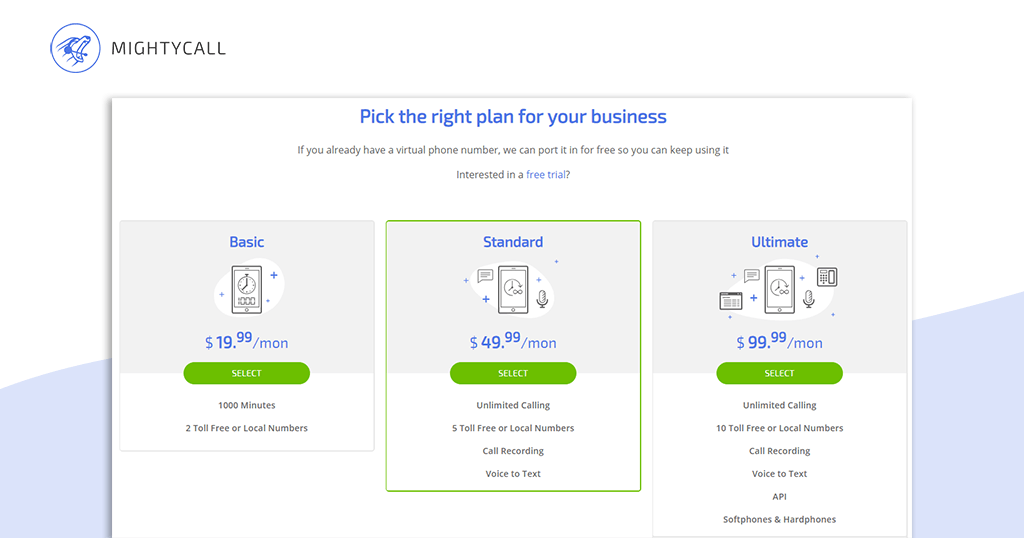 The next eVoice's plans are priced up at $49.99/month and $79.99/month while offering 2000 minutes, 10 extensions, 30 numbers and 4000 minutes, 15 extensions, and 45 numbers, respectively. 2000 Minutes, Nice! But for $49.99?
MightyCall's Standard plan, also $49.99, offers unlimited minutes and features additions, such as Text-to-Voice and Call Recording, for which you have to pay an additional fee to use in eVoice.
Value For Money
With eVoice, even if you need messaging, or any additional features, your monthly bill will go up substantially, while most of these features can be found in MightyCall packages for free. Even when you comparing similar plans, eVoice barely caters to the needs of a small business, offering only the bare minimum. MightyCall, on the other hand, provides better functionality and more minutes to cover calling for any sized business.
If you are a large organization, chances are that your business requires even more than 4000-5000 minutes per month. eVoice charges 3.9 cent per additional minute, and with the amount of minutes they offer, many larger businesses are likely to need more.
For MightyCall, we've got you covered with the Ultimate plan for $99.99/month. This plan adds a plethora of options for the benefit of the user. These options/advantages consist of Call Recording, Voice to Text, API, Softphones & Hardphones and a Voice Studio Recording. Clearly, going over this MightyCall vs eVoice review, MightyCall has better value.
Features
Other than the value for money, it is essential for a virtual phone number service provider to offer the right features. There can be no proper review, much less a MightyCall vs eVoice review, if we don't mention the features that make up a business's calling infrastructure. It is impossible to take full advantage of your virtual phone number without the right features attached to it. These features add a sense of professionalism and offers flexibility to re-route calls, give callers automated responses and even use text messages for ultimate convenience.
– Extensions
An extension is a short number that can be assigned to a specific department, project team, or an employee. If a caller calls you with a specific question or need, that call is automatically routed to the right department by the use of extensions.
For instance, if a customer calls your organization, a quick call directory will pop up. If the customers enter the extension '4' to talk to the customer support department, the system will forward his or her call to the customer support department. These extensions can be customized to forward calls on landlines, mobile numbers, or even web phones. If all of these are linked, they will ring sequentially or simultaneously until the call is answered.
Similarly, different numbers can be assigned to different departments and once the customer calls you, they can directly be routed to the department of concern.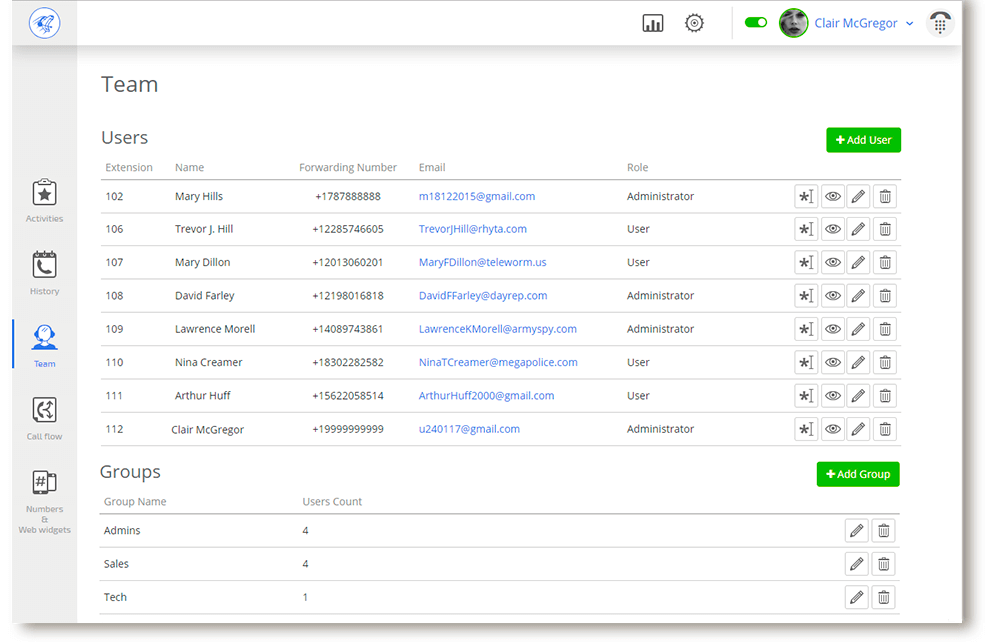 eVoice: Offers limited number of extensions on the basis of which plan you select.
MightyCall: Offers

unlimited extensions

in all of its plans.
Winner: MightyCall
– Texting
Texting is crucial to business, more so than is considered. According to Forbes, over 90% of text messages for business are read within 3 minutes of delivery. That's huge, so if you want to market your new policies, services or products to your customers, this is just the way to do it.
Even One Reach reports that 64% of consumers are more likely to have a positive image of a company that offers texting as a service channel. Reaching prospects on texts is easier, faster and an effective method. Your customers don't always want to talk to you about your new services, but a quick message to their smartphone might just perk their interest, if constructed the right way.
Texting as a feature can be taken advantage of in targeting potential customer with a powerful message, due to their high open rate.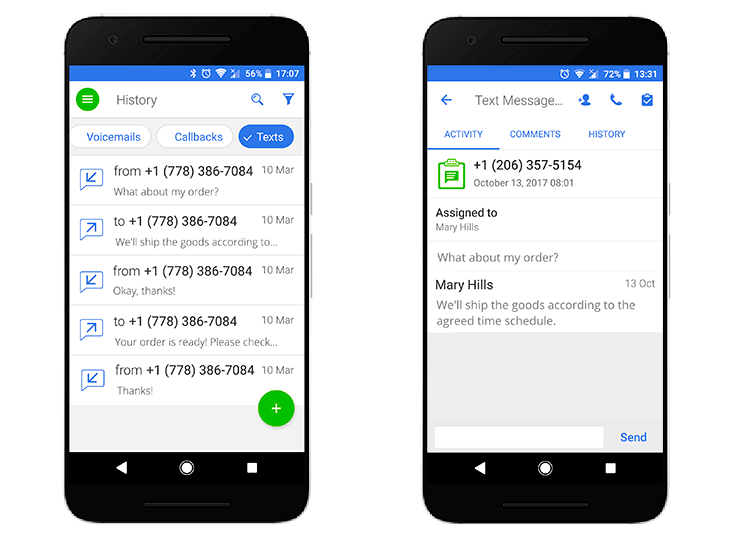 eVoice: Pay-As-You-Go
MightyCall: Unlimited
Winner: MightyCall (You don't have to pay any additional charges)
– Vanity Numbers
A vanity number is made using words to make your business number easy to memorize, like 1-800-DAZZLE or 1-800-COOKIES. Through a technique known as chunking, words are easier to remember than numbers.
For example, you can put up your number as 1-800-COOKIES or 1-800-2665437 (which it translates to). These are easier to remember and easier to dial.
This essentially means that if a vanity number catches your customer's eyes, they are more likely to remember it, and if they remember it, chances are they are more likely to call you. In modern times of competition, these little things can add up for a big difference, which helps your customers choose you.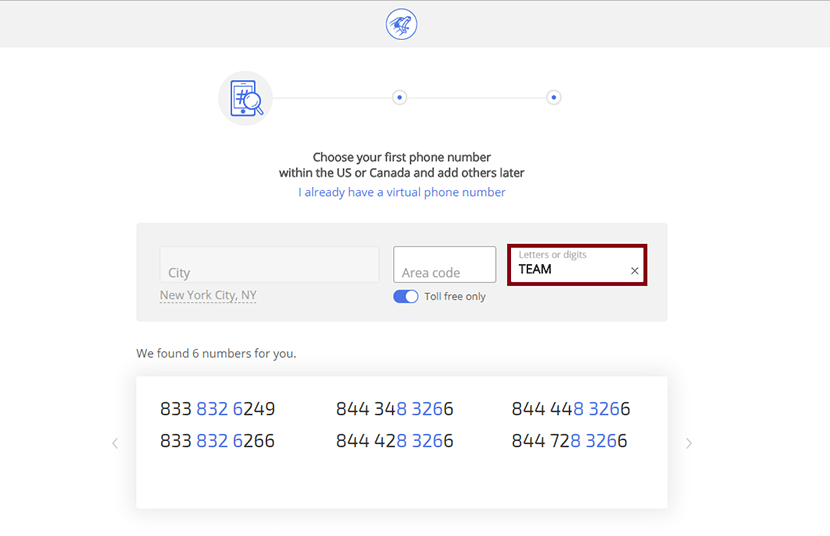 eVoice: $30
MightyCall: Free of Cost
Winner: MightyCall
MightyCall vs eVoice Review: Winner?
In the most important features, some of which make up the eco-system of your organization's calling infrastructure, MightyCall fares much better than eVoice, as it either offers unlimited service for a feature or offers the same service at a lower price.
It is not far-fetched to say that in this MightyCall vs eVoice review, MightyCall is able to offer better functionality, efficiency, value for your money and features to businesses of any size, due to its well-priced plans and mix of additional free features. MightyCall wins in a landslide.
Pick the right plan for your business
Get a 50% discount on MightyCall for your first month.
If you already have a virtual phone number, we can port it in for free so you can keep using it.
All plans include
Unlimited Extensions

Unlimited Text Messaging

Customizable Call Routing

Auto-Attendant

Webphone

Conference Calls

Call Queues

Voicemail to Email

Custom Greetings

Performance Reports

Facebook & Twitter Integration

Web Widgets
30 day money back guarantee

No long term contracts

You can change your plan anytime