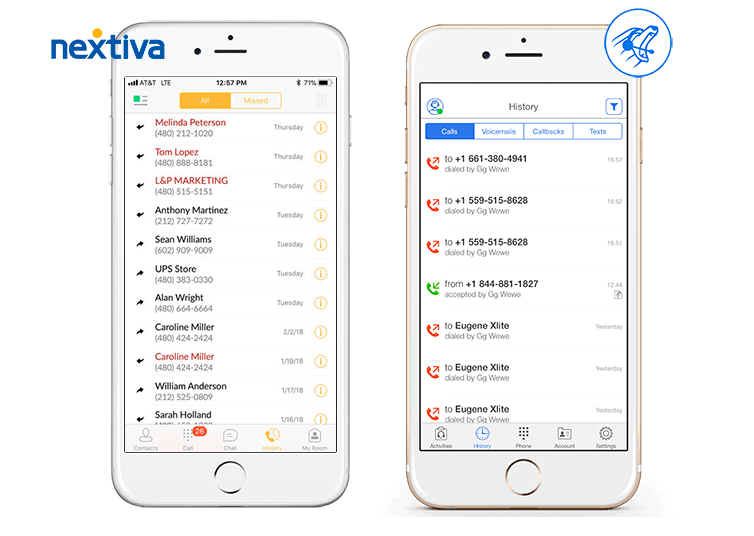 MightyCall or Nextiva: VoIP comparison
---
As always, beware the company that charges you per user! That's the fastest way for a company to sell you on a "low price", while calculating your tab into the triple digits. Nextiva is no different, and even their advertised prices can get you if you're not paying attention.
To be frank, Nextiva is more of a CRM than a VoIP phone system—although they are trying to do both. Nextiva has been around for years and has had success in the CRM market, but their VoIP offerings are too expensive and slanted toward their most expensive options.
Their two cheaper options, the Pro and Pro Plus plans, have visible prices of $19.99 and $22.95 per user, respectively, but if you don't mouse over the prices you won't know that those numbers are the lowest prices offered. If your business doesn't have dozens of employees or you're not willing to sign a crazy-long 18-month contract, you'll be paying closer to $30 and $35 per user.
Firstly, the majority of VoIP providers have tried to move away from long-term contracts, as their implementation is rather heavy-handed and anti-customer. Some companies get around this by putting long-term leases on the hardware you need to use their system; Nextiva doesn't bother with any of the smoke & mirrors, they come right out and tell you that you'll pay more unless you sign a long-term contract. Yikes.
Secondly, at those prices you're already paying more with just 2 users than you would for MightyCall's Standard plan, which has unlimited extensions and 5 phone numbers. Are "unlimited minutes" worth that much extra to choose Nextiva? Considering "unlimited" means, "in line with average customer usage", I'd say no, it isn't.
Comparing MightyCall and Nextiva for small business
| | | |
| --- | --- | --- |
| | | |
| Price per month | $ 49.99* | $ 22.95 – 37.95 per user** |
| Long-term contract | No | 18-month contract |
| User extensions | Unlimited | 1 |
| Minutes Included | 5 000 | "unlimited" |
| Local or Toll-free numbers | 5 | 1 |
| Business hours | Yes | Yes |
| Auto attendant | Yes | Yes |
| Call forwarding | Yes | Yes |
| Call Queue | Yes | Yes |
| Call screening | Yes | Yes |
| Call recoring | Yes | No |
| Conference calling | Yes | No |
| Voicemail to text transcription | Yes | $ 2.95/line |
| Webphone for In/Out Calls | Yes | No |
| Internet Fax | No | Yes |
| Click-to-call widget | Yes | No |
| Call back widget | Yes | No |
| Social Media tracking | Yes | No |
| | *Standard plan | **Office Pro Plus |
Nextiva is not focused on pushing those plans, as it has ambitions of every customer needing their most expensive VoIP option, Office Enterprise. Looking at their features page, the checklist for Enterprise is literally 4 times longer than for Pro and Pro Plus—which begs the question, if you get so little with those plans, why bother getting them at all?

Of course, Enterprise will likely cost you between $32 and $42 per user, with a long-term contract hanging like an albatross around your company's neck. Sure, you may get all the CRM features, but you'll be paying hundreds of dollars a month for a service that for all intents and purposes is considered secondary to more prominent names in the VoIP market.
And what about the few features you get for Pro and Pro Plus? Well, powerful features like call recording, voicemail to text, and the webphone are all conspicuously absent. Even some fundamental VoIP features like call queues, VIP & black lists, and call analytics are missing from Nextiva's cheaper options.
So, the lesson is, don't trust a company that only prioritizes the customers that spend the most. If you look at any company's pricing page and feel an imbalance in the offerings, run away as fast as you can.
With Nextiva you only get long-term contracts, spam chatbots asking for your phone number, and a VoIP system that is simultaneously more expensive than average and less flexible.
Pick the right plan for your business
Get a 50% discount on MightyCall for your first month.
If you already have a virtual phone number, we can port it in for free so you can keep using it.
All plans include
Unlimited Extensions

Unlimited Text Messaging

Customizable Call Routing

Auto-Attendant

Webphone

Conference Calls

Call Queues

Voicemail to Email

Custom Greetings

Performance Reports

Facebook & Twitter Integration

Web Widgets
30 day money back guarantee

No long term contracts

You can change your plan anytime