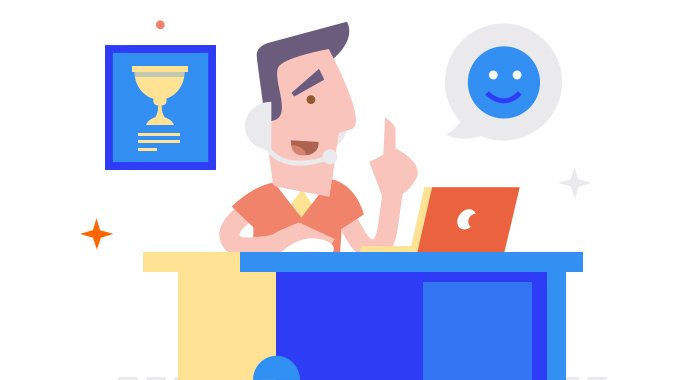 How Your Small Business Can Offer Excellent Customer Service
---
No one in a business should be above offering fantastic customer service, and much of it lies in training, but there are also employee incentives. You also need a plan to answer calls quickly. Turn customer communication into an assigned task. And finally, think about the worst customer service you've personally experienced — and do the opposite.
Why great customer service is important and how you can deliver it
MightyCall CEO Stijn Hendrikse sometimes receives questions from prospective customers on LinkedIn about our virtual phone system. Stijn is quick to answer, helping prospects better understand MightyCall offerings.
Stijn is one example of the "democratization of the customer service agent." In today's competitive, technology-fueled business environment, everyone from the entry-level employee to the CEO, at businesses small and large, is a customer service agent. Or should be.
Here's why delivering excellent customer service should be everyone's job — and how to make it happen at your small business.
The Benefits of Delivering Excellent Customer Service
When everyone at your company is a veritable customer service agent, the benefits can be enormous. For example, your small business can:
Stop customers from defecting. Of 1,000 customers surveyed, 65 percent said they severed ties with a brand because of one bad customer experience, according to the 2014 Parature State of Multichannel Customer Service Survey.
Reduce losses. U.S. businesses lose $41 billion annually due to poor customer service, research from NewVoiceMedia shows.
Increase the company's value. Bain & Company estimate that a 10 percent increase in customer retention levels result in a 30 percent jump in the company's overall value.
Get a leg up on the competition. According to Peppers & Rogers Group research, 81 percent of companies that deliver excellent customer service outperform their competition.
How to Deliver Great Customer Service
Many consumers expect small businesses to be easily accessible, especially compared to large "faceless" enterprises. This is a major competitive advantage for small companies, so it's important to make sure your team members are willing and able to help customers.
Also, because your company is small, it can be more flexible than a large organization. You'll need that flexibility, too, because in some cases, democratizing customer service so that everyone plays a role in it can mean rethinking and even restructuring your entire organization. Here's how to make it work.
Train employees. Make sure everyone knows your company is devoted to keeping its customers happy, and that achieving this goal means extra effort on everyone's part. Explain the benefits of being a customer-centric organization. Offer training on how to effectively answer questions and handle complaints. Make sure they understand how to calm upset customers.
Offer incentives. Award special prizes or rewards for team members who do a stellar job helping customers.
Develop a plan to answer customer calls quickly. Perhaps the most important step is to ensure customer phone calls don't go unanswered. For busy small companies with limited resources, this may seem like an unobtainable goal. But in reality, it's not as difficult as you may think.
With a virtual phone system, you can route inbound calls automatically based on predetermined rules. For example, you might configure the system to simultaneously ring three phones belonging to three different team members, increasing the likelihood that a customer's call is answered promptly.
Respond to customers using their preferred communications channel. Some consumers, especially Millennials, prefer to contact a business via text message. Others might use email, tweet a message or post a question on your Facebook page. So it's important to make it easy for customers to contact you using their preferred channel of communications. You'll also need to frequently monitor those channels so you can respond in a timely manner.
To help you monitor several communication streams at once, look for a multi-channel virtual phone system. Multi-channel communications aggregates communications from multiple streams such as voice, SMS, email, online chat, and social media into one dashboard, so you can more efficiently monitor and interact with customers and prospects.
Turn a customer communication into an assigned task. The risk of democratizing customer service is that you may inadvertently let a customer communication fall through the cracks. Having a multi-channel communications dashboard lets you turn each inbound communication into a to-do item and assign each task to a specific team member to follow up on. This helps ensure no customer/prospect inquiry is missed or that a response is delayed.
Think about your worst customer service experience — and do the opposite. Ever had a problem with a product or service purchased from a large company? In a worst-case scenario, you call the company seeking resolution and are forced to navigate a complex phone tree, only to wait 10-15 minutes for a live customer service agent — who then transfers you into another queue. This is exactly the scenario you want to avoid.
Automating the Flow of Communications
With features such as call forwarding, virtual receptionist, and simultaneous ringing on multiple phones, MightyCall offers a complete multi-channel phone system that can help small businesses excel at customer service.
For more information, check out these resources:
"Turn Noise Into Action With a Multi-Channel Communications Strategy."
"Customer Service is Hard: The 6 Best Ways to Lose Customers."