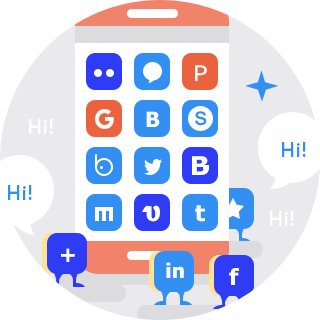 How to Improve Your Customer Relationship Management in a Multi-Channel World
---
Hint: You don't have to be accessible in every social media network or communications app—just the ones your customers use
Facebook. Twitter. Instagram. LinkedIn. Pinterest. Vine. Periscope. Google+. Tumblr. Yammer. Slack. Snapchat. WhatsApp. Viber.
The number of communications channels seemingly grows every week. An incomplete list of social networking websites on Wikipedia alone includes well over 100. And it doesn't even include SMS, iMessage, Skype, Google Hangouts, voice calls, and other forms of communications.
Here's how to improve your customer relationship management across an ever-growing proliferation of communications channels.
Why So Many Communications Channels?
Communications have become less expensive in recent years. Long-distance phone calls used to be expensive, so people used the phone sparingly. Today, with cell phone packages and broadband Internet, we can call anywhere in the world for free or for practically nothing.
Broadband Internet has opened up new communications channels. Fast Internet service makes it possible to communicate in ways not possible before, such as Skype video chats with multiple people at the same time.
We're much more mobile today. The old flip-phone has been steadily losing ground to the smartphone. A total of 1432.9 million smartphones were shipped in 2015, the highest year on record, up 10.1 percent from 2014, according to International Data Corporation.
With more smartphones come more mobile apps. It stands to reason that the continued growth in smartphone use fuels greater interest in mobile apps. There were nearly 2 million Android apps available as of late January 2016, according to AppBrain, vs. about 1.5 million the same time last year. Apple's iOS had more than 1.4 million apps as of June 2015, compared to 1.2 million one year earlier (the latest available data, as of this writing).
With more mobile apps come more communications options. Over the past few years, there has been a trend of new mobile apps that have their own social network. The latest example is Peach, a social app that Mashable described as a mix of Twitter and Slack.
Most people carry their smartphones just about everywhere they go, creating an always-on mentality. People have grown used to communicating at any time, and in multiple forms and through multiple apps, whether it's a Facebook Messenger message, a FaceTime call, an SMS text, a phone call, or email.
Bottom line: The wider broadband Internet spreads and the more smartphones there are, the more people there will be who grow used to communicating across multiple channels and apps, at any time and nearly anywhere.
How a Small Business Can Improve Its Customer Relationship Management
You can't be everywhere at all times, so don't try. With so many ways to communicate, a small business could spend half its time just answering messages and posting social media updates. A better strategy is to prioritize. Decide which communications channels are most important to your customers, focus on those, and forget the others. Which means you need to…
Know your customers. How do they prefer to communicate with you? By phone? SMS? Email? Web chat? Facebook messages? You can make some assumptions based on age, socioeconomic status, and so forth. For example, Millennials tend to prefer text messages to, say, phone calls and email, while Baby Boomers tend to prefer phone and email. But instead of relying on assumptions, ask your customers what they prefer. Weave the question into another conversation, perhaps at the end, along the lines of, "For future reference, how would you prefer we get in touch with you?" Or, "How would you prefer to contact us in the future?"
Stay current. You don't have to constantly monitor all the latest tech and social media news. But you should mark your calendar to do some research, say, once every month, or at least every three months, so you'll know if a new communications channel is spreading quickly. Check blogs and websites such as Social Media Today and Mashable or Google terms such as social media networks and click 'News' as an option to focus only on the latest relevant content. You might also set up a Google alert for social media networks.
Delegate when possible. If you decide to make your company available on multiple communications platforms, ask for help from employees or colleagues. A small company might assign one or two employees to monitor and respond to communications on your social media networks, for instance.
Develop appropriate communications styles for each channel. You already know how to handle yourself during a phone call with a customer. But how about when responding to a tweet or text from a customer? While social media, SMS and other communications forms have a less formal feel to them, be cautious about being overly familiar and unprofessional. Resist the urge to pepper your text message to a customer with emojis, for instance.
Streamline your communications. Ideally, choose a multi-channel communications platform. As the name implies, a multi-channel platform integrates various communications channels into one cloud-based service, making your various communications streams easier to monitor and respond to.
[ctablock title="Track your Facebook and Twitter accounts!" text="Connect your MightyCall account to a Twitter/Facebook account and your direct messages and mentions will automatically be added to the activity queue." olink="https://www.mightycall.com/pricing" otext="Subscribe to Ultimate Plan"]
The MightyCall virtual phone system, for instance, combines voice, email, SMS, Web chat, Facebook and Twitter, so you don't have to check multiple apps or log into multiple websites to stay on top of various communications channels.
Resources
MightyCall Blog Posts
"The Top Five Mistakes Small Businesses Make on Social Media"
"Turn Noise Into Action With a Multi-Channel Communications Strategy"
"Are You Ignoring Gen X and Gen Y Customers?"
Additional Resources