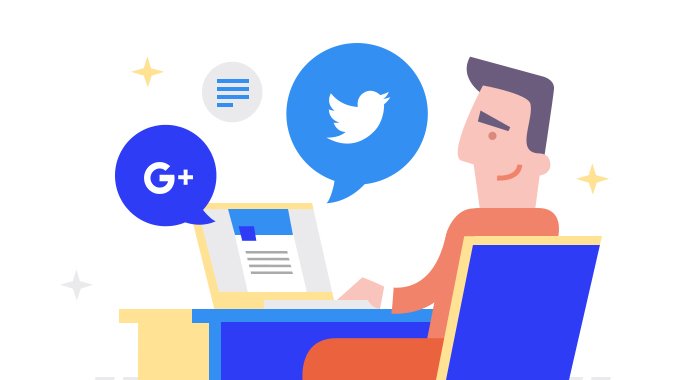 How Your Small Business Can Develop a Successful Social Media Marketing Strategy
---
Not everyone's a fan of social media, but ignore it for your business at your peril. Digital Sherpa estimates that 71% of users purchase products from brands they follow. Plus, your competitors are sure to be there, and it's assuredly the best way to target Millenials. You can develop a successful social media marketing strategy by 1) starting small 2) working it into your daily routine 3) delegating to someone savvy in the field 4) staying focused on your main goal and 5) consolidating social media into one dashboard. MightyCall's Social Media Tracker integrates your Facebook and Twitter streams in one place, making it easier to stay current with posts relating to your business.
Tips for optimizing social media to keep your customers engaged and happy.
Every small business has a lot on its plate. You need to keep customers happy, products ordered, services delivered with a smile, payroll and taxes paid. The list is endless. So why on Earth would you want to add "develop a social media marketing strategy" to your long to-do list?
Here's why: Because being active on social media — Facebook and Twitter particularly — can help grow your business without adding a lot of extra expense or time. Digital Sherpa estimates 71 percent of social media users purchase products from brands they follow.
Plus, in this day and age, your customers — especially Millennials — expect you to be on social media. And more than likely, your competitors are active on Facebook and Twitter.
Here's how your small business can develop a successful social media marketing strategy.
1. Start Small
Large companies often have dedicated social media managers responsible for monitoring all channels, engaging with customers, reviewing analytics, responding to messages, posting updates, and continuing to develop the social media marketing strategy.
Obviously, all that would be overkill for a small business. The key for you is to start small. Depending upon your business, a Facebook page and a Twitter account may be all you need. Don't fret over analytics. Just make sure you have the basic tools needed to post updates and respond to followers.
Only after you've mastered this, slowly take it to the next level with basic analytics or by adding another social media channel — as long as it's relevant to your core customer base and doesn't distract you from the most important channels.
2. Work Social Media into Your Daily Routine
With all that a small business has on its plate, it can feel overwhelming to try and stay on top of social media channels, too. If you resonate with that statement, look for ways to carve out a few minutes three times a day, if possible, to focus on your social media accounts. Check your Facebook, Twitter, and other streams over your morning coffee. Take another look before, during or right after lunch, and again in the evening. That way, the added task can feel more manageable, and you're doing it at a predictable time of day.
3. Delegate
If it's too difficult to work social media into your daily routine, delegate the responsibility to someone else in the company. A Millennial who's savvy about social media is an obvious choice. But there may be an older employee who would like to develop new skills. Also, you might consider looking for a social media intern from a nearby college.
4. Stay Focused on the Main Goal: Listening and Responding to Customers
Being active on social media is particularly important during the busy holiday season, especially if you're a retailer. And yet, most retailers aren't responsive to customers on social media, studies show.
During the fourth quarter of 2014, retailers received on average 1,271 inbound social media messages, 21 percent more than the previous quarter, according to a Sprout Social Index report, "Snubbed on Social." And yet, retailers responded to only 16.35 percent of those messages. Put another way: 83 percent of retailers snubbed their customers on social media.
| | |
| --- | --- |
| (Strong) Retailer's Average Inbound Messages — Social Media | |
| Q3 2014 | 1,043 |
| Q42014 | 1,271 |
| Q12015 | 1,129 |
| Q22015 | 1,130 |
| Q32015 | 1,242 |
| Q42015 (estimate) | 1,500 |
Source: The Sprout Social Index
Retailers aren't the only businesses largely ignoring their social media followers. The Sprout Social Index also reveals a 32 percent increase in messages sent from consumers to brands over the past year. But eight out of nine messages went unanswered within 72 hours, with the average response time about 12 hours.
Listening and responding to customers over social media is important for every type of small business. For example, if you're a restaurant, you most likely spend a lot of time on the phone, taking orders or making reservations. But after your restaurant is closed for the night, customers may be talking about you on Facebook and Twitter. They're probably posting complaints about the service they received, the prices they paid, or the food they were served. If you don't respond to those complaints in a timely manner on the social media channels on which they appeared, your restaurant looks like it's either out of touch or doesn't care.
On the other hand, when someone praises your restaurant on social media, it's a great opportunity to thank them publicly for their support and share their praise with your followers. The same is true for dentists, plumbers, locksmiths, auto repair shops, bakeries, career coaches. It doesn't matter what your small business does or sells. What matters is that you listen to what's being said about your company and then responding to positive and negative comments appropriately and rapidly.
5. Consolidate Social Media in One Dashboard
You don't have to keep multiple Web browser tabs open at all times, with each tab dedicated to a particular social media account, another tab for email, and so on. A better option is to use a single dashboard that integrates your social media channels in one place, so you can have a master view of everything that's happening. Some virtual phone systems, such as MightyCall, offer this capability as part of their standard feature set.
Making it Easy to Keep Up on Social Media
MightyCall's Social Media Tracker integrates your Facebook and Twitter streams in one place, making it easy to stay current on customer messages, posts, and mentions of your company. You can assign each activity as an action-item for someone on your team to handle, too.
For more information, check out the following help articles and blog posts:
MightyCall Social Media Tracker help page
"The Top 5 Mistakes Small Businesses Make on Social Media"
Sprout Social Index report, Snubbed on Social (PDF)