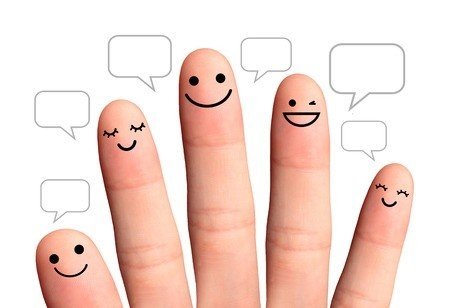 A Different Voice Greeting For Different Needs
---
So you are all on board with having a virtual phone system and a professional voice greeting help you make the best first impression possible with your customers. Great!
You aren't quite sure if you are going to record your own greetings to sound more authentic or hire a voice actor to help your business sound as professional as it really is.
Either way, you are going to have to figure out what kinds of greetings you need.
Just how do you go about coming up with a script for your on-hold messages? Start by breaking things up into several segments, separating the different messages into broad categories.
Initial greeting
You first have to let the caller know he has called the right place. Say your company name and any tagline that comes with your brand. Alternatively, say what your organization does if there is someone else in town with the same name. Here's an example if you are involved in home electronics retailing:
"Thank you for calling ABC Electrics, upstate New York's best-known electronics retailer. Your call is important to us. We'll be with you shortly."
Of course, if there are several departments in your company and you have an interactive voice response system in place, then be ready to write prompts for them. An example: "Press one for customer service, two for marketing…"
On-hold messages
Have at least five on-hold messages that are regularly updated to reflect the seasonal as well as perennial concerns of callers. These will keep them engaged while providing food for thought while they wait to be attended to.
Taking the example of the home electronics store again, here are some suggestions:
Promote a seasonal product: "Calling to find out more about the latest iPhone? We have the best advisors in store to explain the ins and outs of Apple's latest gizmo."
Address regular issues from callers: "Got a problem with a purchase? Have no worries with our money-back guarantee. Stay on the line for a short while and we'll have an advisor to assist you."
Tell your company's story: "Since 1980, we have been bringing the latest home electronics to consumers across the state. Those who know the best buy from ABC Electrics."
Talk about a recent award: "ABC Electrics is proud to be voted the most popular home electronics store by readers of the New York Times for three years in a row. Thanks once again for your support!"
Promote a new scheme: "Your favorite gadgets are within easy reach today. Have you heard of our easy credit schemes that let you pay over 24 months? Ask an advisor for details."
Voice mail
This is important for when someone calls, say, in the off hours and there is no operator to answer the call. To start off, let the caller know his call is important and offer solutions to popular queries, perhaps over self-help channels such as online FAQs on your website.
If your phone system supports it, you can also offer an option to leave a message. Tell the caller when you will get in touch again. Some virtual phone systems have an activity queue that lets team members receive instant notifications and to quickly respond.
Here's what a voice mail message might look like — naturally you would have to customize it as needed:
"Thank you for calling ABC Electrics. We are closed for the day and will re-open tomorrow from 9am to 9pm, Eastern Standard Time. Your call is important to us and our team members will get in touch within one business day.
If you wish to submit a query over e-mail, please send messages to support@abcelectrics.com. To leave a voice message, please press one and speak after the tone."
Don't forget the music
Finally, don't forget the music that gets played between the voice messages. It's always good to have a break in between so users are not confused by the different things referred to in each message.
These breaks also provide relief for what can sometimes end up being long waits on the phone. Which type of music you select depends on what suits your business.
A hospital, for example, could do with soothing, easy-listening music, while an electronics retailer could have something more upbeat and positive.
Having safe "elevator music" is boring, sure, but it is usually safer than songs with lyrics, which could take on ironic or unexpected meanings, depending on the context. Certainly for a hospital, you would not put on music with depressing, suicidal lyrics.
Consult the list of tracks that your professional voice recording company may have on hand. These are usually "safe" but do vet through what you'll use eventually. If you have your own jingle, consider that the same tune could get tiring if repeated too many times. If you have a few tunes, rotate them regularly.
So there you have it — a plan to get started on your professional voice greeting!