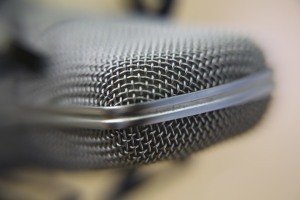 Best Ways to Record Professional Voice Greetings
---
If you have followed the MightyCall blog for any length of time, you will know by now that we are big on creating a great first impression with the people who call you on your toll-free or local number.
This article is for those of you who are sold on the concept and are ready to get started.
Before you get professional voice greetings recorded by a voice actor, you're going to need to do a little research and also, to write a script.
Here are a few tips that can help you get started:
For the DIY types
For those of you who have a great voice (we are so jealous!), or know someone who does, you might consider recording your own greeting, especially if you are just starting out. If that is the path you want to take, here is a great post to help you along the way. Note that it doesn't hurt to spend a bit of money to get a low-cost USB condenser microphone to make your voice sound a little crisper.
Outsourcing professional voice greetings
If you don't have the voice to record an impressive greeting for your business phone system, or don't want to bother with getting condenser microphones or fuss with recording stuff, think about paying a voice actor to do it for you.
These are often radio personalities who are use to voice performances, such as vocalizing animated characters or voiceovers in commercials. Each voice has a certain "character" to it — some sound serious and credible, others go for a sultry approach, yet others sound mischievous. Listen to what some of them sound like.
Writing your professional voice script
Not all voice greetings do the same thing. Some are designed to be the first thing you callers here. Others are for individual voicemail greetings.
There also general recorded greetings that are used as a default greeting if no other greeting type is set. It's a good idea to be brief and to avoid dates and timeframes since because you never know when this type of greeting will be played to callers.
Regardless of the kind of greeting, they should all follow a few common guidelines so that they are clear, concise, and have great impact.
Here are some samples of recorded voicemail scripts. We especially like the one from the Humboldt University.
So there you have it — a brief primer to get you well on your way.