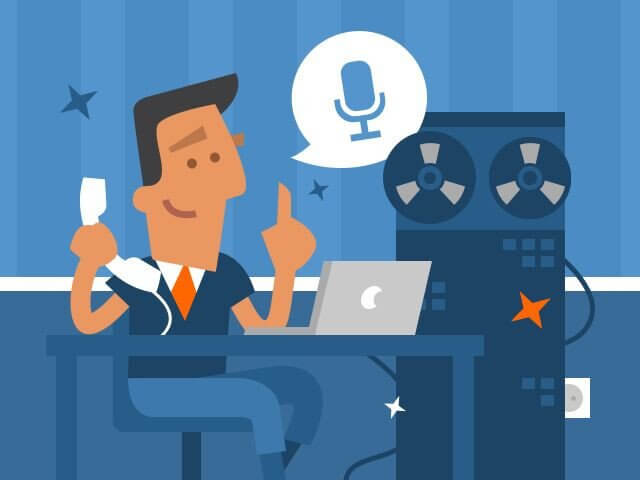 Top 9 ways call recording can help a business
---
When people think about how to improve their business, they often overlook the little things. Of all the features MightyCall offers, call recording has a good argument as the most useful, but it still likely wouldn't make most people's short list of how to improve a business. Not everything in business is about grand sweeping changes and actions though, so you should never ignore those little things. You'd be amazed at the utility of this one feature—it's practically a Swiss Army knife.
Here are the 9 best benefits of using call recording:
1. Capture details you might have missed or forgotten
When talking to customers, it's vital to actively listen. Taking notes often helps people keep track of details and ideas, but doing so during a call can prevent you from actively listening.With call recording, you can give your full attention to any call and take notes later when replaying it. This helps ensure customers feel they're truly being "heard" — a big part of providing a great customer experience.
Additionally, sometimes it's difficult to make out what a customer is saying. They're in a noisy environment, talking quickly, or speaking in a heavy accent. You can, and should, ask for clarification when needed, but having a record of the call that you can play back as many times as you want provides some insurance and the peace of mind that you won't miss anything important.
2. Coach your team more effectively
By recording calls, you can hear how your team members speak to customers. It's a fantastic opportunity for managers to help teams improve their communication skills and to provide tips on how to sell more effectively or how to offer better customer service and support. Anyone in your organization, from receptionists to top sales people, can benefit from the kind of granular coaching and feedback managers can provide as a result of monitoring call recordings.
3. Get to know your customers
Call recordings help your marketing team better understand your company's customer, or "buyer," personas.A buyer persona is the stereotypical representation of your typical and/or target customers, such as "Mid-20s Urban Professional."
By listening to customer calls, your marketing team will learn how well the buyer personas they've developed measure up to your actual customers. Having a realistic understanding of buyer personas can make your marketing efforts much more efficient and impactful.
4. Enhance your product or service
By sharing call recordings with specific team members in product management or R&D, you can help them better understand how customers are using your product, what they like about it, and what could be better. All of this is invaluable (and free) information that can be translated into products and services that more effectively meet customer expectations.
5. Stay on the right side of the law
First off, it's important to note that call recording is legal as long as there is an acknowledgement that it's happening (whether by you telling someone or a pre-recorded message doing so).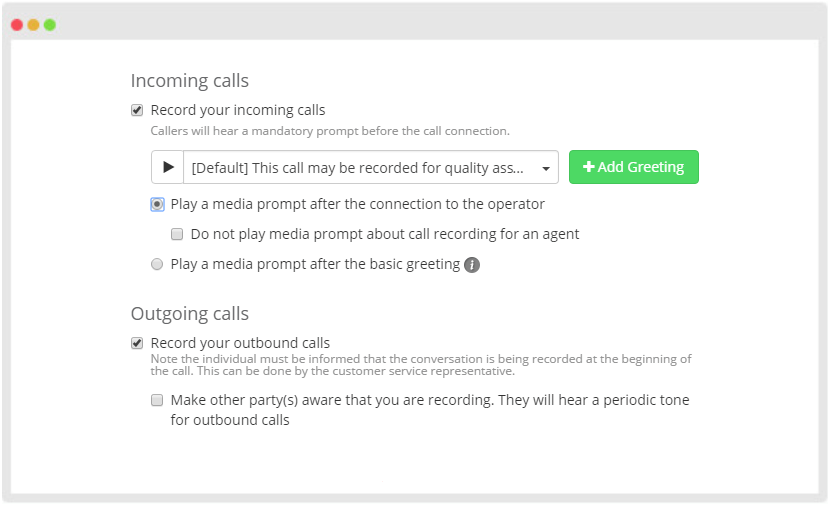 MightyCall call recording settings
Otherwise, maintaining a database of recorded calls will help your business comply with legal, industry, and service-level compliance guidelines.
Recorded calls can help you resolve disputes or defend against litigation from unhappy customers and in some cases a voice recording can serve as a verbal contract.
Lawsuits and legal representation cost an arm and a leg, and hiring a lawyer can be financially crippling for anyone but the biggest companies. Considering most lawsuits brought against companies stem from miscommunication, having a hard record to help sort things out before lawyers get involved is a life saver.
6. Watching your words
It's often said that it costs five to seven times more to acquire a new customer than it is to retain an existing one.To keep customers, you need to provide excellent customer service (among other things). Like the old adage goes: sometimes it's not what you say, but what you don't say that really defines a conversation.
If you run a small business, chances are there'll be some repeat customers who you may get to know. By listening to call recordings, you and your team can figure out what to avoid saying to certain customers so nobody's feelings are hurt and you stay in everyone's good graces.
7. Capture customer stories
Customers who call your company and glow about their experience using your product or service — why they chose it, how it's helped them, and so on—are a godsend. Beyond the confidence boost you get, you may be able to use the content of those calls (with the customer's approval) for a great "customer success story" for your marketing or advertising campaigns.
8. See how your customer service has evolved
By maintaining a database of call recordings, you can compare how your team communicates with customers today vs. how you communicated with them in the past. The differences can show where you've improved and where you still need work as well as how your business is growing — which can be motivating.
9. Quickly bring a customer service agent up to speed
If you're operate as a solo entrepreneur or run a small business, it may be necessary to bring someone in from time to time to handle customer calls.
Maybe you want to completely disconnect from business while on vacation, or you're too busy to handle customer calls effectively. These situations happen all the time.Sharing call recordings with new or temp workers helps bring them up to speed quickly on your customers' needs and frequently asked questions, as well as how to handle them. Showing is always better than telling.
All these benefits in one feature!
At the end of the day, call recording is a small and inexpensive way to monitor your business and implement changes. It provides you with a wealth of data and there are numerous ways to practically apply that info.
If phone calls are a major component of your business and you're not using call recording, you're missing out on an easy opportunity to maximize your business practices. In today's hypercompetitive business market, doing so is inexcusable.
Pick the right plan for your business
Get a 50% discount on MightyCall for your first month.
If you already have a virtual phone number, we can port it in for free so you can keep using it.
All plans include
Unlimited Extensions

Unlimited Text Messaging

Customizable Call Routing

Auto-Attendant

Webphone

Conference Calls

Call Queues

Voicemail to Email

Custom Greetings

Performance Reports

Facebook & Twitter Integration

Web Widgets
30 day money back guarantee

No long term contracts

You can change your plan anytime