MIGHTY30
Zoom Phone vs MightyCall
Zoom Phone Review
The word 'Zoom' has probably become a bigger part of your vocabulary as people scramble to find videoconferencing software to keep them in touch with family and friends. Despite the company's seeming overnight success, Zoom's IPO (initial public offering) valued the company at $16 billion just last year in 2019. The tech and money are there, and Zoom wants you to know the offerings are too, as not only do they have free videoconferencing available without needing to download anything, they offer phone services for those working remotely as well.
What's the basis of Zoom Phone's offer? This cloud phone system promises to centralize all of your business communications, with systematic inputs designed to push you to more video and live communications—in case you want to see your customers to either walk them through something or just connect on an old-fashioned level.
Zoom has multiple high-level integrations ready to go, in addition to vital features like call recording and IVR on top of basic call routing mechanisms. The service functions a bit differently than many VoIP providers, as it is primarily a desktop app you need to download—which on one hand, means no hardware, but on the other, means you cannot use the service as a webphone to make free calls either.
The price tag is middle of the pack, at $15 per month per user. They have a $10 per user plan, but that is pay-as-you-go whereas the $15 offers unlimited minutes.  Likewise, they have bigger plans for big business, but those demand a minimum number of users that will take your bill into the $200+ or $2000+ price range. For small businesses, your only legitimate option is the $15 per user.
If your company has multiple employees however, it's best to not add them to the system and run up your price tag because Zoom is lacking some features that warrant their inclusion. First, the system only offers 1 number, so the design lacks flexibility among a team of workers. Next, there is no voicemail, inbound+outbound texting, availability statuses if you're occupied, or CRM features within the system itself.
CRM features matter, especially for a product that aims to unify communications. If you turn on integrations, it likely means you're paying for those on top of Zoom. With MightyCall, our Contact Book Plus is a mini-CRM unto itself, meaning you accomplish the same central location for your customer communications without paying extra.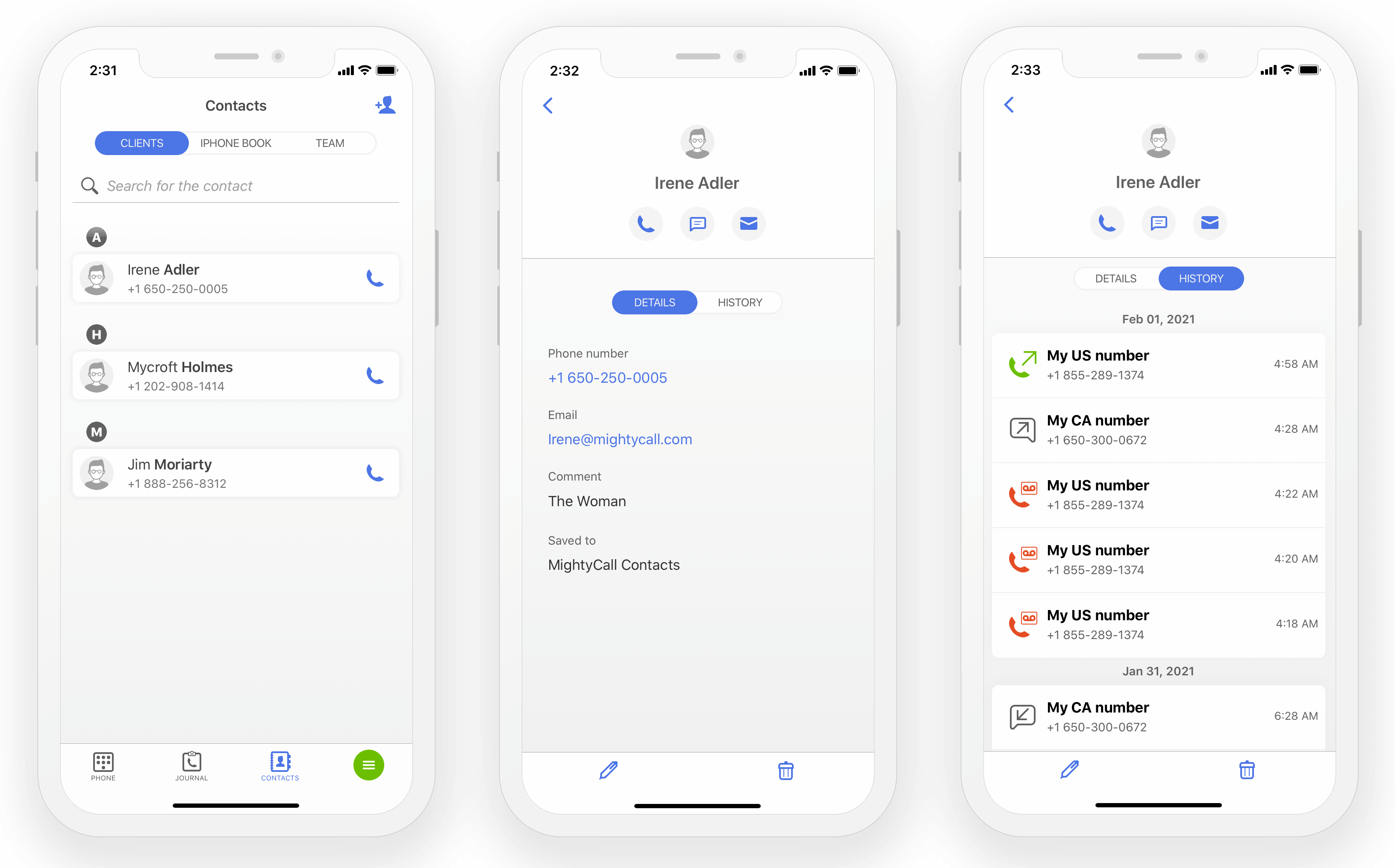 Keep all your business contacts and colleagues in a system
Keep all your clients' details in the system and share them with your team
See all your communication with a client in one place
Some of these could be overlooked if Zoom had a more established name within the business phone industry or more forgiving payment terms. As it stands, Zoom doesn't offer any money-back guarantees or free trials. They claim that their free videoconferencing software acts as a free trial, but it doesn't carry the same functionality as a business phone system does, and if you've used Zoom, you know things turn into a bit of a free-for-all when there's more than 5 participants involved.
What's worse than all of that however is Zoom's track record with being honest to the public. It may not be malice, but Zoom has serious flaws with its security, no matter what they promise on their website. First, they're in the pocket of big business—data from the iOS app gets sent to Facebook, something the social media giant has (rightfully) gotten a lot of flak for in recent years as custom ads follow us around the web.
Hackers have also revealed critical bugs that let them take over people's Macs or access people's passwords on Windows. Neither is high level trickery either, especially with millions of educated IT engineers and computer whizzes out there with a lot of free time. Thankfully most of these hackers are just doing research, but Zoom appears in over its head regardless. That's obvious by the major disconnect between Zoom's marketing and its actual product, which is not end-to-end encrypted like they've been telling everyone. Use the service at your own peril as a businessperson.
MightyCall
vs Zoom Phone
| | | |
| --- | --- | --- |
| | | Zoom Phone |
| Price per month | $ 49.99* per team | $ 15 per user |
| User extensions | Unlimited for free | $15 per user |
| Trial | Yes | No |
| Minutes Included | Unlimited | Unlimited |
| Texts Included | Yes | No |
| Local or Toll-free numbers | 5 | 1 ($5 per number) |
| Contact book | Yes | No |
| CRM functionality | Yes | No |
| Business hours | Yes | Yes |
| Call forwarding | Yes | Yes |
| Auto attendant | Yes | Yes |
| IVR | Yes | Yes |
| Video call | No | Yes |
| Blacklists | Yes | Yes |
| Call recording | Yes | Yes |
| Conference calling | Yes | Yes |
| Music on hold | Yes | Yes |
| Voicemail to Text | Yes | No |
| Webphone | Yes | No |
| Desk phones support | Yes | Yes |
| Mobile App (iOS, Android) | Yes | Yes |
| International numbers | $10 extra | No |
| | *Standard plan | |
Verdict. Why MightyCall is the best alternative to Zoom Phone
If you want an even more tech-savvy argument on why we shouldn't be using Zoom's free videochatting, I highly recommend this article from TechCrunch. All of these problems beg the question though—if you have to be careful using Zoom's free services, why should anyone pay for their other services?
You shouldn't. MightyCall is a well-established virtual business phone system that has a history of effective, affordable, and secure business communications. This isn't Zoom's ballgame, and they're only dipping their foot into the water to see what happens. We may not have a fancy $16 billion IPO or extensive videoconferencing, but we actually have considerably more phone features than Zoom does to go along with unlimited minutes and unlimited users at no extra cost.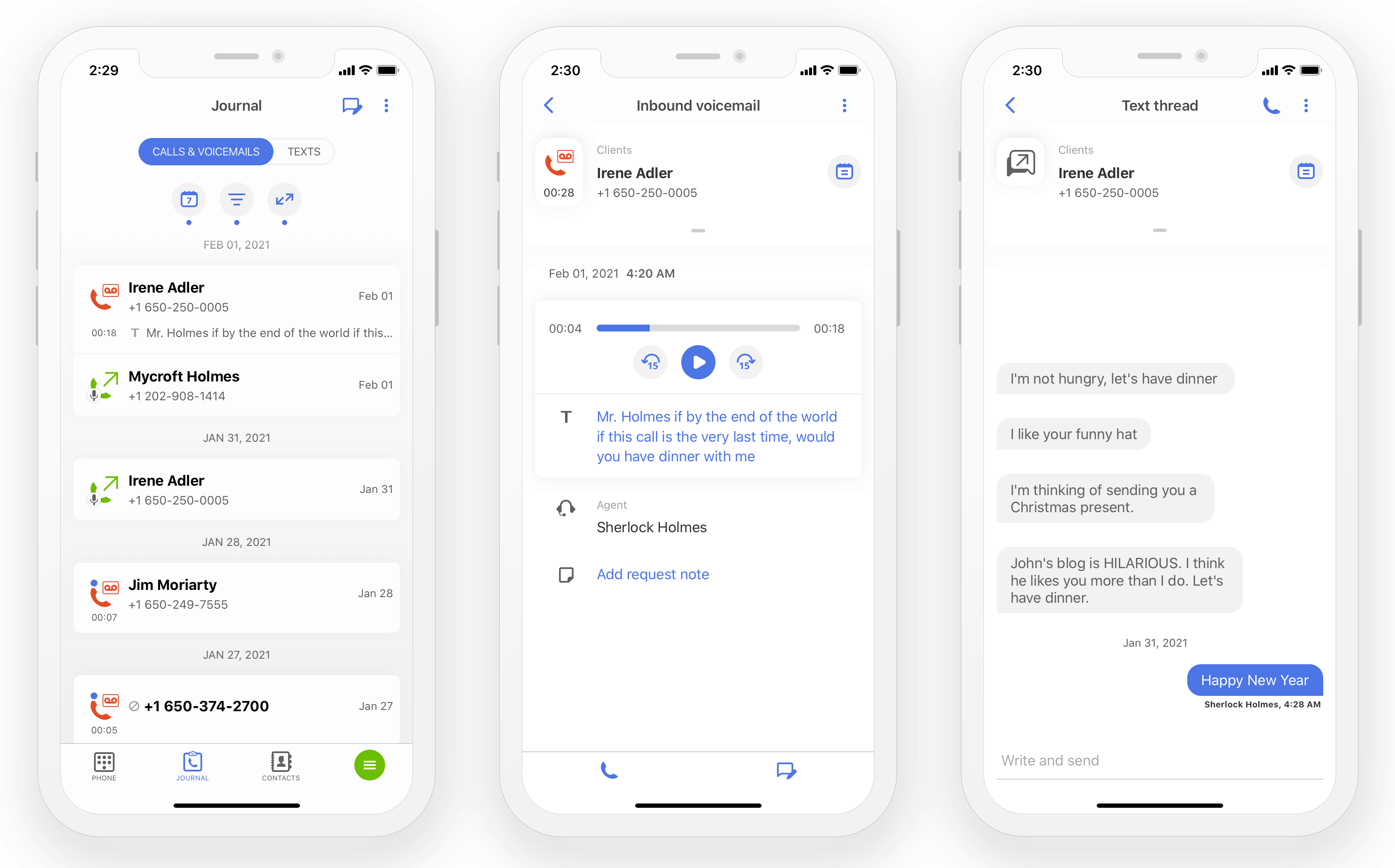 All your calls, voicemails, texts in one place
Filter activities by date, type and user
All your voicemails at a glance
Add comments to remember important details and share them with the team
All your texts in one place. Reply and call straight from this section
Click and call/ text straight from the Journal
Whether you're a starting solopreneur or a small business with a long history, you can pay $20 or $40 a month for MightyCall and get a system that handles VoIP and basic CRM capabilities to keep you and your customers flawlessly connected, or you can pay between $30 to $200 for Zoom, a service that is constantly being exposed as less than the sum of its parts. Don't let cabin fever and name recognition trick you into using a suboptimal business phone system, because now more than ever you need to make business decisions prudently.
What customers say about MightyCall

4 out of 5 stars

4.2 out of 5 stars


4.5 out of 5 stars

4.2 out of 5 stars