MIGHTY30
SmartLine or MightyCall?
GoDaddy, an Internet domain registrar and web hosting company, most notably famous for its laughably oversexualized commercials featuring Danica Patrick (among others), has branched out into the VOIP market.
In August 2017 they launched GoDaddy SmartLine, with the slogan: "Your business deserves its own number."
On that much, we agree, but looking at the details of the plans, GoDaddy isn't offering customers, let alone entrepreneurs, much. Barry Saik, GoDaddy's senior vice president and general manager of telephony, said SmartLine was designed for new business owners who are "not ready to use all the minutes."
SmartLine Pricing Review
What exactly does he mean by that? Well, SmartLine has two plans: the first is $3.99 a month for 100 talk minutes and 100 texts, and the second is their "unlimited" plan for $9.99 a month. All the prices are per user.
Under their "unlimited" plan, you have up to 2,000 minutes and 2,000 texts per month, in line with GoDaddy's "Fair Use" policy (note: this is true of almost every company that offers "unlimited" access, although their opaque limits vary).
100 minutes a month is nothing—one eventful conversation could eat that entire chunk up. If that is what Saik means by people "not ready to use all the minutes," then why are they paying anything for so little?
SmartLine Features Review
What features does SmartLine have to make any amount worth it? Not many.
The listed features are:
business hours,
customizable greetings,
Caller ID, and
voice-to-text transcription.
That's it. Four features for your hard-earned money.
You can also only get one virtual number; if you're on the $3.99 plan, that number has to be local too—toll-free numbers are only given out on the $9.99 plan.
This product doesn't pass the smell test, and clearly doesn't have an ideal customer in mind. If a new business owner isn't ready to do business, why pay for a product like this? Google Voice, for all its flaws and lack of features and scalability, is free after all.
Anyone who would ever consider getting a SmartLine package would probably be better off trying Google Voice first—they are essentially the same thing, packaged differently.
For entrepreneurs and businesses that are more serious and looking for a true VoIP system however, neither GoDaddy nor Google provides one. GoDaddy lauds its SmartLine as a way to "separate your business and personal information" and "build your professional image," but the company clearly assumes VoIP customers know nothing about the market, because those are bare basics for any VoIP system.
SmartLine vs MightyCall Review
If you're looking for a true business communications platform, MightyCall has you covered.
We offer dozens of the best and most useful features around, multiple phone numbers per plan, unlimited extensions and thousands of talk minutes for less than a dollar a day, whether you are a solo entrepreneur or have a whole team helping out.
SmartLine vs MightyCall:

Capabilities Comparison
| | | |
| --- | --- | --- |
| | | SmartLine |
| Price per month | $ 19.99/ team* | $ 9.99/ user** |
| Minutes Included | 1 000 | 2 000 |
| Texting | 1 000 | 2 000 |
| User extensions | Unlimited | $ 9.99/ user |
| Local or Toll-free numbers | 2 | 1 |
| Vanity search | Yes, for free | No |
| Caller ID | Yes | Yes |
| Business hours | Yes | Yes |
| Call forwarding | Yes | Yes |
| Customizable call flow | Yes | No |
| Auto attendant | Yes | No |
| Webphone | Yes | No |
| Call Queue | Yes | No |
| Conference calling | Yes | No |
| Website Widgets | Yes | No |
| Social Media tracking | Yes | No |
| | *Basic plan | **Unlimited |
And just like SmartLine, there is no equipment necessary and no contracts whatsoever. We have our own app to boot, but don't limit you solely to using one device for your business number—that's impractical.
We've had decades to evolve our VoIP system, and judging from what GoDaddy is currently offering, they're far away from matching us or any of the other options on the market.
What customers say about MightyCall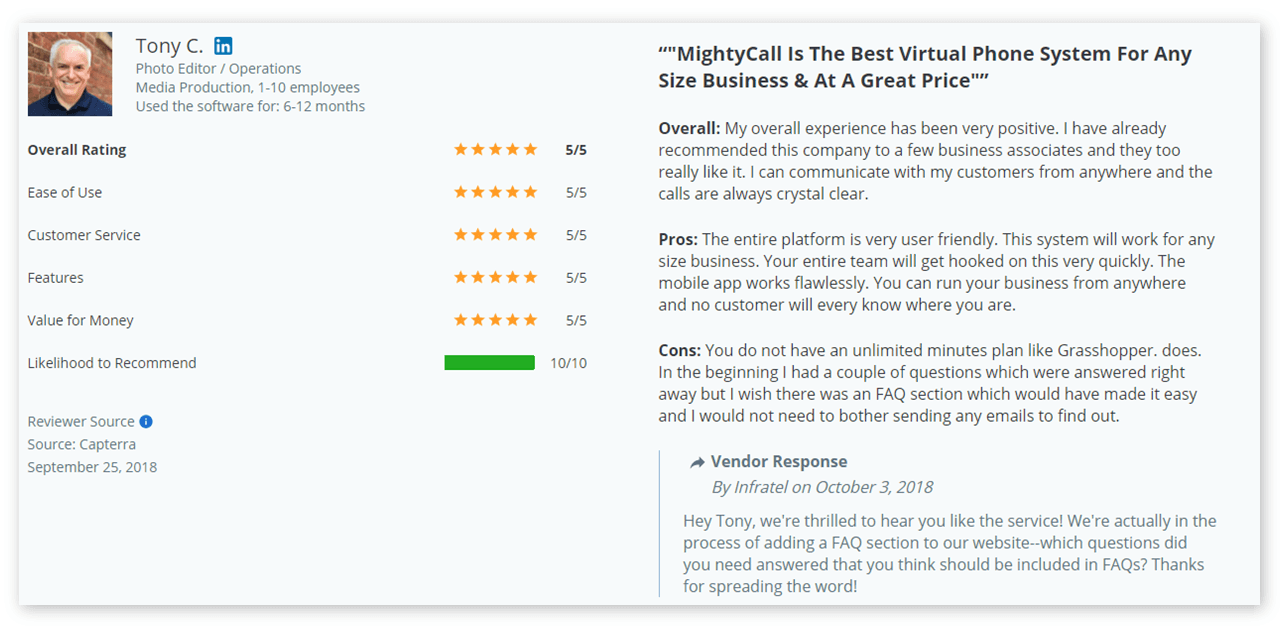 4 out of 5 stars

4.2 out of 5 stars

4.7 out of 5 stars

4.2 out of 5 stars