MIGHTY30
Jive or MightyCall?
Jive, of Jive Communications, is a hot new upstart in the VoIP industry. The company was founded in 2006, but has come on strong in recent years due to glowing customer reviews and mentions on high profile websites like Forbes.com. After a string of years witnessing quite substantial growth, Jive has been dubbed as a major player in the future of the VoIP industry.
While Jive is undoubtedly a good company that offers a good product, one has to wonder how much of the hype is smoke and how much is actual fire. It seems from afar that the cosmic push Jive has received is more a result of hyperaggressive marketing and not a clear and distinct niche inside the VoIP market. "Easy. Efficient. Cost-effective." can be used to describe all virtual phone systems, not just Jive. Likewise, the billed "80" telephone features they offer are almost entirely industry standard. Jive heavily tilts their advertising toward the "old guard" of office telephones, hoping no one investigates alternative VoIP systems too much.
Why MightyCall is the best alternative to Jive
When comparing Jive and MightyCall, there are quite a lot of similarities. Both companies have all-inclusive pricing plans, meaning that you don't need to pay additional monthly fees for features. Both also aim at harnessing the system's power into acting as a control center for the customer. The way we go about this differs a bit, and the pricing reflects that too.
Jive gives you 1 number unless you ask for more — then you'll have a custom quote. Each additional extension with Jive costs between $20 to $30, with the price per decreasing as you ramp up the system. That means with 1 number and 3 extensions, you'll pay around $90 a month — your price includes unlimited calling minutes no matter your plan. All of this adds up to a system centralized around 1 number and perks allowing for a focus on intercompany communication.
With MightyCall, you get multiple numbers and unlimited extensions with all of our pricing plans. We have all the same tools and features (save for a few, like faxing and "spying" on your employees' calls), but with our system setup, there's more freedom to experiment and try different things for your business.
Capabilities Comparison: Jive vs MightyCall
| | | |
| --- | --- | --- |
| | | Jive |
| Price per month | $ 39.99 / team* | from $ 19.95 / user** |
| Minutes Included | Unlimited | Unlimited |
| Price per minute | 0,02 | 0,03 |
| User extensions | Unlimited | from $19.95 per user |
| Local or Toll-free numbers | 5 | 1 |
| Texting | Yes | Unlimited |
| Call forwarding | Yes | Yes |
| Call Recording | Yes | Yes |
| Voicemail to Email | Yes | Yes |
| Call Queue | Yes | Yes |
| Conference calling | Yes | Yes |
| Business contacts | Yes | No |
| Mini-CRM functionality | Yes | No |
| Website Widgets | Yes | No |
| Social Media tracking | Yes | No |
| Webphone for In/Out Calls | Yes | Yes |
| Internet fax | No | Yes |
| | *Basic plan | **Jive plan |
* "Unlimited minutes" is not actually unlimited calling however (a misrepresentation that is sadly commonplace for the industry). Straight from Jive's terms of service: "any reference Jive has made to "unlimited" minutes or features refers to Jive's practice not to charge users on a per-minute or per-use basis when use is reasonable … as compared to other customers." There isn't a specific number listed as "average customer use," so if you're signing up with Jive for unlimited minutes, be ready to get an awkward notice of additional calling charges if your company is too successful.
When your whole company is working through a single number and likely only a few extensions (otherwise the system will get quite expensive quite quickly), things can become rather rigid.
Cohering to accepted ways of thinking will not always work in business. We can even see this in the way people perceive Jive. Ever since being chosen as the heir apparent, their reviews have gotten progressively worse—and in a large sample size relative to the industry. On a 5-point scale from 2015-2017 reviews, Jive has seen a drop in their rating from 4.6 to 4.0 to 3.3. Bigger is not always better, especially when standards start slipping.
What customers say about MightyCall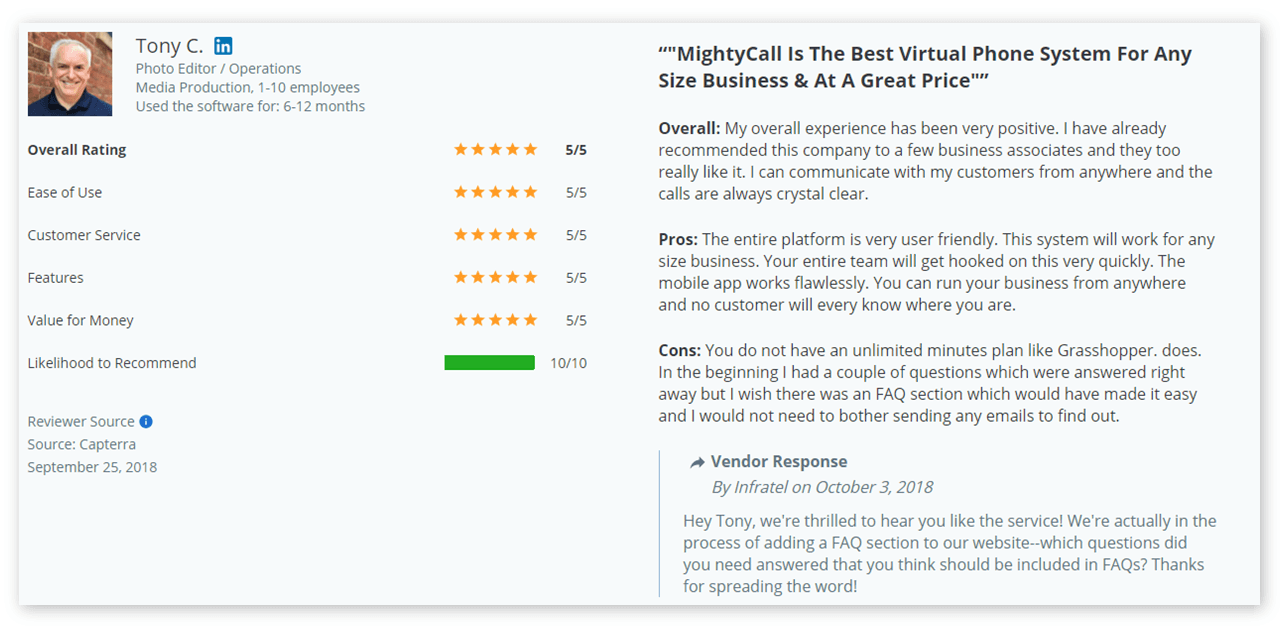 4 out of 5 stars

4.2 out of 5 stars

4.7 out of 5 stars

4.2 out of 5 stars