Grasshopper vs MightyCall?
Grasshopper vs MightyCall
Why should you choose MightyCall over Grasshopper? Well, for starters…
When you subscribe to MightyCall, you don't only get a virtual number, you also get access to the cutting-edge cloud IP PBX
MightyCall is more feature-rich. See details
MightyCall is cheaper by 20—100%. See details
MightyCall manages client requests received not only by calls but also by emails, web forms, Facebook, Twitter.
…but there's more. Take a look at these comparative charts.
Grasshopper vs MightyCall Breakdown
| | | |
| --- | --- | --- |
| | | Grasshopper |
| Price per month | $ 49,99* flat | $ 29**/ per 3 users |
| Local or Toll-free numbers | 5 | 1 |
| Users & extensions | Unlimited for free | 3 |
| Minutes Included | Unlimited | Unlimited |
| Text messages | Yes | $10 per user |
| Call forwarding | Yes | Yes |
| Deskphons & Softphones support | Yes | No |
| Conference calling | Yes | Yes |
| Call Queue | Yes | Yes |
| Business contacts | Yes | No |
| CRM functionality | Yes | No |
| Availability status | Yes | No |
| Custom main greeting | Yes | Yes |
| Voicemail | Yes | Yes |
| Transcribed voicemails | Yes | $10 |
| Internal calls | Yes | No |
| Webphone for In/Out Calls | Yes | Yes |
| Click-to-Call Widget | Yes | Yes |
| Contact Us Widget | Yes | No |
| Call Back Widget | Yes | No |
| Social Media tracking | Yes | No |
| International numbers | $10 extra | No |
| International Calls | Yes, pay-as-you-go | Per request ($500 deposit) |
| | *Standard plan | **Solo plan |
Both services are inexpensive, but overall, MightyCall is the cheaper option.
MightyCall's essential components which Grasshopper is missing
MightyCall now packs even more of a punch, lifting our services up to a mini-CRM with our Contact Book PLUS feature. Keep contact lists (easily importable/exportable) and notes on each contact in your phone and each individual interaction. The ultra organization you gain from VoIP+CRM features will keep your small business chugging along.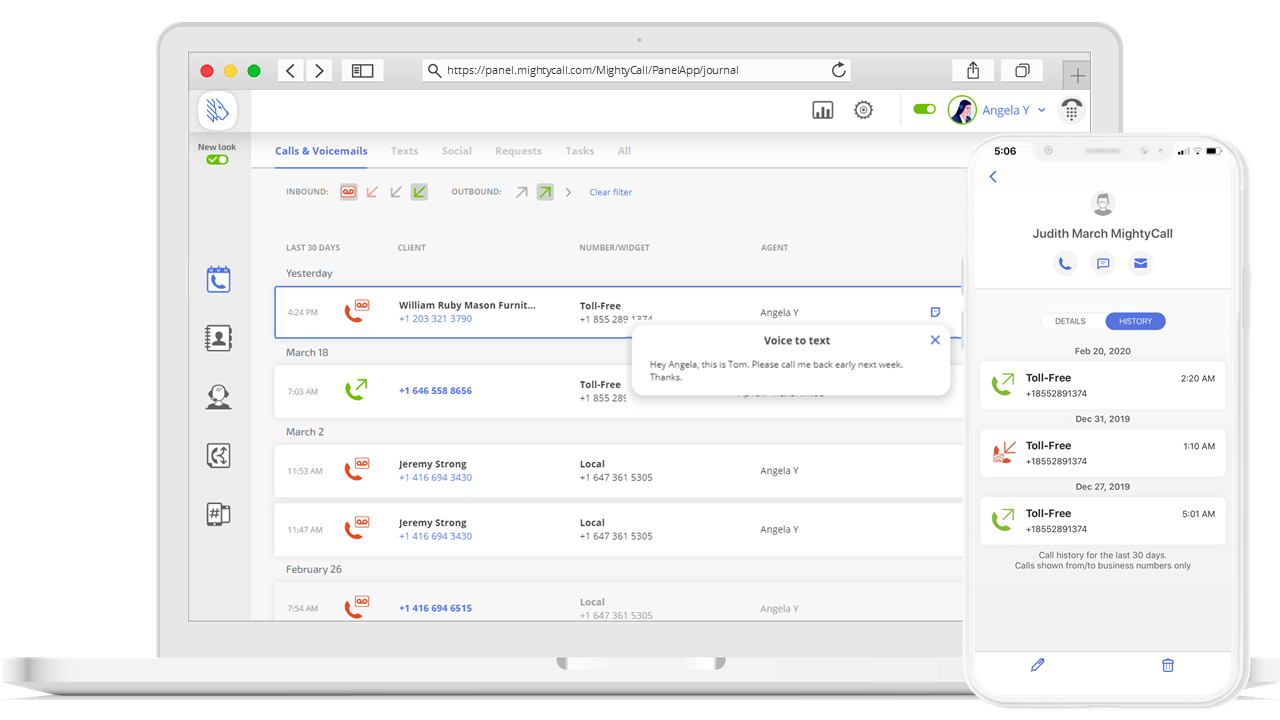 IP telephony
What is better — traditional or IP telephony? Calls through PSTN (Public Switched Telephone Network) have better quality if you have poor internet, but IP telephony is usually much more functional. Considering the tradeoff, it's better for a service provider to have both.
MightyCall does, while Grasshopper does not.
Unlimited Free Extensions
A big part of getting a virtual phone system is to use it efficiently, and to do that you should absolutely be bringing all of your staff into whatever system you choose.
With Grasshopper however, plans only offer 3 phone extensions, which means employees may have to share, leading to confusion and less organization.
MightyCall knows that each employee needs their own line to maximize their time and thus your company's flexibility, so we offer unlimited free extensions on every plan.
User status shows if a user is currently available for calls, out of reach or on the call.
Add users to your team for free so every user gets an extension.
Create user groups to direct calls to the right specialists.
Internal calls
MightyCall users can make and transfer calls to colleagues through short internal numbers, as well as to users of any virtual phone system.
Grasshopper users can't.
Contact book
With MightyCall's Contact Book you can keep track of your clients in the MightyCall platform and save important contacts. Contact Book displays all your business contacts in one place. This includes names, phone numbers, emails, plus personal comments.
For each client, you can add a name, email, and up to 20 phone numbers, as well as a personal comment visible to all users in the account.
Contact Book is shared by all users in the account. A client created by one user will also be visible to other users in the team.
Names saved to the Contact Book will be shown in Call History, the MightyCall webphone, and the mobile app (coming soon).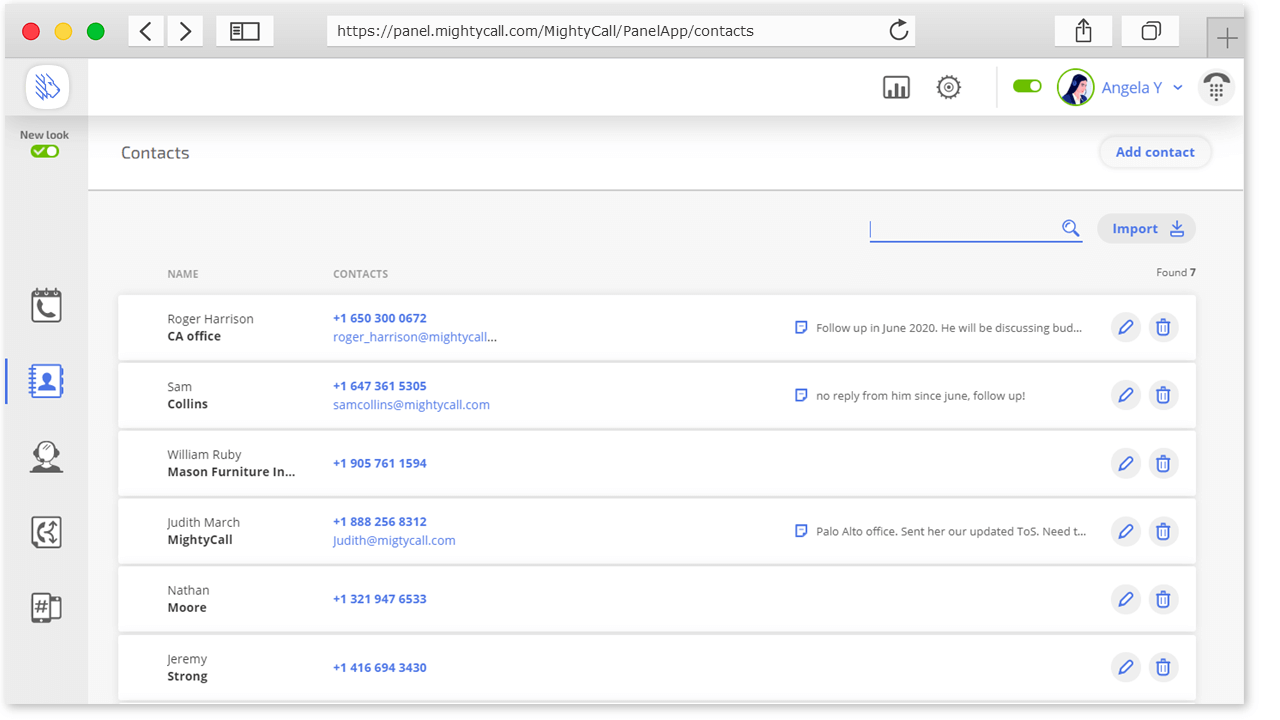 Click-to-call widget
The fastest way to turn your website visitors into customers. There's no need for visitors to even leave the site page to type the number into their phone! Mobile site visitors will flock to this feature in droves. Learn more -> Click-to-call widget on your website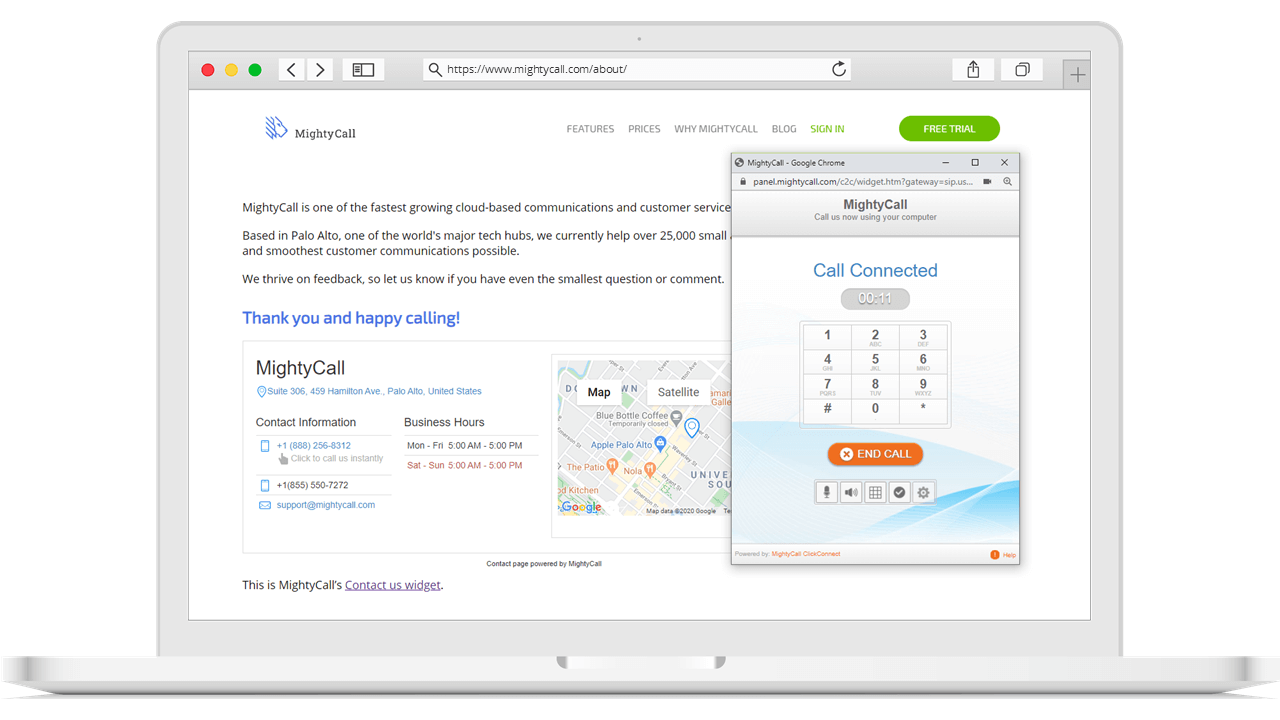 Call-back requests
With a click website visitors can make a request for a callback, leaving their number and desired time for the callback. Learn more -> Call-back requests from your website
Contact us widget
The "Contact us" widget for a website is easy to install and portrays your business information in an easy-to-read, crisp way. Your clients will be able to send either a call-back request or emails, and can call you directly from the website.
Social media connector
The social media connector, as well as the integration of email and web forms, enables you to check client requests from phone calls, Facebook, or Twitter and respond from one place. Your calls, emails, direct messages, and mentions on social media will automatically be turned into 'tasks' and added to the activity queue so you won't miss an important message.
Available only in MightyCall virtual phone system!
Webphone
With MightyCall you don't need a phone (none!) to communicate with clients via your business number. MightyCall's webphone is embedded into your service profile web panel. The webphone allows you to:
make and receive calls through your business number,
forward calls to someone else,
create conference calls,
communicate smoothly with your team.
Available only in MightyCall virtual phone system!
Availability status
A MightyCall user can set their personal status as "available" or "do not disturb" to inform colleagues whether he/she is ready to receive a call.
This is convenient for internal communications: everyone can see whether his/her teammate is available to talk and it makes the customer experience better. Since MightyCall doesn't forward incoming calls to busy managers, the time taken to answer is reduced.
Flexible Call distribution
Don't confine your business's possibilities; with Flexible Call Distribution you can adjust how your company fields phone calls to maximize your operation. Whether you want an equal approach of either all your phones ringing simultaneously or ringing in circular order through your staff, or you'd prefer to route calls directly to managers or available workers, Flexible Call Distribution ensures you have control.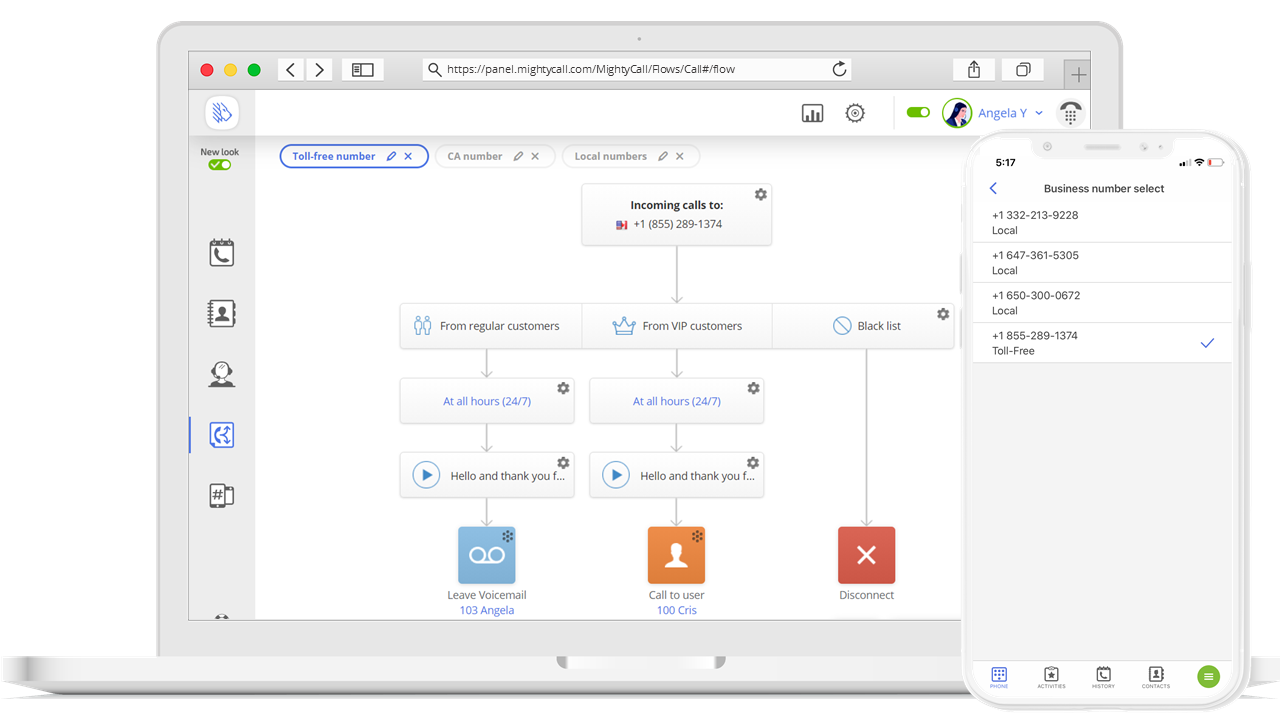 Existing number transfer
MightyCall offers a lot of numbers to choose from, both local and toll-free.
But if you already have a virtual number that you like and is working for your business, we're more than happy to port it into MightyCall for free so you can keep using it.

4 out of 5 stars

4.2 out of 5 stars


4.5 out of 5 stars

4.2 out of 5 stars