MIGHTY30
Aircall vs MightyCall?
Aircall vs MightyCall: c

apabilities comparison
Aircall

Price per month
$ 49.99* flat
$ 30** / user
Minutes Included
Unlimited
Inbound – unlimited
Outbound – per minute
(toll-free excluded)
Long-term contract
No
Yes
Texting
Yes
Yes
Users
Unlimited for free
$ 30/user
Local or Toll-free numbers
5
1
Business hours
Yes
Yes
Call forwarding
Yes
Yes
Conference calling
Yes
Yes
Call recording
Yes
Yes
Voicemail
Yes
Yes
Music on hold
Yes
Yes
Contact book
Yes
Yes
CRM functionality
Yes
Yes
Deskphone integration
Yes
No
Call back widget
Yes
No
Click-to-call widget
Yes
No
Social Media tracking
Yes
No
API
 No

Yes

*Standard plan
**Essentials plan
Aircall's Overview
Aircall is a French startup that launched in 2014. Despite only being around for half a decade, the company has found a significant niche in the VoIP market, creating a customer base of thousands of businesses. Whether the chicken or the egg came first, that has helped the company raise approximately $40 million in venture funding.
That funding has allowed Aircall to expand rapidly, as they currently have offices in both Paris and New York, as well as a group of employees in both the United Kingdom and Germany.
With that kind of financial support, they've had success operating on a mission statement of making "phone support as easy to manage as any other business workflow," largely by connecting it to other CRMs and business tools.
The array of integrations Aircall has available is really the system's crowning achievement as of now. Likewise, the one-click setup to activate various integrations makes using the system quite straightforward.
Looking at the bigger picture, it's clear Aircall is a high-end option for those in need of a virtual phone system. While it has user-friendly things in its favor such as easy, hardware-free setup and a free trial, it's an expensive system. That isn't to say the price isn't worth it, but it is hefty when compared to most of the VoIP market.
First off, Aircall is designed to be a team system, with much of its functionality revolving around that fact; as a result, they require at least 3 users for sign-up (this is done a few ways, one of which is requiring company email addresses upon registering).
Secondly, Aircall has long-term contracts dangling in front of prospective customers at a lower average rate than month-to-month payments; still, a long-term contract is never good for the customer, and for a company that notes easy scalability on its own website, there's some cognitive dissonance there.
Aircall's Plans
Nevertheless, on to the numbers!
Aircall's "Essentials" plan, which is described as, "the minimum needed to get your team's operations up and running," is $30 per user per month annually ($40 per single month)
"Professional" plan is $50 per user per month annually ($70 per single month).
It's key to note the "per user" part there—with a minimum of 3 users allowed that means a business will be paying at least $90 per month on a long-term contract for the Essentials plan and at least $150 per month on a long-term contract for the Professional plan. Custom plans are advertised, but you need to call for details; presumably, that is more geared toward large businesses with 20+ employees that would grimace at dropping $30 per person per month.
For all of Aircall's plans, inbound and internal calling is unlimited, but external calling is charged per minute. That means that unless your business only takes calls and doesn't make any, you're going to end up paying even more than $90/$150 a month. The base price is only for 1 number as well, with extensions and team-oriented tools that allow multiple people to take different calls simultaneously.
While Aircall has the majority of features that VoIP has to offer and a mobile app (that even positive reviews note is a bit clunky), it runs solely on a person's internet connection, making on-the-go communication a little riskier.
All in all, Aircall provides customers with a valuable product, but is the price always worth it? When compared to cheaper alternatives that have many if not all of the same features, like MightyCall, that is the question you need to ask yourself: Is paying triple or quadruple the price a good idea when the value provided gap isn't nearly that big?
Aircall vs MightyCall
MightyCall's Basic and Standard plans clock in at a flat $29.99 and $49.99 a month, respectively (we won't ever lock you into a long-term contract, either). Our Basic plan includes 2 local or toll-free numbers, unlimited extensions and 1000 talk minutes; our Standard plan includes 5 local or toll-free numbers and unlimited extensions and talk minutes.
We provide both toll-free numbers and even vanity numbers free or charge, an uncommon thing in the VoIP industry. While Aircall offers more features and integrations overall than MightyCall, our system has plenty to offer, unlike more bare-bones providers like Line2. Everything a small business absolutely needs to control its customer communications are included in both MightyCall and Aircall's systems, even if under slightly different names.
However, going beyond VoIP can bring inherent value to any small business owner. MightyCall now has the Contact Book PLUS, which brings the system's capabilities into line with a mini-CRM. Through extensive note-keeping right on your contact lists and pages, you can do even more for your business organization.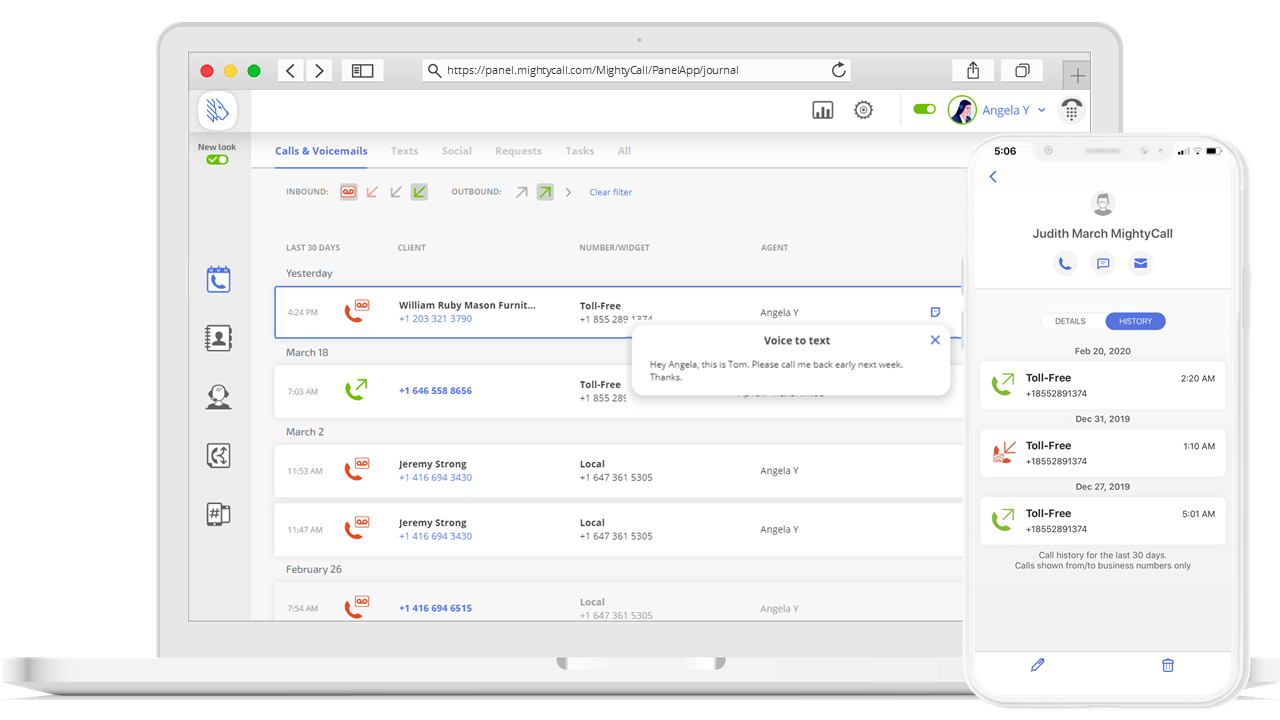 If you're a solo entrepreneur or run a small team (less than 5 people), then MightyCall is a better bet (especially since you need 3 people to register for Aircall) for your company.
Likewise, if your company is still young or happens to be going through a rough patch, saving $100+ a month with little to no drop in services provided is a huge win for you. After all, MightyCall uses internet connections to run a majority of calls too, meaning there will be little difference in call quality since your internet connection is the key for both systems.
Verdict
If your small business is doing great and you have a decent group of employees, maybe you can afford to drop $200+ a month, but regardless, the target audience for MightyCall and Aircall doesn't overlap much. Your job is knowing which is more appropriate for your business.
What customers say about MightyCall

4 out of 5 stars

4.2 out of 5 stars


4.5 out of 5 stars

4.2 out of 5 stars