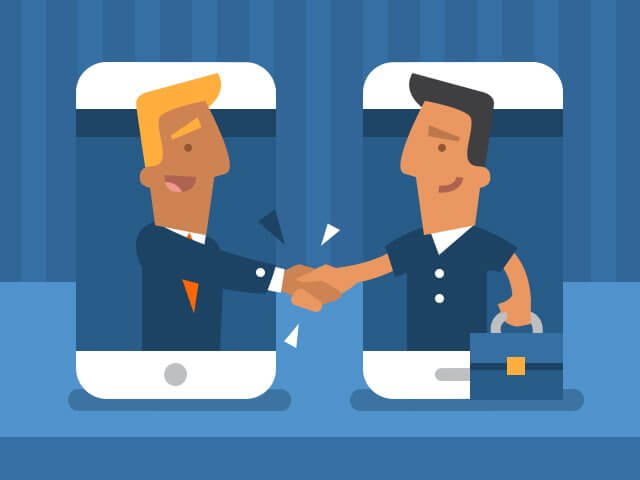 Origin Stories of six Social Media Giants
---
One-in-four startups fail within the first year. Of the companies that survive their first year of business, one-third won't see their fifth. Startups crash and burn all the time, and even the most successful CEOs have experienced failure. The companies that make it often have a few things in common: great leadership, encourage innovation, and (most importantly) embrace and adapt to change.
Take a look at six social media giants and how they adapted to change to achieve their success.
Adapting to Change

Twitter / ODEO
Original Idea: Twitter originally started as a company called Odeo, which was a podcasting platform.
What Happened: iTunes 4.9 launched it's podcasting capability which left Odeo dead in the water. It's hard to compete with an established giant with millions as it's budget — so they had to abandon ship.
New Idea: The three founders came up with the idea of an individual using an SMS service to communicate with a select group of people by texting 40404. This concept is what they called twttr which transformed into the Twitter that we know today!
From the Founders: "I think the biggest thing to do — the hardest thing to do — is start. You have all these ideas and everyone has an idea but it's really about executing the idea and building the idea and attracting other people to help you work on the idea. That is the biggest challenge. But the way to begin is to get the idea out of your head, draw it out, talk about it, program it if you're a programmer or make it if you're building something." — Jack Dorsey
Three Fun Facts:
The name was chosen because Twitter is defined as "a short burst of inconsequential information," and "chirps from birds." And that's exactly what the product was.
Originally named "Twttr" because it fit the five-character length of American SMS short codes.
The reason why each Tweet is only 160 charcters is because that's the length of an SMS, (Short Message Service)
Instagram / burbn
Original Idea: The founders started a project called Burbn. It's functions were to let users check-in to locations, post pictures and earn points for hanging out with friends.
What Happened: They decided that Burbn was too cluttered with features and decided to focus on it's most popular feature, photo sharing.
New Idea: They scrapped Burbn, almost entirely,  to build an entirely new app from the ground up. They wanted to turn it into a platform that would translate photography from being a form of self expression into a form of communication. Thus, Instagram was born!
From the Founders: "Over time what you do is you simply take in data about what your users are doing and you focus on the stuff that people love the most. The second we focused on the photos with the filters, it became a phenomenon." – Kevin Systrom
Three Fun Fact: 
The founders settled on the name, Instagram, as a combination of "instant" and "telegram."
Hashtags were added in January 2011 to help users discover photos.
15-second video sharing was added in June 2013 to attempt competing with Vine.
Snapchat / Pictaboo
Original Idea: Snapchat, originally named "Pictaboo" started as the founders class project at Stanford University. Their classmates thought the idea of disappearing photos would not work because the purpose of the photo is to be kept.
What happened: The name was changed during the app rebrand because it was so close to Picaboo, the web-based image publishing and printing service.
New Idea: Their idea remained the same, as these guys were the first with this idea and obviously was a great one. They did have a Facebook-esk beginning where one of the founders was cut-out just like we saw in the Social Network. Read about it here, after you finish this article of course.
From the Founders: "…innovation is at the core of consumer technology, and if you are not able to innovate you are by nature a fad." — Evan Spiegel
Three Fun Fact:
The app's mascot is called "Ghostface Chillah" a name derived from Ghostface Killah of the hip hop group Wu-Tang Clan. You can follow his Twitter — but there is nothing there.
The founders attempted more than 30 projects before the success of Snapchat.
The idea of disappear photos was inspired after one of the founders friend's regretted sending a photo to a girl. We all know what that means.
Vine / Vine
Original Idea: Vine originally started as a program to easily cut and edit video shots together. It also used to have no time-limit.
What Happened: The founders' friends gave it to their friends first. They liked it the app but didn't like that they couldn't share their videos over text message because they were too long to send. Also, the app crashed a lot.
New Idea: To solve the sharing problem, they cut the video length down to 6.5 seconds so it was quick and easy to share. But because of the short video run time, the loop was added so it didn't feel anticlimactic.
From the Founders: "Being rich is better than not being rich, but it's not nearly as good as you imagine it is." — Dom Hoffman
Three Fun Facts:
Vine's website is Vine.co because Amazon owned Vine.com and wanted $500,000 for the domain. Half a million dollars for the letter "M" — I'd pass too.
Reportedly named Vine because it's short for Vignette, which is defined as "a short impressionistic scene."
Vine's logo connects the "V" and "I" in its name in the same way a vine loops and wraps itself around a tree. Pretty clever! Some people say that if you flip the logo upside-down, it displays the number of seconds you mini-video can be: a "a six" — but I don't buy it.
Pinterest / Tote
Original Idea: The idea started as an app called Tote, which was a catalog that was on the phone. Sounds very Pinterest-esk, right?
What happened: Tote slowly faded away afters it's launch — but the essence of the idea lived on. Pinterest was basically a big online catalog that you could collected yourself. But what really changed the company wasn't even their idea, but an idea of their users. In May 2010, a woman organized a program called "Pin It Forward" — which was a "chain letter" where bloggers would exchange pinboards about what home meant to them. The popularity of this was the company's "a-ha" moment.
New Idea: The founders believed that the things you collect say so much about who you are. It also wanted to be a place where people discover beautiful things they didn't know they were looking for. These ideas coupled with sharing your pins created an empire.
Advice from the Founders: "Don't take too much advice….Most people generalize whatever they did, and say that was the strategy that made it work…In reality, there's very little way of knowing how various factors contributed to success or failure." — Ben Silbermann
Three Fun Facts:
79% of Pinterest users are women. Are you suprised? We're not.
The woman who organized "Pin It Forward" was hired as the company's community manager.
Pinterest generates over 400% more revenue per click than Twitter.
 
Linkedin / SocialNet
Original Idea: The original founders had started a company called SocialNet. Built in 1997, SocialNet, was a website to help you connect with people. Not only could it help you find a date, it was also used to help you network, find roommates and even helped you find a tennis partner in a section labeled, "Just Play" — which was a horrible name for a social site; sounds like the personals on Craigslist.
What Happened: (We a tough time finding information about SocialNet) The website never gain much traction. It seems that it was eventually abandoned entirely or they re-branded to a dating site, currently called Spark.
New Idea: To create a world where people are doing what they love, not just what they have to. Where professionals understand that the work they do is one of the most significant ways in which they can contribute to their communities and the world.
From the Founders: "I discovered it's most important to get your product above the noise so that people can encounter it. If you're not embarrassed by your version one release, you released it too late. There are a very small number of complete product geniuses that can labor in the dark for years and kinda pull off the sheets and say "ta-da!" and it's the right thing and everybody uses it." — Reid Hoffman
Three Fun Facts:
The average age of a LinkedIn user is 41 years old.
LinkedIn has over 200 million members worldwide.
75 out of the Fortune 100 companies use LinkedIn as their primary source for hiring.
The Take Away: If you've been thinking about starting a business, then get started now. You're not going to release the perfect product on your first try. Get it out there; adapt and change your vision along the way.