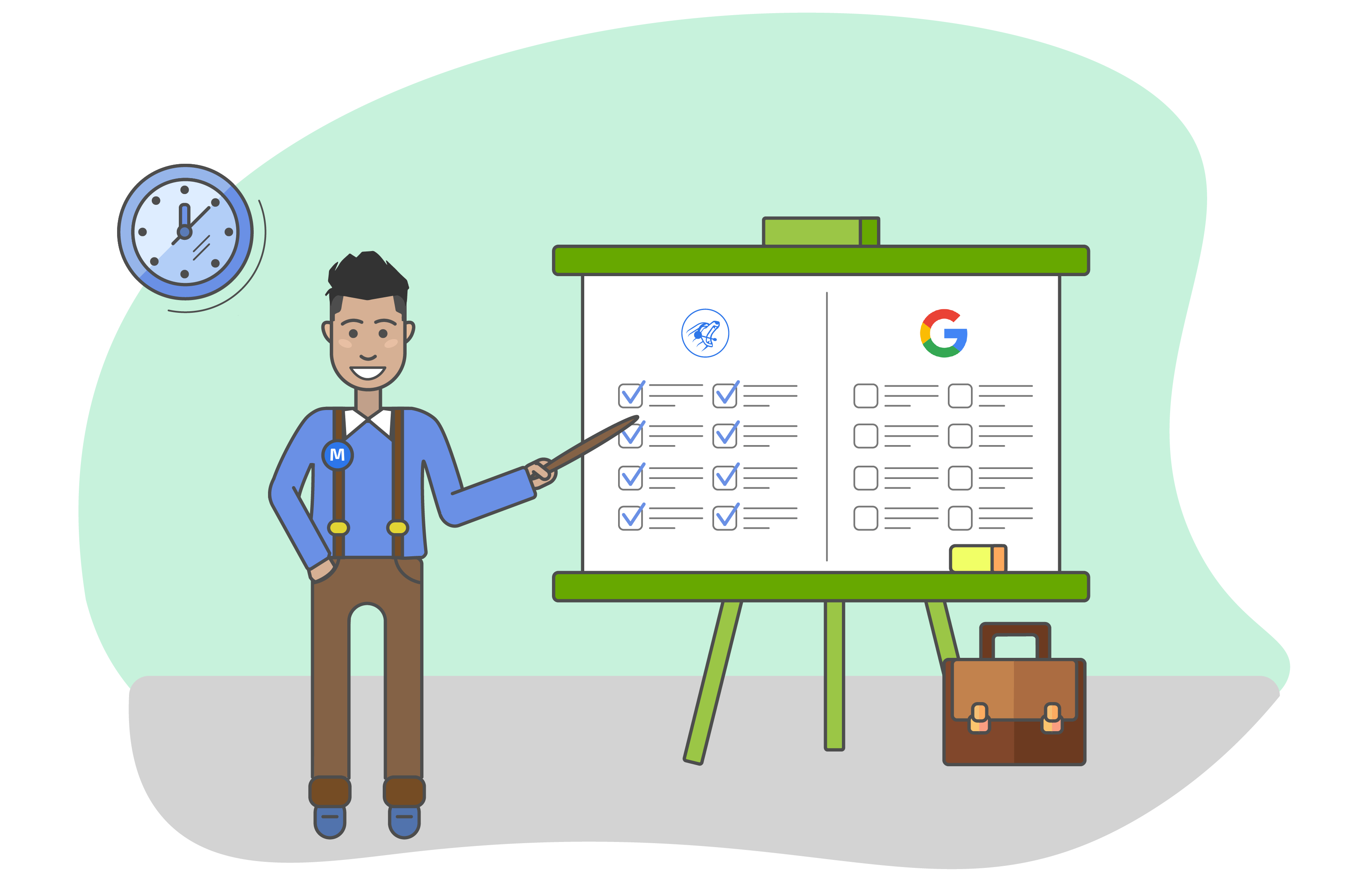 Eight Ways MightyCall is the Best Alternative to Google Voice
---
In this article we cover:
Google Voice can't help you the way MightyCall can
In the not-so-recent past the majority of people considered voice-over-IP technology an unexplored novelty suitable only for tech-savvy users. However, over the last decade VoIP communication has become a viable and affordable alternative to mobile carriers, both for personal and business use.
In contrast to the mobile monopoly of the past, today small business owners and freelancers are facing the opposite problem: there are too many VoIP providers to choose from. Some of them are long-established projects of internet corporations, while others are smaller independent services. One of the best-known VoIP providers is Google Voice, so let's find out how it compares to MightyCall.
Google Voice: The Rise and Fall
Google was one of the first corporations to explore the field of voice-over-internet protocols. In 2009, the internet-giant acquired a project called GrandCentral. After a couple of improvements, it was launched under the name "Google Voice" and enabled Google account users to make calls via the internet.
In the early days of VoIP technology, the idea of a virtual phone number associated with a user and not a cellphone was amazingly revolutionary. It eliminated the need to worry about phone number porting when switching from carrier to carrier, allowed someone to use a single number for multiple devices, and was extremely affordable.
Many people have been using Google Voice for years, but what if it's time for a change?
Let's face it: however innovative Google Voice seemed in the past, now it is lagging behind its competitors. Actually, it's dying. Recently, we've witnessed Google toying with its Hangouts messaging client and designing an ambitious, yet highly-controversial Project Fi ― but nothing has been done for Google Voice. Such stagnation is a death knell up against rapid technological advance.
Yet, Google Voice works and some people use it out of habit. Yes, it is still a feasible solution for personal communication needs, but its business functionality has never been developed.
At the very beginning, Google Voice was just a side project and Google wasn't going to invest massive engineering efforts and funding in it. That's a common fault of internet-giants: launching a lacklustre side service that becomes popular not because of its quality, but due to a company-wide marketing policy. Being great in one field does not instantly make a company proficient in another (even adjacent) industry. A company which manufactures fighter jets will hardly design a good passenger plane and vice versa― although both machines fly and have wings, the requirements are utterly different.
From the very beginning, MightyCall's virtual phone system was designed specifically for individual entrepreneurs and small business owners. We study the needs of our potential customers incessantly and update our product accordingly. MightyCall features a wide spectrum of functions aimed at efficient call processing, reducing communication expenses, and increasing entrepreneurs' and small business owners' profits.
What can MightyCall do for my business?
The MightyCall team understands that the most vital aspects of a flawless customer experience are: the proportion of missed calls, the time it takes to answer, and accessibility. Google Voice doesn't consider these finer details of running a business, so why should you count on it?
Here are a few examples of what we provide to enhance these aspects:
Many concurrent conversations. Google Voice only enables a single incoming conversation.
An interactive virtual receptionist (IVR), helping to reach a particular person/department quickly;
Four algorithms of call forwarding: a flexible setup to reduce call answer time in different conditions;
Detailed statistical data to determine the communicational efficiency of a particular employee, department or a company as a whole;
Website widgets and social media integration to fully utilize the potential of the internet;
Efficient team collaboration with internal calls, conference calls, multiple extensions, presence status, task lists, etc.
Why is MightyCall a better alternative?
1. MightyCall contributes to your professional image
Think about 2 email addresses: johnnythephotographer1987@gmail.com and johnsmith@photoart.com.Which would you trust more to do work for you?
MightyCall offers the same kind of branding. We supply a variety of virtual phone numbers to satisfy any demand: a choice between a local number, a vanity number (with an easily-remembered sequence of digits), or a toll-free number. With Google you only get a very limited choice of ordinary sequences.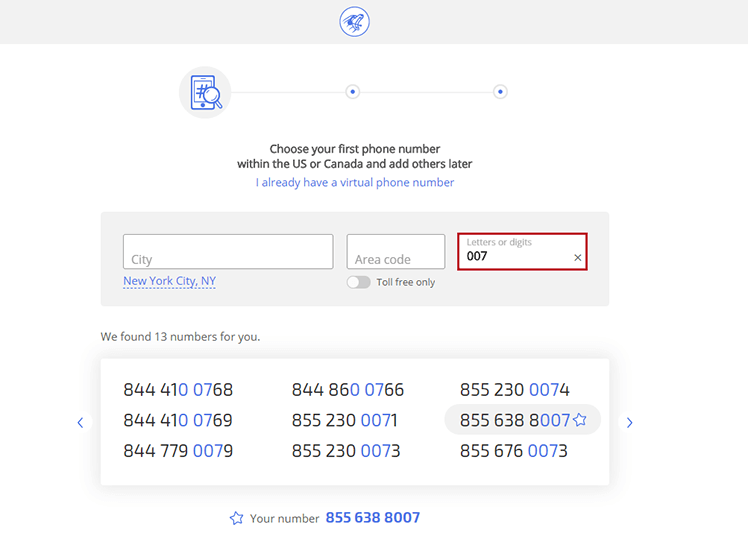 2. MightyCall is a feasible alternative to a professional PBX
Google Voice is not a consistent call processing system In contrast, MightyCall is a feasible alternative to a professional PBX. We are able to provide 45 channels to your virtual phone number, while Google has only one.
With all these channels MightyCall can offer unlimited extension numbers to all your departments and team members to be directly accessible through a single call processing system. Just add a short combination to forward a call to their devices (landline, mobile, internet telephony).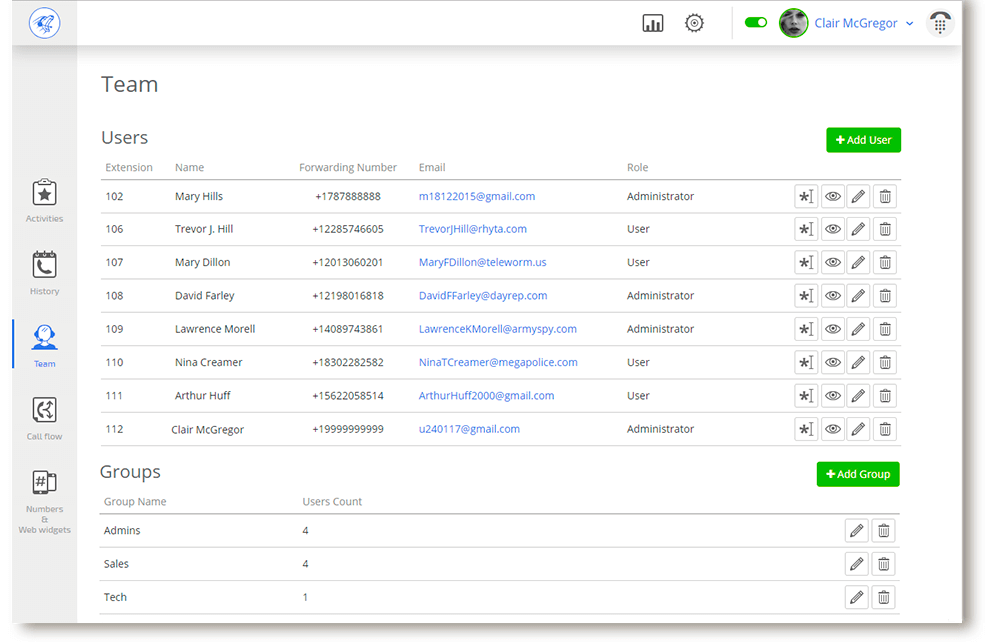 3. Stay in control with call forwarding
As for automated call forwarding, our system is more versatile: you can configure the system to ring all your devices simultaneously, in sequence, or according to a custom algorithm; Google Voice only lets you configure one method. Small businesses require constant attention, so calls can also be forwarded to any location you specify.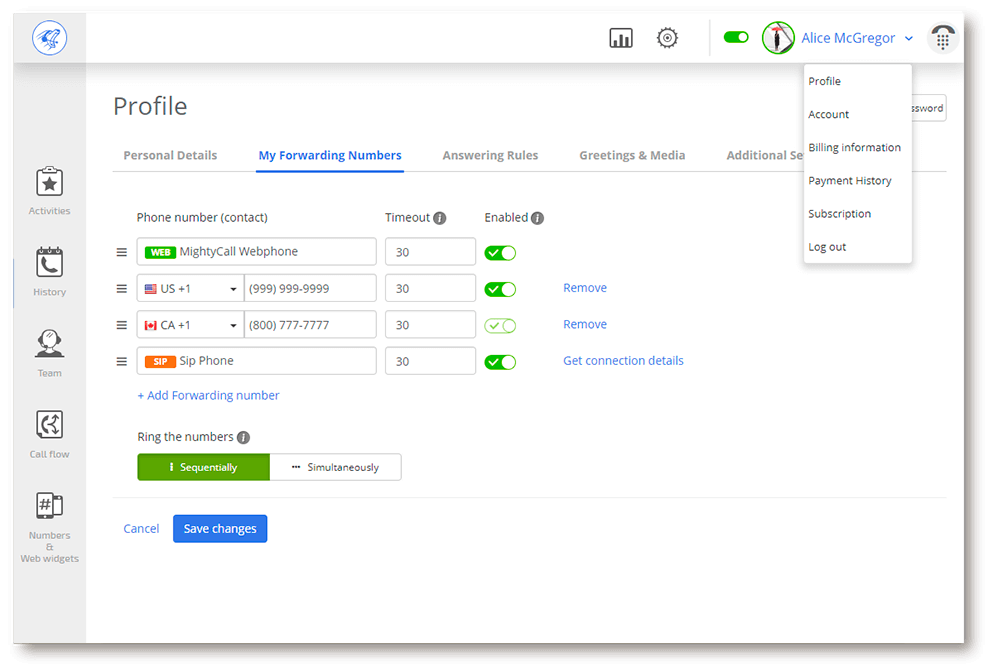 4. Never miss out on a call
With Google Voice, you can set your number to stop forwarding calls when business hours are over, so anyone calling in the evening ends up without a response. In contrast, our virtual phone system offer the ability to set business and non-business hours so you can choose when and how you cover calls. During non-business hours, callers are prompted to leave a voicemail, so you can handle it accordingly in the morning. Moreover, with a bit of tuning, you can create a VIP list of numbers and allow the callers from the list to reach you regardless of time. You'll never lose a call!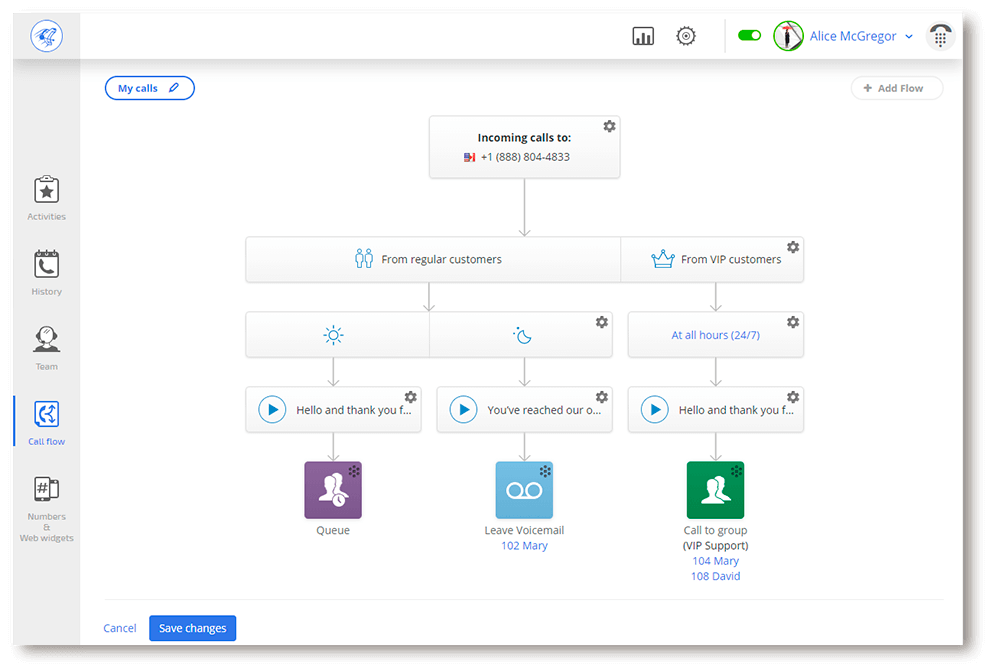 5. An auto-attendant saves you resources
Small business owners often don't think about call avoidance. Big corporations, however, started avoiding calls a long time ago, after they calculated the cost of settling a single issue on the phone. Human operators are dramatically inefficient in terms of cost. That's exactly why it is so hard to get to a live operator via a hotline: customers are repeatedly encouraged to use one of the available self-service options. Accordingly, Google Voice also doesn't offer direct customer support, forcing users to use a forum for problems.
If you feel like answering calls and repeating the same information over and over robs you and your team of valuable time, start using MightyCall's auto-attendant. Not only can you configure the voice menu to forward an inbound call to a desired department/employee, but you can also relay tons of essential information like your business hours, frequently asked questions, availability of certain services, etc. to your callers. A caller gets information he needs and you don't have to reiterate on routine tasks better suited for a robot: everyone is happy.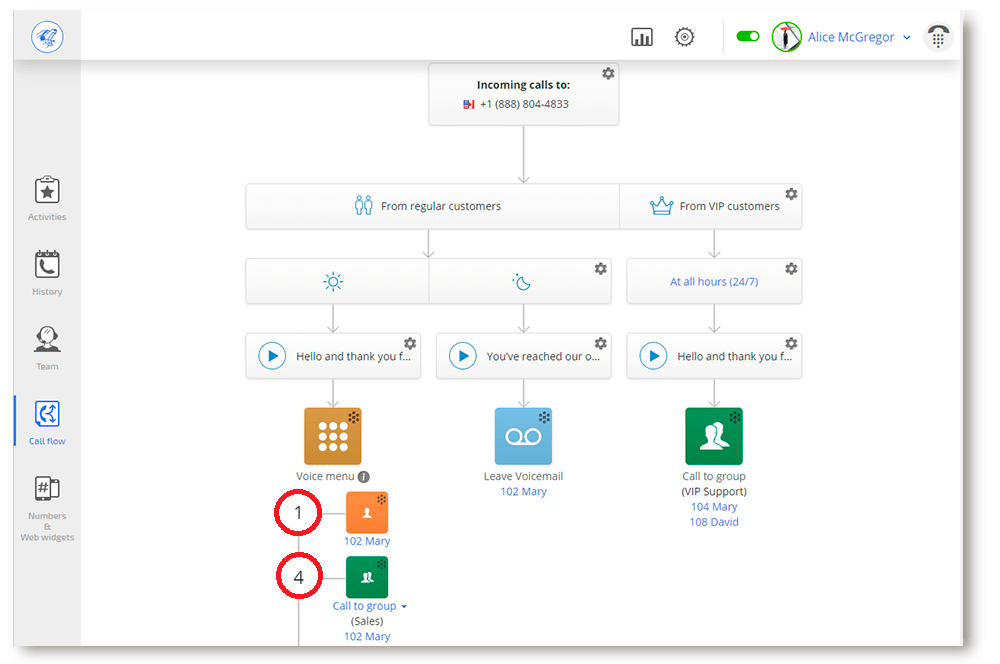 6. WordPress widgets that make your website pop
Another way to save time is developing your website ― let the potential customers find out answers to their questions themselves, place an order, or find your location on a map. But what does that have to do with MightyCall?
Well, we have something else that Google Voice lacks: exclusive complementary WordPress widgets fully supported by our system. Thus, a neat-looking Contact Us widget lets you provide explicit contact information in a compact, stylish manner. Mark your office on a map, post your business number, business hours, social media profiles, photos and more. If a visitor wants to call your company, they can do it instantly without even picking up the phone: our Click-to-Call widget does the job.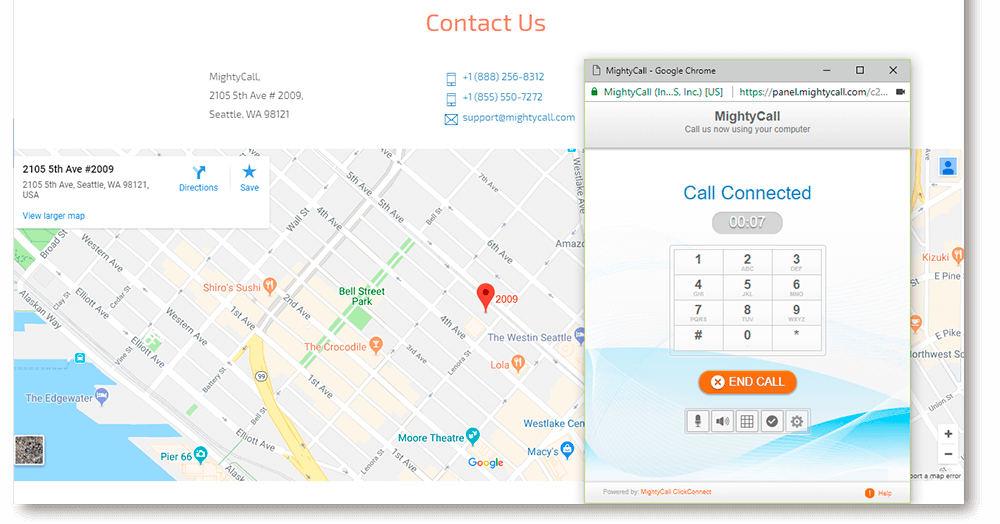 Click-to-Call allows people to dial your business number via VoIP and leave a message or a call-back request. And what is amazing is that you can receive all the messages on your MightyCall mobile application and even assign them to other team members. It is even possible to connect your MightyCall account to social networks to monitor tweets and posts related to your business. Thus, your mobile phone becomes a truly multi-purpose, yet easy-to-use communicational Swiss Army knife.
7. Analytics ensure you can craft the best customer service…
For the head of a small business, being in control of your own staff is vital. Our dashboard provides all the communication statistics in one place in an easy-to-analyze manner. You can evaluate the answered/missed calls ratio, outgoing vs. incoming calls, messages and much more.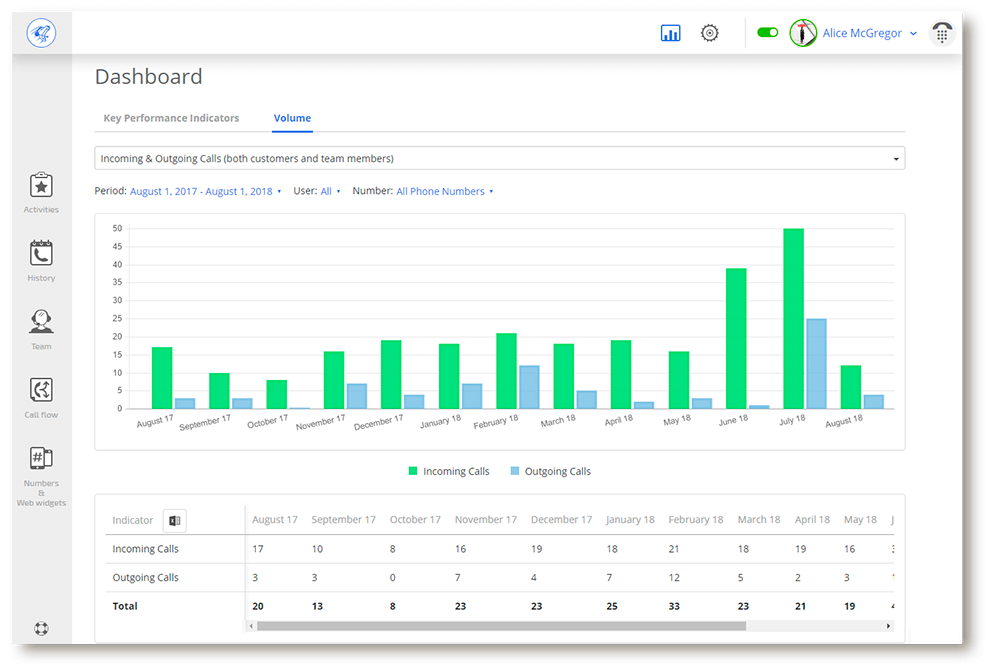 With MightyCall's dashboard you will always be aware of which team member is most successful and which has been struggling, as well as which approaches work as planned and which ones require tinkering. You can also post notifications and to-do lists for employees.
8. …Not to mention our customer service
In terms of reliability and user support, MightyCall also has the advantage. For the reasons mentioned above, Google Voice users get support only through internet-forums (that's Tier 0) while we provide Tier 3 B2B support. You can rest assured that in case a problem occurs on our side, we'll deal with it as fast as possible.MightyCall is a professional communication solution specifically designed to satisfy the demands of individual entrepreneurs and small/medium business owners. We never stop striving to update our product and make it the best it can be, for us and for you.
Google Voice is a long-neglected product of a global corporation. Modern business communication simply requires more functionality and attention than Google Voice has to offer.
Follow the link for a special offer and more information on Google Voice and MightyCall.
But don't just take our word for it…
«I also like that MightyCall can have all our cellphones ring at the same time so we don't miss calls, and when I call out using the free mobile app, it looks like I am calling from our office number.»
— Benoit Haber, Partner, Opeus
Learn why WeWork members picked MightyCall as alternative to Google Voice
Special offer on MightyCall
Pick the right plan for your business
Get a 50% discount on MightyCall for your first 3 months.
If you already have a virtual phone number, we can port it in for free so you can keep using it.
All plans include
Unlimited Extensions

Unlimited Text Messaging

Customizable Call Routing

Auto-Attendant

Webphone

Conference Calls

Call Queues

Voicemail to Email

Custom Greetings

Performance Reports

Facebook & Twitter Integration

Web Widgets
30 day money back guarantee

No long term contracts

You can change your plan anytime