MightyCall vs RingCentral
RingCentral vs MightyCall
Both MightyCall and RingCentral are robust and feature-rich cloud communications services for business.
RingCentral is more targeted to the corporate market. It contains more features related to collaboration and communication support of business processes
MightyCall is more targeted to the small business market. It has unique features related to communications with customers and customer service. See features comparison
MightyCall is noticeably cheaper for most users. See price comparison
What is RingCentral
RingCentral is a cloud-based business communications system. It promotes 2 products analogous to MightyCall: "Office" and "Professional". The main difference between the two is that "Office" provide services analogous to feature-rich PBX for permanent offices. The "Professional" is targeted more towards a mobile business, with a simple routing process for receiving incoming calls.
RingCentral strong points
Both MightyCall and RingCentral have a rich feature set for team collaboration and communications support of business processes: extensions, groups, internal calls, presence, etc.
Still, RingCentral "Office: has extra features, valuable for collaboration support and enterprises: video, large conferences (not for the lowest tariff), some integrations, sign-in with corporate credentials. Another RingCentral service, "Professional", is targeted to mobile users and is poorer in features. "Professional" lacks such features as business SMS, conferences, automatic call recordings, presence, inbound caller id, integration with SalesForce.
MightyCall advantages
MightyCall has more features to improve customer service and communications with customers. Among them are features absent in RingCentral:
Dashboard with figures about quality of service: the proportion of missed calls, time-to-answer, conversation duration. You can analyze these data from different viewpoints: at a company, group or personal levels for arbitrary time intervals. Ordinary reports about incoming, outgoing, internal calls and voicemails are also available.
More flexible call forwarding. Methods of call distribution within the group of coworkers should reflect the established business rules of customer service. MightyCall supports all 4 base methods of call distribution: simultaneous, round-robin, by qualification, freest first. RingCentral supports only two. Time-base routing, caller and called id call routing are available in both companies
Integration with email, Facebook, Twitter, Web forms. It enables you to check client requests from phone calls, emails, web forms, Facebook and Twitter and respond from one place. Your calls, emails, direct messages, and mentions in social media will automatically be turned into tasks and added to the activity queue.
"Contact us" and Click-to-Call widgets for client's website. "Contact us" widget is easy to install and portrays your business information in an easy-to-read, attractive way. Your customers will be able to send a callback request, emails, and call you directly from the website. RingCentral has only simple Click-to-Call widget.
Price comparison
RingCentral "Office" price structure is based on features sets and the number of users. Calls to local numbers are unlimited, though call volume to toll-free numbers is limited depending on tariff plan.
For most companies, traffic doesn't usually exceed MightyCall tariff plans limits. For these companies, price dependence on the number of users takes the following form: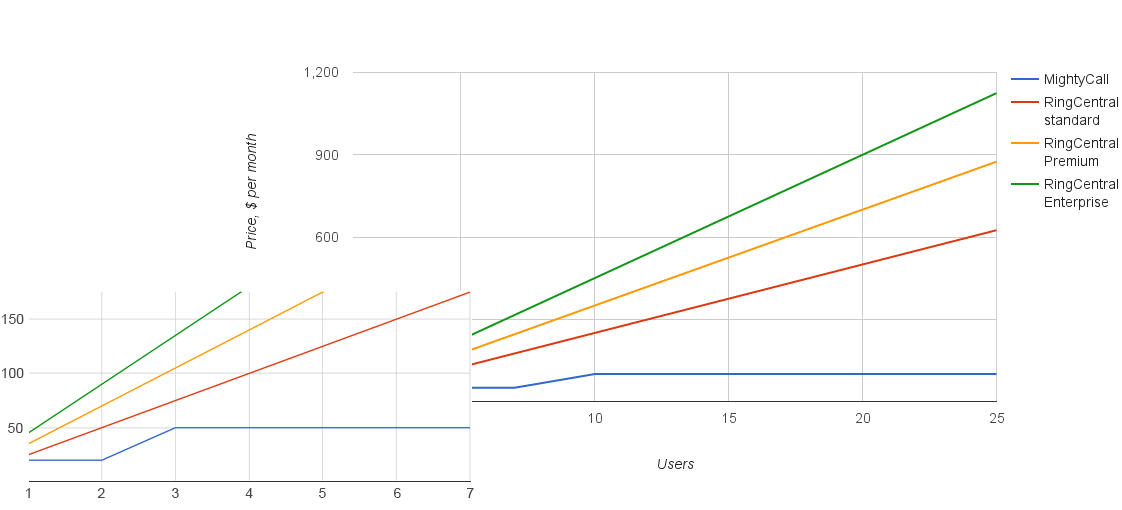 For companies with increased traffic volume, price superiority of MightyCall is diminishing. The next graphic depicts the domains of MightyCall (blue) and RingCentral (red) price leadership for the case of the cheapest tariff of RingCentral "Office".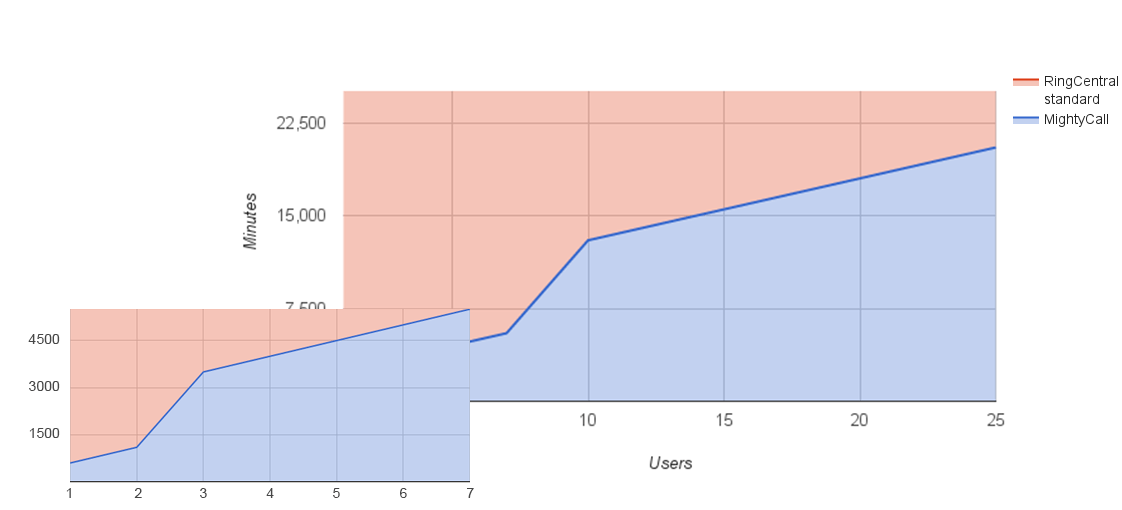 For the most reasonable call volumes, MightyCall is cheaper than RingCentral "Office".
RingCentral "Professional", poorer in features, is priced differently from "Office", on the basis of call volumes. On the whole, MightyCall and RingCentral "Professional" have a similar level of prices. In some situations, MightyCall is cheaper, in others, RingCentral "Professional":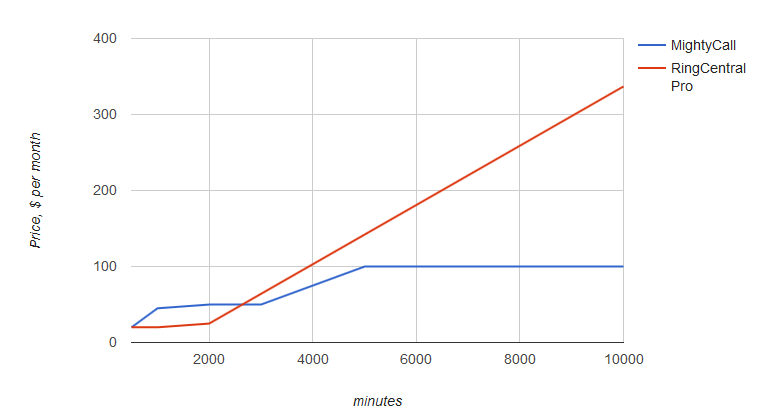 Summary
Mightycall is cheaper than RingCentral for most clients.
RingCental is more for medium and large business esp for team collaboration support.
MightyCall is clear choice for SMB esp for customer service and sales support.