MightyCall vs RingCentral
RingCentral vs MightyCall
RingCentral offers 2 services, Office & Professional. When they tout the majority of their service numbers, they're referring to their Office solution. However, there's a significant service gap between those plans. Office is suited for medium and large businesses looking to synchronize their communications (something evident by the types of companies that use it), but often requires some hardware, while Professional is geared towards freelancers and solo entrepreneurs; the middle ground, for small businesses, isn't well attended to by either of those plans.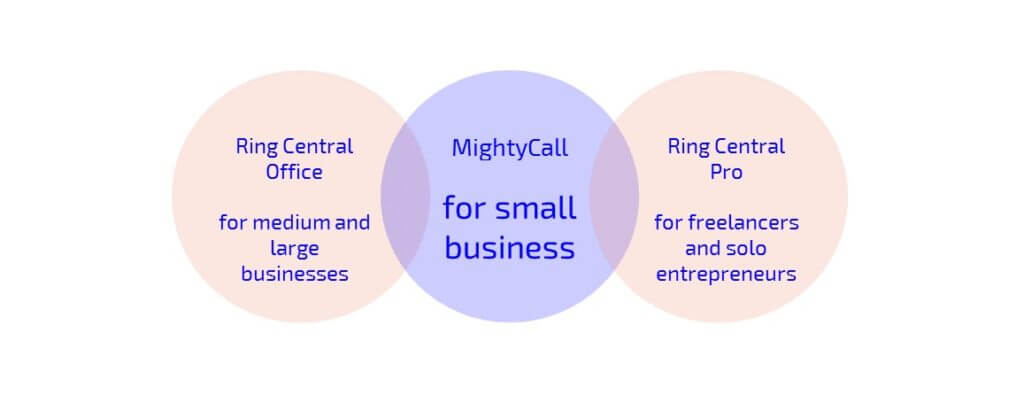 MightyCall works perfectly for that middle ground, and even provides a fantastic alternative for freelancers and solo entrepreneurs. For the sake of a proper, apples-to-apples comparison, we'll quickly look at MightyCall versus the different price plans for RingCentral's Professional solution—Pro at $12.99 a month, ProPlus at $19.99 a month, and the Office All-in-One Standard at $34.99 a month.
Pro & ProPlus vs. MightyCall's Basic plan
After recent changes to both the Pro and ProPlus plans, neither one features outbound calling anymore. Basically, on these plans you can't use your device to initiate calls through your business number—you can only receive them. The idea of any company taking away such an integral part of a product is ludicrous.
You'd think these plans would have incredible functionality to compensate for missing half of the phone's essential capabilities, but they really don't. There are the bare bones of a virtual phone system, but features promoted on the RingCentral front page such as conference calling and team collaboration software aren't available here. Neither plan includes texting either.
Basic plan
RingCentral Pro
RingCentral ProPlus
Price per month
$ 19,99
$ 12.99
$ 19.99
Minutes Included
1 000
300
1 000
Inbound/outbound calls
Yes

Only inbound

Only inbound

User extensions
Unlimited
2
5
Local or Toll-free numbers
2
1
1
Vanity search
Yes

$ 30

$ 30

Texting
Unlimited

No

No

Business hours
Yes
Yes
Yes
Call forwarding
Yes
Yes
Yes
Call Queue
Yes
Yes
Yes
Conference calling
Yes

No

No

Custom main greeting
Yes

No

No

Webphone for In/Out Calls
Yes

No

No

Softphones support

No

Yes
Yes
Hardphones support

No

Yes
Yes
Internet fax
Yes

No

No

Click-to-Call Widget
Yes

No

No

Contact Us Widget
Yes

No

No

Call Back Widget
Yes

No

No

Social Media tracking
Yes

No

No

International numbers

$10 extra

No

No

International Calls
Yes, pay-as-you-go
Yes, pay-as-you-go
Yes, pay-as-you-go
For $12.99 you get 300 talk minutes, 1 virtual phone number, and 2 extensions;
for $19.99 you get 1,000 talk minutes, 1 virtual phone number, and 5 extensions.
What you get with MightyCall's Basic plan exceeds both RingCentral options:
1,000 talk minutes, 2 virtual phone numbers, 99 extensions, and unlimited texting for $13.99 (if you use our special offer)
It's the same amount of minutes at the same price as ProPlus, but with an extra number, way more extensions, and without the crippling 'no outbound calls' reality of RingCentral's plans.
If you want to know more about the industry at-large and your choices, here is a bird's-eye view of the Business VoIP market: Your Mega-Giant Guide to the Most Popular VoIP Providers
Office All-in-One vs. MightyCall's Standard plan
Office All-in-One, which aims to fit the bill for small businesses, is a good system at a good price. However, it's too much for most solo entrepreneurs and not flexible enough for most small businesses. It has team collaboration features and what's billed in the Office plan as 2,500 talk minutes, but it still only offers 1 phone number and 10 extensions. For $34.99 a month you're still not getting the maximum power and feature-rich system that successful small businesses need.
MightyCall's Standard plan is more expensive, at $49.99 a month, but again, you get more with 5,000 talk minutes, 5 phone numbers, and 99 extensions. For businesses with multiple locations or a lot of call traffic, 1 number is going to be swamped, and 10 extensions might not even ensure every employee has their own.
General Differences
In/Out calls
While 2 of RingCentral's 3 Professional plans don't offer outbound calling, you can make and receive calls a number of ways with MightyCall, including our custom web phone. The web phone lets you manage everything straight from a browser or the app so you're never at a loss.
Social media integration
RingCentral has Google integration, but considering Google Analytics is free for companies, that may not mean much to you. MightyCall offers social media integration with Facebook and Twitter to keep your company connected to every part of the social conversation, not just people directly calling you.

Web widgets
MightyCall's web widgets also help you make your website a vital, interconnected part of your business's identity. The 'Contact Us' and 'Click-to-Call' widgets make your business easy to contact and connect to.
Trial period
It's normal to explore different virtual phone systems as you decide what's right for you, and most companies in the industry try to accommodate that. RingCentral offers a 7-day free trial, while MightyCall has a 30-day money-back guarantee. Quite frankly though, a week is not enough time to see if your phone system is properly helping your business.
RingCentral is a good, reliable system, but it doesn't work as seamlessly as it could for small businesses, and its Professional options don't measure well against competitors. If you want plans and flexibility that better fit you, make the switch today.
If you're already a RingCentral (or any virtual phone system) user and you want to give us a try, we can port in your existing virtual number for free to get you started. With MightyCall, you don't just have a virtual phone system with some features, you have a transportable communication center for you and your business.