MIGHTY30
MightyCall vs. Linkedphone review
Linkedphone vs MightyCall
Linkedphone review
The VoIP market is on the rise as more and more companies begin automating aspects of their business. Accordingly, a plethora of VoIP providers are popping up around the world. One such nondescript VoIP provider is Linkedphone.
I say nondescript not to throw shade, but because there is virtually zero official information about the company on the internet, which seems impossible for 2019. Other than a few dozen reviews on iTunes and a few more here or there on random sites, it's hard to even get much feedback about how happy Linkedphone's customers are. The company is similarly dark on social media and their own blog, all of which were last active in July 2018.
Linkedphone has an official listed address in one of the innumerable skyscrapers lining midtown Manhattan, while listing their international office in Hyderabad, India. In all likelihood, the company functions solely from that location, as outsourcing is infinitely easier in many IT companies. Still, you have to ask yourself if you're a customer, can a company on the other side of the world really understand how small businesses in the U.S. work? Can that company truly get what entrepreneurs need?
When you go through the website, everything reads more like an imitation of successful virtual phone companies rather than a would-be competitor. They have all the basic features needed to run VoIP without offering much more, even for expensive plans. Meanwhile, the site is plastered with tidbits about "free bonuses" and features that are "coming soon," despite there being little to no change over the website in over six months.
The whole thing reeks of people who don't know how to offer actual value trying to compensate. Just because you show the price of a feature and claim it's "Included!" for free doesn't mean you're providing value.
Linkedphone's offer
When you break down Linkedphone's offer, it won't make anyone jump at the chance to switch either. The cheapest option is $19.99 a month for 1 local number and 3 extensions/devices, offering the typically hamstrung "unlimited minutes and messaging"; thankfully the company clearly denotes (unlike others in the VoIP market) that unlimited does not actually mean unlimited.
The other option they provide is $49.99 a month for 1 number and 8 extensions/devices. That's it however, as the more expensive plan doesn't have any additional features listed. You simply pay $30 extra to connect 5 more people.
We should stress that these Linkedphone prices are only for local numbers. If you want a toll-free number, those prices soar to $39.99 and $99.99 a month, respectively. Want a vanity number? Sorry, they don't offer those.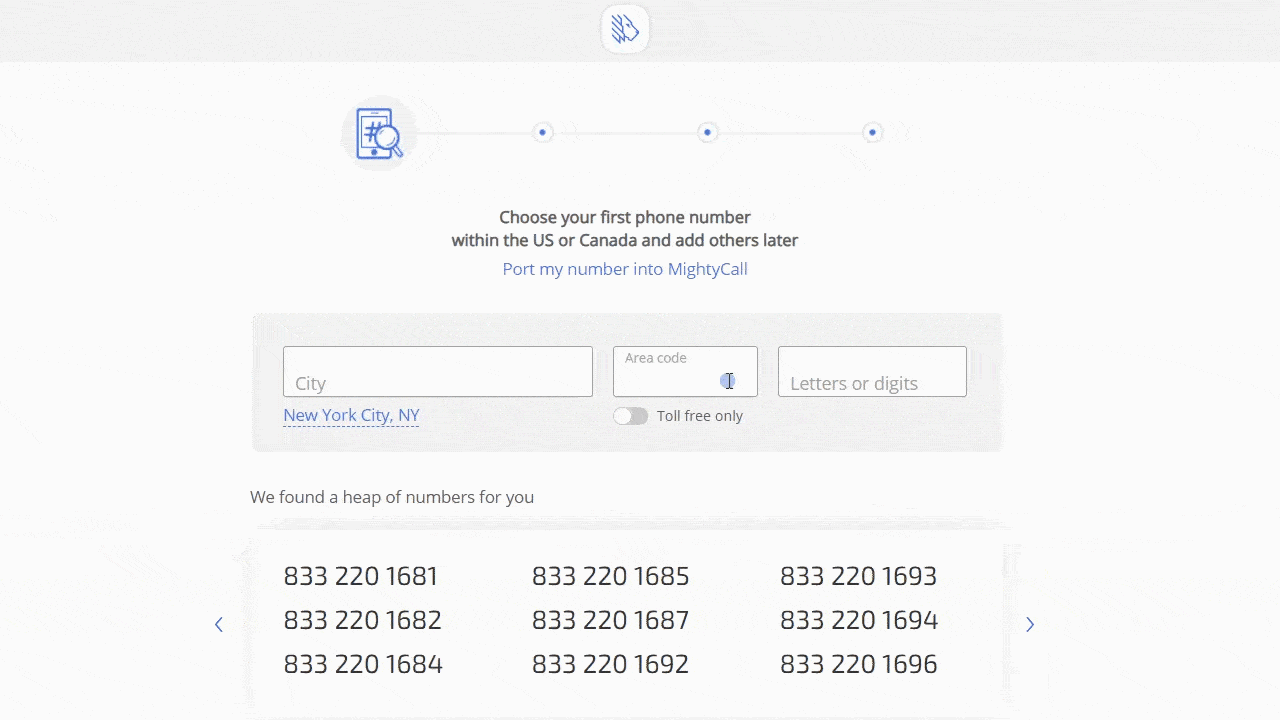 What's worse is that while they do offer a fairly decent list of features, they do not provide key ones such as call recording, conference calls, or anything to deal with spam and robocalls.
MightyCall's Basic and Standard plans, also priced at $29.99 and $49.99, unequivocally offer more features, more phone numbers—local or toll-free, it doesn't change the price—and unlimited extensions and devices.
Linkedphone vs MightyCall review
| | | |
| --- | --- | --- |
| | | Linkedphone |
| Price per month | $ 29,99* | $ 19,99** |
| Minutes Included | 1 000 | Unlimited |
| User extensions | Unlimited | 3 |
| Local | 2 | 1 |
| Toll-free numbers | 2 | $ 20 |
| Texting | Unlimited | Unlimited |
| Vanity search | Yes, for free | No |
| Business hours | Yes | Yes |
| Call forwarding | Yes | Yes |
| Call Queue | Yes | Yes |
| Business contact book | Yes | Yes |
| Mini-CRM functionality | Yes | No |
| Call screening | Yes | Yes |
| Conference calling | Yes | No |
| Blocklist/ VIP list | Yes | No |
| Website Widgets | Yes | No |
| Transcribed voicemails | No | Yes |
| Webphone for In/Out Calls | Yes | Yes |
| International numbers | $10 extra | No |
| | *Basic plan | **Entrepreneur plan |
If you want to work with your colleagues on a system that won't crunch you with constraints, MightyCall is the easy choice. For something as critical to your business as its communications, don't make yourself worry about dealing with a dormant company somewhere in India that provides customers with as little information as possible. Go for the trusted, proven option and never fret about missing calls again.
Mightycall's customers reviews

4 out of 5 stars

4.2 out of 5 stars


4.5 out of 5 stars

4.2 out of 5 stars