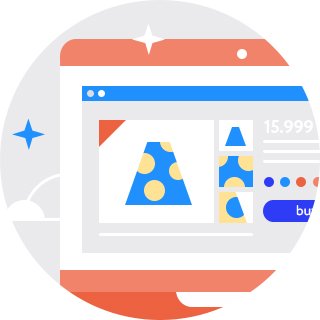 How to Launch an Online Clothing Store
---
The "rag trade" has come a long way from its humble beginnings. These days, online clothing stores are gaining traction across the US and elsewhere. So many advantages: simple to set up, no need for a physical boutique, low-cost entry to market. But there are also some aspects to be wary of, including choice of courier service, returns policy and website creation — your point-of-sale imperative. We look at these and other aspects of establishing an online clothing store, including how MightyCall can help with your telephone and social media needs.
With the modern pace of life wandering around a shopping mall is a kind of luxury. People prefer to buy everything via the internet — it's easier and less time-consuming. Almost anything can be found on the web. Online clothing stores appeared relatively recently. They gained fans quickly due to numerous advantages. Now even more people trust online clothing stores. And that demand creates supply. Opening an online store is an excellent investment.
The costs to launch an online boutique are much lower than for bricks-and-mortar salons. You don't need to rent or buy premises. Partnership with drop-shippers removes the need for stock. Just take and facilitate orders. Another advantage is that only a small team required. It can be even one person responsible for everything.
With few tips of eСommerce and passion for fashion, you can initiate an online clothing store.
Target audience
Aiming to cover the total marketplace at once is shortsighted. A new online shop should be oriented towards a discrete group of customers. You need to analyze your prospective key clients.
Who would pay for the product? Teenagers, men, women, expectant mothers — in the first steps of the store, don't plan to cater to all consumers. Choose one or two segments and explore their trends, tastes and expectations. For example, DaisyDuxie.com applies only to teens and young women all over the world.
How to find and attract target customers? You need to know their shopping patterns, online presence, typical search requests.
What is more likely to be the beginning of expansion? Consider room for scaling. Confidence of success is essential for a start-upper. At the phase of planning, think of future delivery locations and client groups.
Comparative advantage
Without one of these — also known as a USP (unique selling proposition) — it's almost impossible to get loyal customers. Benchmarking against rivals helps to identify a niche for a defining feature. Most evident differences are price and product diversity. But in online stores prices are rather low; setting price points too low can lead to absence of margins and therefore unprofitability. Product diversity is also an advantage. You should have a vast range of proven apparel vendors to present clothing for any occasion or taste: from classic basics to hipsters. Consider a wide choice of accessories. Fashionistas are mad about them.
Besides the abovementioned points, a clothing reseller can emphasize a website's glamor and convenience. Make client and technical support flawless. Rely on social media presence.
You can even go further and present your clothing store as environmentally- and animal-friendly (definitely no fur, no leather fabrics). Have a look at Matt & Nat eco-friendly bags and accessories. Or you could give part of your profit to charity, and report about how the money is benefiting the designated project on your site.
Shipping
Most clients expect free-shipping or low-cost option of delivery. One of the pitfalls of online clothing stores is a high rate of returns. Make your return-policy clear and open for clients. More often than not apparel shops offer free returns.
Select drop shippers for your clothing store very carefully. Their reputation should be spotless, the delivery time and order quality faultless. WorldwideBrands.com is a trusted service for a credible drop shipper search. The names in the list offered by the service are checked so you won't be scammed.
Management
Being a reseller means your office is on-screen. All operations are managed at your laptop.
Website
An eCommerce platform is a basis of an attractive site. For a quick start of a small store Shopify is perfect. The handy solution with lack functionality. But for business aiming to grow, eBay-owned Magento is the best-in-class.
At the very beginning of the site development, bear in mind mobile optimization. About of 50% of all retail operations are done from mobile devices, according to an IBM report. A mobile application for the shop is the way to attract more clients who make orders on the go. River Island, Nordstrom, Lyst — most stores have already measured incomes from its applications.
Pay close attention to site content and design. Apparel online sale starts with excellent quality photos and vivid descriptions. Hire a photographer if a seller can't provide you with appropriate pictures. A user-friendly site contains basic information about the store, sizing, store policies and terms, FAQs, blog and "Contact us" section. Connect your site to social media accounts; these need to be updated simultaneously with the webpage.
Operations
The more automated the business processes, the more smooth-running a retail business is. Odoo is great all-in-one management software. It has solutions for accounting, purchase order maintenance, human resources, CRM and many more features. One system for all processes management is easy to control, update and support.
MightyCall offers a solution in communications for online clothing stores. Our software perfectly suits all retailers' needs. Besides WebPhone and customized Business Number with extensions in case you have a team, we offer tailored features, as Working/Non-working calls processing, Caller Greetings, Voicemail, Call Forwarding and many others.
Our Social Media Tracker gathers all notifications, messages and posts about the store in Activity Dashboard with assigned person to process.
Advertising
Platforms for your store ads depend on the target audience. Social media is an evident scene to apply first for an online boutique promotion. Today people of almost all ages have accounts. Pay-per-click ads are effective tools for market entrance, and can reach those who avoid social media.
Special offers and promos on Holidays and each new season, competitions among customers, a small gift with a purchase (e.g. an accessory) — think what you as a client would like to expect from a clothing store.
Build a relationship with your customers and followers, consider their feedback so they would like to come back to your online store. "Attitude is everything" — none other than iconic fashion designer Diane von Furstenberg said this.