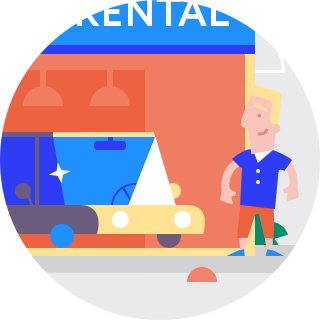 How to Launch a Car Rental Service
---
Would it be too much to say that opening a car rental business is a "hire calling?" Well, it certainly can be a profitable one… if it's done right. There are several factors to consider, not the least being which market segment you're after, where your premises will be and what kind of additional services you'll offer. Not to mention if you're going with a franchise or striking out on your own. Of course, MightyCall has a solution for your telephone needs, as we outline how to launch a car rental business.
A car rental service business is one of the most challenging startups. But if you handle it well, you'll make a mark.
Neil Abrams, president of Abrams Consulting Group Inc., says the car rental business is full of tough issues and great opportunities. And he's confident that it's a great way to make money even in times of economic insecurity.
Tourists and businesspeople prefer renting a car to using public transport or spending money on taxis. Locals also hire cars. For example, when their personal car is under repair or for weekends out of town.
We've collected a few tips and ideas to inspire you to take a chance.
Business opportunities
A car rental business usually starts in one of the following ways:
A franchise of a successful rental company. You can read information about Budget, Sixt, Hertz etc. franchising on their websites.
Dealership car rental. Still not very popular among clients or a profitable market share.
A company with a clean slate. Launching a new rental company requires much effort, commercial sense, and a substantial financial cushion.
Benchmarking of chosen location shows market saturation and demand. Before starting up a car rental business, the entrepreneur should think of the level of service to offer.
Who is the target audience? Tourists or perhaps legal entities? Currently, management of some companies finds more advantages in long-term car rental than maintaining its own fleet. It's an opportunity for productive cooperation.
What will form the fleet: regular or luxury cars? A posh car is a great expense, which can turn into a great profit. More people rent high-end cars nowadays. Instead of buying one of the extremely expensive cars, they'd rather rent one for a few days or a vacation.
Legal issues
Each state has its rules and authorizations for a new business. There is a list of licenses and permits by a state on the U.S. Small Business Administration site, so that every interested enthusiast can learn about launching any business.
Besides license, a company requires a fire department permit and to comply with zoning regulations.
The crucial point for the car rental business is insurance. It's different from private vehicle insurance. Pay particular attention to the terms and conditions of an insurance contract. The fleet should be in good condition and have appropriate insurance cover.
Joining a franchise eliminates insurance red tape, as this issue is already resolved by the master company.
Build your fleet
The size of your primary fleet depends a lot on your financial base. You can try to purchase cars outright, though this is costly, or lease the vehicles. Look into small business support and financing programs. You'll hardly obtain the attention of angel investors, as they prefer novelty business ideas, but you can count on banks and SBA loans for the startup.
Obviously, your fleet won't be large at the very beginning. Jack Taylor, the founder of Enterprise rent-a-car, started his business with 7 cars in St. Louis, in 1957. Today the company boasts a fleet of 7,200 vehicles in 30 countries. An excellent example of proper scaling.
Keep in mind, your fleet makes your profits. Clients expect well-maintained vehicles. Consider a partnership with a local auto service.
Office & operations
Location
Office location is crucial. Locations near hotels, train stations and airports are perfect options. Consider also the most popular tourist trails. An impulse decision to rent a car comes to city visitors when they walk around exhausted.
Even if you are sure of your location's security, it's a good idea to set up alarm systems and cameras.
If your office works 24 hours, you will attract more clients. Lots of tourists and businesspeople arrive late evening or at night. They will apply to those operators who are open. Your scheduled hours can be your competitive advantage.
Website
This is an absolute must. If a car rental business doesn't have a site, potential customers won't even consider it and will go with someone else. Customers are impatient and want to be able to make arrangements online when convenient for them. Make your website a comprehensive medium for proper online booking of a vehicle with automatic booking confirmations and email reminders. It should require some web-developer work, but it will be worth it.
Operations
Automatization of business processes increases efficiency, saves employees time and mitigates human error. CarsProSystems provides cutting-edge technology within the rental, leasing, and fleet business fields. This software manages all relevant business processes and has gained its goodwill rightfully.
For car rental services, MightyCall offers a solution in communications. No matter how carefully designed is your website, clients will call for booking. Millions of questions about rental office location, cars drop-off, insurance events — you phone won't be silent.
Besides a customized business number with an extension for each employee, MightyCall offers such features of call settings:
Working/non-working hours
Call transfer to a queue
Call forwarding
Connect to a voicemail
Connect a call to a single number
Call recording
MightyCall also provides a Social Media Tracker to monitor messages and notifications on social media. Each mention is added to the activity dashboard for further attention.
Marketing
A car rental business is profitable when a car from a fleet is booked for 72% of the total time. For the sake of such readings, spare no expense and efforts on marketing. Explore a market in your location. What do you know about clients and rivals?
If you are an independent startup, you need to create your unique selling proposition. The car rental business is straightforward. So you can only emphasize your service quality — this stands high with clients. For example, car delivery to a place named by a client. People will pay a premium to save time and for convenience.
Register your business name and design a logo. The name has to work. It should be catchy, easy to say and spell. Use all available marketing platforms for making your name known: magazines, social media, brochures etc.
Search for marketing collaborations. Propose a deal to a hotel next door. Refer clients to each other. Prepare and distribute hand-outs about your partnership.
The way to success is continuous challenging of your business model. Is everything like it should be? What are your goals for the current year and the next 5 years? Are you working toward those goals? What is missing? The market is fluid — your business should be as well.
These guidelines should help you to mark main steps of car rental service launching. Remember "All things are difficult before they are easy." Go for it!