What is MightyCall?
What is VoIP?
MightyCall is a Voice over Internet Protocol (VoIP) provider. VoIP is essentially telephone tech that allows you to make calls with an internet connection. That means you can often bypass cell phone carriers or an expensive and bulky hardware setup for your office.
While VoIP is more traditionally used for business, the technology is in some homes as well—although the ubiquity of smartphones renders many of the inherent advantages moot. So why has VoIP stuck for businesses? Two main reasons: the ability to use a single phone number or phone system for an entire company or the privacy the tech affords entrepreneurs.
VoIP is software, so that allows VoIP providers to sell phone numbers without a sim card or physical phone—meaning you can have a second phone number for work without carrying around multiple phones AND without needing to compromise your security by giving out your personal number to dozens—or even hundreds—of strangers. Even more, without physical restrictions and with a massive software database, VoIP can offer customers both toll-free and local numbers from around North America, depending on what their business needs.
Some larger VoIP companies will require you to buy or rent plug-and-play phones and equipment, but over the past decade VoIP technology has improved to the point where you can run an entire business communication network on your cell phone with the same call quality you'd have making a normal call using giant telecom service like Verizon or AT&T.
MightyCall has embraced that flexibility due to its convenience and accessibility for customers (those phones cost a lot, after all).
We aim our virtual phone system at small business, whether that means a solopreneur shop or an office setup with up to 50 employees, so keeping costs and prices reasonable is a big deal for us.
What are some notable MightyCall's features?
Since VoIP found its niche in business, it's evolved to streamline, organize and economize business communications. That adds up to a mixture of core calling features and some advanced features for those who are more comfortable with the system's complexities.
VoIP would never have spread to millions of businesses if its basic promise was inefficient, so a combination of features ensures that no matter where you are and what time it is, calls will come in. If that sounds like too much, don't worry—there are plenty of features to redirect calls or split the call flow amongst your staff.
Core features
Call flows and call forwarding (to any device) let you set up calling rules with a simple visual aid that forms the basic algorithm for how your business will take calls. VoIP also has an auto-attendant (aka auto-receptionist) that serves as the front man of the operation, answering and routing calls. This acts as the IVR that carries out the calling rules you set.
In regards to the IVR, you can also record and upload unlimited custom greetings for your auto-attendant, so it doesn't sound robotic, and if you're shy or don't trust your voice acting chops, you can even get a professionally made greeting.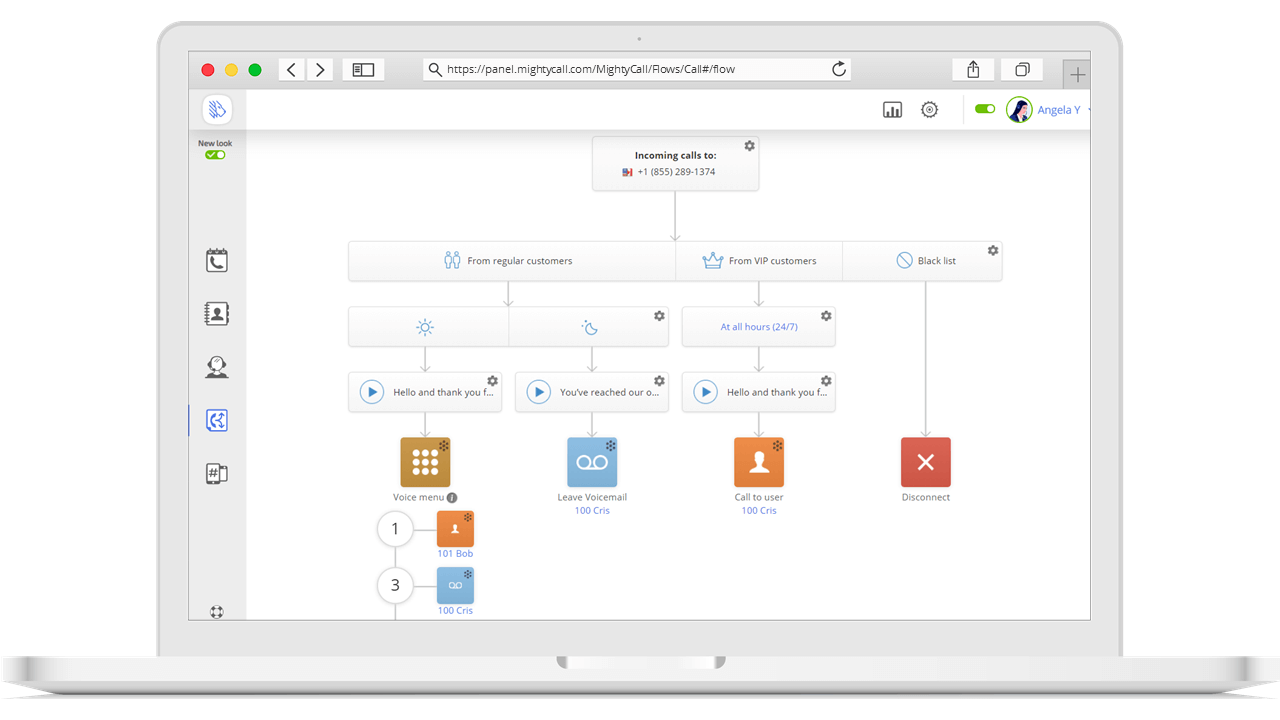 If your company has employees, MightyCall features unlimited user extensions, which means everyone can have their own extension to feed into the system. That saves time by allowing customers, family, etc. to call straight to the employee they need. You could also route calls to certain extension—whether an individual staffer or a group you've created, such as sales, customer service, etc.—depending on the time, day of the week, or the type of call.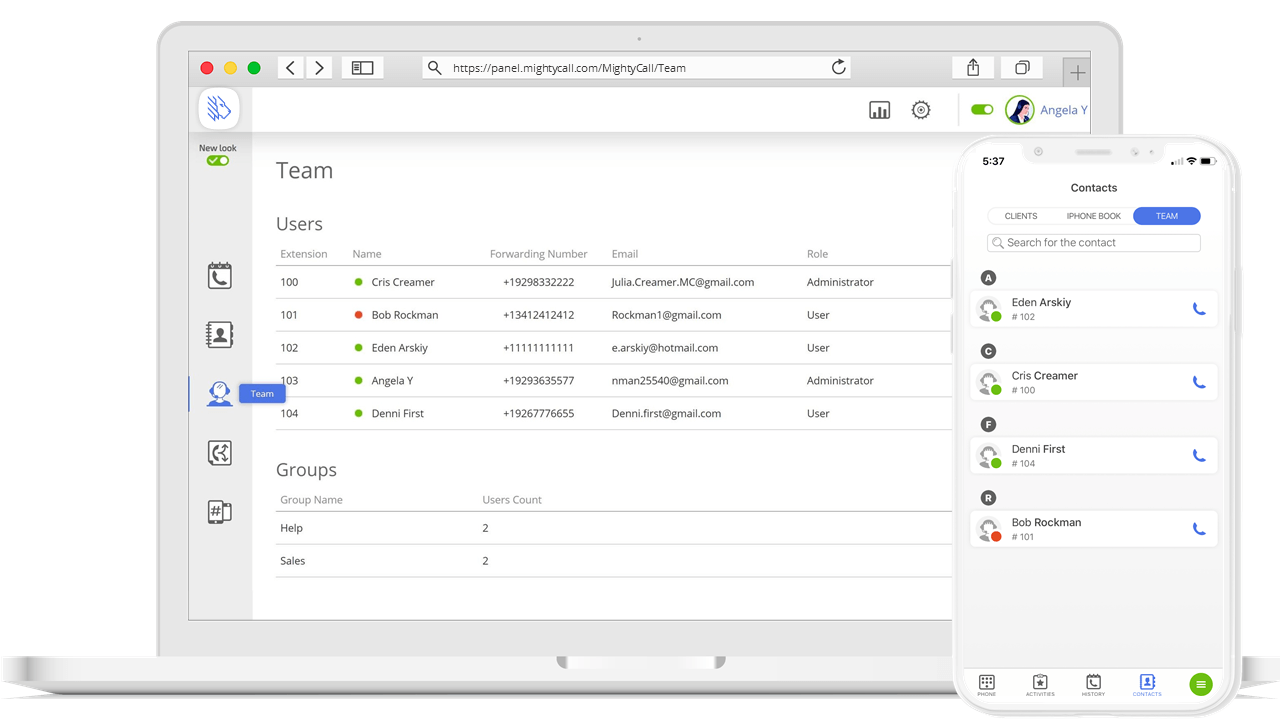 This also supports various ways for you to have your phone system ring. If you have multiple devices (phones, computers, and tablets are all supported), you can choose to ring them sequentially or simultaneously, with further options like sending calls to the most available staffer or the most experienced if you're trying to convert sales leads.
VoIP networks are as ingrained into the landscape as Wi-Fi is nowadays, so this coverage extends to almost every inhabited corner of the continent. Complex technology boiled down to make it simple enough for any business to use, that's the appeal of VoIP. The network of features listed above are all working together the same way that a telephone room full of women would work back in the 1960s, but it happens much faster, infinitely cheaper than hiring a receptionist/assistant, and all inside your devices.
Extra features
If you're an experienced VoIP user or you start MightyCall and get the hang of it, there are dozens more features included in our service. We won't innumerate them all, but we want to highlight some special ones.
First, some basic time and energy savers: call recording and voicemail-to-text. The former records your calls so you have a log of your business conversations. That allows you to go back to check details of orders or customers themselves, safeguards you from potential legal disputes and provides excellent training material to teach your staff what to say and what not to say to customers. Voicemail is a key part of a business phone system too—on the chance that no one picks up, calls go straight to voicemail. Having automatic transcription saves you the time of listening to messages, instead offering them as a quick read.
Secondly, the spam fighters: the black list and call screening. Spam and robocalls are a plague in our age, and businesses shouldn't have to waste time dealing with them. VoIP providers are linked up with the FCC to keep known spam numbers from getting through, but we here at MightyCall take it further. With our blacklist, you can add any number to a list that will automatically drop any and all calls from said number; you can do this from the system's center or your call history, for convenience. Call screening can also help you out, not just in avoiding calls from people you know, but from numbers you suspect are bogus.
Lastly, MightyCall recently introduced our most ambitious feature yet, the Contact Book Plus. This feature lets you make and keep better track of contact lists as well as take notes for each contact and individual interaction you have with customers. That may sound straightforward, but nearly no VoIP providers offer that ability—making MightyCall's service not just VoIP, but a sort of mini-CRM. That means businesses no longer need to pay for multiple software tools to keep track of communications.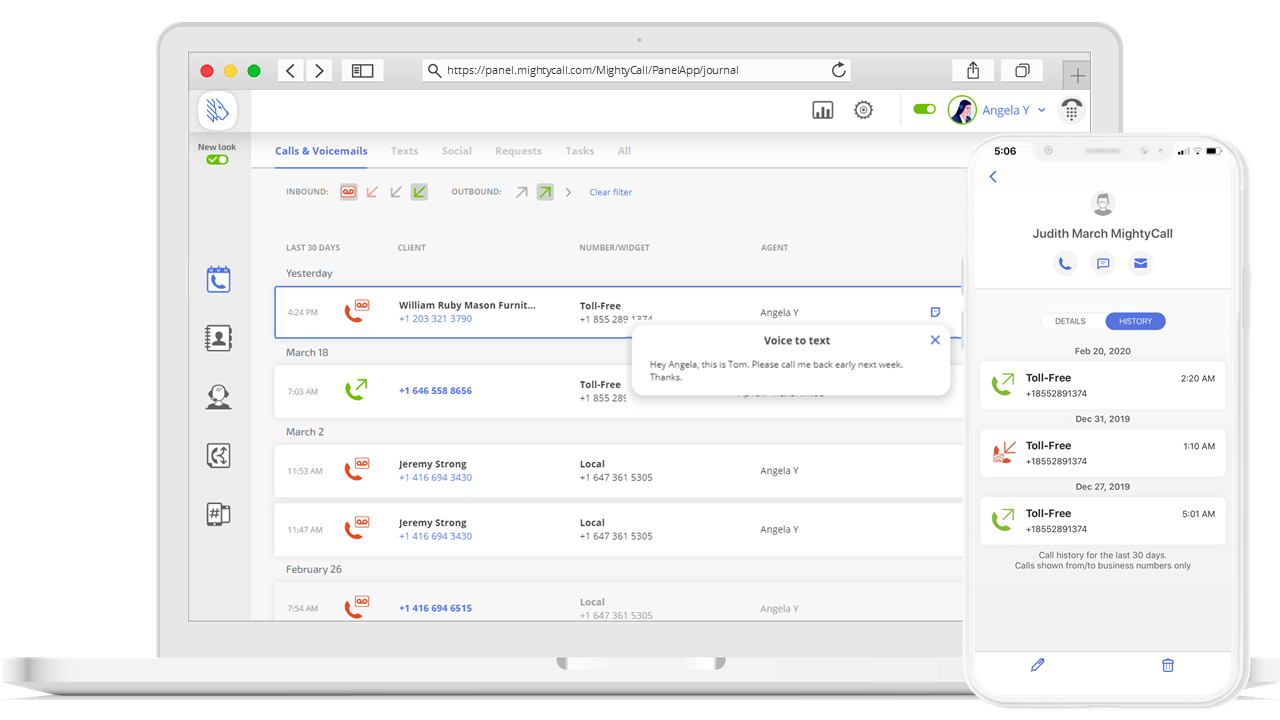 What can MightyCall do for my business?
In short, MightyCall saves your business money. You can save on having assistants or extra receptionists through IVR alone, and many of the other features help you maximize your employees. All of that without any hardware, long-term contracts or lengthy installation processes.
Even better, MightyCall keeps track of your call statistics, so you can see how your employees are doing and analyze what to change to keep your business growing. If your business does grow, we have that covered too, as our system is perfectly scalable thanks to our month-by-month payment system and unlimited user extensions.
Why should I try MightyCall over other VoIP options?
We offer one of the most well-rounded products at one of the cheaper prices on the VoIP market. As mentioned before, if you run a small business, you shouldn't have to overspend for this technology. Too many VoIP providers lock you into long-term contracts or charge you for every user, limiting scalability and dampening teamwork within the system.
MightyCall doesn't do any of that—we offer a 30-day money-back guarantee if you're unhappy and trust that if you like the service from there on out, you'll stick with us. Better yet, we port numbers into and out of the system for free, and we feature a free vanity number search if you want some extra marketing oomph.
Our prices are flat and transparent, and we don't raise them even when we launch new features that bring immense value to the system. Our goal is not to profit off small business, but to help it thrive. That was our rationale for implementing our revolutionary Contact Book Plus feature—to give the little guys similar tools that the biggest companies have so they can compete more capably. It's things like that that give us the track record, the price, and the system to make it worth any small business's while to try out MightyCall.
So you want to know what MightyCall is beyond the technological explanations? The best option for small businesses to manage their customer communications, bar none.
What customers say about MightyCall
Source: Capterra
Source: Capterra

4 out of 5 stars

4.2 out of 5 stars

4.7 out of 5 stars

4.2 out of 5 stars