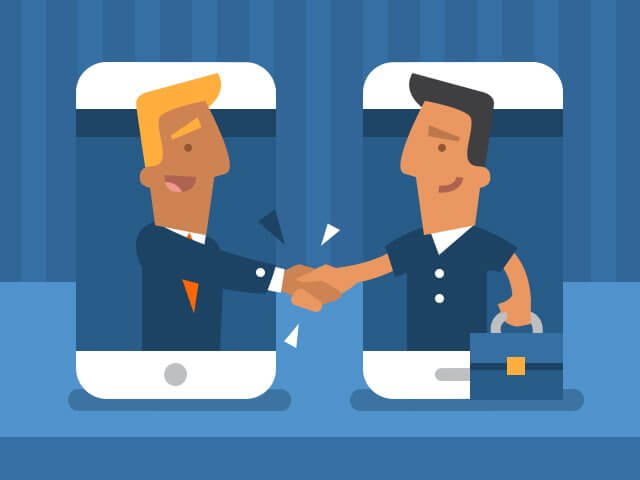 See Why Anabolic Technology is Pumped to Have a Virtual Phone System
---

In this article, we cover:
Why a virtual phone number is a valuable business asset to have;
The importance of flawless call-processing for online businesses;
How a website designer benefits from MightyCall phone system: case study;
In what ways MightyCall is better than its counterparts.
Developing an online business with MightyCall
A well-known fact: communication is a very important aspect of any business endeavor. In the case of a small company, dealing with its customers directly, a careless attitude towards communication translates into the loss of clients. What can you do to keep up to professional communication standards?
Who needs a cloud call-processing system in the first place?
Some areas of business are more sensitive to quality of interaction than others. Online entrepreneurs, whose work is closely associated with the internet, can serve as a good example. Instead of purchasing a bricks-and-mortar store or renting an office, it's quite possible to work from home while your website operates as a first-tier instrument of providing information to potential clients. While e-retailers (e-tailers) are widely using self-service options like online carts, even they need to provide customer support, clarify delivery details and answer question ― phone systems are still needed.
However, besides online stores selling various merchandise, there are companies which offer customized services. Such kinds of deal involve a much greater degree of customer involvement: discussing specific details of the task, requesting additional background information, setting deadlines, providing guarantees and so on. This is where an advanced virtual phone system becomes a must. As a rule, requirements for such systems are also higher. Apart from flawless call-processing mechanisms, it should be capable of high-quality VoIP support and seamless integration with website widgets and social networks.
The MightyCall virtual system complies with the highest standards of business communication. Our virtual phone number ensures that your communication needs are covered via a single contact, while sophisticated integration with internet-based technology makes it perfectly suited for online business. For your company, better availability means higher conversion rate combined with increased convenience and cost-efficiency. Let us now study a real example of how MightyCall can enhance an online company owner's business processes.
MightyCall lends a hand to a website designer: case study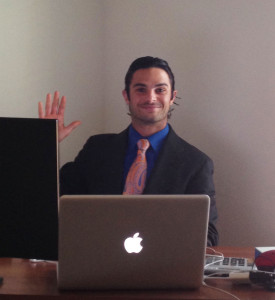 Richie C. — Founder of Anabolic Technology
The next one of our valuable clients is a thriving internet-project aimed at providing full-cycle website support for small business owners and aspiring entrepreneurs. They offer a wide range of services starting from creating an individually-tailored website and proceeding to audit, maintenance and designing internet-marketing strategies. The company is located on the East Coast, but has customers nationwide. With his first clients being doctors, founder Richie Contartesi thought it appropriate to name his new company Anabolic Technology.
Contartesi: "I came up with the name Anabolic Technology because anabolic is the state of building and we're building and designing websites."
Contartesi was fairly proficient with developing his own start-ups and wanted to help others get their businesses off the ground. Internet marketing has always been a promising niche, so Richie decided to help aspiring entrepreneurs to distinguish themselves against the chaotic background of the World Wide Web. Anabolic Technology's mission is simple: helping companies build an online presence though web design, software development and multiple channels of online marketing. "That's where it all started and Anabolic Technology kind of just took off from there," said Contartesi.
MightyCall gets the job done
Sure enough, Richie and his team have to deal with massive numbers of incoming calls and messages. They can't afford to miss any of them: it means either a loss of a potential customer or a delay in tuning a current project according to client amendments. MightyCall proved a more-than-adequate solution to these problems. Once Richie came to the conclusion that he needed a virtual phone number system with a wide range of features, he initiated a thorough search. He looked for a call-processing system that would be easy-to-use, flexible and affordable ― a perfectly-balanced instrument to improve his presence throughout all communicational channels.
Contartesi: "I looked at some of the pictures MightyCall had compared to Grasshopper and I liked what MightyCall had to offer and the price."
A good website for online business is a complex product, requiring well-coordinated efforts of several experts: coders, designers, content managers, marketing specialists etc. Thus, a virtual phone system has to ensure flawless collaboration of all the staff members (including remote employees). With features like unlimited extensions, conference calls and on-the-fly call redirection, MightyCall makes it much easier to organize business processes in a proper manner.
"MightyCall is good, the automated answering service is great for directing calls to the appropriate people," said Contartesi.
Indeed, MightyCall has much to offer in terms of call routing. Customers, who dial a company's virtual phone number are treated with a recorded greeting and then introduced to an automated receptionist. Its fully-customizable voice menu offers a choice of options to reach a particular person/department or get essential information about rates, business hours, list of available services or whatever else you wish.
Flexible rating plans allow to choose a system layout, which will satisfy subscribers' communicational needs without overpaying for features they don't plan to use. Top-tier packages, however, are also quite affordable while offering an unrivalled array of useful enhancements. This variety provides a good opportunity to improve a communication model of a business even further. After learning about all the options, available with MightyCall's virtual phone number, Contartesi admits that he doesn't use it as much as he should.
"With all that MightyCall has to offer I should be using it better than I am," Richie admits.
One of the options Contartesi uses often is MightyCall Mobile application, designed to help you deal with incoming messages. Richie receives dozens of emails every day and the mobile app diligently sorts all call-back requests, letters and social media messages according to urgency. Contartesi can then delegate these activities to other team members or perform them himself. He is very enthusiastic about how the MightyCall transcription service works: it is able to render voice mail into text and instantly send it to his device.
Richie also appreciates how easy it is to set up the MightyCall phone system: for him, it took several minutes to get ready to receive calls. Without the need to purchase and deploy additional equipment, MightyCall is instantly ready to eliminate communications bottlenecks. In contrast to on-premises PBXs, maintenance is not a problem: the key components of the hosted phone system are located with the provider, meaning it's not the client's task to keep it running. And in case anything happens ― MightyCall technical support service is always ready to help.
MightyCall improves overall convenience. With the ability to have his virtual phone number forwarded to his personal cellphone, Contartesi discovered that he now enjoys much greater freedom and accessibility. It doesn't matter where he is ― in his car, on the beach or walking in the park ― customers are still able to reach him without hindrance. In his turn, Richie can answer missed calls, read emails or post notifications to his co-workers whenever he feels like it.
To improve convenience even further, MightyCall features flexible blacklist / VIP list management. Filtering out automated spam and unwanted callers relieves communication lines of useless load, saves time and talk minutes. VIP lists allow to treat important customers in a special manner. For example, you can tune your-call routing system to direct after-hours calls to voicemail, which surely adds value to your private life. However, some clients aren't used to waiting for a call-back, so to prevent them from migrating to a competitor, it's possible to stay open for their calls anytime. This is especially useful for long-distance calls, when a client works in a different time zone and has urgent issues to settle. In a discipline where meeting customer needs is vital to running a successful business, Contartesi relies on MightyCall, calling it his "automated assistant," to keep all his customers happy.
What benefits does MightyCall have to offer?
Experience. We've been working with small/medium business owners for years, so we're fully aware of their current and future needs. We struggle to provide best service in the field of business communication to help entrepreneurs out. MightyCall team knows exactly how to raise your efficiency to a new level of professional quality.
Flexibility. Every business has its own specifics: some industries heavily rely on conventional landlines, others prefer mobile services or voice-over-internet solutions. Depending on your current setup and available equipment, we make it possible to achieve the best possible result with minimal expenditures in terms of money, time and effort. Every aspect of the MightyCall virtual phone system is open to extensive customization, while our knowledge base offers tutorials to tailor the setup to suit your communication demands.
Safety and reliability. We guarantee full satisfaction for our customers; or your money back. All your data is treated as confidential and stored at our well-protected servers with guaranteed uptime: stay assured, our infrastructure is accessible to subscribers 27/7. We'll be right there when you need us.
Keeping up with progress. MightyCall's developers are constantly working on keeping our call-processing system at the top of communication-technology evolution chain. New features are added as soon as they become available and the code is constantly being optimized in order to ensure even smoother and safer operation. With MightyCall, you'll never have to switch to another virtual number provider only because it offers something we don't have.
Excellent customer care. MightyCall is a company with a human face. Whatever is your question, our top-tier customer support service is glad to be of assistance: with excellent response times and effective troubleshooting process no one will leave disappointed. Every subscriber is precious to us and is treated with individual care. Every client is a VIP, no exceptions.
Getting started with MightyCall is surprisingly easy. Just choose a desired virtual phone number (or port one from any other provider), decide on the required range of features and contact us in any convenient way.