Google Voice vs MightyCall
Google Voice vs MightyCall
Evaluating the updated Google Voice in comparison with MightyCall
Why are some business owners using Google Voice?
I'm not here to bash Google—for what Google Voice is, it's a good system; nearly everything Google touches is top-notch.
In the case of Google Voice though, people tend to use it not because of the quality, but because it's free. Since it launched that has been the main selling point, and while the Google team has been adding some features to the service over the past year, getting a "free" phone number is still front and center.
The main benefits of Google Voice are:
Free to use for everyone
Unlimited calls and messages within the U.S.
Voice-to-text transcription of voicemails
Other basic features like call recording and conference calls
Shouldn't I get Google Voice? It sounds pretty great.
If you want to use it for your business, you should think twice. Even the "free" cost isn't entirely truthful. If you want to port your number into Google Voice, you'll most likely have to pay a $20 charge, and if you want to leave Google Voice, you'll be charged again to port your number to another service provider.
Even if you do use Google Voice as a secondary phone, it is not a replacement for a cell carrier and oftentimes conflicts will appear on your Verizon/Sprint/T-Mobile bill. It's common enough for phone companies to charge you for incoming text messages and some long-distance calls through Google Voice that Google even mentions it on their support page,
"When you call someone, your call is routed through a randomly assigned U.S. number. If the routed number's area code isn't the same as your area code, you might be charged long-distance rates."
All this information requires scavenging the internet, and if you didn't do so before subscribing to Google Voice, you may be in for an unpleasant surprise or two. Quite frankly, the system is incredibly lacking in transparency and relatively complicated to use properly.
What about the features?
MightyCall was created with businesses in mind; this is what we do and have done since 1999. Over that time we've helped lead the way for VoIP systems to become both more prominent and a better service.
Here is a list of features that MightyCall has and Google Voice does not:
Why is MightyCall better overall?
Of course, there's more to the difference between our system and Google Voice than just the features. Google Voice has some serious limitations that dampen the good things it has going for itself.
1. Google Voice is barely Meat & Potatoes in comparison
With MightyCall's Contact Book PLUS feature, the system has basic CRM functionality. Google Voice, being free, only offers the bare minimum of VoIP, notably missing dozens of features. When factoring that absence in as well as all that MightyCall can do for your business communications, it's like choosing between a TV dinner or a 5-course meal.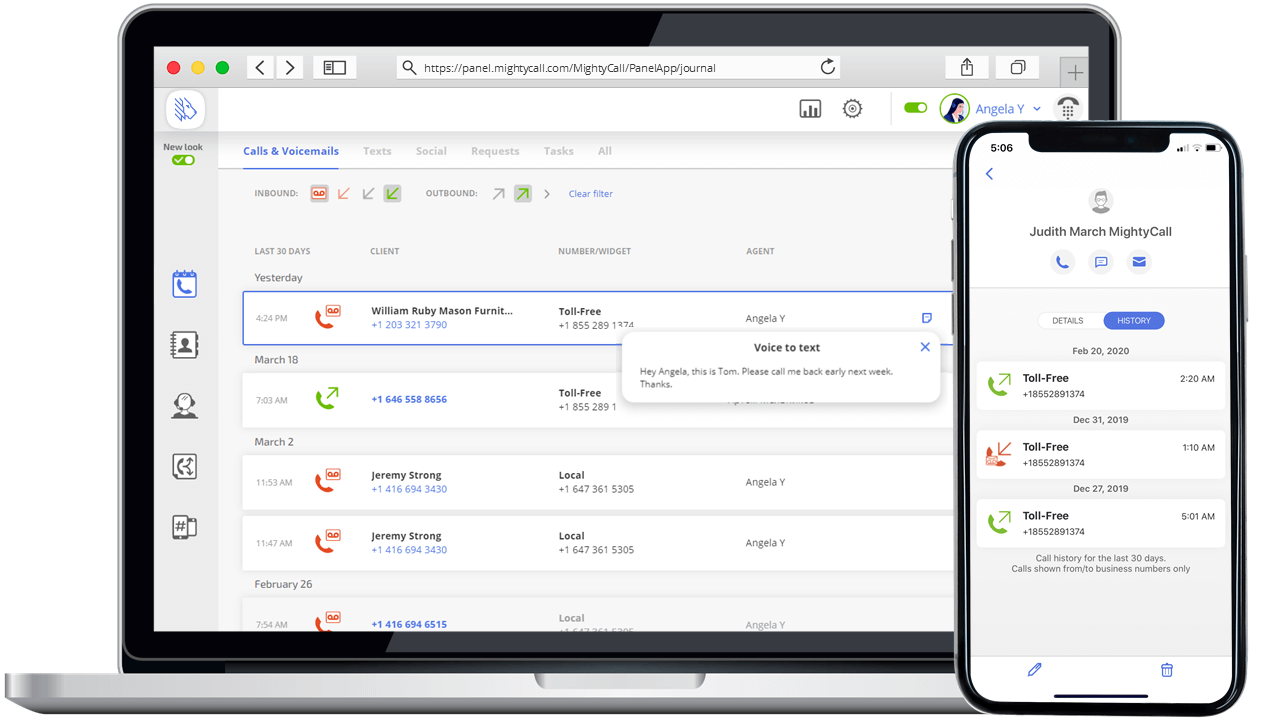 2. You can only get 1 local number and no extensions with Google Voice
This is bad for two reasons;
– first, if you have business in different parts of the country, not having access to a toll-free number could hurt your operation;
– and second, even though you can set up to 6 devices to ring through Google Voice, you can only ever get 1 number, so if you have any employees there's no chance for synchronization. This problem is effectively doubled as Googe Voice does not offer phone extensions either. If you get a number from them, you're on your own.
MightyCall's answer:
With our system you get 2 numbers to start with our basic plan, 5 with our standard plan, and 10 with our ultimate plan. You can also add as many as you'd like afterwards.
Additionally, MightyCall offers unlimited user extensions for free (unlike other VoIP providers, which charge per extension). This means more integration and communication with all of your employees, as well as a more efficient way for customers to individually contact someone specifically.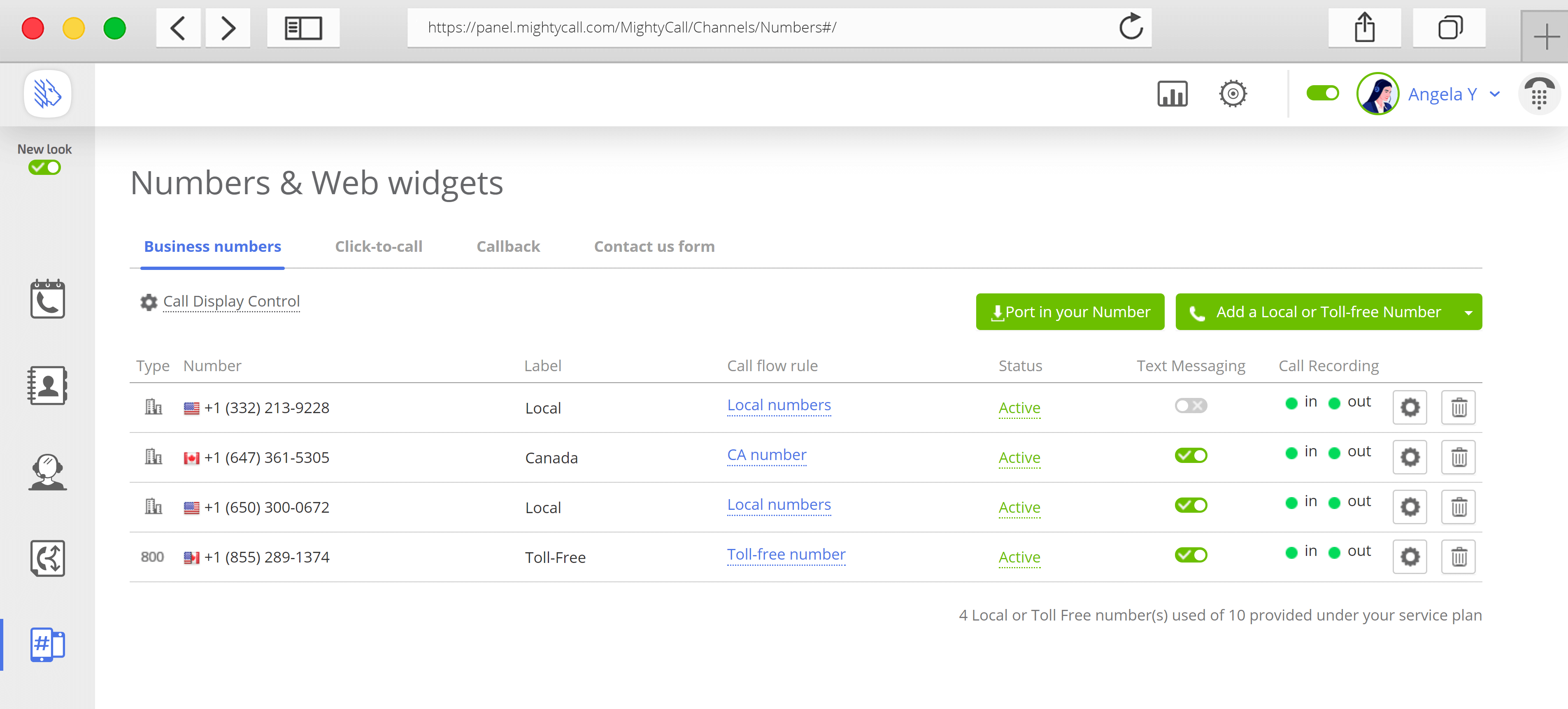 Allow incoming calls to show your business number instead of the caller's number to know it's a business call
Choose a toll-free and local number for free
Set separate call routing rules for your business numbers
Port in your business number for free
Enable text messages and read texts on web & mobile
Enable call recordings for inbound & outbound calls
3. You can't start calls from your cell phone
This sounds crazy, but it's true. With Google Voice you need to start calls on the web interface with a laptop of tablet, and then the call is transferred to your phone. For a free system, that certainly isn't convenient.
MightyCall's answer:
With MightyCall you can start calls from a plethora of places—any device connected to the system or the ultra-convenient webphone feature.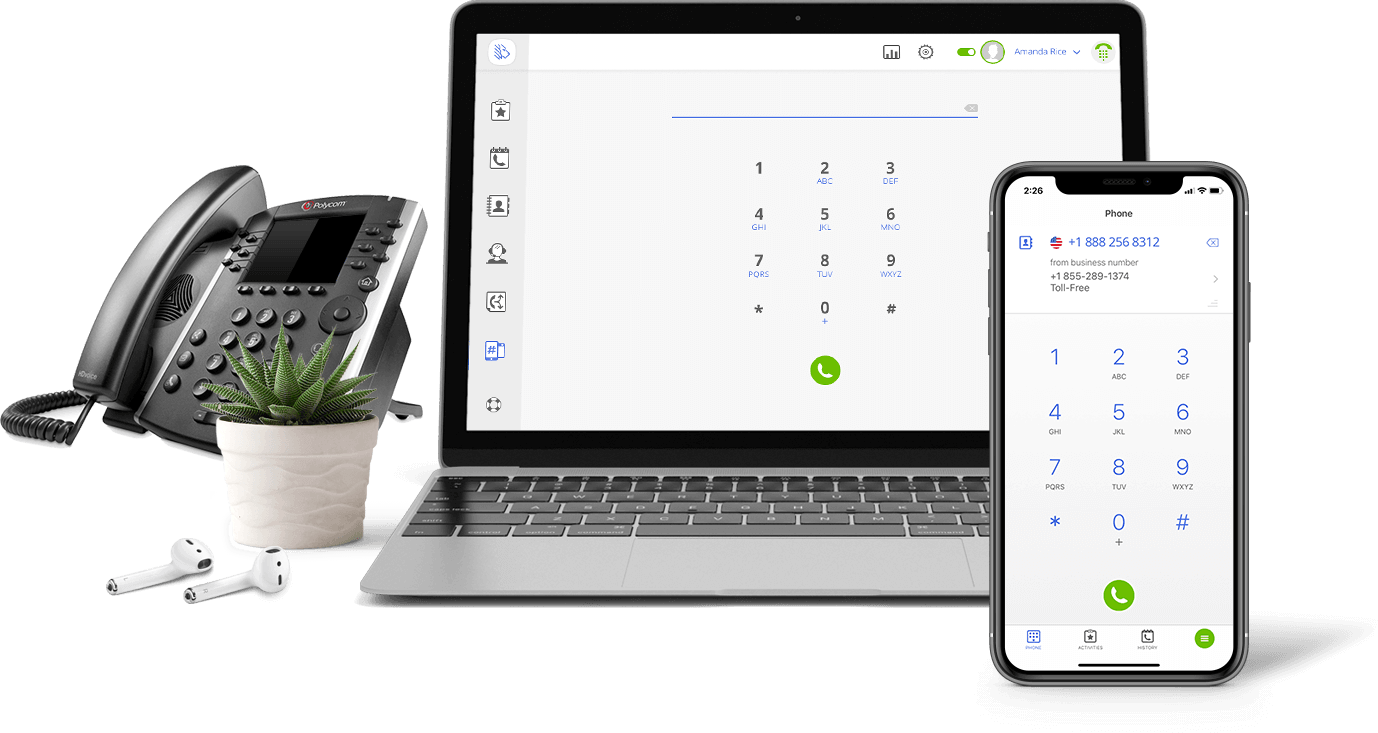 4. Overly reliant on WI-FI
Google Voice only uses VoIP technology, which requires you to be connected to wi-fi to use the system. For emergency calls you're out of luck, and for entrepreneurs who constantly travel there are plenty of calls and messages that could fall through the cracks while you're not connected to wi-fi.
MightyCall's answer:
We utilize VoIP technology too, but we understand flexibility is key, so we also use PSTN (Public Switched Telephone Network) for stability and a constant connection no matter where you go.
5. Some of Google Voice's features don't work with outgoing calls
Because of the way the system is designed, key features that people need like call recording and message transcription don't work with calls that you make. That guts half of those features' usefulness because they only work half the time.
MightyCall's answer:
With MightyCall, the features you get with your package and you buy as extras don't have strings attached—they'll always work.
6. Business Contacts can't be organized or shared
In Google Voice, Contacts is a very basic feature that boils down to storing your business contacts within your regular Google Account. This leads to no distinctions between personal and business contacts and no team-wide designated section for business contacts.
MightyCall's answer:
With MightyCall, the features you get with your package and you buy as extras don't have strings attached—they'll always work.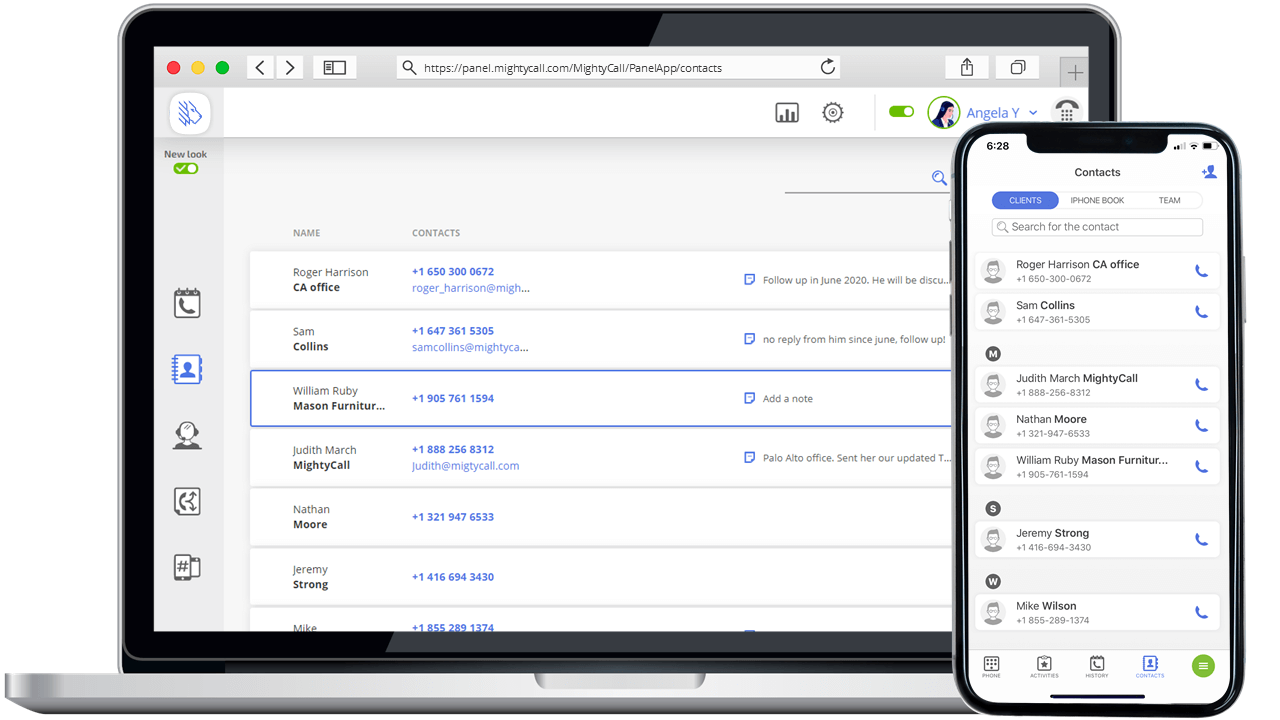 7. International calling and outreach is limited with Google Voice
Free calling and messaging is a caveat, because it only applies within the U.S. Although Google's international calling prices aren't bad, they still cost you money. What's worse is that Google doesn't offer international numbers and the system is only supported in the U.S. That means that if you don't live in the U.S., you're out of luck and can't use it.
MightyCall's answer:
MightyCall's Contact Book is a groundbreaking feature for business teams. You get a single Contact Book for the team that you can use to keep track of returning customer interactions. A business contact and notes added by one employee is instantly visible to the whole team in their MightyCall profile and Mobile App. This means it's super easy to see calls from returning customers in call history, view important notes made by colleagues, and follow up on conversations.
8. There isn't any tech or customer support
For a service that can be complicated to use, Google doesn't have any direct user support for the system. If you run into trouble, your only hope is a barely-active forum.
MightyCall's answer:
We have a dedicated team of trained specialists to help you out with any problems you might have.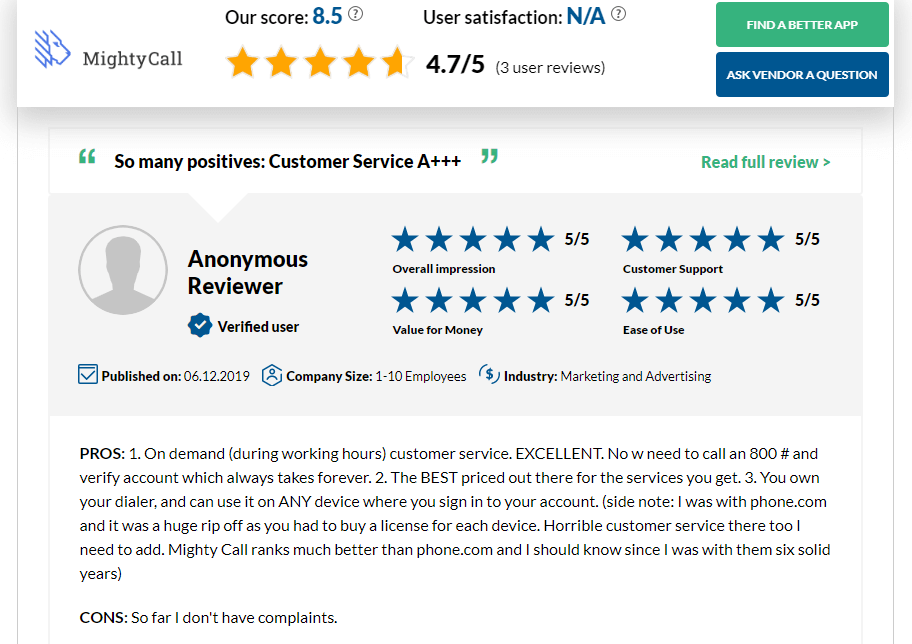 Google Voice is not the answer
As you can see, if you're serious about getting a virtual phone number to help you run your business, MightyCall is a great bet. Google Voice is free, but maddeningly flawed.
Between Google Voice, Google Hangouts, and Google Allo, the company doesn't have a clear direction on where it wants to go with the telephone market, so even if it is Google, these services don't bring you the quality normally associated with the company.
Right now they seem to be throwing things at the wall to see what sticks, and for something that went almost 8 years without an update, I wouldn't advise you to wait for the system to get better any time soon. Go with the proven VoIP provider—go with MightyCall.

Source: Capterra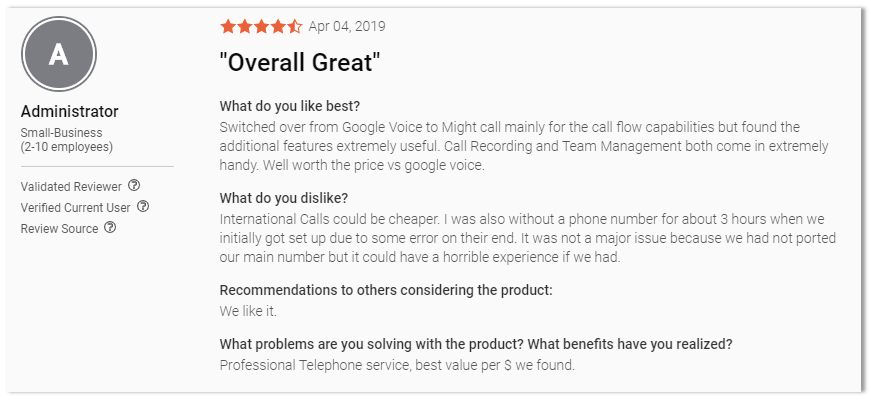 Source: G2Crowd
If you're looking to make the switch to MightyCall and you wish to keep your number, we'll port your current virtual number in for free.

4 out of 5 stars

4.2 out of 5 stars

4.7 out of 5 stars

4.2 out of 5 stars
BF20